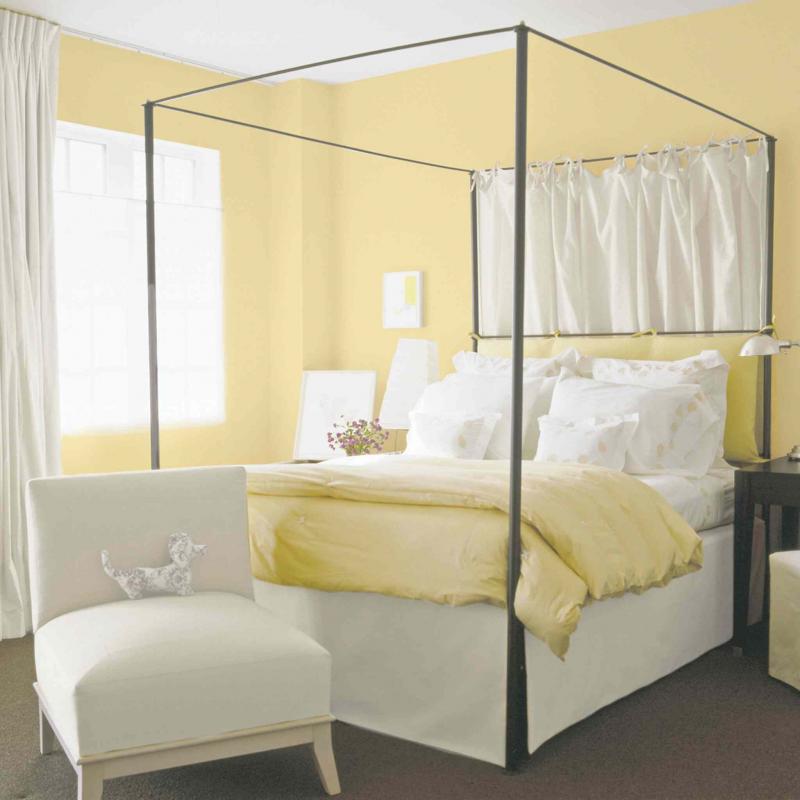 They may call it mellow yellow, but it will liven up homes in 2014. That's because mellow yellow is the hottest colour for next year, expected to take the spotlight in all areas of interior decor, says leading Canadian paint brand CIL paint.
"Next year's standout colour can best be described as a butter cream yellow, a warm pastel shade that has a fullness to it, but is still light enough to act as a neutral," says Alison Goldman, brand manager for CIL paint, a brand of PPG Architectural Coatings, announcing Creamy (50YY 77/285) as the brand's 2014 colour of the year.
"It's a soft, buttery colour that emits a feeling of calm, tranquillity and renewal," Goldman said, explaining that people today continue to look for new directions to retreat from our busy, connected lives, and mellow yellow creates a stable environment in which to pause and refresh. "It's a very easy-to-live-with colour, continuously delivering a ray of warmth no matter what the weather outside."
Besides calming our minds, butter-cream yellows are said to positively impact our overall well-being. Reminiscent of flowers, the sun and summer, they make us happy and optimistic and infuse us with a sense of quiet strength and order. Warm yellows are therefore a good choice for any room -- bedrooms, family rooms, bathrooms, kitchens and dining areas -- highlighted on the walls and through accessories such as pillows, throw rugs and decor items.
Since warm yellow is an adaptable, soft hue, it works extremely well when paired with other colours. Good combinations include brights of a similar saturation level, as well as citrus colours, blues, purples and greens. CIL suggests Sweet Sandy (90YR 55/266) orange, Falling Rain (30BG 56/097) blue, and Pine Forest Green (10GY 29/158) as top combo picks.
Being a warm, neutral, creamy yellow also works well with other warm neutrals, such as taupes, soft browns and light greys. In fact, Goldman says warm neutrals from all colour families -- including Chinchilla White (10YY 46/041) taupe, Brown Study (00YY 12/173) and West Coast Grey (50BG 38/011) -- top the colour chart for 2014. For added richness and depth, paint the year's hottest neutrals in rooms accented with wood or leather furniture.
Sico
The colour forecast from Sico likewise includes warm, buttery yellows and saturated pastels. Also included in the palette are robust reds, retro blues and energetic browns and greys. "The spectrum of colours for the coming year continues to reflect people's desire to disconnect from today's complex world and return to the beauty of nature and art," says Mylène Gévry, brand director for Sico paint, a brand of PPG Architectural Coatings.
"The more that technology advances, the more we feel the need to maintain balance with the earth and all things natural," added Gévry. "On one hand, our 2014 colour palette creates a contemporary and edited view of modern society, and on the other, it embraces an artisan past, influenced by the historical patterns of brocades, damasks and toile, and our continued appreciation for anything handcrafted."
Sico has unveiled three prevailing decor themes for the upcoming year: In Unison, Modern Mosaic and Logical Perspective. Each theme offers a diverse range of optimistic colours, from earthbound to luxurious tones.
In Unison: This theme reflects the harmony developing between organic nature, technology and man-made elements. Featuring a mix of beach-inspired pastels combined with brighter hues, the In Unison palette is both friendly and futuristic in a livable fashion. Gentle pinks, such as Sico's Palace of the Winds (6060-31), highlight this grouping, accented by vibrant reds such as Tomato Peel (6057-53), cool teals such as Naples Bay (6149-42) and bright yellows such as Citrus (6098-54*), each of which deliver an infusion of energy. Warm neutrals such as Sahara Sands (6194-31) round out the palette. Delicate yet robust, these colours partner well with natural wood, marble and steel finishes to add warmth, with a touch of retro coolness, to any room.
Modern Mosaic: Combining a lively mix of bold brights drawn from the full colour spectrum, Modern Mosaic is a testament to the growth of the craft movement as a dominant, long-term trend. Characterized by geometric patterning -- from zigzag and diamond to checker and chevron designs -- this theme is all about multiple shapes integrated and pixilated beside more shapes, arranged in sets of brilliant hues from different colour families. Think energetic combinations of robust reds, sunshine yellows, bold blues and free-spirited pinks and teals, such as Sico's Bunch O' Bananas (6096-54*) yellow, Saxon Cobalt (6010-73) blue and Marilyn (6502-33ñ�*) red. Conjuring up images of string, yarn, beading, weaving and embroidery, this multicoloured grouping, which pays tribute to handmade art, contains retro glam elements that breathe new life into home decor.
Logical Perspective: When life gets hectic, we all long for a place to think clearly, a peaceful spot where we can soothe our souls, renew our strength and bring order to our lives. Logical Perspective features calming, rich colours of black, off-whites, greys, putty neutrals and deep reds, blues and greens, that bring refinement, sophistication, balance and simplicity into our spaces. Reflecting our desire for complex hues that mirror our lives, yet deliver minimal elegance in a logical way, this theme is highlighted by such colours as Sico's Volcanic Rocks (6208-83) black, Chanterelle Beige (6185-31) grey, Cupid's Red (6056-85) burgundy, and Black Denim (6004-73) blue. It embraces calculated lines and exact patterns, while balancing cooler greys and warm browns with rich "collegiate club" colours of deep red, blue and green that make it easier to edit the hustle and bustle out of our contemporary world.
"Overall, the 2014 colour palette demonstrates our growing desire for life balance," said Gévry. "As a result, we will see increased use of rich colour combinations, innovative patterns and distinct lines throughout the year."
Benjamin Moore
Colour of the year from Benjamin Moore is a fresh blue entitled Breath of Fresh Air. It is a gorgeous, breezy blue that is set to make a splash with homeowners and designers across Canada.
Rolling into Benjamin Moore stores this week, consumers can keep an eye out for the 2014 Trend Card. This easy-to-use palette includes 23 fashionable colours and carefully curated combinations that work in harmony with Breath of Fresh Air, but can also stand on their own.
For the 2014 Colour Trends collection, Benjamin Moore decided to break away from the pack with a collection that is not only rich and enduring but also livable for today's homeowner.
As colour rarely exists in isolation, Benjamin Moore designed a palette of 23 colours that not only stand on their own, but work well in harmony, allowing the transitions of spaces and colours to flow seamlessly. Now Canadian consumers can find the Breath of Fresh Air chip in the 2014 Trend Card, available at local Benjamin Moore dealers across Canada.
"We know that colour is the ultimate form of personal expression," said Sharon Grech, Benjamin Moore colour expert. "We curated this collection to help consumers create beautiful spaces with confidence."
I think the consumer is the winner in 2014 because the colours of the year, from butter yellow to crisp blue, will work together in harmony. It's a win-win situation that is bound to inspire homeowners to update their decor for the new year. Likewise, decorating accessories will follow the paint colour trends to ensure your overall decor will be beautiful.
connieoliver@shaw.ca