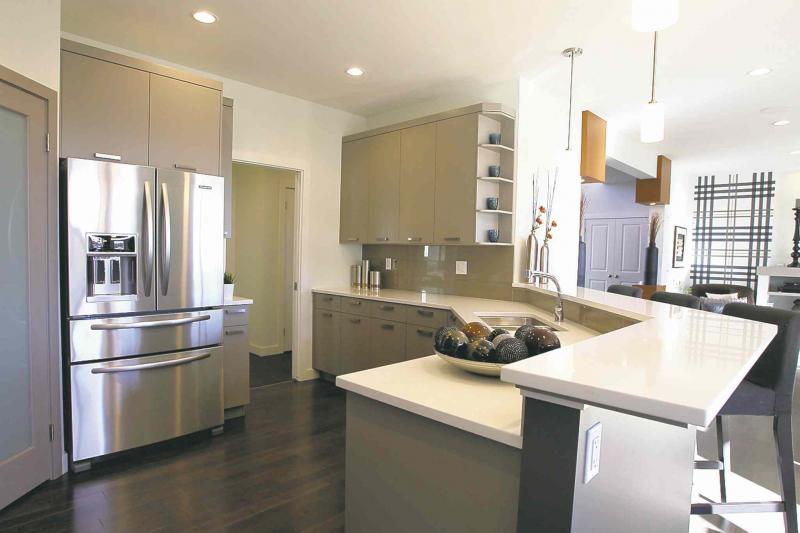 If builders aren't careful, an annoying problem can work itself into their new-home designs: They become a formula.
There's the obligatory kitchen island, the overtly open-concept great room, the flashy foyer that provides an expansive view of the great room -- the list goes on. That's exactly what A & S Homes' design team tried to avoid when they drew The Nottingham, a 2,000 square-foot, two-storey show home at 35 Stan Bailie Drive in South Pointe.
"The idea behind this design was to provide a fresh break from predictable, traditional design," said Re/Max Performance Realty's Rob Hutchison, who mans the show home with stablemate Terry Gallinger. "Our designers wanted to create a home that was functional, open and bright, but that was different from so many of the show homes on the market today."
The different design begins in the foyer -- it's grand, but doesn't reveal all the great room's allure the moment you walk in the door.
"I really like its design," Hutchison said. "No question, it is a grand foyer with an 18-foot ceiling, a (mocha) porcelain tile floor and lots of space (it's about seven feet wide by 12 feet long).
"However, it's also nicely segmented. The stairwell to the right features a wall with cut-out spindles. That design creates a defined yet open space that doesn't feel isolated. Most importantly, you just get a glimpse of what's in the great room. That creates a bit of an air of mystery and makes you want to walk in to take a look."
What you find in The Nottingham's great room, which is very expansive upon closer examination, is a refreshingly different design. Instead of designing the kitchen around the island, the A & S architects opted to put in an angled peninsula that not only creates a different look, but optimizes function in its interior area.
"It's a true great room with an open, functional design that's really enhanced by the way the kitchen was designed," Hutchison said. "The angled peninsula works well in three ways. First, it provides an eating area that seats three that's angled and out of the way. Second, because the eating area is angled, it opens up room to move and enhances flow. Third, the cut-out interior opens up the kitchen's interior -- there's all kinds of room to move and create."
Adjacent to the kitchen is a semi-formal dining area (with hutch) that can be expanded or contracted to accommodate the number of people coming for dinner, Hutchison noted.
"Without question, it's a big, flexible space. Right now, it has a table for six in it, but you could easily expand the area to fit a table for 10 to 12 by moving back the furniture in the living room. There's also a door to a backyard deck that extends space for entertaining, and the eating area on the peninsula adds additional seating for three."
The finishes are also different than the norm. The kitchen is outfitted with portobello maple cabinets, white quartz countertops (there's loads of counter and cabinet space) and a taupe glass tile backsplash that perfectly complements the countertops and cabinets.
Dark-maple hardwoods, which add just the right amount of warmth, run through the kitchen, dining area and living room. Light flows freely through the great room, thanks to a literal rear wall of windows, and the living room is suitably expansive and well-finished.
"It's a big space with a huge picture window that lets in all kinds of light," Hutchison said. "The focal point is a large entertainment unit with a gas fireplace (set in a dark, grey-brown tile surround with a taupe mantel above for contrast) that has three white shelves set on either side for storage and more contrast. A painted multicolour (linear) design on either end adds even more contrast and colour."
Like the main floor, the second level is bright and well laid out. A second-floor laundry room, two oversize secondary bedrooms, a big, four-piece bath (with soaker tub) and master bedroom fan out in orderly style around a mid-size landing.
As might be expected, the master suite is the upper level's pièce de résistance.
"I like how it has been positioned -- it's off by itself for privacy and offers lots of space. I particularly like how the designers set a three-piece window high up on the front wall -- it lets in lots of light while maintaining privacy. It's a wonderful size, a very bright yet warm space that's good to wake up in."
Then there's the ensuite, wired for stereo sound.
"It's a spa-like space with all kinds of luxurious touches -- a (grey) porcelain tile floor, jetted soaker tub set in grey tile (beneath a huge, obscured glass window), five-foot shower and portobello maple vanity with dual sinks," Hutchison said. "There's also a huge walk-in closet next door that provides all kinds of storage space for wardrobes and accessories."
Downstairs, there's another 750 to 800 square feet of livable space that can be developed into a fourth bedroom, rec room, bathroom and storage.
"Like the rest of the home, it features a bright, open design due to four huge windows and a steel beam that limited the use of teleposts," said Hutchison. "If you're looking for a design that's different, yet stylish and functional, this is it."
lewys@mts.net