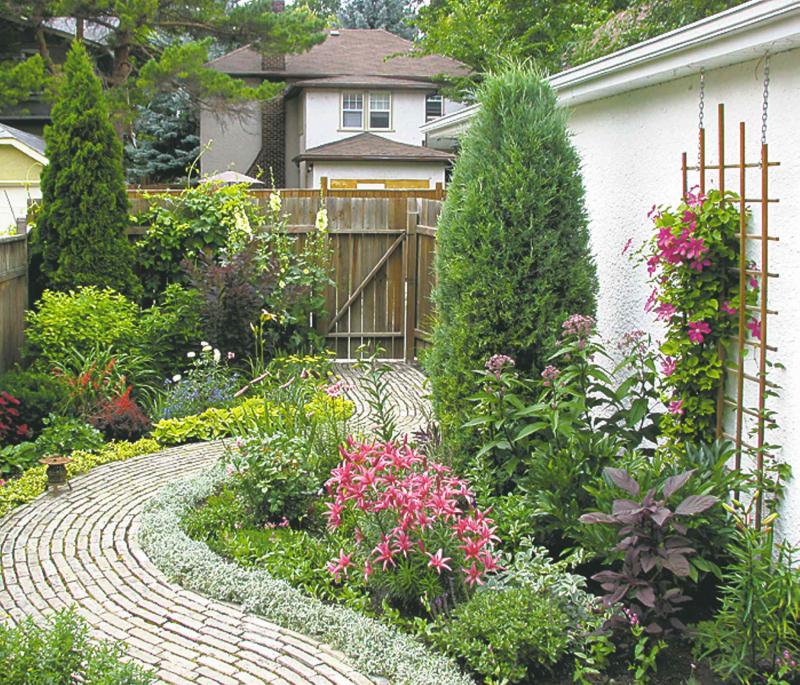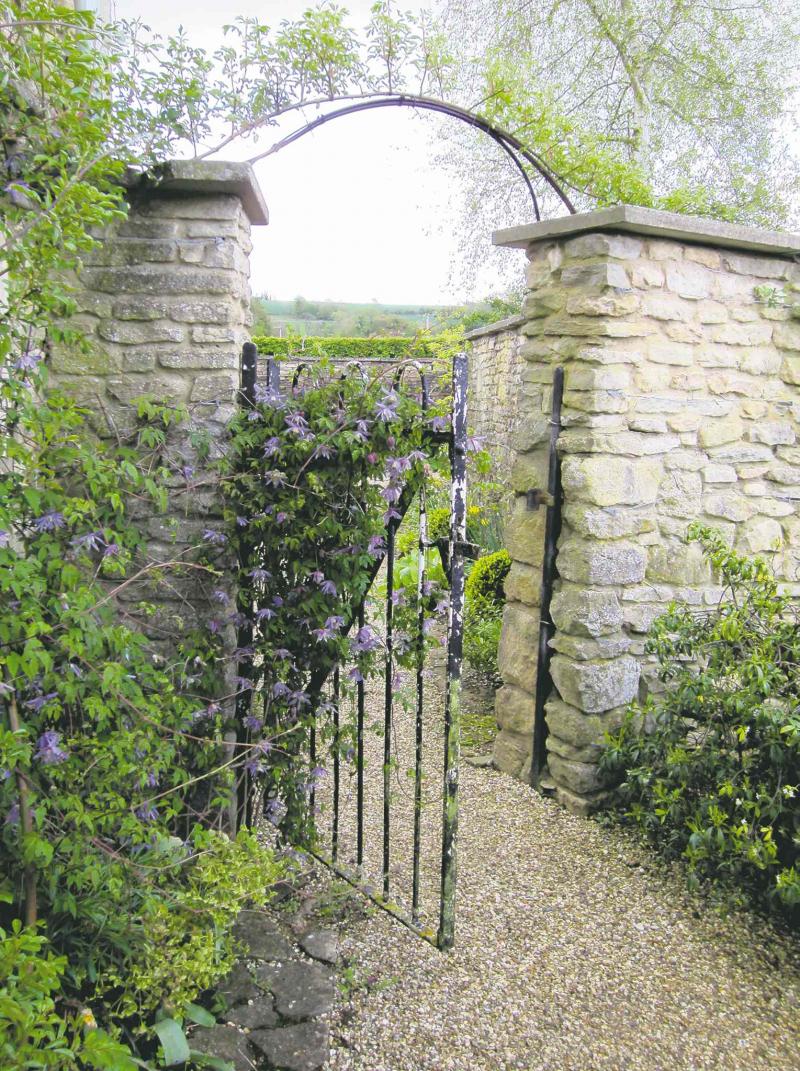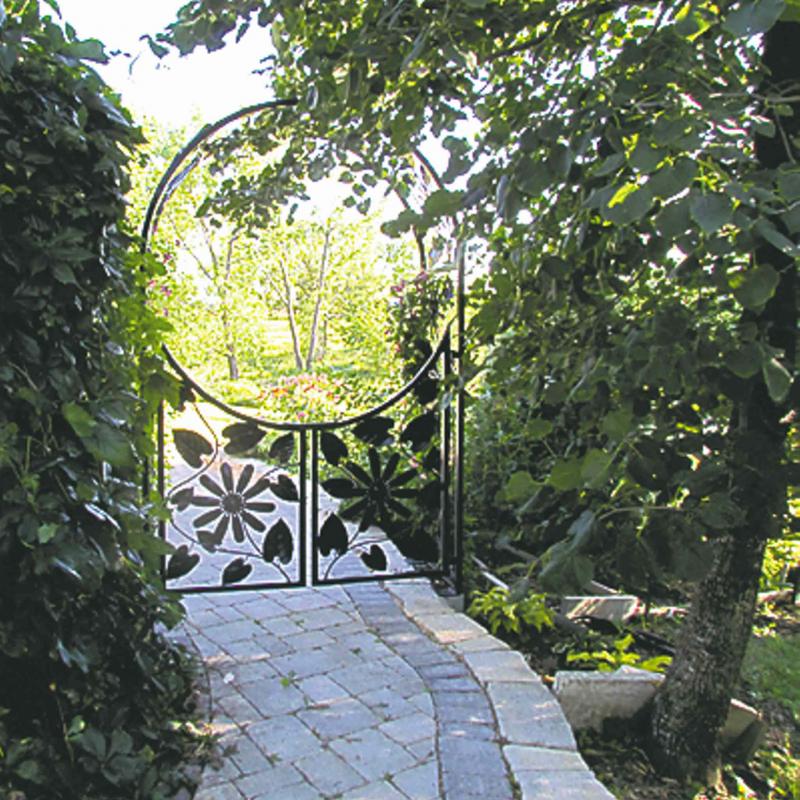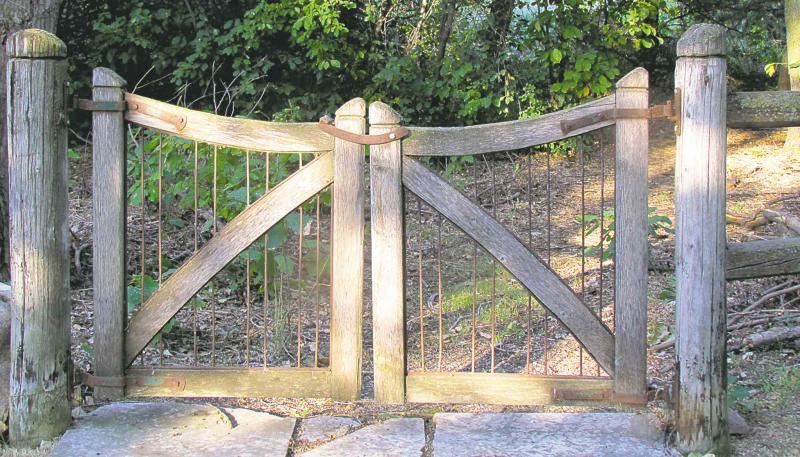 Side gardens accessorized by an interesting gate or archway can make a dramatic statement.
We live in a material world and many of us have too much stuff, an issue that is not restricted to the indoors. While the front yard may be neat and uncluttered and the backyard a lush, private retreat, the side yard may be a storage area filled with a collection of tools, maybe an old lawn mower in need of repair, garden kitsch or containers that have long since fallen out of favour, or utilitarian items such as recycling and waste bins.
If the side yard, though, also serves as the entrance to your garden, it can take away from the pleasurable anticipation you want your visitors to experience. No matter that your clutter may be stacked up neatly.
Why not sort through it, throwing some out and reallocating the rest of it to the storage shed or garage? Of course, one cleanup project begets another, but once the chore is done, all sorts of magical things can be done to transform a side yard into an enchanting garden room.
My inverted pie-shaped lot provides two entrances to my backyard garden. I created a small courtyard-style garden on the roomy east side of the house and relegated the narrow west side yard to a composting and storage area. Invariably, visitors chose to enter the backyard by trekking through the west side! Agreeing to be part of a garden tour proved to be the inspiration to spiff up this neglected area and finally make it an extension of the garden.
With the shape of a dogleg and measuring 6 feet at its widest and only 3 feet at its narrowest, paving stones were installed over the entire ground surface for a courtyard effect that would complement the east side garden. Since the constricted space is so irregularly shaped, the natural choice was to create and design a container garden. Containers of varying heights were filled with tall, dramatic plants such as Cyperus Egyptian Papyrus King Tut grass and Colocasia or Elephant Ears, both of which thrived in the dappled sunlight, creating a leafy canopy to walk under.
To add some interest to this newly designed garden room, a vintage 100-year-old oak door was retrieved from a dusty corner of the basement where it had sat waiting for many years to finally be of some use again. My husband mounted it on the fence and a rusted tin-framed mirror was added for an illusion of space. We experimented with positioning the door at an angle so that a nearby overflowing window box could be reflected in the mirror.
It took some creative manoeuvering to relocate the sundry items that once filled this area, but it was worth it.
Some of the narrowest side gardens can be found in older, more established neighbourhoods. Most feature a strip of earth that hugs the foundation of the house on one side and a sidewalk on the other, requiring careful selection of plants.
Shady side yards can be good choices for plants with invasive habits such as Western Canada violet and Lily of the Valley. Linda Dietrick, a River Heights gardener, says the small space of side yards also accentuates the scent of some plants, enveloping the entrance to the garden.
In addition to big-leaved hostas and softly textured ferns, Dietrick has planted yellow blooming Styllophormum diphyllum (celandine-poppy or wood-poppy) in her side garden.
"It's a wonderful shade plant and good to confine it in your side yard because it is self-seeding," says Dietrick, adding the nice thing about side yards is that "whenever you are growing plants against the foundation you generally create a microclimate."
The length of Dietrick's side garden culminates in a trellis archway planted with native riverbank grape (Vitis riparia) that frames the entrance to the backyard.
Dietrick also has a rectangular-shaped garden between a length of fence and the side of her garage that benefits from the microclimate created by surrounding houses and mature trees. Japanese primula, toad lily, sweet woodruff and spectacular zone 4 variegated Virginia Creeper 'star showers' thrive in this intimate garden edged by a curved ribbon of reclaimed brick that has been laid on its side for an Old World effect. The brilliant chartreuse to golden yellow foliage of Aztec Gold Veronica prostrate or creeping speedwell contrasts vividly with crimson coloured Velvet Curtains amaranthus, another self-seeding plant well suited to confined spaces.
Adding a gate to the entrance of your side garden can be the finishing touch. With the potential to be one of the most creative hardscaping elements in any landscape design, gates are often conversation pieces and a popular subject of photos. Visit a garden and you are just as likely to capture an image of an eye-catching gate as you are of the plants. On a recent trip with her sister Lynne Mellow to the English Cotswolds, Barb McEwen, a local gardener and volunteer at the restored historic garden at Dalnavert House, was struck by the beauty of an ancient gate in a private garden called Stone House Garden.
"I loved the use of clematis winding its way around the hinged side", recalls McEwen.
Whether the design is romantic, formal, ornate, or rustic, freshly painted or weathered to a smooth patina, gates exude character. Their purpose may be practical or purely ornamental but they should be maintained in good structural condition.
Jake Goertzen is a gifted sculptor (www.jakethesculptor.com) who began welding ornamental iron gates as a sideline about five years ago. "Very few artists make their whole living from their art," says Goertzen who resides in a renovated country school in Horndean purchased in 1994 and which also serves as a gallery for his art.
Using a wire welder and tools he has built on his own, Goertzen shapes mild steel into curved shapes. Some of his designs include leaves or cattails.
"The leaves, complete with veins, are made of a heavy-gauge metal because people touch them and you want it to last," Goertzen said, adding the steel is sandblasted with a baked-on zinc finish. "Zinc is very resistant to oxidation, so it protects the gate from exposure to air. The durable powder-coat finish is baked on and will look the same in 15 years."
Maxine Clifton has installed one of Goertzen's gates in her Howden-area garden. Reminiscent of a centuries-old claire-voie with its large, round opening that beautifully frames the entrance to Clifton's garden, a stunning vista of flowering perennials, the gleaming black custom-made gate weighs at least 100 lbs.
Goertzen designed two tall contemporary gates for Rebecca Friesen and husband Kevin Dick whose large acreage is visited regularly by deer attracted to their garden. Their circular vegetable garden is enclosed by wooden posts and high wire mesh with two gates, decorated with cattails, opposite each other. Daughter Hannah loves to play in the garden and has a small section all her own.
"It's a family affair," Friesen said. "My husband is a great cook and loves to utilize what we have in the garden: tomatoes, peppers and onions for salsa, etc. Hannah made her first batch of raspberry jam this year and my mother and I like to pickle."
Gates may keep deer out of the garden but they invite people in, piqueing their curiousity about what they might find. Crafting a unique gate can be a form of artistic expression. The gated entrance to Carol Bergmann's cut flower garden, south of St. Norbert, was built from cedar by her husband. The weathered grey double wooden gates complete with an Old World wooden drop bar have a timeless look.
Gates can have the appearance of guarding a fortress, lending both mystery and privacy or they may offer no privacy at all but they have the power to use the entranceway to your garden to the greatest effect.
Colleen.Zacharias@gardensmanitoba.com