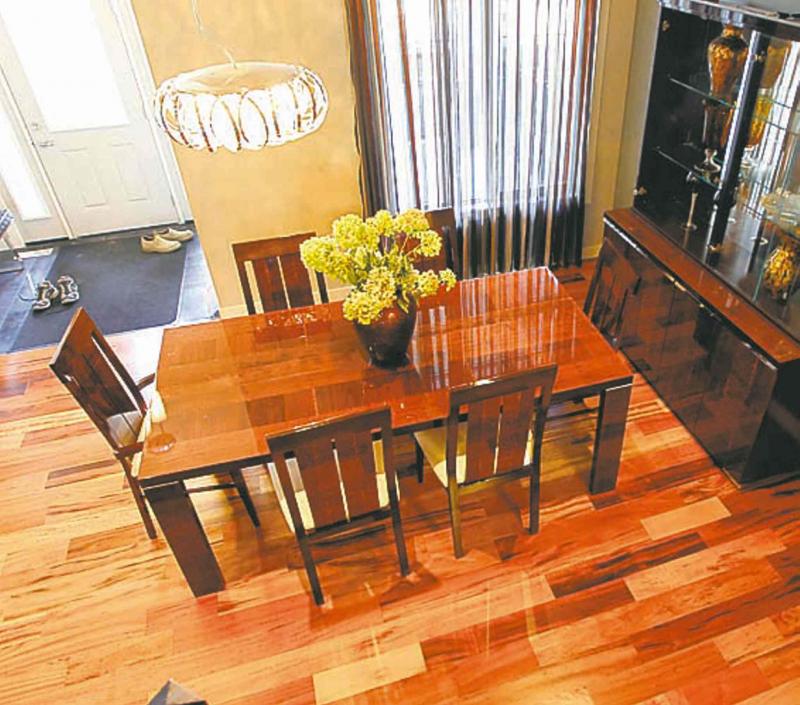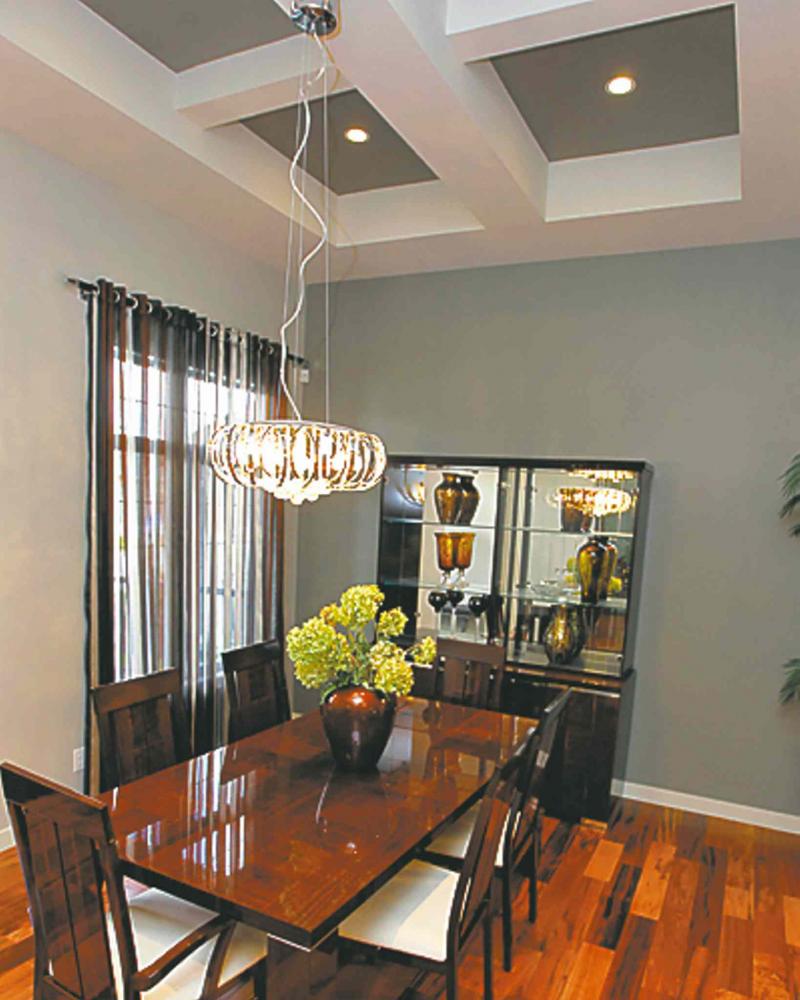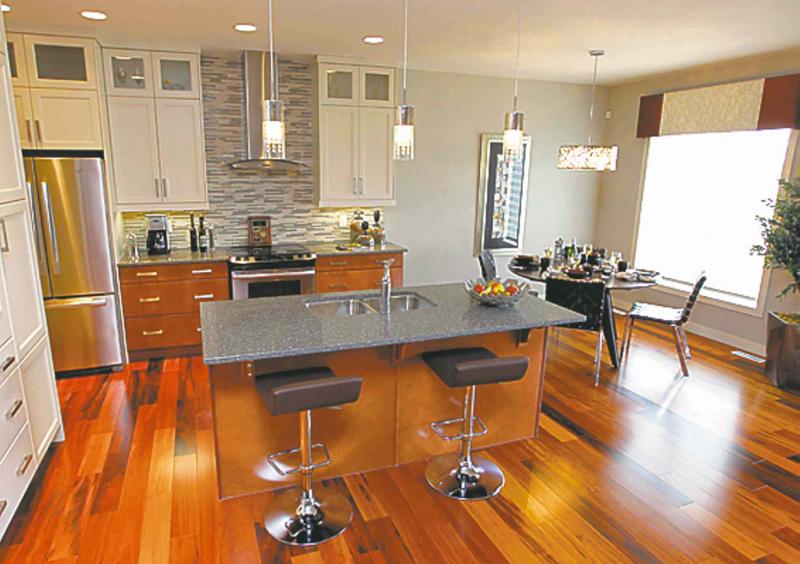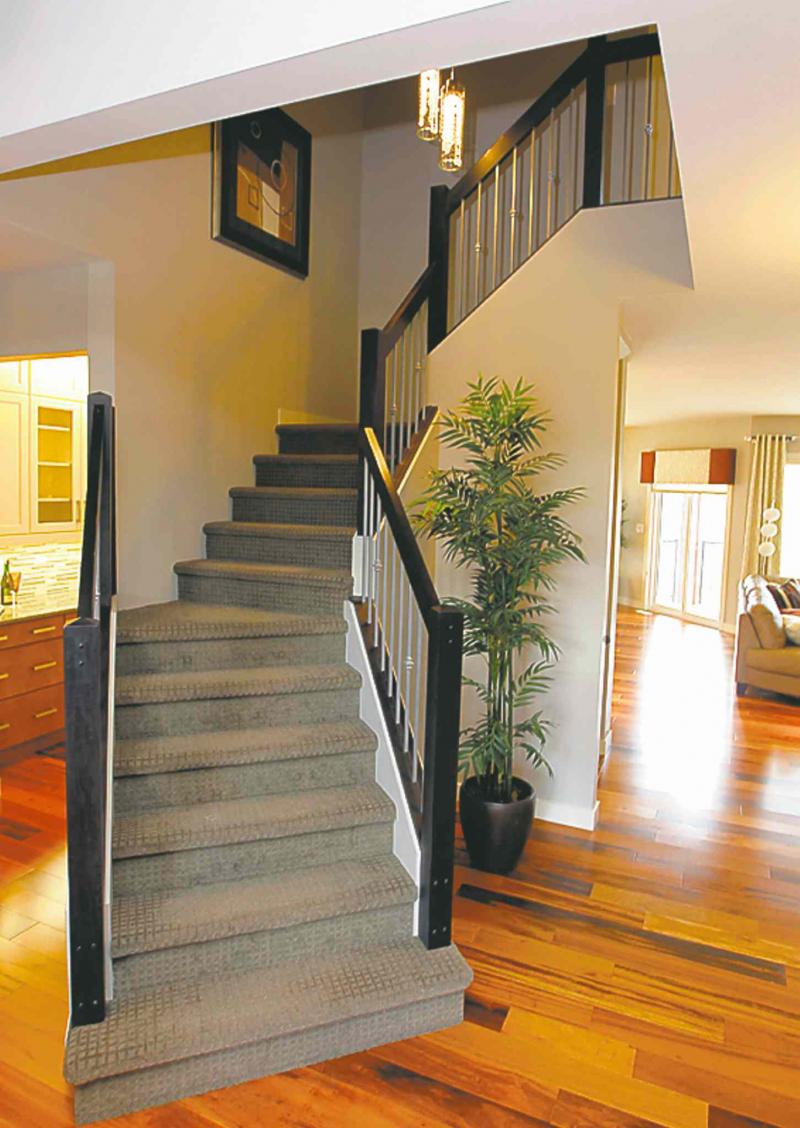 When you're a visitor entering a home, your expectations for the foyer are basically low to non-existent.
Which is to say, you might be hoping there will be enough space to shed your jacket and shoes (or, all too soon, winter boots) without feeling like you're trying to disrobe in a phone booth. Other than that, a foyer is a foyer, right?
Well, not quite. In the case of 179 Lake Bend Rd. in Bridgwater Lakes -- a.k.a. the Rosanna, a new, 2,520-square-foot, two-storey design -- Hilton Homes' design team decided to start the home off with a heaping helping of wow factor.
"It certainly is a bit of a jaw-dropper," said Hilton' Spencer Curtis. "We wanted to make sure the home's entrance wasn't just more of the same old, same old that people tend to see in show homes -- you know, a front entrance that's functional but generic."
No need to worry about engendering feelings of indifference here: a 17-foot by 12-foot dining room -- complete with a ceiling that features a waffle grid design with ornate chandelier in its centre -- ushers you into the home in spacious, well-appointed style beneath a 10-foot ceiling.
Once you've had a chance to absorb the dining room, two more striking design features jump out at you: a centre staircase that meanders jauntily up to the second level and a doorway that reveals a handy feature that's at once striking and functional.
"We put a butler's pantry in between the dining room and kitchen. It's a great place to serve dinner from, and kind of foreshadows what you're going to see in the kitchen with its seashell and nutmeg cabinets, (grey) quartz countertops and tile backsplash," said Curtis. "The wall in the middle then beautifully frames the staircase and neatly segments the foyer from the great room. You can only see a bit of it from the foyer. That creates a bit of an air of mystery about what the great room is going to look like."
Hilton's sales representative for 179 Lake Bend (he shares duties with RE/MAX Executives' Kim Fyles), Century 21 carrie.com's Rick Mazur, said there's another feature that captured the imagination of both Fall Parade of Homes patrons and judges (the Rosanna won a Fall Parade gold medal).
"The foyer is tiled so it will stand up to the elements," he said. "From there, Tiger Wood floors run through the hallway and entire great room. It makes for a spectacular look that's bright, warm and rich all at once."
While the great room is an open-concept design, it isn't overtly open. Rather, the back wall was staggered and angled to create not only a different look, but a real sense of separation. The kitchen is defined neatly by a mid-sized island, while the dinette area -- it's far from small, easily holding a circular table for four -- is in its own designated area next to two huge windows.
From there, the wall comes inward -- it's been outfitted with a huge picture window -- a feature that demarcates the family room, whose focal point is a gas fireplace with a bronzy/grey porcelain tile surround. It's a mid-sized space that offers the ambience ideal for entertaining company après-dinner: an area that's spacious yet intimate, and emanates a warm feeling from the rich finishing materials.
The goal was the same in the kitchen, added Curtis.
"Our focus was on designing a space that not only looked great, but that was highly functional, too," he said. "The island is a nice size but not too big, so it functions well as a preparation area, but doesn't get in the way. We wanted to do something different with the cabinetry, so we went with seashell (maple) cabinets up high and nutmeg (maple) cabinets below. Grey quartz countertops and a (beige/tan/taupe) tile backsplash complement the cabinets very nicely."
Then, comes a very welcome bonus -- a sunroom off the family room that can be accessed via an angled doorway.
"It has a door to the backyard deck, a grey tile floor and big window that allows lots of light to flood in -- it's a great space that's ideal for entertaining or just relaxing reading a book."
Heading upstairs is a pleasure due to the feeling of space provided not only by the wide staircase, but the 18-foot ceiling above. The master suite, with its angled double door entrance and voluminous interior, is the upper level's crowning touch.
"Hilton's design team created a wonderful space," said Mazur. "It features a gorgeous tray ceiling, huge picture window, big walk-in closet (with window), and a beautiful ensuite with lighter tones that give it a modern feel. It's a great place to relax with its (free standing) bubble jet soaker tub, five-foot shower, seashell vanity and beige tile floor. It also has some angles for interest -- it's not just a featureless box."
Two more bedrooms -- one is almost the same size as the master -- a four-piece bath with soaker tub and faux vinyl hardwood floor and a laundry room at the end of the hall round out the upper level in functional style. Another 1,200 sq. ft. of livable space downstairs takes the home's total square footage to 3,700-plus, making the Rosanna a home that offers families the space, style and practical layout they need to live -- and enjoy -- life to the fullest.
lewys@mts.net