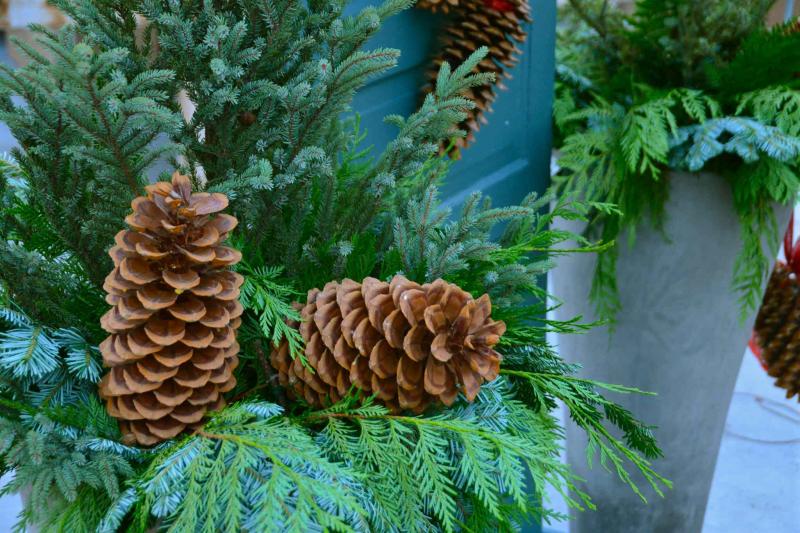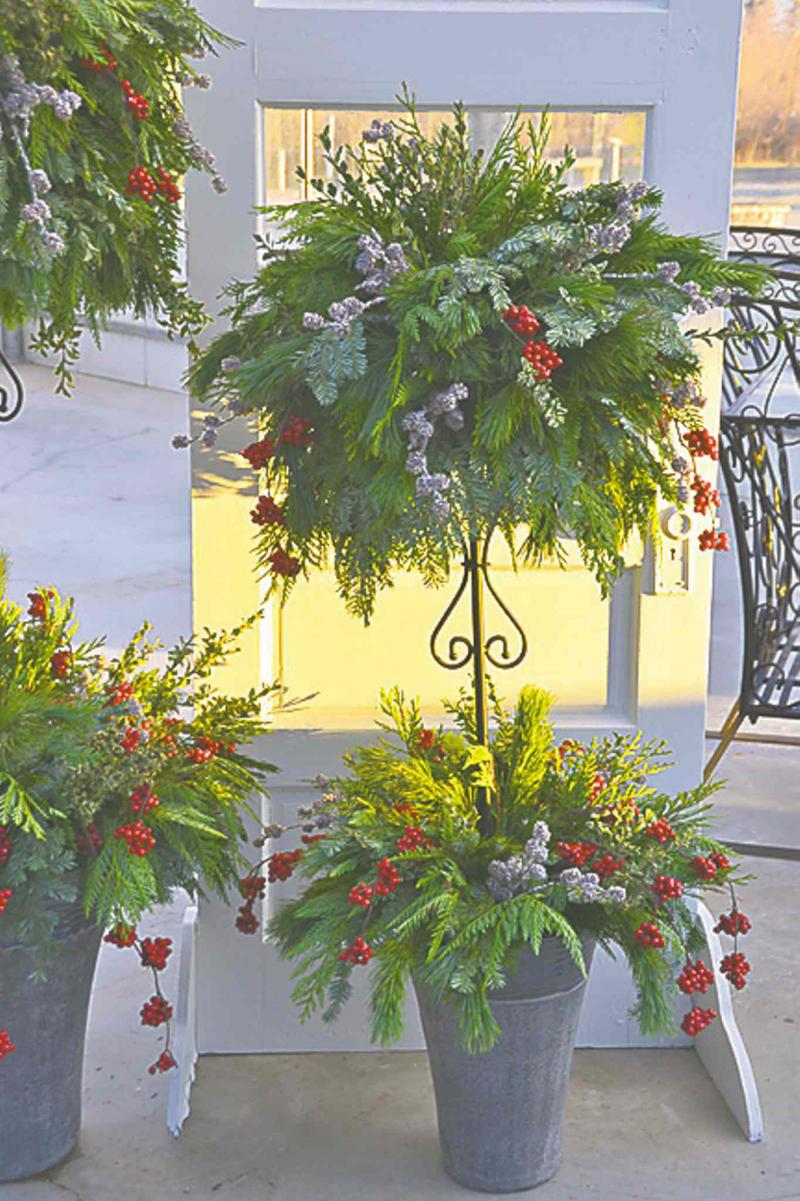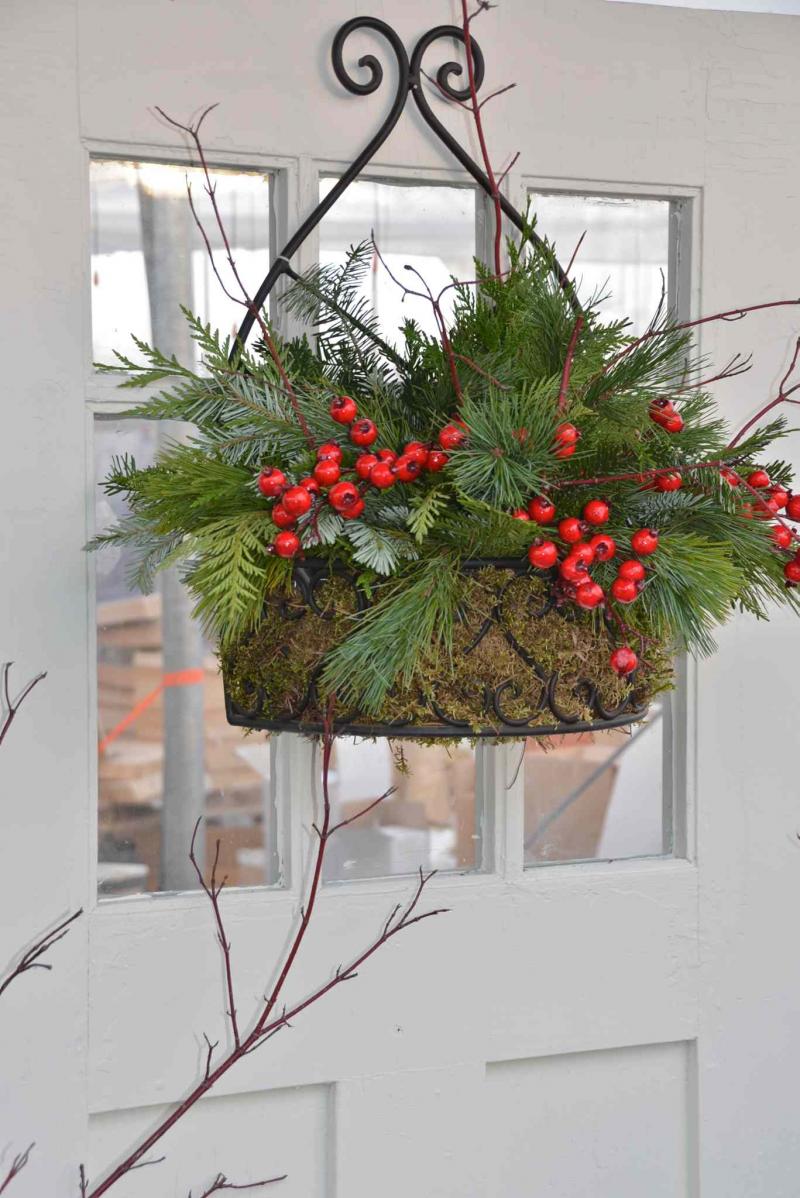 November's first snowfall can signal that the countdown to the holidays has officially started.
That heralds a busy time ahead until company arrives at your front door for the celebrations. But if it's a naked front entry that greets them, it will leave little impression.
Why not escape to the nearest garden centre for some fresh front-door inspiration? Every garden centre that I've visited this season is brimming with an irresistible selection of seasonal materials and faux accessories.
Today, Steinbach's Oakridge Garden Centre will debut a unique holiday display called The Twelve Doors of Christmas. Designer Cyndy Goulet and owner Erna Wiebe have decorated a dozen doors painted in some of the trendiest exterior colours for 2014, including mustard, black, red and historic blue.
"Come and get inspired," urged Goulet, who has a background in floral and interior design.
Doors have been decorated with swags, pine cones and even summer's wall planters that may have been used on a fence or outside wall. Just add moss, a bit of fresh greenery, pine cones, berries and ribbon.
Goulet recommends faux berries that are made for Manitoba winters. "They feel slightly rubbery to the touch and won't freeze or split like styrofoam berries."
One stunning black door has been made all the more glamorous with an elaborate container design featuring faux white magnolia blossoms and fresh pine and cedar.
Goulet likes blocking the greens, essentially dividing them up into thirds so that all of the cedar is in one area of the pot, fir and pine in another, so that it isn't mixed. She also likes to reverse the fir greens for a nice silver texture.
My favourite has to be the magnolia leaves with their auburn-coloured undersides. Combined with sprays of green berries, it's a classic look that is only enhanced with the addition of sustainably harvested fresh tree toppers or spruce tips, sold in bunches and ranging in size from three feet to five feet.
Just when I'd decided on a container design, I spotted two topiary trees beautifully decorated in salal, oregonia, seeded eucalyptus, berries and ribbons.
"You can use finer greens such as these which will give you variegated green and white tones," Goulet said, adding they hold their colour once they are frozen.
While decorating always comes at a certain cost, Goulet points out that once you've purchased quality hard goods, they can be used and reused for seasons to come. "If something starts to fade, use a can of spray paint. It's your best friend."
Goulet said the important thing to remember is that your front-entry design should be all about curb appeal and scale and be reflective of your home's interior style.
Marci Bomford, horticulturalist and owner of Patmore Nursery in Brandon, has some great suggestions for creating a winter garden outside your front door.
"Long before Christmas Day, Kwanzaa, Hanukkah, and the winter solstice, festive decorations gesture to the spirit of the season," said Bomford, who subscribes to the belief that containers and window boxes have a duty to be filled every season of the year.
Bomford recommends using a planter insert in your container. This is a practical idea for ease in filling, either by yourself or by a professional, and then placing into your container. Planter inserts are ideal for large pots that are cumbersome to move.
Bomford cautions against using a ceramic pot that still has soil in it from the summer. "Do not leave the soil in the pot over winter as it will expand with moisture and potentially crack or split the pot," she added.
Bomford said the staple of the winter container in zone 3 Manitoba begins with the evergreen bough made of cedar, fir, spruce and pine.
"You need to use four key components -- hardy foliage, berries, winter flowers and beautiful bark or branches," she said. "Berries and winter flowers may include seeded eucalyptus, dried hydrangea flowers, pine cones, stems of artificial berries or artificial apples for organic displays."
Festive floral arrangements follow the same principles as practised with summer container designs, Bomford added.
"Start with taller items for the center or back, such as red or gold dogwood branches, curly copper willow and birch bark. Trim the foliage off the ends so that the end will stick and hold in your medium."
Bomford likes to use sand for the medium and sprays the greens with an anti-desiccant to keep them looking fresh.
Carla Hrycyna's creativity is not diminished by the decreased light in oncoming winter. The co-owner of St. Mary's Nursery maintains that designing outdoor containers gives as much enjoyment as creating a container for spring -- they simply take an alternate form.
Hrycyna mixes fresh-cut boughs of cedar, silver fir and white pine with red sage, leaves of magnolia, oregonia or eucalyptus tipped in gold.
"Soft vertical heights can be achieved by thinking outside of the box and choosing peacock feathers which tower at five feet," she said. Peacock feathers can be left natural or sprayed in gold or silver tones, depending on your colour scheme.
"Arrangements with blueberry or dogwood branching create a natural woodsy display accented with birds, nests or bright red weather proof berries." Grapevine orbs in a range of sizes are attractive when paired with bell cups and narrow birch trunks. Hrycyna recommends adding mini-lights for a nighttime glow.
On my visit to St. Mary's, I was struck by the beauty of Ming pine. With finely textured branches and a soft silvery-green colour, it will be a standout this season.
For a delightful finishing touch, illuminate your walkway with globe-shaped ice lanterns. "They last all winter, said Julie Garcia, owner of The Garden Room. Starter-kits include three soccer ball-sized ice lantern balloons, candles, freezing base and insulating disk.
Garcia likes to add them to a container arrangement at the front entrance together with branch lights decorated in red cardinals or brown owls.
When time is of the essence, a local business such as Front Door Stories (www.frontdoorstories.com) will come right to your front door and create a customized design. Is it all about what your visitors first see? That's only part of the reason to dress up your front entry, owner Sharlen Nielsen says.
"When you're coming home, there's a kind of self-satisfaction with the effort you put into your front space," she said. "Whatever your style is, your front entrance makes you feel welcome and give you pride in ownership."
Nielsen's philosophy is that there is no need to go overboard with a multitude of components. "All you need is one component, one focal point that gives you the scale that complements your entrance."
Nielsen is using exotic seed pods this year in her container arrangements and making handmade wreaths using magnolia leaves for her clients' front doors. "They freeze into the arrangement and stay that beautiful coppery brown colour which really compliments red brick, especially when greenery is added."
For contrast, white birch is Nielsen's favourite choice. "It's so versatile and gives you a big scale piece", says Nielsen. "Make it look rustic or contemporary. It will never go out of style."
Bonny Fraser, who owns My Secret Garden, is a freelance floral designer who provides consultation by appointment (204.338.7749). A recent project was the exterior entrance of the historic Walter P. Moss House (Kantor House) at 218 Roslyn Road.
Fraser selected a muted colour scheme in red, white, and green to fit the traditional style and period of this 1901 house where she once took ballet lessons in the ornate ballroom converted into a ballet studio by previous owner Madame Grandpierre, a celebrated former principal dancer with the Paris Opera Ballet and wife of Max Kantor.
Permanent botanicals, or faux materials, such as magnolia blossoms combined with fresh fir, cedar, blueberry cedar, pine, red dogwood branches, rosehips and pine cones create a show-stopping display at the gracious entrance.