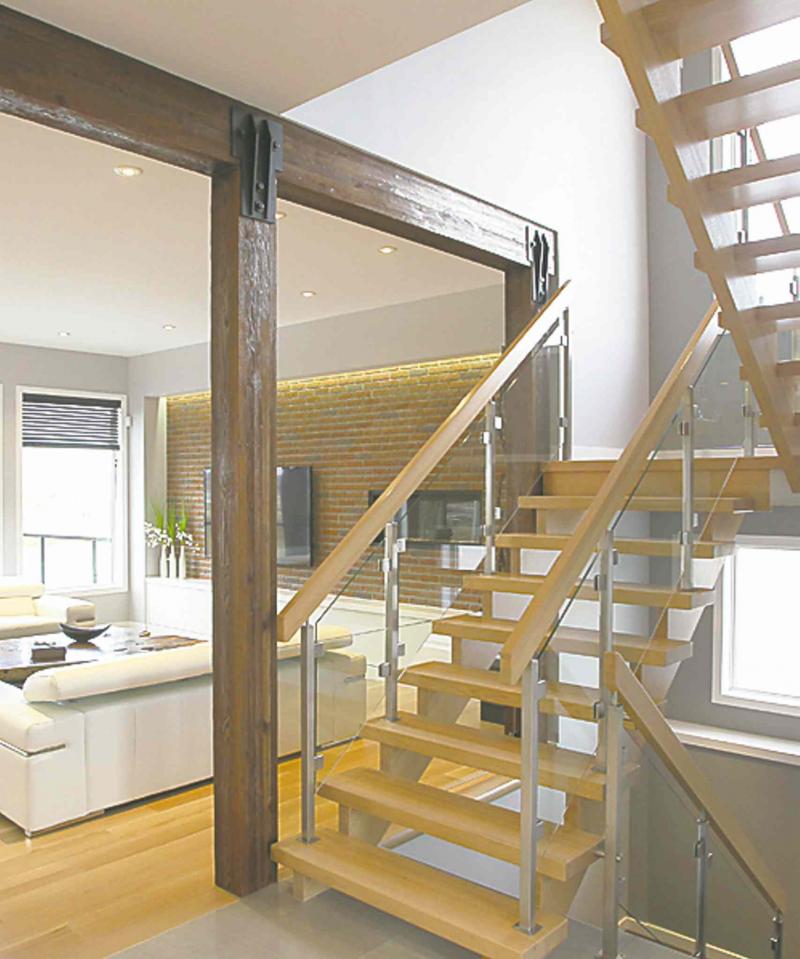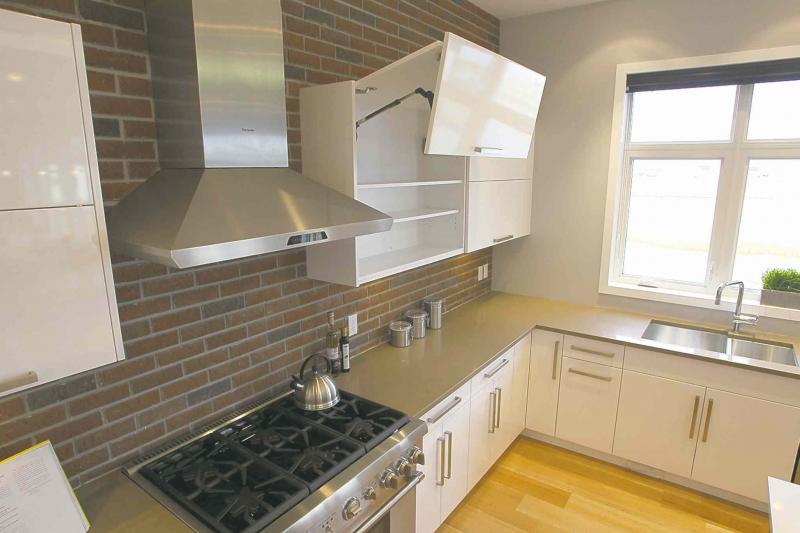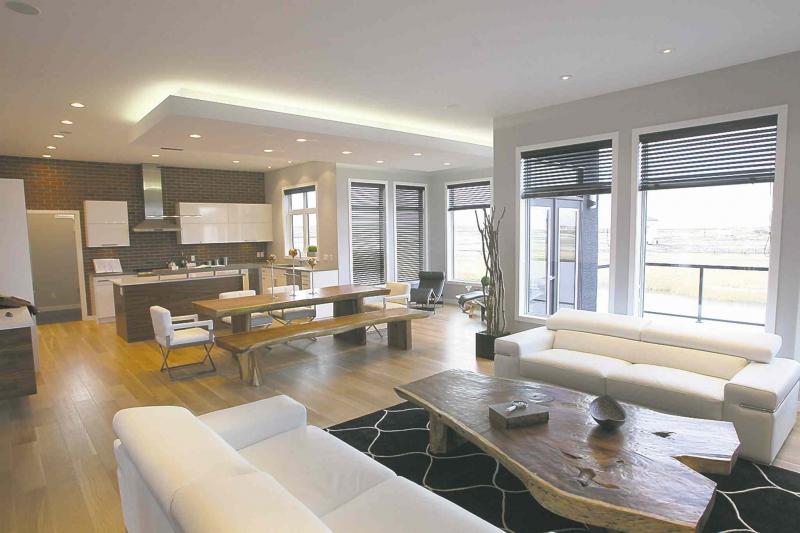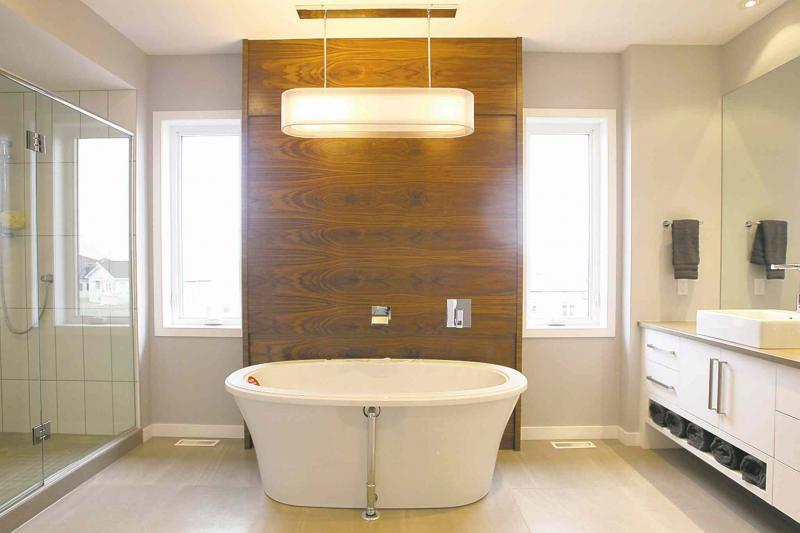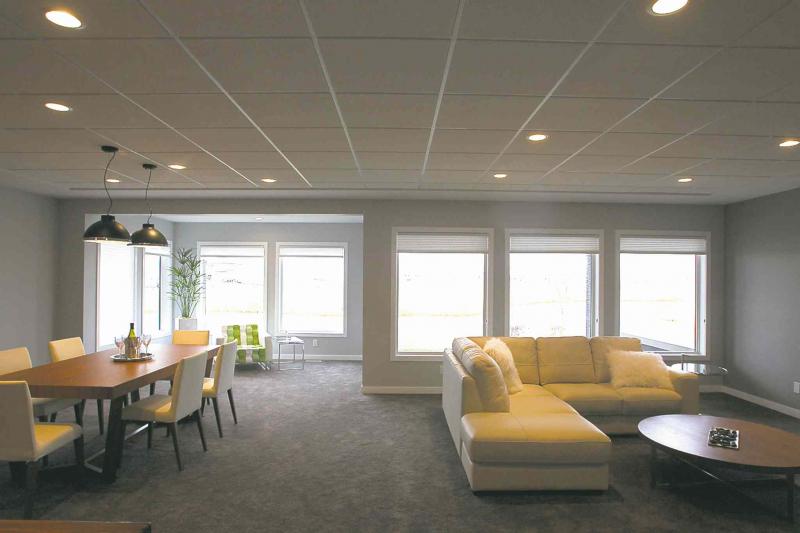 When a new home design is characterized as clean and linear, it might be perceived as boring.
Just because a home doesn't hit you with a huge wow factor the moment you walk in doesn't mean its interior lacks panache. Indeed, some of the most attractive homes are ones with subtle, functional designs that become increasingly stylish. You just have to take the time to let it sink in.
One such home is 82 Waterstone Dr., a 2,989-square-foot., two-storey Huntington Homes design found in South Pointe's newest display home quadrant.
"We've got great feedback on the home from visitors," said Rob Swan. "The idea was to create a home that had clean lines and was contemporary and modern. At the same time, our design team wanted to ensure it wasn't cold. Everyone who's been in the home has said the same thing -- while it's a modern design, it's also warm and peaceful. That was what we were after."
He added the inviting interior feel is the result of a concerted effort to outfit each space with a suitable combination of finishing materials.
"I would say the home has a variety of great features that blend together to create that warm, peaceful feel," he said. "Of course, the first priority is to design a floor plan that functions well. Once that's achieved, you surround it with finishes that complement the floor plan, and take the home's livability to the highest possible level."
That high level of livability starts in the foyer. At approximately six metres by three metres -- with a (60 cm) grey porcelain tile floor -- its an elegant, functional space.
An extra-wide eight-foot entrance defined by distressed fir beams on either side and above provides seamless access into a great room that's wide open, yet subtly divided into four zones: kitchen, dinette area, family room and sunroom.
The view at the rear of the great room will capture your attention.
"When you have such a beautiful water feature behind the home, you absolutely have to capture it, and I think we did," said Swan. "We basically put a wall of windows across the rear wall to provide a near panoramic view of the water. To amplify the view even more, we put in a sunroom/sitting area behind the dining room with four windows and a door to an elevated deck. That way, you can enjoy the view both inside and out."
If the great room in 82 Waterstone were to be described in just one word, it would have to be balance because each space is well-proportioned. The dining area next to the kitchen - which is defined by a bulkhead above that features seven potlights -- holds a table for 10. The kitchen is defined by a rectangular island with walnut base, white quartz countertop and raised (taupe quartz) eating bar, while a three-part picture window on the rear wall defines the family room.
Meanwhile, the finishes that run through and around the great room, while both traditional and modern in theme, share a common denominator, he added.
"Traditional materials like the walnut bases used for the island and dry bar and distressed wide-plank (engineered) oak hardwood floors add warmth, while the combination of glossy white cabinets and brick feature walls in the kitchen and family room create a look that's contemporary, yet warm. The brick wall in the kitchen really makes the white cabinets pop, while the wall in the family room serves as a gorgeous backdrop for the TV and (ribbon-style) fireplace."
The home's upper level -- accessed via a wide, angled staircase with tempered-glass inserts to create an open feel -- features a generous landing, three bedrooms and a laundry room at the end of the hallway. While both secondary bedrooms are impressive with their size, huge windows and walk-in closets -- it's the master suite that steals the show.
"It's a gorgeous space with its double entrance, three windows on the back wall for a view of the water below, oak hardwoods and TV niche," said Swan.
"The ensuite features a huge shower with two rain shower heads, two hand-held shower heads and temperature/pressure controlled plumbing. We put a walnut backdrop behind the free-standing (air jet) soaker tub for a rich, different look. A walk-in closet adds tons of storage space for wardrobe."
Head downstairs, and there's about 1,400 sq. ft. of bright walk-out lower level to enjoy: a rec room with a water view (via seven windows), games area (with wet bar), sunroom with door to a covered patio, open media area -- plus a fourth bedroom (with water view) and adjacent three-piece bath.
"Like the main floor, the lower level -- which features steel-beam construction to open it up -- is bright and warm thanks to the windows and structural wood floor. It's ideal for entertaining or just hanging out with the family. It's a simple -- and spectacular design -- that gets the balance between style and function just right."
lewys@mts.net