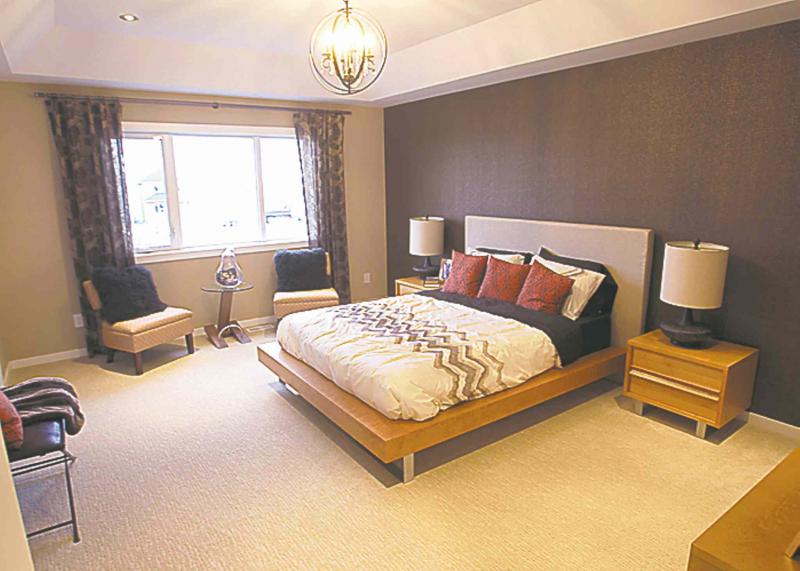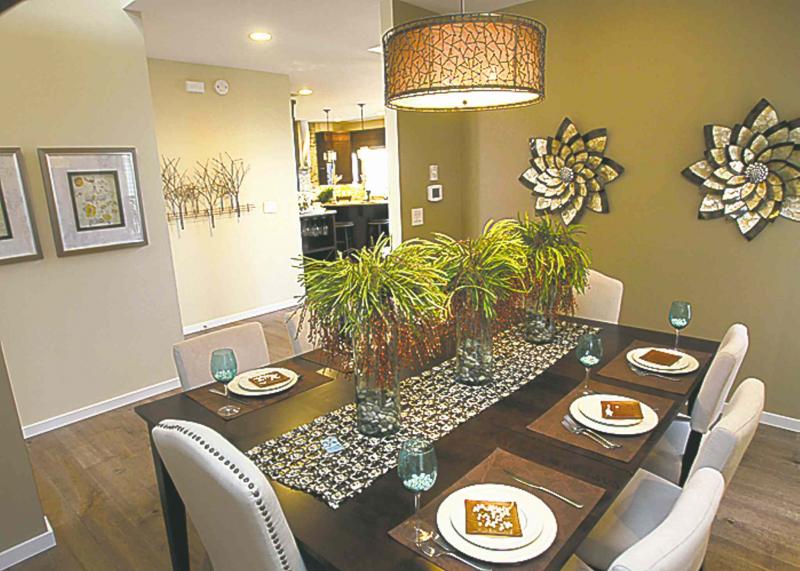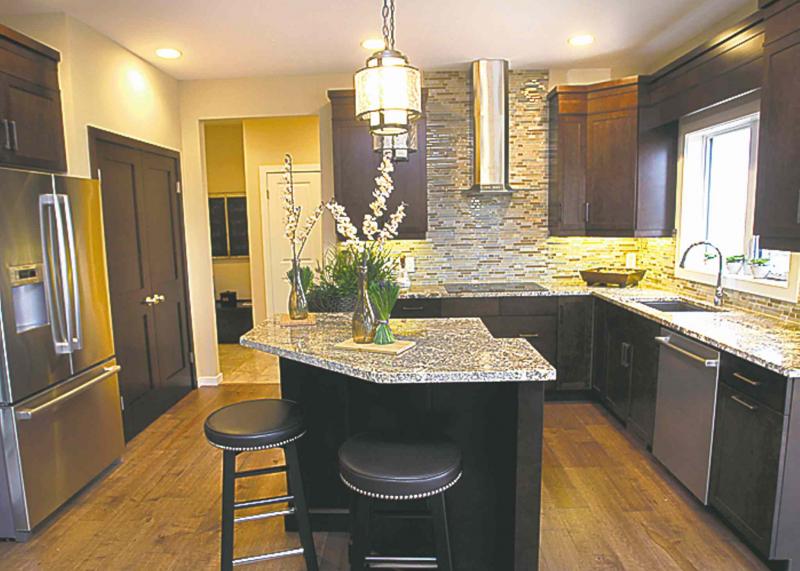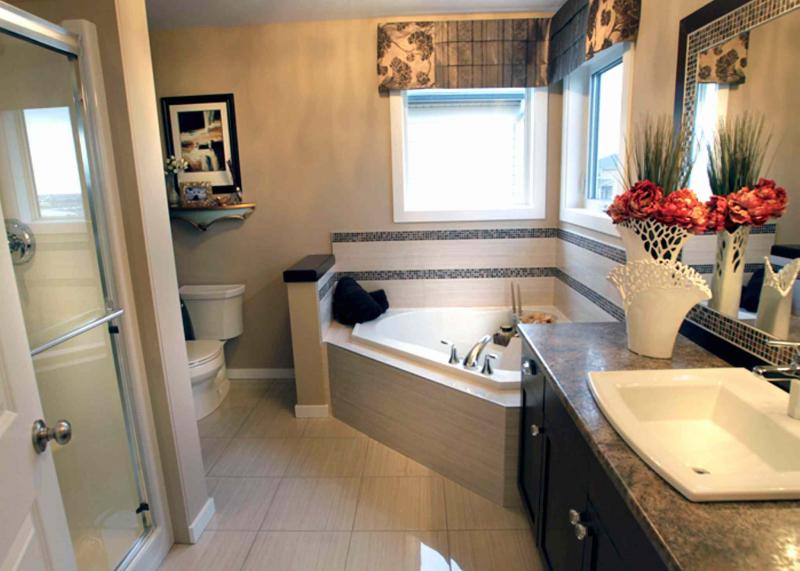 Designing a show home is no easy task.
Which is to say, from a builder's point of view, it's always a challenge to find just the right balance between luxury and practicality. On the one hand, you want to show consumers what you can do. On the other, you don't want to doll up a home so much that style trumps substance.
Thankfully, the design team at Kensington Homes kept that tenet in mind when they conceived the Cypress II, a 2,361-sq.-ft., two-storey design at 175 Lake Bend Rd. in Bridgwater Lakes. While the home is filled with a host of luxurious features it is, above all, liveable.
"The feedback about this home has been absolutely great," said Kensington's sales representative for 175 Lake Bend, Sabie Brar. "The way the home has been designed, it's ideal for both a growing family and for entertaining. The floor plan is excellent from top to bottom, and the finishes are, in a word, luxurious."
Practicality and luxury greet you the moment you step into the foyer, which features a soaring ceiling. With a huge window above, a wide foyer with off-white tile floor and a staircase (to the left) with maple railing and tempered glass inserts, the interior theme is one of warmth, brightness and space, the latter feature amplified by a formal dining room set to the right of the hallway that leads to the great room. No feeling of being closed in here.
That open feel is on display in a great room that has as much function as it has fashion. Its focal point is undeniable: an eye-catching entertainment unit in the family room.
"Cultured stone surrounds the fireplace, is a backdrop for the flat-panel TV and tracks up the wall above the fireplace and TV," said Brar. "It's absolutely spectacular, with floating shelving and a maple-trimmed storage unit below. To the left is a collection of windows that go about two-thirds the way up the wall. That's a lot of glass because the ceiling is 17 feet high."
The best part about the Cypress II's great room is it isn't just one humungous space with three different spaces placed haphazardly within it. To combat that, the dinette area was placed between the kitchen and great room adjacent to patio doors that not only provide access to a backyard deck, but allow more natural light to stream inside.
An angled island with seating for two and a raised eating bar then defines the kitchen, creating a space that flows as good as it looks.
"The island is just the right size and even hides the sink if you happen to have dishes in it. I also like the flooring choice: mirage maple hardwoods that have a distressed, antique look with a dark honey maple stain that makes for a nice in-between tone," Brar said.
The flooring is complemented beautifully by the finishes in the kitchen, he added.
"It's not only a practically-designed space, but the finishes are also gorgeous -- cappuccino maple shaker cabinets (loads of them), a (grey/taupe/beige) tile backsplash and chocolate brown granite countertops. Another practical feature is a space behind the kitchen that contains a (visitable) powder room, landing with closet and a door for access to the attached garage. It's a space that's out of the way, and that offers a lot of utility. The formal dining room can be used for entertaining or as a flex space."
Heading upstairs is an extra-wide staircase bordered by dark maple railing with tempered glass inserts, and there's more flex space to the right of the stairs in the form of a bright, spacious loft.
"Most people keep it -- it tends to be the most-used space in the home," Brar said, adding the second-floor laundry room next to the loft is also a popular -- and practical -- design feature. "If need be, it could be a fourth bedroom, too. Most people use it as a TV room or study area."
Meanwhile, the bedroom wing is a study in spacious economy; three bedrooms and a four-piece bath fan out around the hallway in oh-so-efficient fashion.
"The two secondary (bedrooms) are good-sized with big windows and double closets but it's the master suite that steals the show," he said. "It's extra-wide to offer plenty of space to work with and has a tray ceiling, big picture window and a (textured) chocolate brown wallpaper feature wall behind the bed. The ensuite is huge and luxurious, with a heated tile floor, corner jetted tub (with tile surround and two windows above either side, and a five-foot shower. The walk-in closet is a dream closet with its his/hers concept and built-in laundry basket and drawers."
With just over 1,000-sq.-ft. of space to develop downstairs (which would translate into a fourth bedroom, rec room, theatre room, three-piece bath and storage) -- making for a home that offers more than 3,300-sq.-ft. of liveable space spread out over three levels -- the Cypress II is drawing rave reviews, said Brar.
"Feedback about the home has been great," he said. "It's difficult to find a family-oriented home that offers better value. The space, layout and style that it brings to the table is very hard to beat."
lewys@mts.net