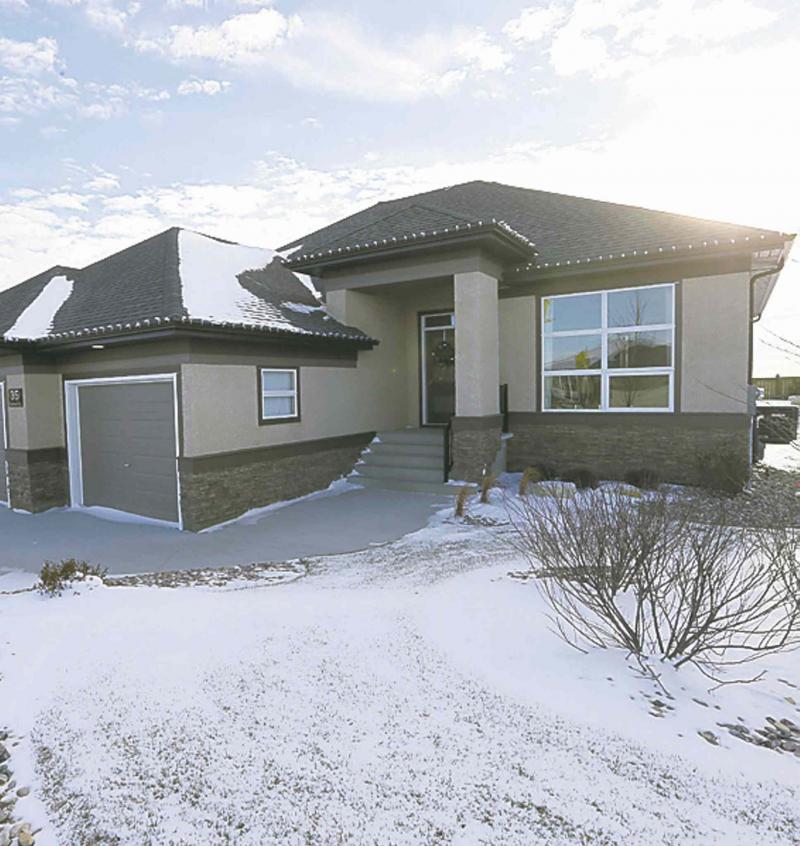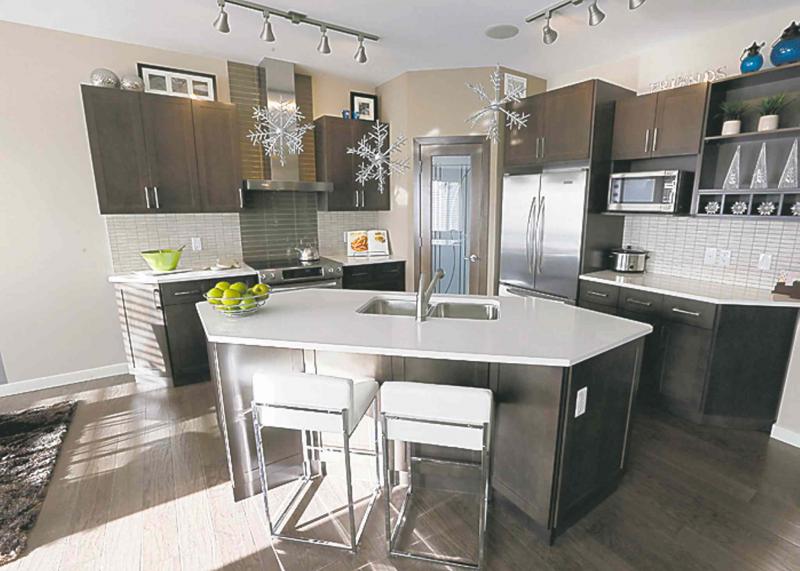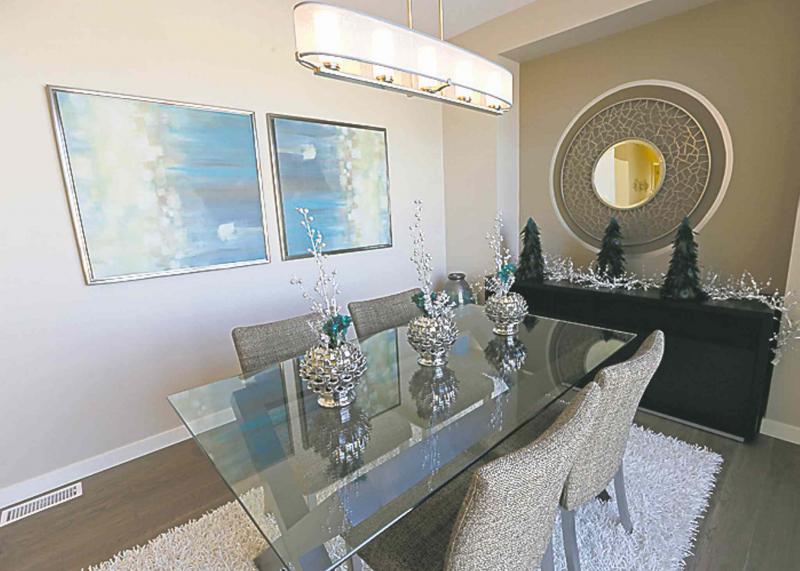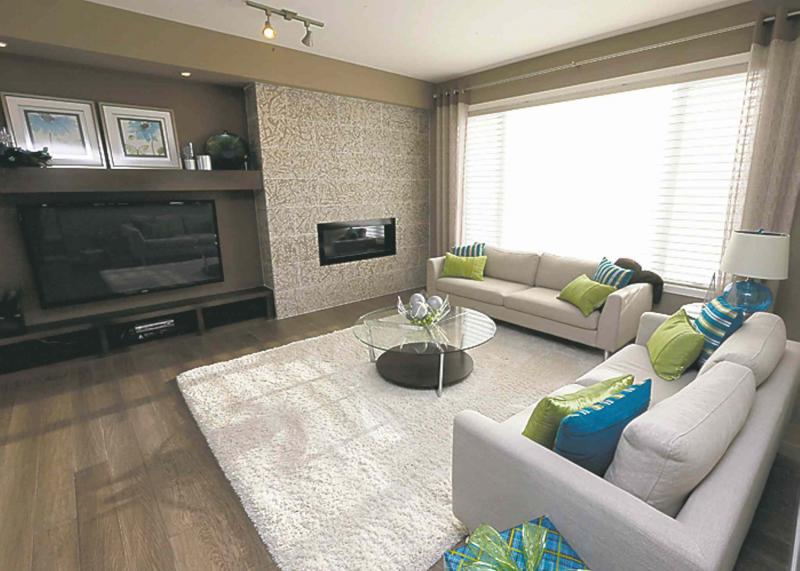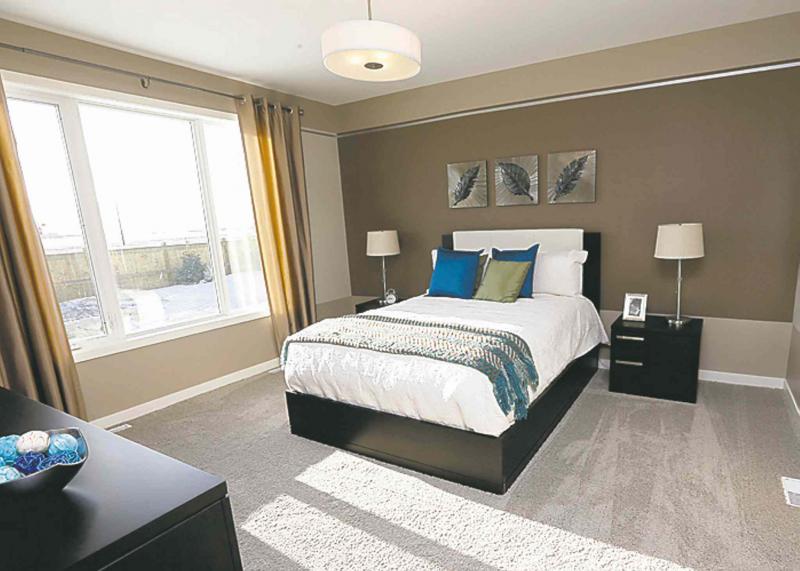 Travel throughout neighbourhoods throughout Manitoba, and it's not unusual to see homes with Tyndall stone exteriors.
What is unusual is to see a home -- in this case, a brand-spanking-new show home -- use it as an interior finishing material.
Yet -- in something of an audacious move -- Randall Homes' design team dared to use it to dress up the family room of one of its newest show homes, The Oakwood C, at 35 Casselman Cres. in Oak Bluff West. Instead of cultured stone or tile, the surround that frames the ribbon fireplace is unmistakably comprised of the stone for which Manitoba is so famous.
"It's not only different, but it looks absolutely gorgeous," said Realty Executives First Choice's Cheryl Thurston, sales rep for the stylish 1,785-square-foot bungalow. "It has kind of a retro feel to it. It's used outside a lot, but not necessarily inside. In this case, it makes for a neutral finish that complements the other decor just perfectly."
That "other" decor found to the left of the fireplace is just as impressive as the Tyndall stone -- a huge TV niche with maple mantel and shelving that offers a rich contrast to the textured stone facade, and engineered oak hardwoods that inject warmth (plus another welcome dash of texture) into the colour palette, which also includes walls painted in earth tone hues that range from taupe, to beige, to chocolate brown.
Thanks to a huge picture window on the family room's rear wall, there's no danger of the colour palette being too dark, added Thurston.
"The window faces southeast, so you not only get the morning light, but you get light all day. When you add in the big window (and patio door) behind the dinette area, you get even more light. That makes for a bright, warm interior that makes you feel at home the moment you walk in the door," she said.
Another feature that makes you feel at home is the user-friendly great room plan. Open yet subtly defined, it encourages easy flow while providing enough definition to guard against cavernitis, a malady that afflicts great rooms that are (regrettably) devoid of defining features.
Each space, though easily accessible, is defined. The family room is demarcated by a one-third maple-capped wall (with a jog that's ideal for an accent table, art, or in this case, a Christmas tree) that also defines the lower level stairwell, while the dinette area is neatly separated from the family room by another one-third, maple-capped wall with a wine rack on its end piece (a Randall trademark).
The kitchen is then defined by a mid-sized, angled island that opens up room on all sides, ensuring seamless flow and ample aisle width; a double sink and eating nook for two adds extra utility.
Thurston added the finishes in the kitchen amplify on the warm feel showcased in the family room.
"The beige quartz countertops go beautifully with the cappuccino maple cabinets, and a beige/taupe tile backsplash adds a nice, earthy texture. Stainless appliances add a modern touch, while the oak hardwoods offer a warm, traditional look."
Meanwhile, thanks to a long hallway, the Oakwood C's bedroom wing is well-separated from the main living area. Containing a huge main floor laundry/mudroom with quad bi-fold closet and door for access to the attached triple garage, a four-piece bath with soaker tub and three bedrooms, it's an area that is at once private and functional.
There's space and style aplenty, what with two oversized secondary bedrooms with huge windows and ample closet space and a spacious, private master suite that has its very own hallway.
"It's not only big, but bright," said Thurston. "Because it faces southeast, light flows in all day long through its huge picture window, making it a nice, cheerful space. There's lots of room for furniture, and the chocolate brown and taupe feature wall behind the bed provides a rich, warm feel."
With its oval jetted tub (placed between tiled bulkheads beneath a huge obscured glass window), beige tile floor, cappuccino vanity with beige quartz countertop (and raised, angled ceramic sink) and its roomy, bright interior, the ensuite is a luxurious, spa-like space that encourages relaxation.
It's also a practically designed space, as the four-foot shower was placed in the water closet. Close off its pocket door, and one person can shower, while the other can get ready for work -- a thoughtful, convenient feature. A big walk-in closet to the right of the master suite's entrance also scores high on the convenience scale with its abundance of well-placed wire shelving.
Feedback on the home's design has been overwhelmingly positive, said Thurston, adding the deluxe ensuite has been a huge hit with visitors due to its fashionable yet functional design.
"Everyone who's gone through the home loves the floor plan," she said. "They love the amount of light that comes into the home through all the large windows, and its overall functionality. People have said they really appreciate the huge foyer. It's big by itself, but feels even bigger because there's a formal dining room to its right. That wide-open design makes it easy to sit down and shed your coat and shoes."
Add in a huge basement with more than 1,500 sq. ft. of space to develop into another bedroom or two, rec room, bathroom and storage, and the end result is a home that offers more than 3,300 sq. ft. of well-designed (and well-appointed) living space on a huge lot in a countrified, yet central location.
lewys@mts.net