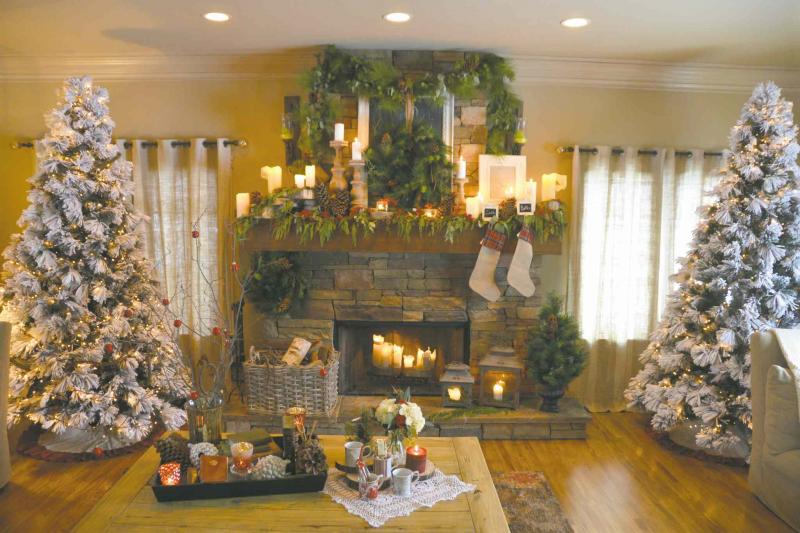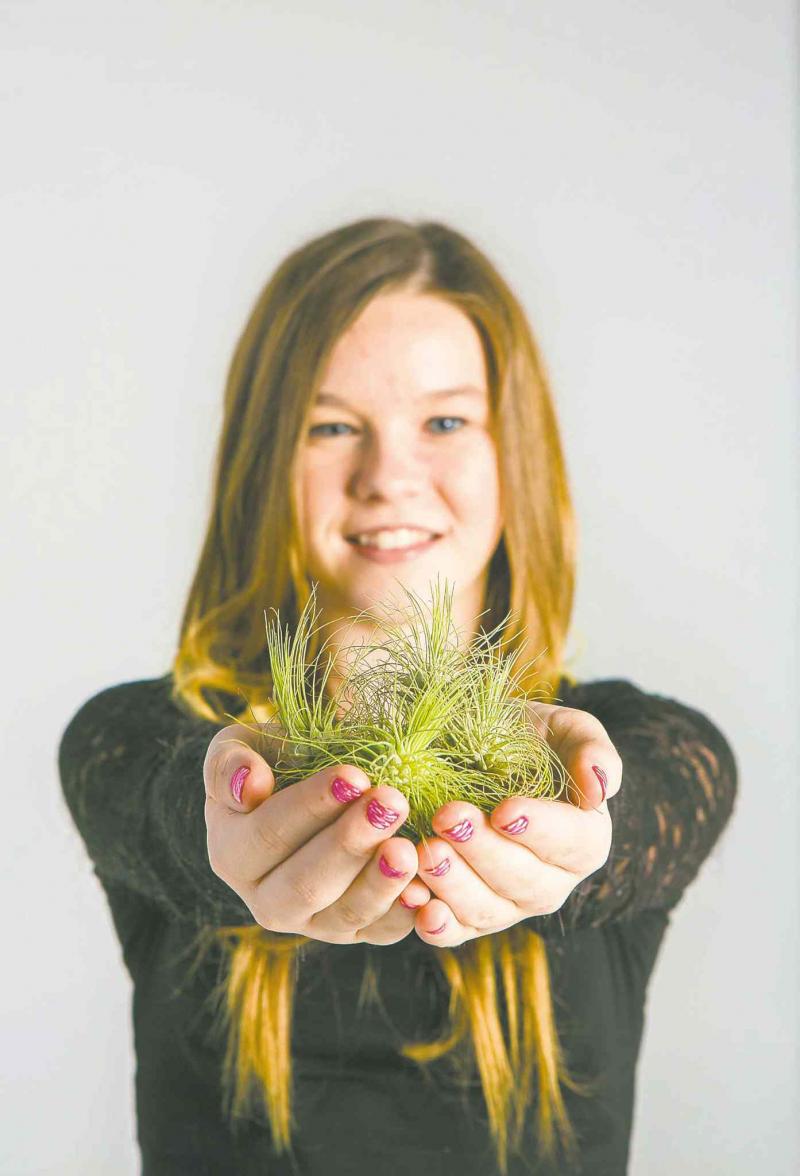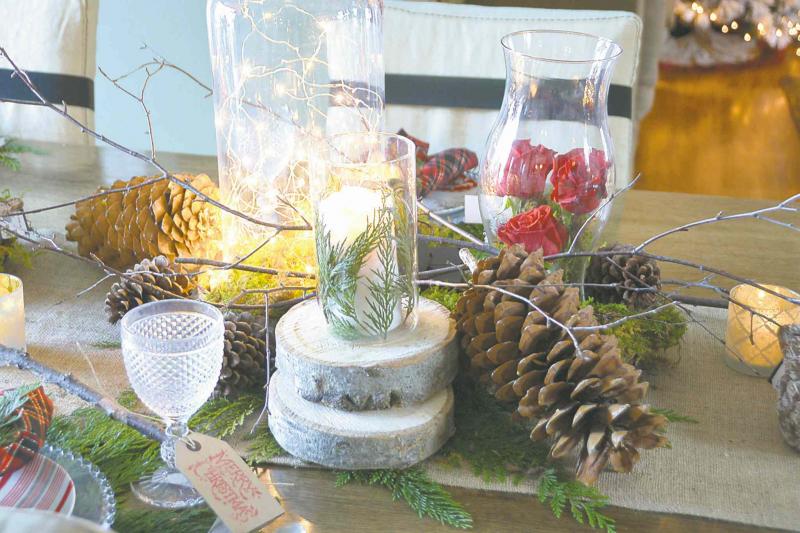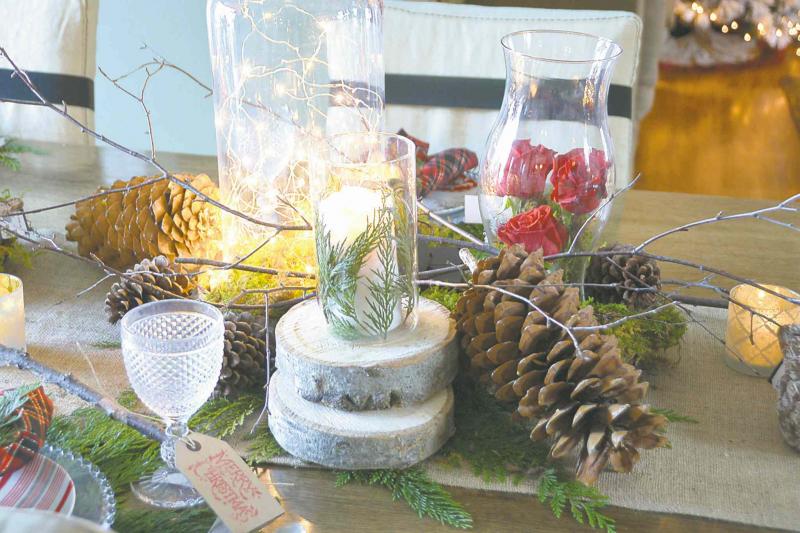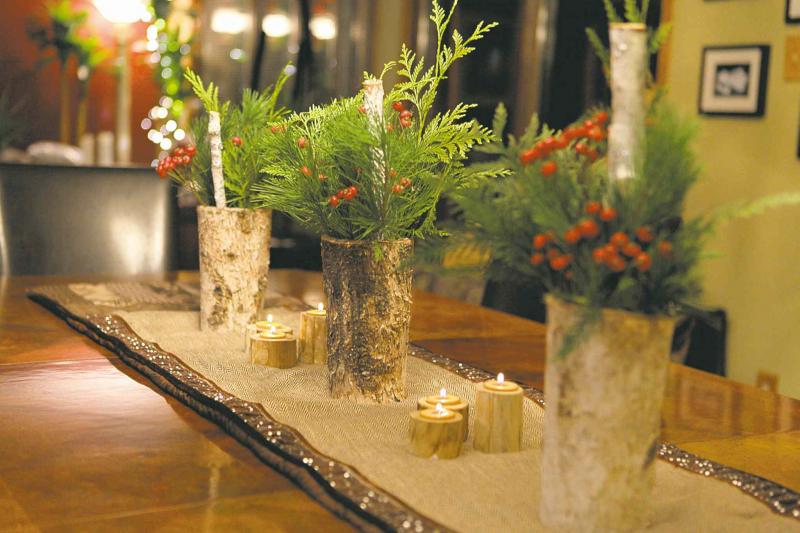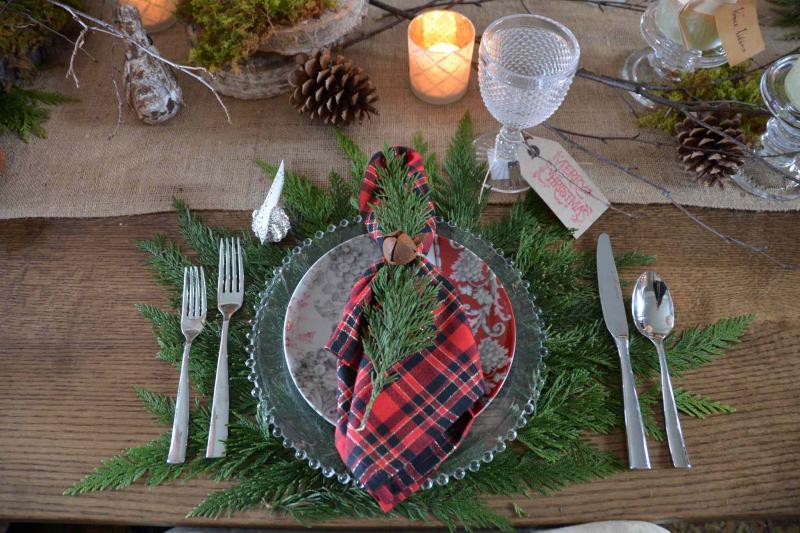 Company is coming so it is time to deck the halls with... what? With everything else that's on your to-do list, doesn't it sometimes seem like too much effort or expense to add some festive colour to your home?
The trend toward natural elements will help you to keep it simple and affordable yet provide you with long-lasting displays.
Jan and Ralph Regehr, owners of Pineridge Hollow, a dining and shopping destination just outside of Birds Hill Provincial Park, make their home nearby in the rustic countryside setting. Their front porch is decorated with a wintry theme - snowshoes, fire logs, a vintage cream can filled with natural twigs and dried berries, a faux grey rabbit, a wooden bench holding a birdhouse, bits of greenery and lanterns that will be lit up in the cold evenings.
When Jan Regehr opens her cinnamon-red painted wooden door decorated in evergreen boughs to welcome her holiday visitors, they step into the warm comfort and easy style of a home filled with Christmas elements that complement the natural setting outdoors.
Built in 2004, the Regehr home is in the Craftsman style and features five-panelled quarter sawn oak doors and floors together with square elements such as the geometrically shaped newel posts. The home exudes an organic feel. Birch plays a strong presence in the holiday decorations -- logs, branches, even birch-wrapped vases.
"I love the connection that the birch is from my cottage," says Jan Regehr. "One of my customers said, and I think it is well-said," relates Regehr, "that we can get so disconnected at times but natural elements help to ground us. I'm inclined to leave the birch decorations up much of the winter. I always have the nature aspect -- I would never do it over the top or glitzy."
Katrina Klassen, the Regehrs' daughter, is a floral designer and has decorated her parents' home throughout with a continuous theme, weaving fresh materials in with faux.
The wooden mantelpiece on the stone fireplace is decorated with fresh cedar, seeded eucalyptus, ilex berries, oversized pinecones, and birch branches. A staggered series of candles in different sizes, some in tall candleholders, provide depth and added dimension.
The theme is repeated in the tapestry-like centrepiece on the dining table. A tall glass terrarium dome, filled with twinkly lights, sits in the centre of a burlap table runner, surrounded by bits of moss, pinecones, architectural-looking birch branches and candles. Log disks, hand-sawn by Ralph Regehr, who owns Woodlands Supply, sit alone or beneath some of the elements for a slight variation in height.
Charger plates, still popular, have been creatively reinvented for this holiday table setting with fresh cedar artfully arranged beneath each dinner plate. Klassen secured tartan-patterned cloth napkins with homemade napkin rings using rusty bells and a bit of string woven through.
The natural theme continues into every room of the house, including the kitchen where hanging glass teardrop vases, or mini terrariums, have been suspended from the ceiling light fixture. Klassen has decorated them with a single fresh rose bloom and a little bit of water. The same vases hang in windows but are filled with fresh cedar and faux birds.
The oak doors throughout the Regehr home have taken on the appearance of gift-wrapped packages with natural burlap ribbon which is a top trend this holiday season.
Elizabeth Swirsky, owner of the Shops of St. Andrews (formerly known as Lower Fort Garry Garden Centre), says in previous years holiday decorating included plenty of bling with glitzy ribbons and bows.
"Now, the trend is toward natural material," says Swirsky. "We are making big bouquets with tall glass vases filled with just cedar and pine. Add a few twigs, some berries, and it will last for weeks."
Swirsky's dining room table in her St. Andrews home has been decorated with a row of rustic vases that have been wrapped in real birch and filled with greens, berries and a single birch log. Swirsky is creating table garlands for her customers from cedar and pine, which she cuts up into pieces and binds with a piece of twine.
"The garlands are only five or six inches wide," says Swirsky. "Snake it down your table with candles and tiny vases of red roses or even pine cones. After your guests leave, just whip it into a plastic bag and throw it in your fridge. Pull it out again the next time company is coming. It works so well and stays fresh."
Like the Regehrs, who have a basket brimming with birch logs beside their fireplace, Swirsky uses baskets for accent pieces, first placing an insert in the centre, which might be another container or even a bucket that can be cut down.
"Put in an oasis," says Swirsky, "and then insert fresh boughs of greenery. This is a great alternative to the traditional poinsettia and works well at the front entrance, giving you a bit of woodsy scent."
Julie Pritchard, owner of The Floral Fixx on Kenaston Blvd. recently enlisted the help of her seven-year old daughter Madison Dueck and her friends to fill scores of hanging glass terrariums with tillandsia plants for a kiosk display at a local shopping centre.
Commonly known as air plants or epiphytes, this amazing species of plant belongs to the bromeliad family and is one of the most unique options for indoor holiday decorating this season.
Epiphytic bromeliads are plants that grow attached to a substrate, i.e. a host plant or even rocks, rather than on the ground in soil. Since they have no roots in the ground, it's easy to assume they aren't real. Children are fascinated by tillandsia because they resemble small alien creatures. Better yet, they need very little maintenance and are a great introduction to gardening. They are an interesting lesson in propagation, too: They produce side plants called pups, or sprouts which can be pulled off and grown separately.
"Submerge them in water for an hour twice a week", says Pritchard. "Shake them off -- it's as easy as that."
Native to Costa Rica, Tillandsia can also be found in the swampy regions of Florida and will be very slow-growing house plants. They should be placed in moderate sunlight, not direct sunlight.
Pritchard is using them this holiday season to dress up table top terrariums or hang on Christmas trees. Insert one of the many varieties of tillandsia plants in your glass orb, available in different sizes and shapes, some with long narrow necks, and fill with coloured sand, bits of stone or gravel, tufts of moss, tiny pine cones, faux snow flakes, coloured beads, seashells, even mementos, and suspend from twine or ribbon.
"These make a real conversation piece," says Pritchard who also displays the orbs in different heights, in tablescapes. "Dress them up or down," says Pritchard, "and at season's end, switch up the design to suit your style."
Shelmerdine Nursery also offers a diverse selection of tillandsia.
This season, Pritchard is using succulents in her centrepieces, harvesting some of them from her summer container designs that she brought indoors in the fall. Combined with pheasant feathers and assorted fresh flowers and greens, the succulent rosettes are a standout. Pritchard pushes a small wooden stake into the stem of the succulent and then pushes it into her oasis. They last about a week-and-a-half in a fresh arrangement.
Tired of curly willow branches? Pritchard is carrying manzanita branches, imported from Africa. With very smooth bark and exceptionally strong branches that will hold a heavy ornament, a manzanita branch is an investment piece that can be used again and again, indoors or out, and dressed accordingly. Prices start at $50, upwards to $120. Sizes range from 45 centimetres to1.5 metres. Choose from natural reddish brown or sandblasted ivory.
Pritchard will be dressing up fresh floral displays this season with exotic greens from Down Under. Australia-grown ferns such as dingo fern, koala fern, and sea star fern will add soft vibrant colour and texture. The sea star fern looks exactly like an open umbrella head supported by a straight brown stem. Goanna claw has feathery black-green claw-like curls. Look for emu feathers, too, for a wispy, soft look in your centrepiece.