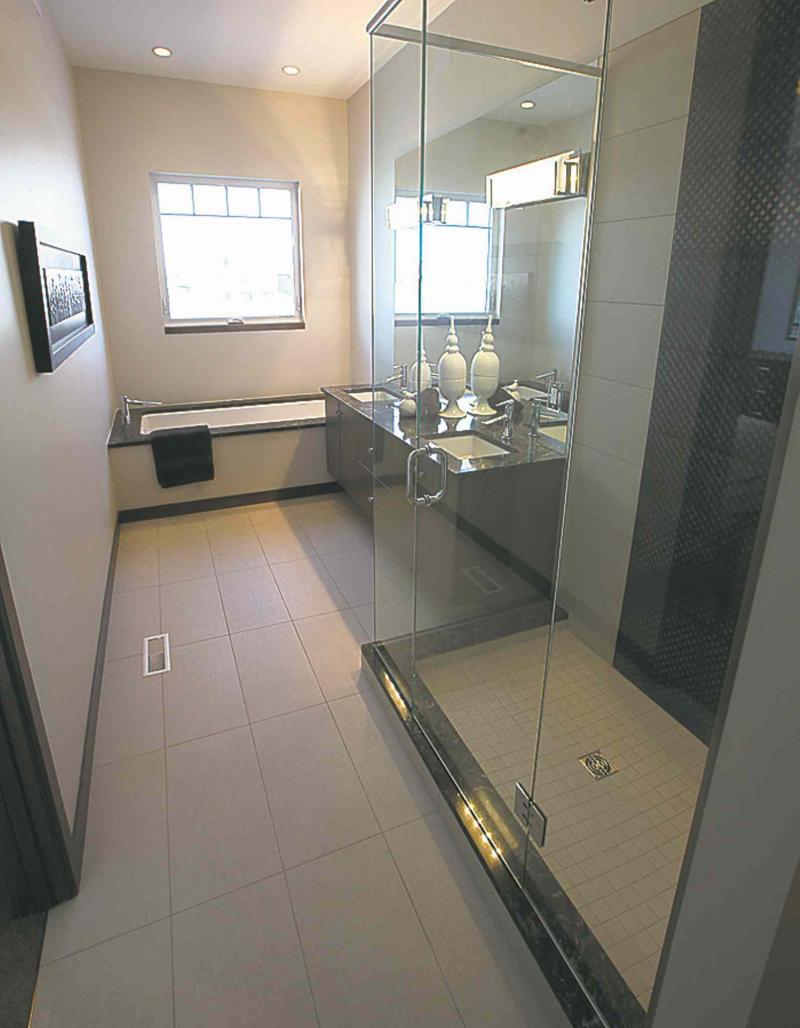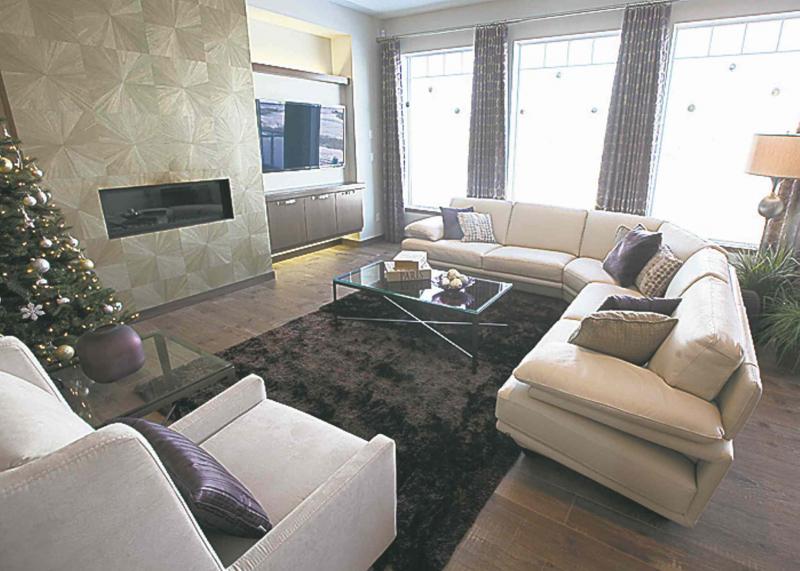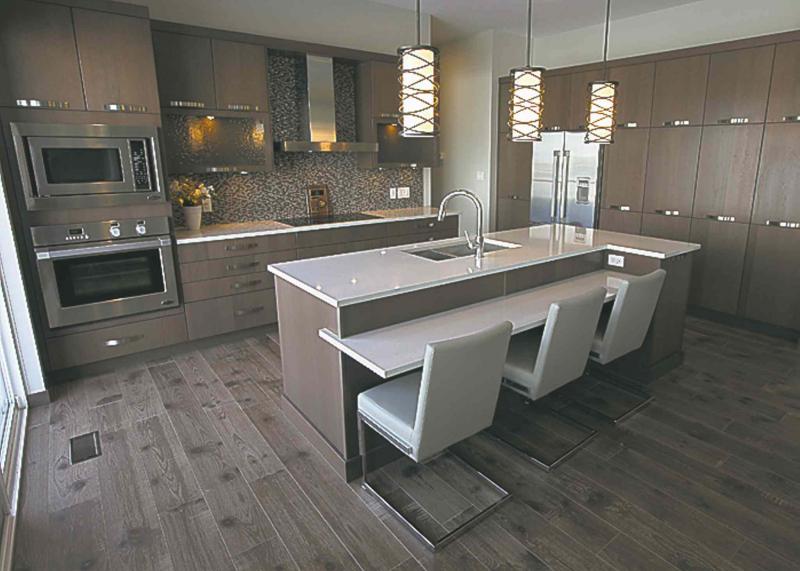 It's a dilemma that builders face on a daily basis: How to create a home that's contemporary, yet warm.
How do you achieve a synergy between the two elements? By filling out a modern floor plan with a host of warm finishing materials, and using them in novel ways.
Take the foyer of 162 Lake Bend Road, for example. After entering with ease thanks to a visitable, at-grade front entry, an extra-wide foyer with beige/taupe welcomes you in understated style. A 10-foot ceiling and flex room to the left make the front entry feel even more generous in its dimensions.
Then, on the wall to your right comes a novel feature that notifies you this home -- an 1,866-sq.-ft. bungalow with a walk-out lower level that offers roughly the same amount of square footage -- is not going to be a cookie-cutter design.
"Instead of leaving the wall blank, we put a wood veneer insert on it," said Arlt Homes' Jason Arlt. "It's kind of a small feature, but it adds warmth, texture and an extra bit of character to the home's entrance. It's the little things that make a home, and I think subtle touches like these make a big difference in a home's overall feel."
Head into the home's main living area, the great room, and that commitment to warmth continues in the form of a somewhat unconventional flooring choice.
"We decided to go with hand-scraped, distressed pine hardwoods with a darker finish," Arlt said. "They're not only quite durable, but different. We wanted to avoid falling into the trap of doing the same old, same old, which means maple or oak hardwoods. The darker pine hardwoods, I think, are a nice change from the norm."
The next thing Arlt's design team did was create a floor plan that is open and integrated. Flow from space to space (kitchen, dinette area, dining room and family room) is seamless, yet each space has its own distinct personality. The dining room/family room area is a great example of just how well an integrated great-room design can work.
"We placed the dining area next to the stairs, and it's defined by the stair bannister to its left," Arlt explained. "We then put a cantilevered buffet niche between it and the family room to subtly divide the spaces.
"Right now, the table in it seats six to eight, but there's more than enough room to expand the table to seat 10 to 12 people."
Meanwhile, the adjacent family room is a highly habitable space thanks to a trio of well-conceived design features. First, it's neatly defined from the dining area by an elegant tray ceiling. Second, there's a ribbon-style fireplace, framed by the same wood veneer found in the foyer, next to a huge TV niche with a cherrywood storage cabinet beneath.
Third, three huge windows on the back wall let in loads of light, and provide a wide view of the wetlands behind the home.
"The view and sheer amount of natural light is amazing," said Tony Pallone, Arlt's sales representative along with Rhonda Almey. "The spaces are separate, yet easily accessible. That makes the area great for entertaining."
Mere steps away from the dining room/family room area is a kitchen/dinette area that features a design which deftly balances fashion and function. Winter cherry cabinets combine with a quartz, marble, glass and mother-of-pearl backsplash and white quartz countertops to provide the infusion of fashion, while handy features such as a huge pantry with a host of pull-outs and a mid-sized island with a lowered breakfast nook for three provide the function.
Another novel design feature can be found off the kitchen's rear portion, Pallone added.
"Arlt's design team put in oversized patio doors that lead to a duradeck balcony. It was a brilliant idea. Not only do the doors make it easy to access the balcony, but they let in tons of light and showcase the beautiful water view."
Next to the kitchen is a doorway that leads to the master suite.
"Putting it in this area ensures that it's a completely private space," Arlt said. "The bedroom itself is just a nice size, with a great view of the water through a huge picture window and a tray ceiling above to add an elegant touch. There's a heated (beige) ceramic tile floor, and a soaker tub that's a bit unusual in that we used the same brown quartz on the vanity for the soaker tub's surround. It's different, and adds contrast.
"The ensuite is finished off beautifully by a seamless glass shower and a large window over the tub that lets in all kinds of light."
Head downstairs, and you encounter a 1,843-sq.-ft. walk-out basement that's exceptionally bright, courtesy of a rear wall of windows. It features warm cork flooring, a huge rec room with quartz wet bar, two bedrooms, an office and a four-piece bath.
"It's a bright, beautiful area that basically doubles the home's square footage," Arlt said. "Three windows and another set of oversized patio doors make it feel like you're on the main floor, while the cork floor adds warmth."
Almey said the home, which garnered a gold award in the Fall Parade of Homes, is an exceptional design.
"It's brilliantly thought out and so functional in every area. That's why it won the gold award."
lewys@mts.net