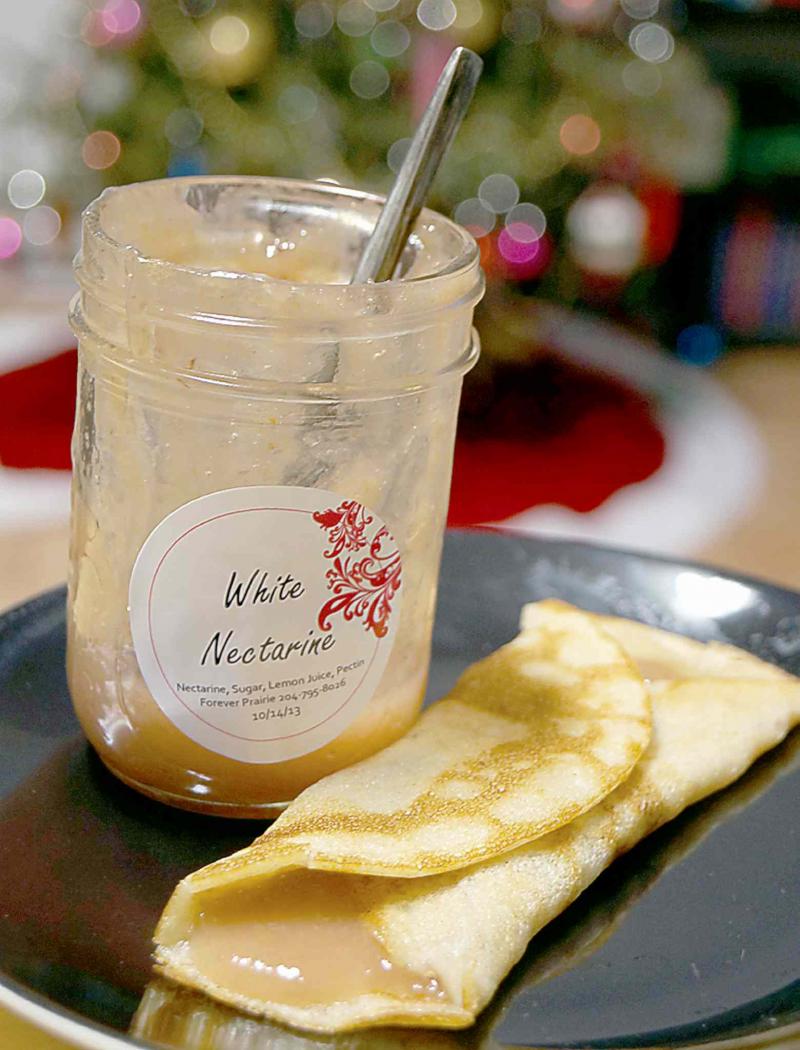 Foodies come together during the holidays like no other time of year to sample or dig into delectable homemade dishes. And nothing says homemade like preserved jams, jellies, chutneys or salsas that use fresh, homegrown produce harvested during the summer months.
Sara Porter, 25, and Kylie Wasiuta, 23, serve their friends and families unique recipes made from their own brand of handcrafted preserves. With pantries brimming with glass jars labelled with names such as Mango Jalapeno, Pear & Apple Chutney, Inferno Wine Jelly, Strawberry Margarita, Peacharine Lavender Butter and more, Porter and Wasiuta have no shortage of recipe ingredients or ideas to last them until next year's harvest.
This summer I visited their kiosk at Broadway's Manyfest and brought home a treat called Apple Pie in a Jar. Although my family never had a chance to try it, I was certain with every delicious spoonful that I heaped onto slices of cheese on buttery toast and bit into, that they would have loved it.
"A lot of our jams are not what you would find at the store," said Wasiuta. "They can be used for anything your imagination wants. For example, Apple Pie in a Jar is fantastic over angel food cake, in between cake layers, or used in a trifle. It's a chunky mix that works great with yogurt or oatmeal. Usually, people add brown sugar or honey to their hot oatmeal, but our conserves have the sweetener and fruit all in one."
Wasiuta's favourite preserve is called Carrot Cake. "I think the best way to have it is on hot, buttery toast with a layer of cream cheese," she said. "It's made with organically grown carrots and apples, with cinnamon and a little nutmeg, and tastes exactly like a slice of carrot cake."
Wasiuta lives on a farm near Oakbank and Porter lives on a farm just outside Portage la Prairie. Together they grow a variety of fruits, vegetables and herbs in their gardens. For Wasiuta and Porter, preserving food is a family tradition dating back several generations. "We are both country girls going back to the way things were and preserving that heritage," said Wasiuta, who added that keeping the tradition alive is very important to her.
Wasiuta recalled that for as long as she can remember, she assisted with canning and preserving. "I would go out with my parents to the old homestead and pick wild chokecherries and raspberries and saskatoons," she said. "Together with my granny and grandpa, we would turn everything into jam for the wintertime."
By the time she turned 17, she was ready to take things to the next level and began creating her own flavours and recipes. An avid horsewoman who rides and shows horses, she discovered common interests with Porter, who also rides and shows horses and enjoys making jams and jellies. "Two years ago, I retired a couple of my horses, and together we decided to take our preserves to farmers markets on the weekends. It just exploded from there," Wasiuta said.
This year, Porter and Wasiuta created more than 100 different flavours and preserved them in more than 1,000 preserve jars. In addition to fruit jams and jellies, products include a range of dessert preserves, savoury or herb preserves, fruit butters and liqueur or wine preserves. Sugar-free jams are also sold, but Porter said most of the products are low in sugar except for the candy jellies and soda-pop jellies.
Wasiuta shares a large, half-acre garden with her grandmother, where she grows pumpkins, watermelon and squash. She also grows a mix of heritage tomatoes (green, white, yellow, orange, striped, purple and black) for use in the chutney and savoury or herb recipes.
"All of our tomatoes are heirloom varieties that are grown organically," Wasiuta said. She said the seeds she uses are not hybrids, but rather seeds handed down from her great-grandmother.
In her Portage-area garden, Porter grows peppers such as cayenne peppers and Crème Brule pepper, a sweet, mild white pepper that blushes to a fiery red. Sweet Heat is another favourite variety, with a flavour that is a mix between a bell pepper and a hot pepper. She also grows haba±era, jalape±o and Ghost peppers and combines them with red wine for a wine-preserve recipe called Inferno Wine Jelly.
"It sold out this summer and was probably our spiciest recipe," said Porter, who recommended serving it as a spread with cream cheese on crackers. "The pepper jellies are great with grilled cheese," she added.
"Our most popular chutneys are the nectarine chutney, hot raspberry onion chutney and the tomato chutney," Porter said. "The mango chutney is excellent as a salad dressing and consists of a blend of mangoes and jalape±os and a bit of sugar and citric acid."
The line of liqueur preserves includes Blueberry Grand Marnier, excellent on toast or with oatmeal, drizzled over ice cream or mixed into drinks such as cocktails, smoothies or milkshakes.
Whatever Porter and Wasiuta cannot grow, such as bananas, pineapples, peaches and nectarines, they purchase from a local contact that operates roadside B.C. fruit trucks. They visit U-pick farms for fresh blueberries and strawberries. Porter has high-bush cranberries and nannyberries on her farm. The cranberries are an ingredient in Currant Cherry Cranberry Syrup and Vanilla Bourbon Cranberry Sauce. "I'm planning to create a new recipe that uses nannyberries," Porter said.
Porter is partial to the pear butters -- Vanilla Spice Pear Butter and Vanilla Spice Raspberry Pear Butter. "It's not just for toast," she said. "It's a great cake-topper or filler for pancakes and crepes or on ice cream. Try using it on roast pork instead of applesauce. Many of the jellies work very well as meat glazes; just spread onto the roast before cooking. Saskatoon jam is delicious on pork or ribs."
What's next for these two young entrepreneurs? In 2014, they will move their production line from Wasiuta's kitchen into a commercial kitchen, which will allow them to expand. They may also write a cookbook. Currently, their jams and jellies are sold at the Wild West Farm & Garden, 539 Main St. in Oakbank. Wasiuta and Porter will also be at local craft shows and farmers markets in the coming year. Visit their facebook page for more details (www.facebook.com/ForeverPrairie).