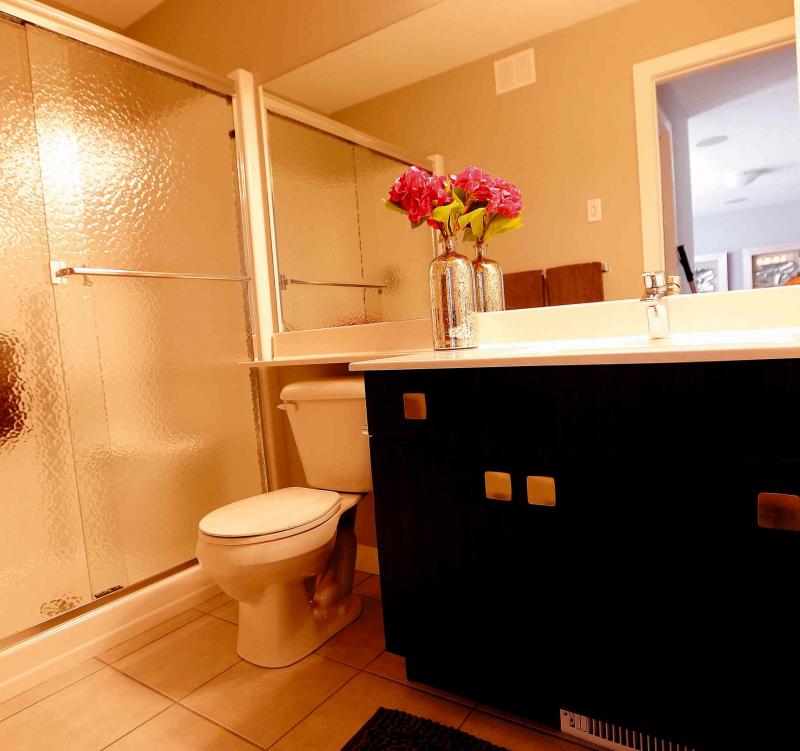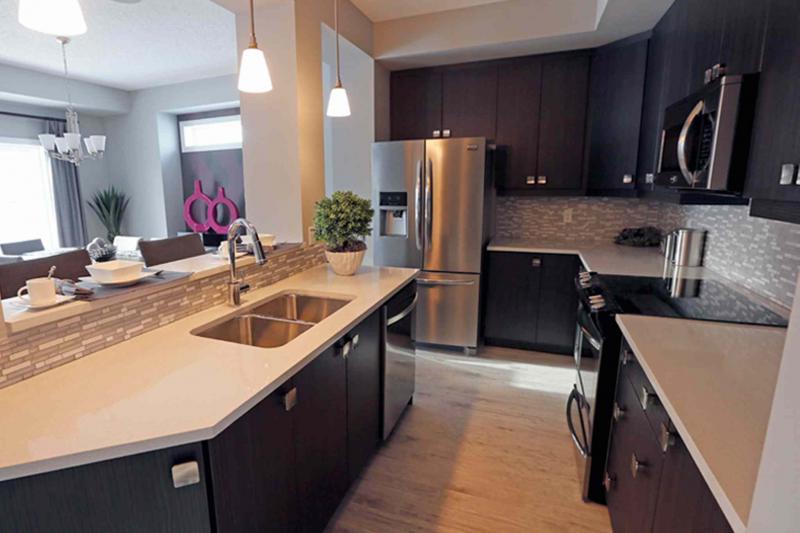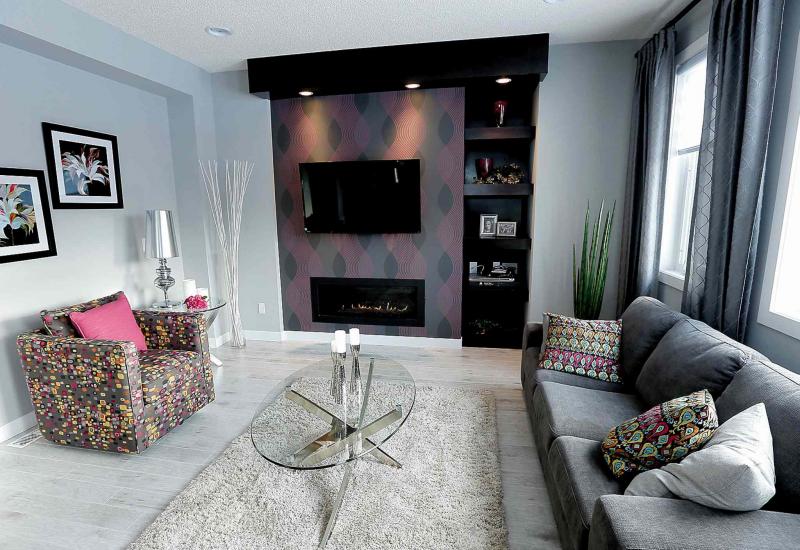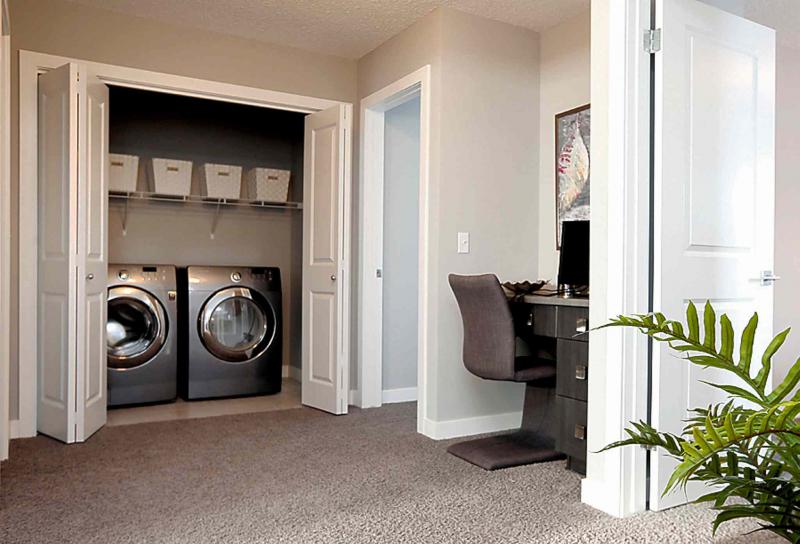 Many young couples looking at the prices of show homes in desirable communities come away feeling deflated.
That's because the show home price is just too rich for their blood. Derek MacDonald, marketing manager for Qualico, said that isn't necessarily the case.
"If you have any questions about a home's affordability, the best thing to do is call us," he said. "In the case of this home (149 Drew St. in South Pointe, a 1,830 square-foot, two-storey design), the show home price is $441,750. However, the base price is actually $231,500. The show home is filled with upgrades, and that's reflected in the selling price. If you go with basic finishes, you can get the home for $350,000 including the lot. That price makes it an affordable move-up or starter home for young families."
The first design feature -- aside from the home's affordability -- that will appeal to young couples is the home's generous square footage. At 1,830 square feet, it's significantly bigger than starter homes, which can range anywhere from 600 to 1,000 square feet.
Most importantly, the space is well-proportioned and designed expressly to meet the myriad demands of family living. Nowhere is this design more evident than in the home's hub, the great room.
Unlike many family-oriented designs, 149 Drew's great room area features a galley kitchen and a linear dining room/family room combination that stretches across from one side wall to the other. Because the kitchen runs parallel to the dining room/living room, it's sufficiently large, but doesn't take up too much room thanks to the galley design.
The result is all three areas possess a high degree of function. Flow within the kitchen and to the dining room/living room is excellent and both the dining room and family room are surprisingly generous spaces.
"I would say that the layout of the great room encourages family interaction," said MacDonald. "It's an open-concept space, yet the kitchen is clearly a distinct space. As it's been set up here, the dining room (which comes with a cantilevered buffet niche) is more than big enough to hold a table for six to eight. It's a flexible space that can be configured in whatever way suits your family best. You can open up a play space by putting in a smaller table for a dinette if your kids are younger, then turn it back into a dining room when they get older."
Turns out, the family room -- a bright, welcoming space -- is just as functional. Three large windows on its rear wall allow loads of light to cascade in, while a clever feature (a cantilevered wall on its left-hand side) serves dual purposes.
"It not only opens up space, but also provides an area to put art up in a well-defined area. There's tons of room for furniture, and its focal point is a ribbon fireplace (with area for flat panel TV above) that's set off by pink/grey wallpaper that provides nice contrast next to a five-tiered entertainment unit," he said. "Even more light comes into the great room through deck doors behind a the dining room, and a transom window over the buffet niche. Overall, it's an area you can do a lot with."
Not surprisingly, show home trim is luxurious: gorgeous grey/brown laminate oak hardwoods, beige CaesarStone countertops, a grey/beige glass tile backsplash and Soho (a dark rift oak) cabinets. That said, the area would still be a beacon for habitation with (so-called) basic finishes such as carpeting, vinyl flooring and laminate countertops.
"The galley kitchen is standard, as is the floor plan, so even with basic finishes, you'd have plenty of style to go with the function," said MacDonald. "Most importantly, that style and function would be very affordable."
A quick trip up an extra-wide staircase reveals an exceptionally wide landing, around which three bedrooms, a four-piece bath, desk niche and laundry room revolve. It's an area that's been expressly designed to meet the needs of an active family, he added.
"Basically, the landing is a launch pad to anywhere in the home. It's width makes for easy traffic flow on school/work mornings, there's good division between bedrooms, and the parents and kids each have their own bathroom. The laundry room is a great convenience feature, while the desk niche provides a spot where parents can watch kids do their work and surf the internet out in the open."
Even though the landing is wider than normal, room in all three bedrooms hasn't been sacrificed (the laundry room and four-piece bath are plenty big, as well). Both secondary (front facing) rooms are big, bright and have ample storage deep double closets).
Then there's the private master bedroom, which is at once practical, and luxurious.
"The bedroom is nice and big with a designated area for a bed that's defined by windows above and to each side that let in all kinds of light," said MacDonald. "A short hallway -- with a linen closet to the right and large walk-in closet to the left -- leads to a three-piece ensuite that features a tile floor, Soho vanity and five-foot shower."
With another 700 to 800 square feet of space to develop downstairs (fourth bedroom, rec room, bathroom, storage), the home -- whether in basic or upgraded trim -- offers over 2,500 square feet of flexible space that growing families can tailor to meet their budget -- and needs.
lewys@mts.net