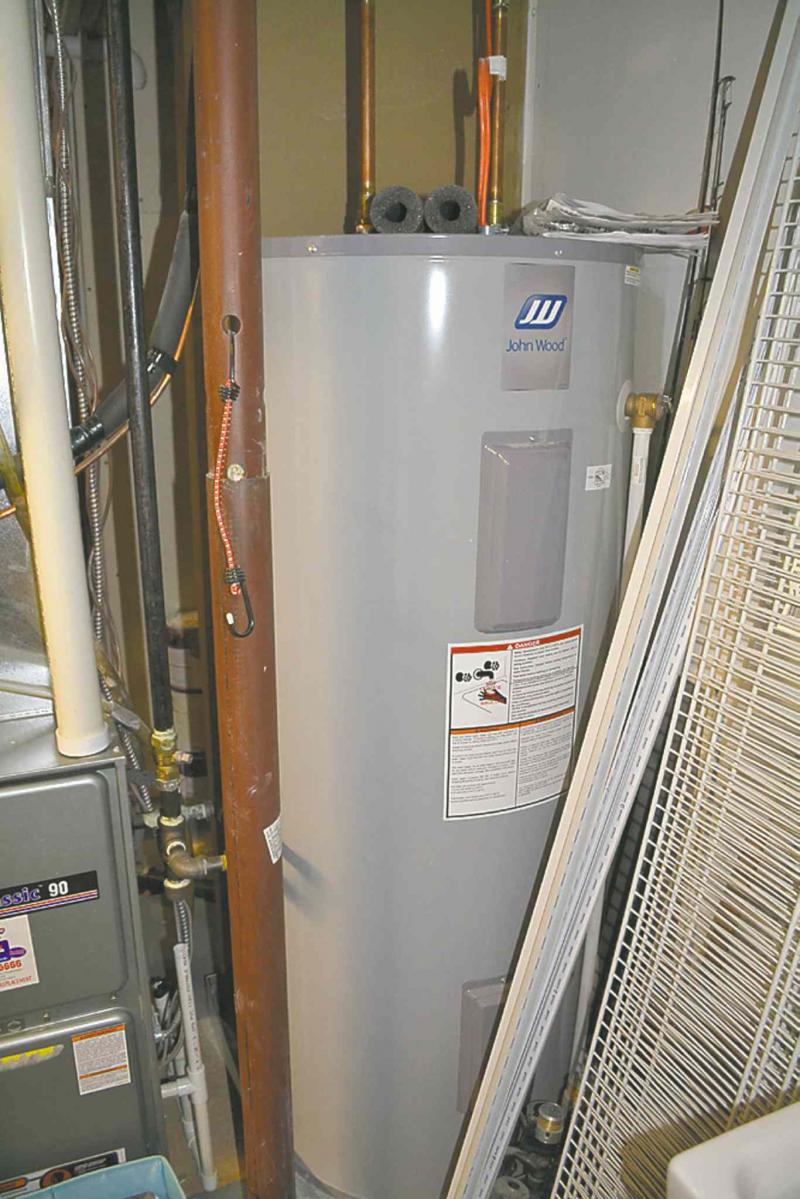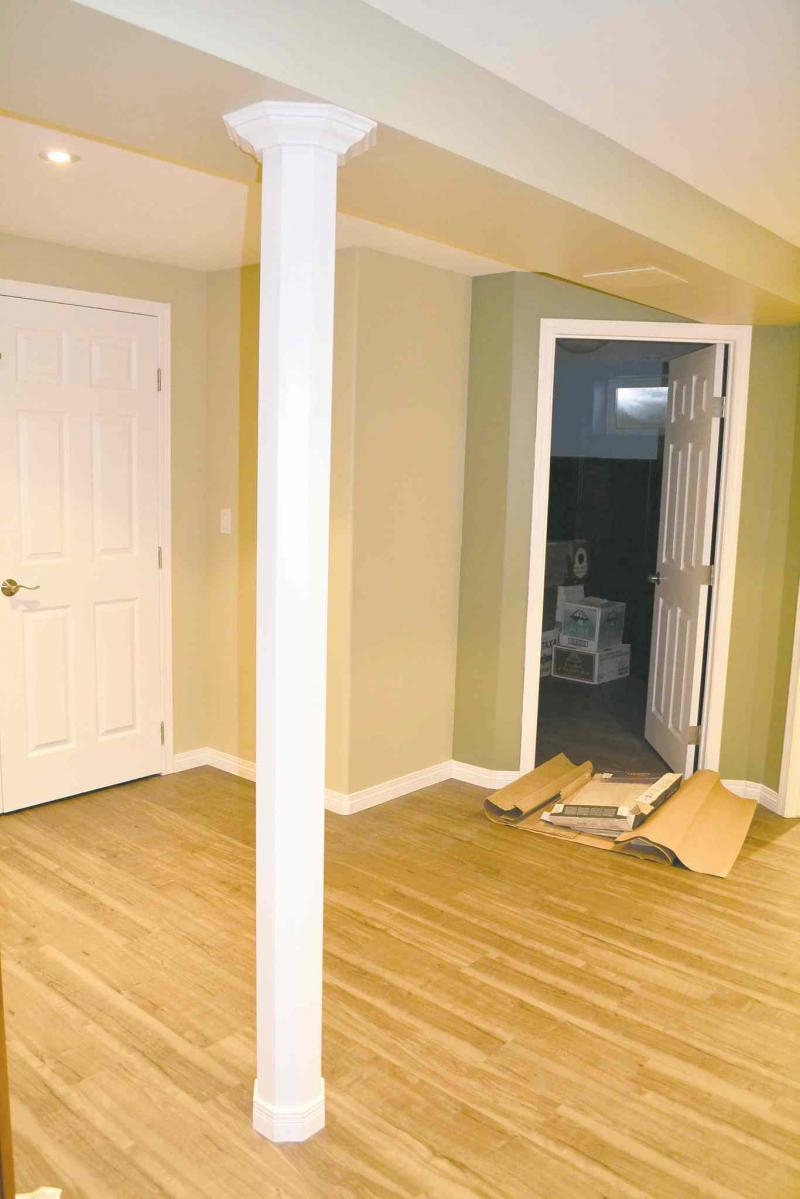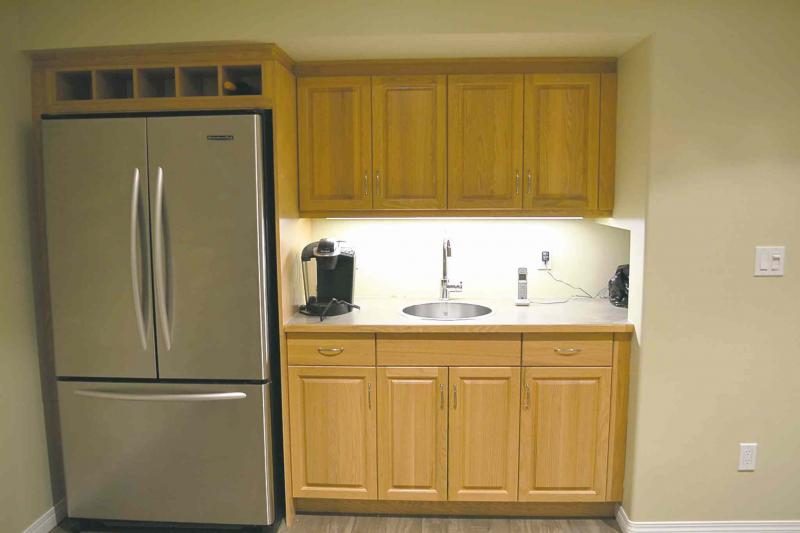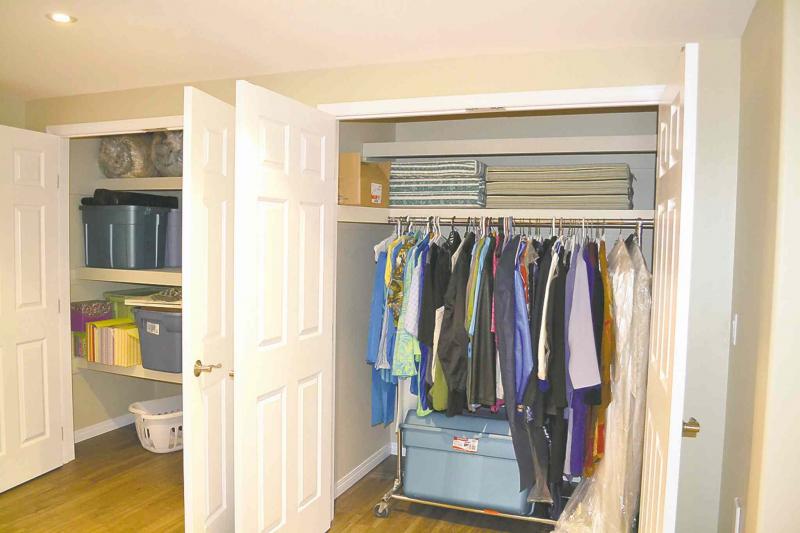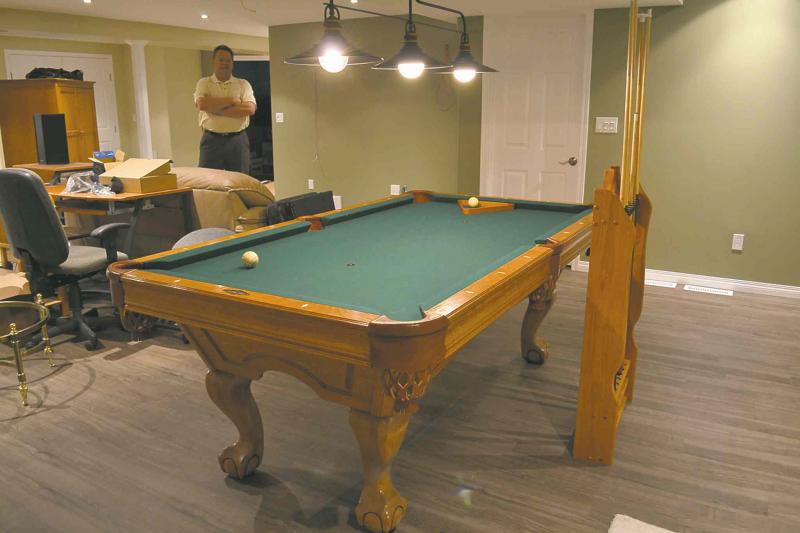 Is it possible to buy a 1,000-square-foot house for $80,000 in today's real-estate market?
You might pick up a building lot in a tony new subdivision for that amount; but, a functional house with a lot of amenities? I don't think so. (Please let me know if you find one; I'll buy it.)
That's why Brian and Donna said they made a wise investment when they spent around $80,000 to renovate the basement in their Birds Hill condo. They converted a drab, cold uninhabitable part of their home into 1,000 square feet of luxurious living space, including a jetted tub, shower, workroom, storage space and a living room with a pool table and many other lavish items.
As part of the reno, they had their basement walls re-insulated with spray foam, a decision that allowed them to drop their thermostat setting by five degrees throughout their condo as well as maintain a comfortable living temperature in the once-chilly basement.
The spray-foamed walls were covered with gyproc and then painted soft earth tones to complement the luxury vinyl plank (LVP) they chose to cover the entire floor.
"LVP is a popular product because it doesn't scratch as easily as hardwood and it retails for $2 to $5 a square foot compared to $5 to $12 for solid wood or some engineered products," said Milan Kucinic, sales representative with Creative Carpets, the company that provided the LVP for the Birds Hill renovation.
He said Brian and Donna chose a product called manzanilla maple by Kraus, priced at about $2.40 a square foot, with a 20-year residential warranty.
"For basements or other floors where moisture can be a problem, we recommend LVP because it can be lifted up, dried out and then relaid," said Kucinic, adding that even LVP rescued from a flooded basement can be rejuvenated.
Another feature of the versatile product is that a scratch can be removed by warming the area with a heat gun, removing the marred piece and replacing it with a new one, a process that is much simpler than laying a new piece of T&G hardwood, he said.
LVP can be floated, clicked together or glued to almost any sub-floor. Floated floors are less likely to telegraph inconsistencies in the substrate through to the vinyl. Click floors are easier for DIYers to install while glued LVP forms a water-resistant membrane that can withstand a small flood without lifting, Kucinic added.
Floated LVP has an adhesive applied to the edges, protected by a plastic strip that is removed as the pieces are laid and edge-joined together. Click-together planks have tongue and groove-like joints that fit together like many laminate floors. Glued lengths come with an adhesive applied to the backside of the material, also protected by a plastic film, that is peeled away to allow the LVP to be stuck directly to the sub-floor.
"Modern LVP is thicker and much tougher than the peel-and-stick tiles that ma and pa used to lay in the foyer or kitchen. It also comes in a large variety of colours and finishes that are difficult to discern from real wood or stone," Kucinic said, adding that the material is softer and easier on the feet than stone or hardwood.
For their luxurious new basement bathroom, Kucinic said Brian and Donna chose 13-inch by 20-inch porcelain tiles by Cerdomus, featuring tan, taupe and off-white tones to match the earthy colours of the LVP plank floor.
Going for about $8.40 a square foot, the lovely tile was used on the enclosure for a jetted tub and the walls of a custom-built shower stall. The floor of the stall was covered with two-by-two-inch dark taupe tiles by Subway, part of its Feng Shui series and costing around $4.30 a square foot, he said.
A tempered-glass shower door and a glass half-wall that separates the shower from the tub have yet to be installed, noted contractor Tony Teunis.
Lindsay Martens, of The Ensuite in Winnipeg, said her company provided the couple with a Crescendo jetted tub by MAAX that costs between $3,700 and $5,300 depending on options. Donna selected the tub because she cross-country skis and the water jets help to relieve aching muscles.
"It's a gorgeous, two-person, white whirlpool that is six feet in length and about four feet wide," Martens said. "It can be adapted to include both water and air jets as well as chromatherapy lighting, and it comes with ergonomically designed seats and a safety grab bar."
For his part, Brian purchased a four-by eight-foot pool table with carved hardwood lion's paw legs, aprons and rails. The table included a starter kit with cues, balls, chalk, a triangle, table cover and wall cue rack, all for about $2,400, according to a local billiard Brian also had a small workroom with a bench and clean-up sink built into the furnace room, and Donna had a lifelong dream come true when large storage closets and a study were constructed as part of the reno.
A gift to the whole family was an eight-foot screen hidden by an overhead bulkhead. At the push of a button the screen drops down from the ceiling, creating a home theatre with surround sound and a projector that plays the latest movies, TV shows and sports events.
A wet bar and fridge were installed nearby.
While the contractor was at work, Donna decided to have him replace the upstairs kitchen countertops and build a new glass-top stove and microwave oven -- it also functions as a range hood -- into the existing red oak cabinets.
Which brings us back to the question: Where are you going to find luxurious digs like these for $80,000? Renovating may seem expensive, but, when you look at the alternatives, a well-planned and executed job may be the wisest choice you can ever make.