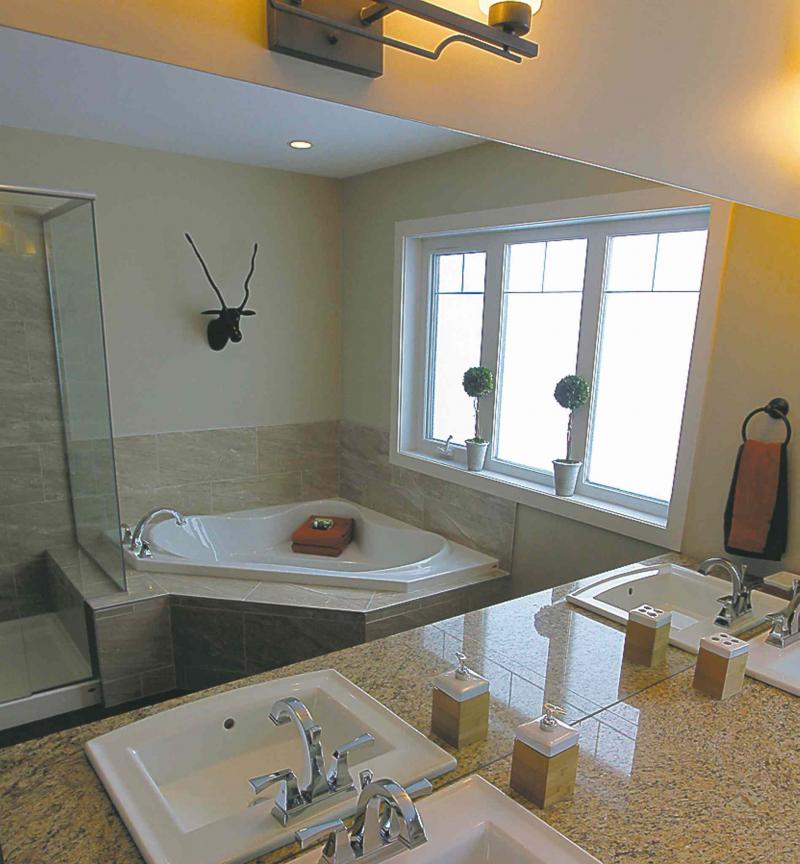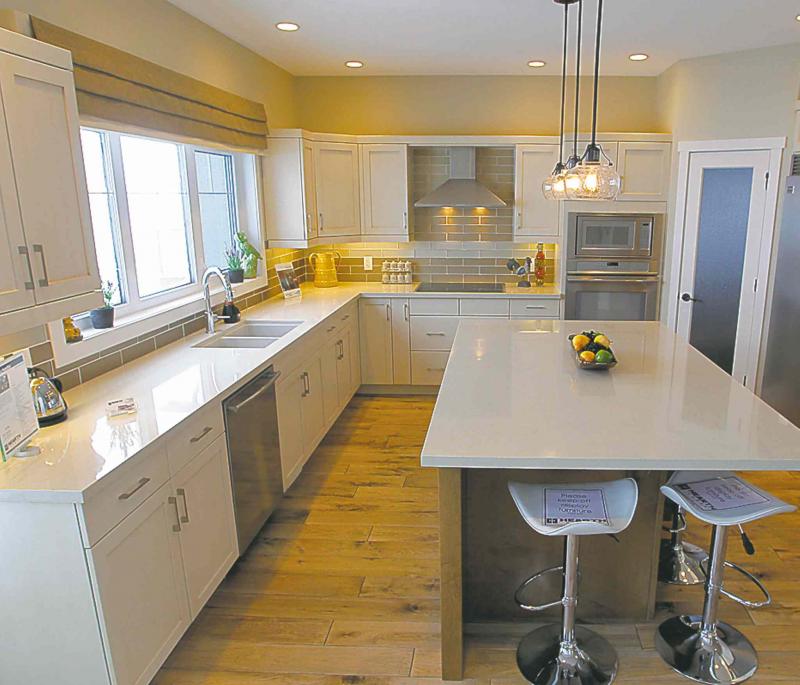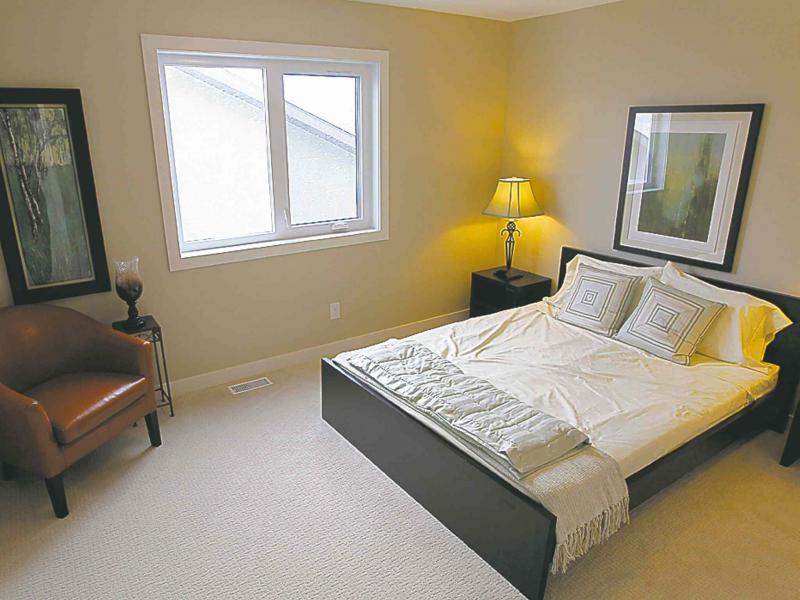 It's not often that flooring steals the show in a show home, but that's definitely the case with 156 Lake Bend Road in Bridgwater Lakes.
"The first thing people talk about once they enter the home are the hardwood floors," said Hearth Homes' sales manager Liam Milne as he surveyed the home's entrance, itself demarcated by rich, bronze-flecked taupe tile. "They're a hand-scraped, wide plank, solid-sawn hickory that look absolutely awesome. They have a great grain to them that provides a rustic yet clean look. They're not so rustic that you feel as if you're entering a farm house."
To be sure, The Winchester, a 2,652-sq.-ft., two-storey design, is the antithesis of a farm house. Right from the outset, the home exudes a warmth that draws you inside, and a well-conceived floor plan flows beautifully beneath soaring ceilings -- 18 feet high in the foyer and family room and nine feet through the rest of the main floor.
A quick look at the home's main-floor layout reveals a combination of traditional and contemporary design features. For starters, a formal dining room sits to the right of an extra-wide hallway that takes you seamlessly into the great room.
"We decided to go with a formal dining room because it fits in with the home's grandiose theme," Milne said. "Although it's a space unto itself, it's only steps away from the kitchen and family room. It's also a big space with plenty of room to move and serve. A cantilevered buffet niche adds unobtrusive storage space, while a transom window above looks great and lets in daylight."
While the great room is open-concept in design, some clever segmentation strategies ensure that it doesn't feel like one big, rectangular box.
First, a bulkhead was placed between the entrance that unites the kitchen and family room to mark where the kitchen ends and family room begins. Second, a large vertical window was placed between the family room and kitchen to subtly define the two areas and allow even more natural light to enter an already bright area.
"Our goal (with the family room) was to create a spectacular yet functional space," Milne said. "To make that happen, we placed the room beneath an 18-foot-high ceiling, then placed the room's focal point -- an indoor/outdoor black granite gas fireplace with see-through (ceramic) insert -- behind the hearth that gives you a view of the wetlands out back. We then surrounded the fireplace with a collection of windows that span from floor-to-ceiling and out to the side.
"The result is tons of light, and an incredible wetland view."
The adjacent kitchen matches the family room in its style and function. A 4-1/2-foot by seven-foot quartz island with eating nook (and honey-tinted maple base) for two provides a versatile spot for food preparation or consuming a snack, while light-stained maple cabinets, earth-tone quartz countertops and taupe/tan glass combine with the hickory hardwoods to create a smashing synergy of finishing materials.
"Everyone who's been in the home has loved how the floors bring out all the colours of the different finishing materials," Milne said. "It's a warm, functional and low-maintenance space that lends itself nicely to entertaining or family life. At the same time, it's nice and bright, thanks to a big three-part window that was placed over the double sink."
A quick trip upstairs reveals a second level that's steeped in function and not short on style. To the right of the stairs is a loft that's neatly segmented by the stairs' railing. "People usually use it as a play area, or a homework area where they can see what the kids are doing at the computer," Milne said. "It gets the second level off to a very functional start."
Thanks to its generous square footage, the upper level is comprised of four bedrooms, a four-piece bath and a laundry room. The three kids' bedrooms and four-piece bath are set away on one side, while the master suite and laundry room - accessed via a 15-foot-long catwalk -- are set away in their own little corner of the home.
Milne said the idea behind the catwalk design was to create a true oasis of sanity for parents needing solitude at the end of a frenetic work/school/activity day.
"It's a huge space with wetlands view (through a massive picture window) that gives you total privacy," he said. "For relaxation purposes, we designed a big, bright and warm ensuite with dark cork flooring, corner soaker tub (set in taupe tile) and five-foot tempered glass/tile shower.
"A massive obscured glass window allows tons of light to filter in, while an angled honey maple vanity with dual sinks adds warmth and function. There's also a big walk-in closet with loads of honey-stained pine shelving."
The home is finished off by a 731 sq. ft. walk-out lower level that houses a media area (next to a five-piece picture window), two bedrooms (one with wetlands view), four-piece bath and tons of storage room. Heating is supplied via a heated concrete floor.
"We're really pleased with how the home turned out," Milne said. "Even though it's a big home, it's warm, functional and very livable on every level."
lewys@mts.net