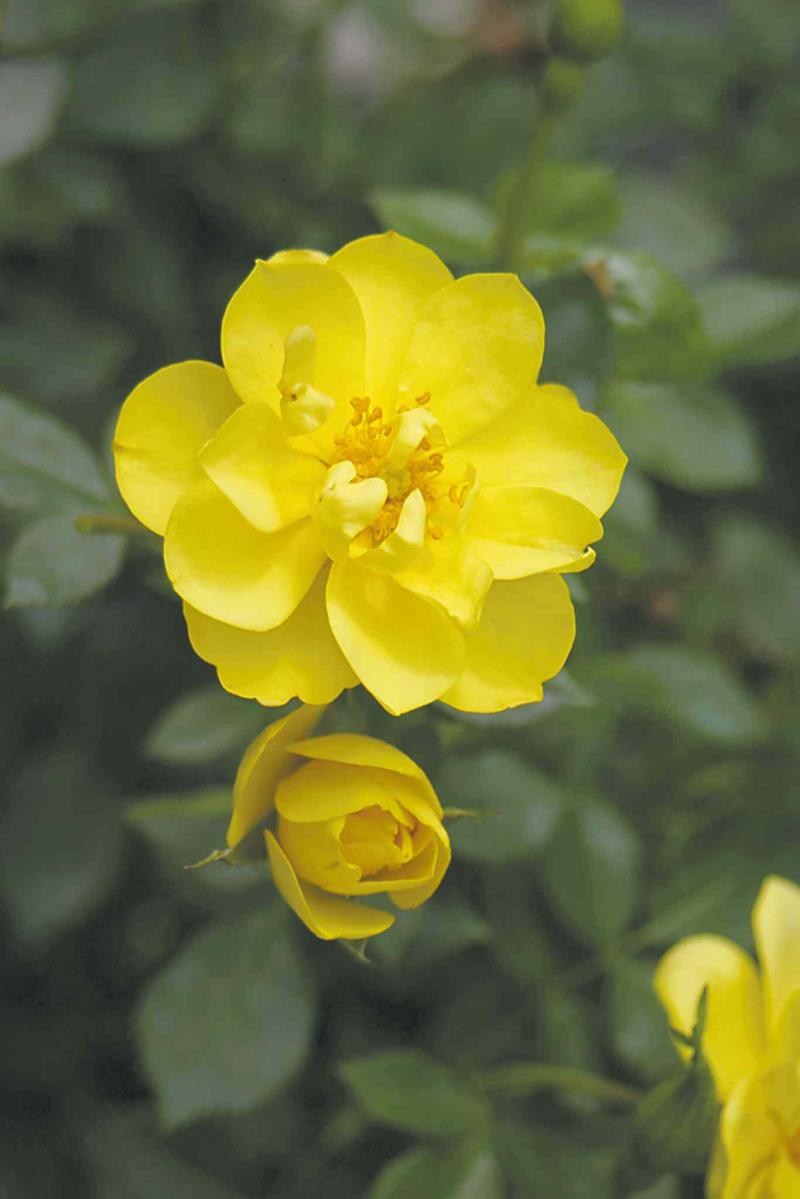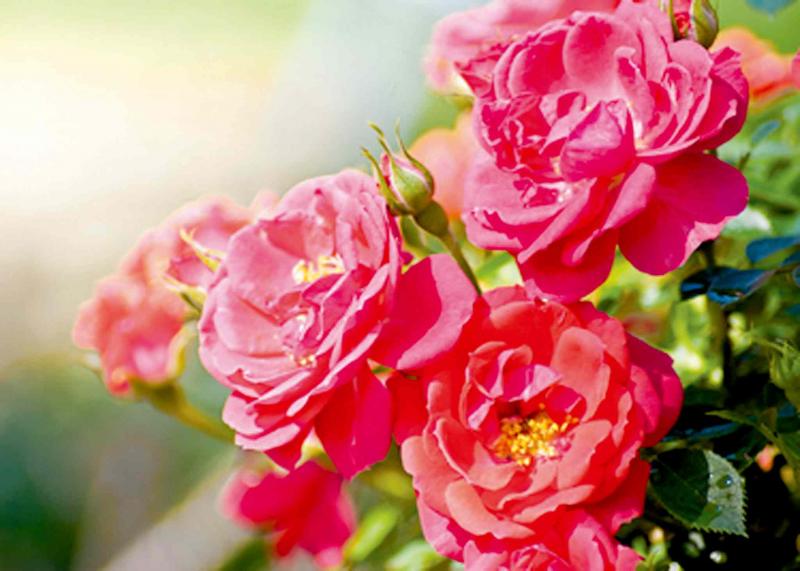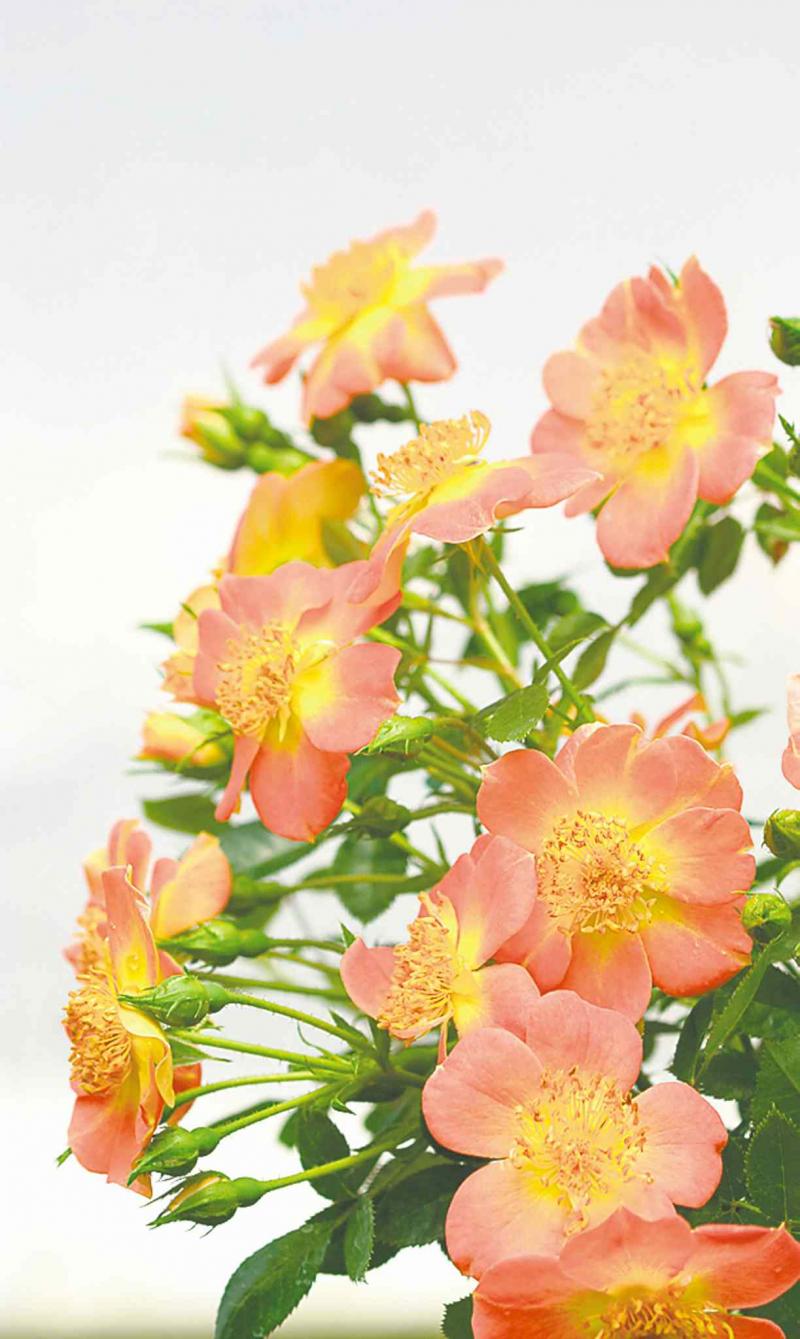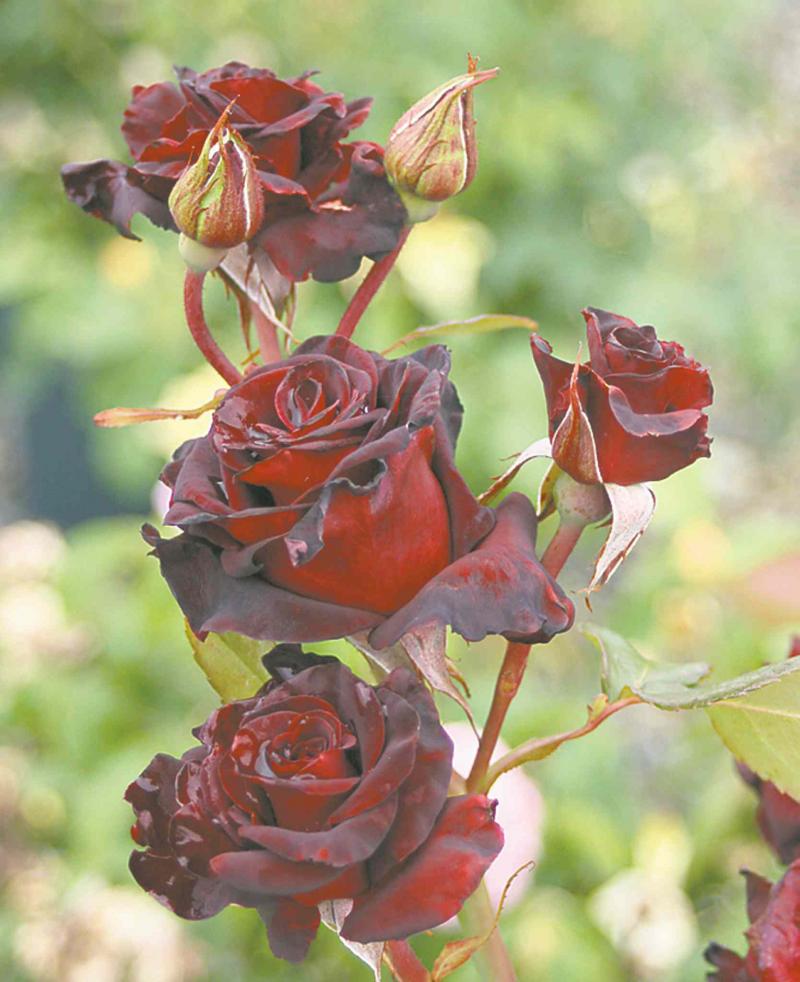 What's not to like about a rose? From its overall form, delicate or highly aromatic scent, variety in colouration and number of layers of petals, the rose can both fascinate and intimidate.
Today's choices range from hardy, low-maintenance varieties with sporadic or continuous flower production to tender, highly fragrant roses with sumptuous blooms.
Hardiness combined with ever-important disease resistance is the ideal for winter survival in our extreme climate. There are a variety of ways, though, to enjoy the beauty of a tender hybrid tea rose all summer long.
Scentimental, with its large, creamy white striped blooms splashed with burgundy-red is a staple of my container garden. A non-hardy patio tree rose with a spicy scent, I've had some success overwintering it with the trenching method.
Until now, Scentimental has only been available as a patio tree. This year, however, it and many other tender-rose varieties, will be available to Manitoba gardeners for the first time as a floribunda or bush-type rose with clusters of large flowers that derive from crosses of polyantha and hybrid tea roses.
"Scentimental was extremely popular in the patio form and I had many requests for a bush form," said Shawna Bell, vice-president at Jeffries Nurseries, who
reports a resurgence of interest in tender roses as well as in patio tree roses.
"One reason for their popularity is fragrance. People are also selecting for fullness of blossom and unique colour." Tender roses usually have a higher count of blossoms and continuous bloom period.
Black Bacarra, another hybrid tea available this year, is irresistibly shaded in deep red, almost black colouration with a velvety texture and abundant production. Too tender to overwinter in our climate, the decision to include a non-hardy rose in your garden becomes one of expediency.
"Think disposable," Bell said. "Most of us buy cut flowers for $30 or $40 and they last only two weeks compared to a patio tree that will give you constant bloom all season."
Bell also noted that containerized roses are very appealing to people with smaller spaces such as a patios or balconies.
Larry Bosch, co-owner of K. Bosch & Sons Greenhouses in Headingley, is excited to be carrying a new tea rose this year that will be the closest thing to a hardy tea rose for our climate.
Canada Blooms, a 2014 introduction, is a new rose cultivar with genetics originating from the Morden and St. Jean breeding program. Following a trial process and evaluation by select growers across Canada, overseen by Vineland Research Station in Ontario in partnership with the Canadian Nursery Landscape Association, Canada Blooms has been rated hardy to zone 4.
Unique in many of its characteristics, Canada Blooms will make its debut next month at the Canada Blooms Show in Toronto. Featuring spectacular scent and deep pink blooms on long strong stems, Canada Blooms boasts a petal count that ranges from 40 to 60. Compare this with, say, Morden Centennial rose, which has about 28 petals. Canada Blooms, however, has moderate disease-resistance.
Michel Touchette, Production Manager at Jeffries Nurseries, recommends growing Canada Blooms in a sheltered spot in your garden combined with adequate snow and mulch cover to guarantee winter survival. "Because this new introduction is grown on its own root and is not budded, it will shoot back up as the Canada Blooms rose," he said. "Usually, the hybrid teas are budded and then, if the top dies, you lose the rose."
Touchette, however, said that a hybrid shrub rose can also be overwintered as a containerized patio plant if you have an insulated, unheated garage. "When temperatures begin to cool in the fall, to about minus-five or minus-6 degrees (but not as low as minus-10), cut the rose down to about 18 inches (30 cm)," he advised.
Touchette then places the rose bush, container and all, into a plastic bag and seals it. "Keeping the plant in its container inside a sealed plastic bag keeps the moisture in and creates its own microclimate," he said.
Touchette has used this method for the past six or seven years to successfully overwinter a hybrid tea rose that is his wife's favourite, storing it on a workbench in his garage. "Placing the plant directly on the cement floor of your garage, without the benefit of a plastic bag, will suck the moisture out of the plant."
The secret to success, cautions Touchette, is that the garage must be insulated, unheated and the inside temperature should not go below minus 10.
If your preference is for a rose that is virtually maintenance-free, choose from the Oso Easy series of roses that combine disease and pest resistance with cold hardiness. The self-deadheading blooms range in colour from strawberry pink to butter yellow or ruby red grapefruit to spicy reddish-orange.
Developed by Proven Winners, this robust series became available only in the past four or five years. Owen Vanstone, sales manager at Vanstone Nurseries in Portage, touts the extreme disease resistance of this series as its most appealing aspect.
"We have never needed to apply any chemical-control measure, nor had a problem with black spot or mildew,", said Vanstone who added that this translates into greater gardening success.
But don't expect the blooms to be complex or dramatic as those of a tea rose.
"Some of the blooms are single, so it is not a big double flower," Vanstone said. "Although smaller, the blooms range from single to semi-double and are numerous and bright in colour. There is a bit of variation in the petal count. Strawberry Crush, for example, with strawberry-pink blossoms that transform to a creamy shade, is more of a semi-double variety and has a higher petal count."
Exhibiting small, very shiny foliage, continuous bloom and mature growth that tops out at less than two feet or 60 cm, this is an ideal border plant with little fuss.
Lemon Zest and Mango Salsa are new introductions in the series and are classified as zone 4. "The flower size is larger and they offer a different range of colour," said Vanstone, who warned that they may not be as hardy. If you try these in your garden this summer, site them in a protected location and mulch in the fall.
He's also in favour of the notion of using roses as patio plants.
"The OSO Easy series would be well-suited as a containerized plant because of their low, mounding habit," said Vanstone, who believes containerizing plants, either hardy or non-hardy, is going to become a more widespread application among gardeners.
Most of us have our favourite roses for different reasons. Sandy Venton, a gardener in St. James, considers the form of the Lambert Closse rose, introduced in 1994 as part of the Explorer Series, to be unsurpassed. Its blooms have up to 53 petals and are produced freely from June to September.
Rick Durand, formerly of Portage la Prairie and a member of the Canadian National Landscape Association's Rose Committee, spoke from his home in the Okanagan Valley where hybrid tea roses still bloom in late November and can rise to eight feet. Disgusting.
"Roses from the Morden program were always based on hardiness first," Durand said. "Three years ago we changed that criteria because we felt that disease resistance needs to be number one."
Durand's all time favourite rose is Campfire. Introduced in 2013, Campfire's highly disease-resistant qualities and exceptional hardiness, combined with unique colour that changes throughout the growing season, has guaranteed its success as a bestseller on both sides of the border.
"Why do you think we have this love affair with roses?" asks Durand. "In the past, we had hardiness and disease issues, so not meeting expectations was the norm. A rose like Campfire is one of the easiest plants you could ever grow and that is the direction hardy roses are going."
Hardy or not, the choices are more tempting than ever.