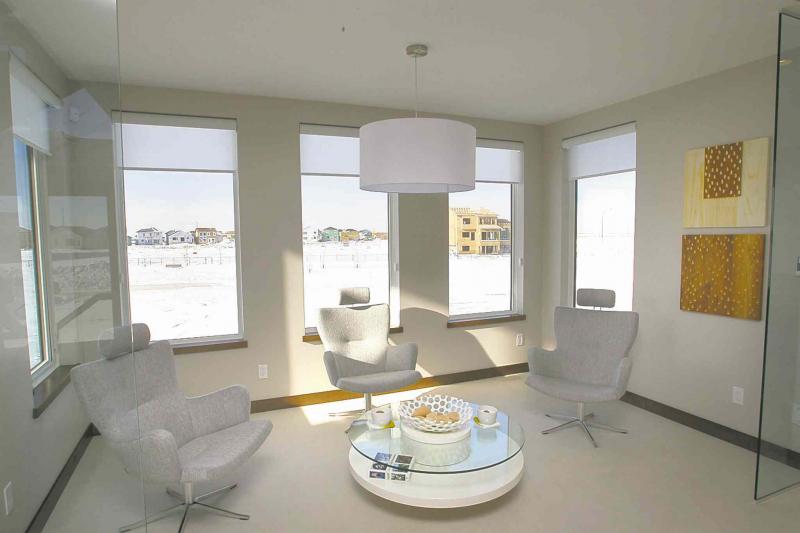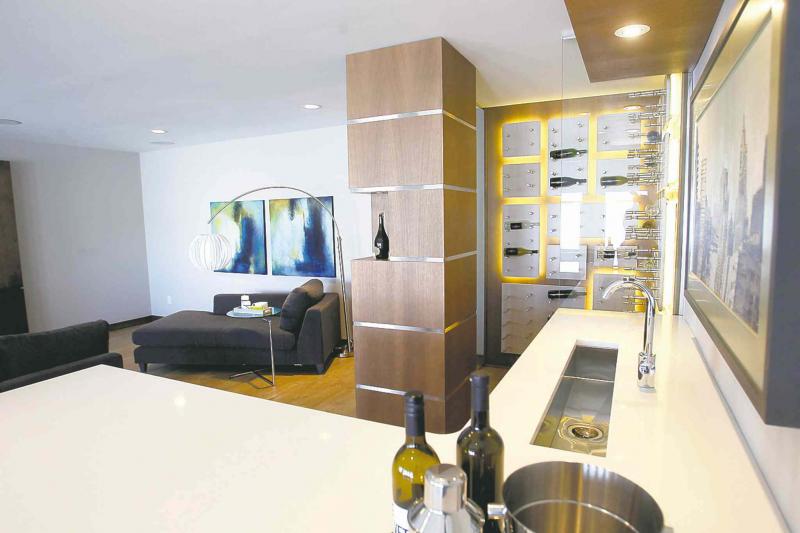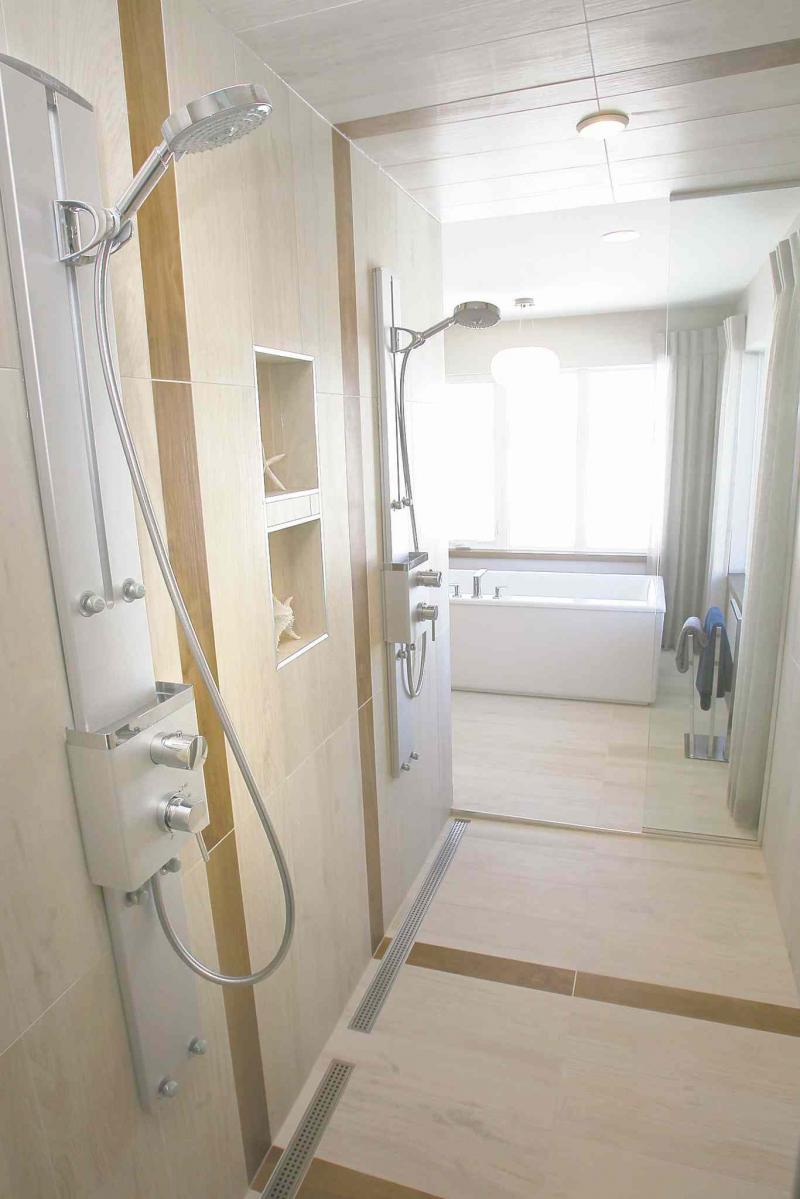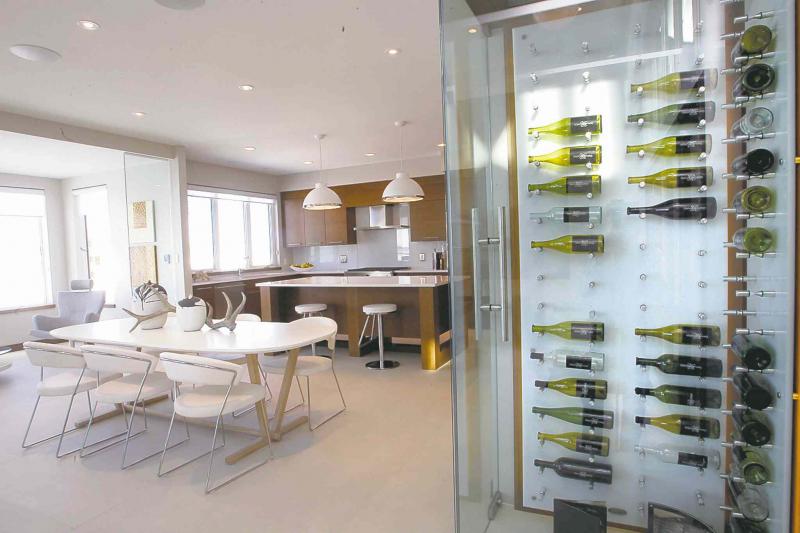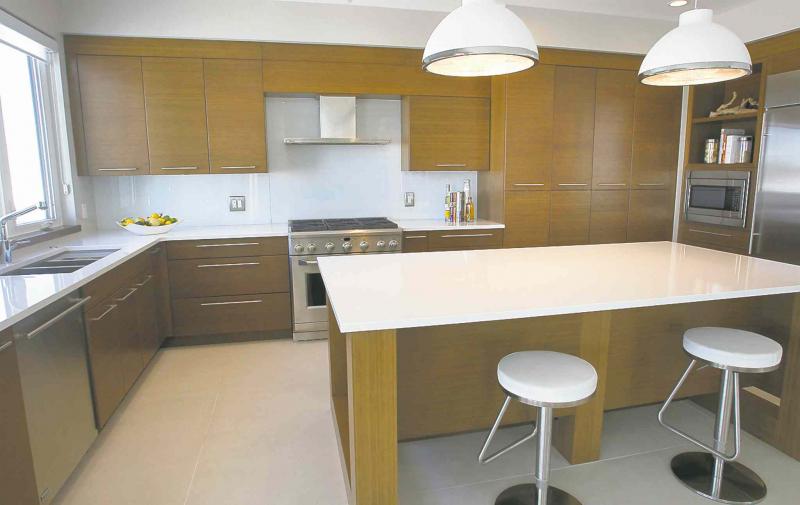 It's all too easy to be transfixed the moment you train your gaze on 28 Waterstone Dr.
With its distinctive stone/wood exterior -- which is festooned with huge windows -- you can't help but marvel at the gorgeous materials and its clean, linear design. As it turns out, the exterior is merely a prelude to the home's overall design theme.
"Maric's design team wanted to create a modern but warm home with rustic touches," said Maric's sales representative for the 2,757 sq.-ft., two-storey design, RE/MAX Executives Realty's Garrett Parker. "To say the least, this is a very interesting space. It's 2,757 sq.-ft., but it feels more like it's 5,000 sq.-ft. It's an incredibly well-designed home in every aspect."
While the home possesses more than its fair share of outside-the-box design pizzazz, the home -- which earned a gold award in the Fall Parade of Homes -- is about more than simply delivering wow factor at every turn, said Parker.
"The idea was, first and foremost, to design a home that was functional and family-oriented -- and that looked good. I think Maric's design team achieved that with the home from top to bottom."
Right from the moment you set foot in the home, there's no question that the main design theme is modern in its genesis. A clean, linear design, off-white walls and square or rectangular space notify you immediately this is no traditionally-themed home.
As soon as you enter the great-room area, a practically-designed focal point greets you: a centre staircase with see-through tempered glass sides, stainless rail trim and floating maple stairs.
"It not only looks spectacular, but it's placement separates the family/sitting room area from the kitchen/dining area without being intrusive," he said. "The glass panels allow light to flow through from the windows on the family room's back wall, while the maple stairs add warmth and style. You can even see down into the lower level from the family room, which is a cool feature."
Meanwhile, the spaces on either side of the staircase are set on different levels -- the kitchen up two steps, and a glassified sitting area to the left of the family room down one step. At the same time, the family room was placed beneath a soaring 19-foot ceiling with a wall of windows (and balcony doors) that stretch from the floor to ceiling to allow daylight to cascade in -- and provide a panoramic view of the wetlands behind the home.
As if that wasn't enough, the family room features a multi-layered, custom-stained maple wall over the flat panel TV, and a three-sided fireplace (set in textured tan tile) that neatly -- and stylishly -- separates the family room from the sitting room.
"It's a dramatic, stunning and bright area that just begs you to live in it," said Parker. "The wood provides a bit of a rustic feel -- the panel over the TV, the beams over the sitting area as well as the hardwoods in the sitting area that contrast beautifully with the carpeting in the family room."
Awaiting on the other side of the stairs is a kitchen as big as some small homes due to an imaginative three-part design. First, there's a huge dining area that can easily hold a table for eight to 10. Next, to its rear is a sunroom/sitting area surrounded by five windows plus a patio door that leads to the balcony. Then, there's the kitchen, which strikes a fine balance between flair and function.
"The layout is extremely functional, with a four-foot by eight-foot island surrounded by practical features such as a classic corner pantry with two pull-outs, a mid-sized, hidden wing with laundry room and powder -- and a cool feature, a tempered glass wine cooler," he said. "The tile floor is not only gorgeous, but it's also heated. And the finishes are amazing -- bamboo cabinets and beige quartz countertops."
It would be an understatement to say that the home's upper level is as spectacular as its main level. With four bedrooms and a four-piece bath (with massive soaker tub) that's as luxurious as most ensuites, it's a bright, well-laid out area that provides a private bedroom wing for the three secondary bedrooms. That makes for a master suite that's totally secluded -- one that features a masterful, creative design.
"This is my favourite space in the whole home," said Parker. "It's super bright with tons of windows, big, the wide plank maple flooring provides warmth and texture, and its focal point -- a (see-through) two-sided gas fireplace set in taupe tile -- separates the bedroom from the ensuite. The ensuite is amazing with a nine-foot tile shower with two shower areas, a stand-alone soaker tub surrounded by windows with the fireplace next to it, and a huge walk-in closet with built-in wooden storage designed by For Space Sake."
The home is then capped off by a walk-out lower level that's bright (thanks to a collection of large windows on its rear wall), well-appointed and beautifully laid out.
"When people come down here, their first comment is usually, 'wow!'. That's not surprising. With a wine cellar behind the bar, a media area with another staggered maple feature wall, cultured stone gas fireplace, games area -- and a fifth bedroom (with water view) and four-piece bath, it's a crowing touch to a home that's not only spectacular, but totally livable."
lewys@mts.net