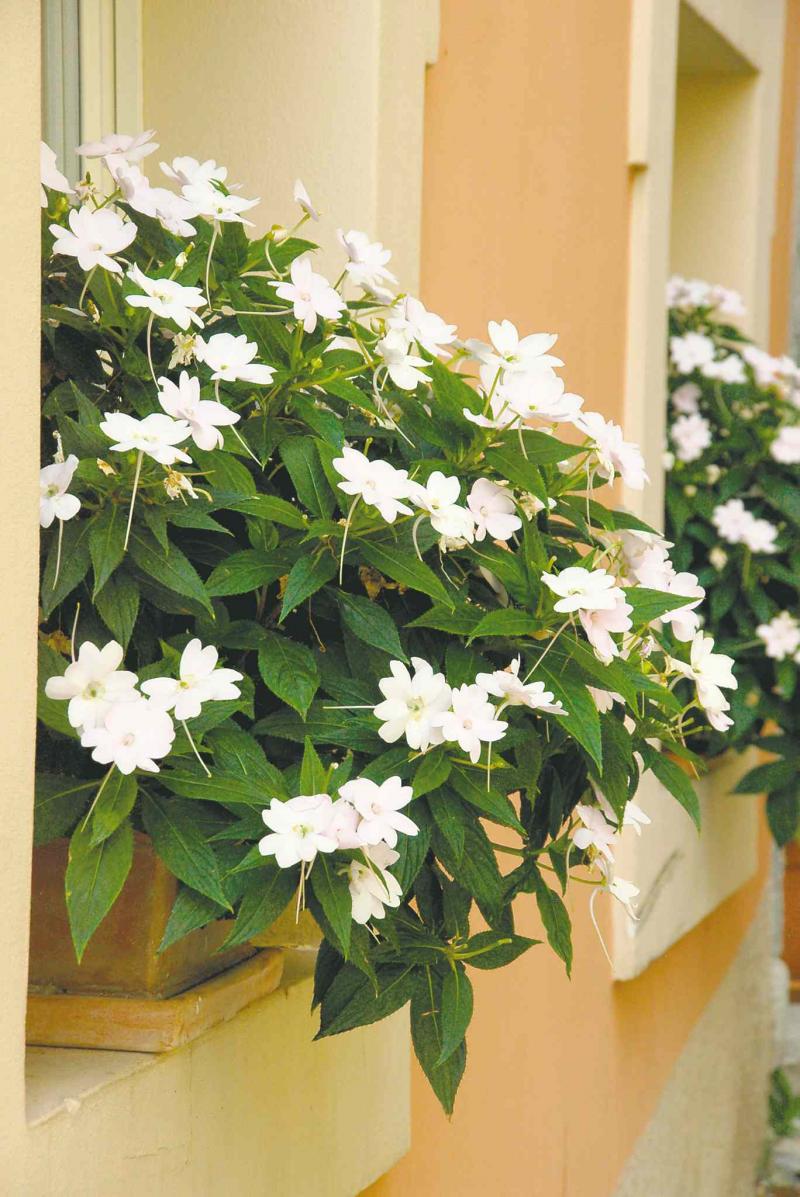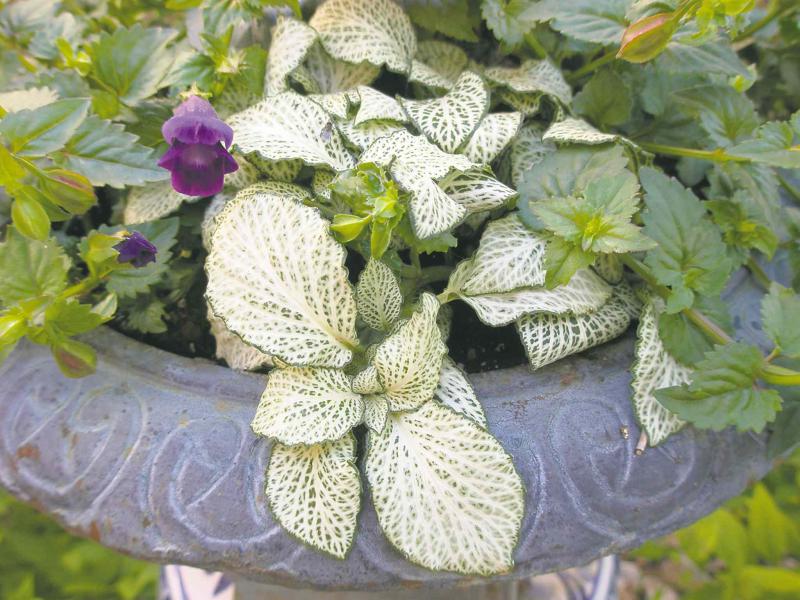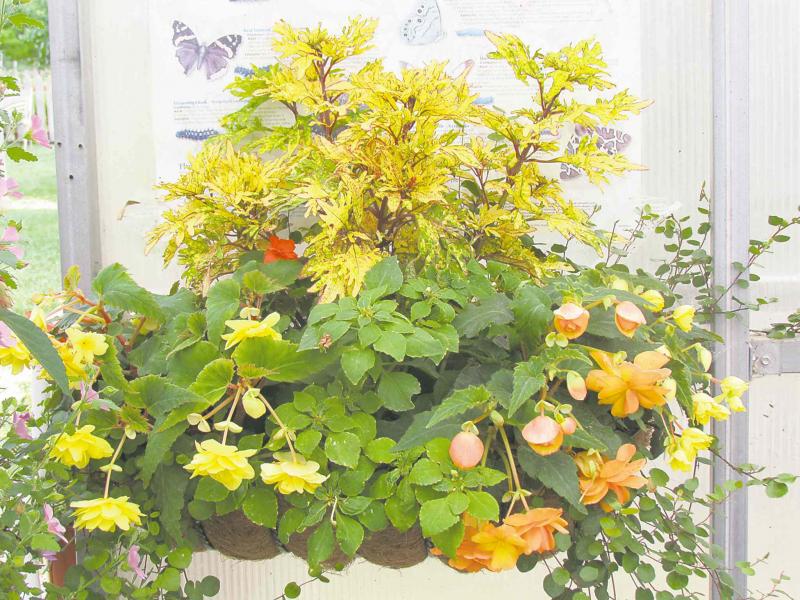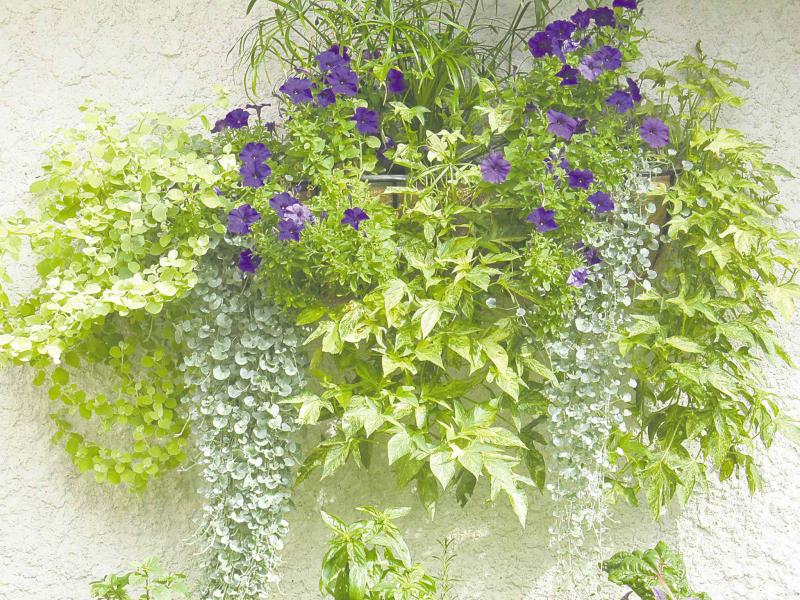 Perhaps one of the best advantages to having a window box is the opportunity to be creative. Wish your mature landscape had room for some of the tempting new annuals at the garden centre this spring? Recently retired to an apartment or condominium but dreaming of the garden you left behind? A window box can be a simple solution to the desire to experiment with colour and texture.
Where should you begin? Decide first whether you will build your own or purchase one that is ready-made. Simple materials such as leftover fence boards or æ-inch spruce boards can be constructed into a window box and painted to match your home's exterior. Ready-made choices are much more varied, ranging from materials such as polyurethane, cast aluminum or more ornate materials such as wrought iron.
Window boxes made from cocoa-fibre liners that are secured with an open wire frame may not strike you at first as aesthetically pleasing. Fast-growing trailing annuals, though, can completely hide the front of a window box, no matter how humble or intricate -- the choice is yours as to whether to plant cascading or upright plants or to include both in your display.
All window boxes must have drainage holes unless, heaven forbid, you are planning to fill them with plastic plants. Depth is an important consideration as well. Generally, a depth of eight inches or 20 centimetres is sufficient to accommodate the shallow root systems of annuals. Since window boxes can be exposed to the onslaught of wind, rain and sun from all angles, plantings can dry out quickly. Alternatively, drainage holes are important to ensure excess water drains away and does not accumulate in the bottom of the container, a surefire recipe for root rot.
Sometimes the hesitation to install a window box involves concern for unsightly water and soil dripping down the front of a stone or siding exterior. This can be a problem when the window box is bolted directly to an outside wall. Try suspending it instead from a windowsill with hooks or attach two small pieces of wood to the underside of the box to bring it away from the wall. A simple solution is to slope the base of the box or to drill drainage holes closer to the front of the box.
The clear advantage to suspending your window box from hooks versus bolting it to an outside wall is the ease with which soil and plants can be added or removed. Use only a lightweight sterile soil medium specifically formulated for containerized plants. Since soil nutrients can be quickly washed away with each watering or rainfall, add a slow-release fertilizer to the soil or use a small amount of liquid soluble fertilizer each time you water.
Before selecting your plants, consider the exposure of your window box and whether or not you are limited to specific colour choices. The neutral exterior of my house allows a fair bit of flexibility in choosing plants for my five window boxes. Since the temptation when I am at the garden centre is to select one of everything, my rule of thumb is to unify each display with three or four plant varieties such as white Baby Wing begonias, cascading bamboo grass, purple or blue torenia, or a coleus such as Henna.
"We'll be starved for colour after this long winter," said Nicole Bent, president of Shelmerdine, "and colourful combinations will deliver plenty of curb appeal."
Since window boxes tend to dry out quickly, Deanne Cram, greenhouse manager at Shelmerdine Garden Centre ,recommends drought tolerant selections such as salvia or Lantana Red Flame. "If you miss a watering," said Cram, "these plants won't suffer."
Cram stresses the importance of colour combinations, too. "For a bright, intense colour combination, mix bright yellow Calibrachoa Lemon Slice with Lantana Red Flame."
"Symmetry can be present in the colour of the plants you choose without having to choose the same plants to balance your design," explained Joanne Jones, greenhouse manager at St. Mary's Nursery. "For example, you may choose to go with a red petunia at one end of your window box and cascading Calibrachoa Hula Cherry at the other end.
Trailing plants provide movement to a window box design. Jones recommends the new Wicked Series of verbena. What makes this new variety a good choice? "Sometimes verbena can be very aggressive," said Jones. "So aggressive that they can choke out some of the other plants in the container. The Wicked Series verbena are a medium-size and semi-upright with a mounding effect before they fall over the edge of the container."
For unique accents, Jones recommends Autumnale Fuchsia, a trailing fuchsia for part-shade that features arching stems and unusual coppery red and gold shading. Grown more for a foliage accent in our zone 3 climate, Autumnale produces pink pendulous flowers in a longer growing season. Another interesting plant to look for is Alternanthera Red Thread. Also suited to a part-shade location and grown more for its unique texture, the finely cut grassy leaves and dense mounding habit of Red Thread will add a different dimension in contrast to cascading or flowering plants.
"I contrasted mine with oranges and hot pinks," said Jones who has also grown it with bright reds.
For Jones, the ultimate window box plant is the Solenia begonia. "They have millions of flowers and will tolerate full sun," said Jones who has combined apricot, pink and yellow Solenia begonia plants with a mix of diamond frost euphorbia. "They do very well in full sun and like most begonias, they have very few pest issues."
Tammy Jensen, co-owner of Jensen's Nursery, is also a fan of begonias. "For shade, I like nonstop begonias combined with trailing giant blue lobelia," said Jensen who might also add an annual grass toward the back of the container for some height. "For a sunny, hot location, old favourites that always look good are yellow or purple sweet potato vine paired with a wave petunia in a contrasting colour."
Karen Loewen, a master gardener who gardens in Steinbach, also plans to use Solenia Begonia but will select from velvet red or orange and pair them with lesser known foliage trailers such as Duranta Gold Edge with glossy green leaves splashed with gold colour or Pilea Glauca aquamarine, which forms a dense mat of dainty, round, silvery-blue leaves.
If you would love to fill a window box with your favourite plants but can't be available to look after the daily watering requirements during a long hot summer, consider a self-watering container such as the Desert Planter, manufactured right here in Winnipeg by Equinox Environmental Products.
Made with 50 per cent recycled plastic and available in eight custom colours, the Desert Planter measures 91.4 cm in length and 25.4 cm in width. With double-walled construction, the planter features a built-in water reservoir that holds 20 litres of water and only needs to be refilled every 10 days. A liquid fertilizer can be added to the water so the plants are being fed. In the event of heavy rain, excess water is drained through an overflow hole. Going away to the lake for a week? No worries.
"Since water is wicked from the bottom, the top layer of soil stays dry, water evaporation is minimal and plants thrive because they are receiving the perfect amount of water," said sales manager Peter Klym.
The Desert Planter should be attached securely with sturdy mounting brackets and can be left outside all winter, making it ideal for situations where no storage is available.