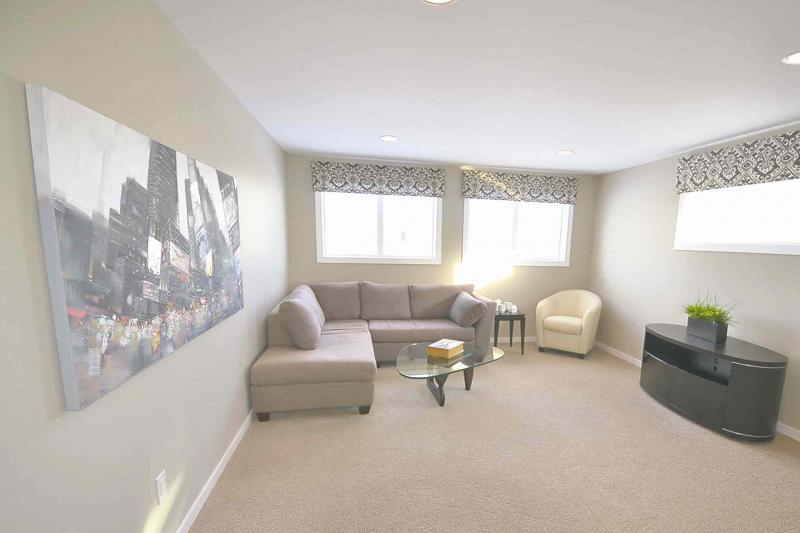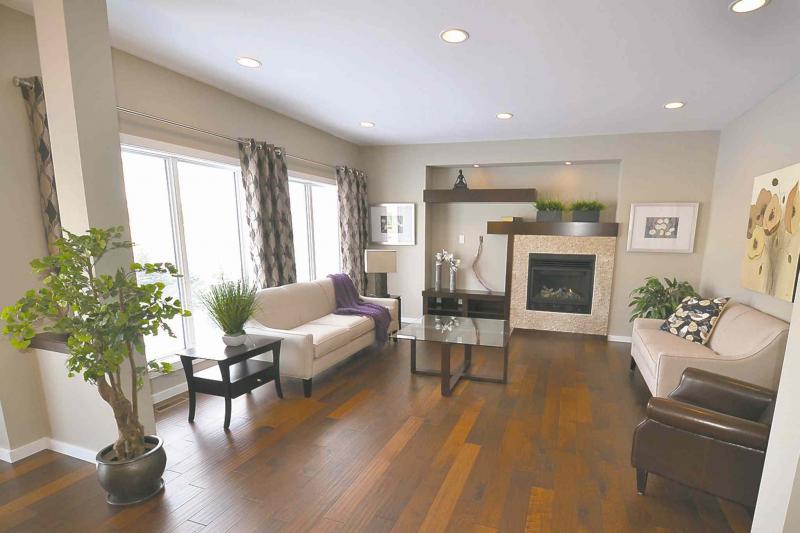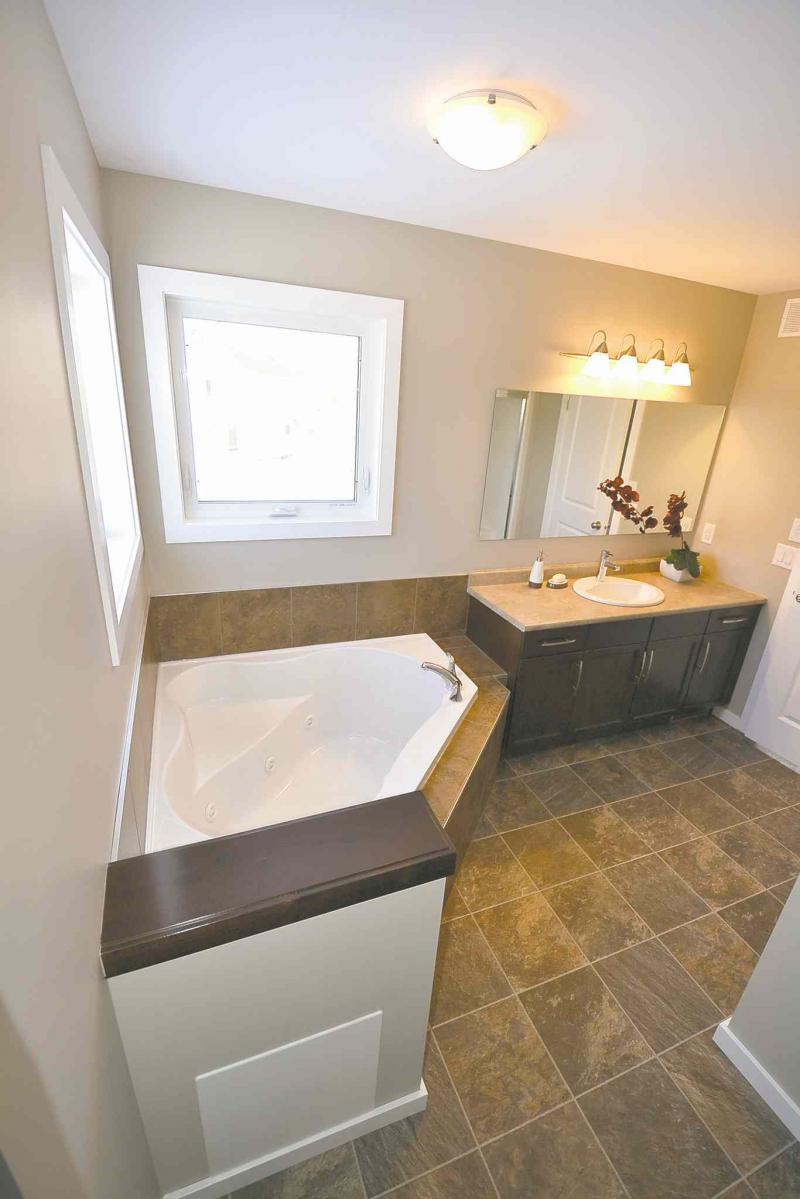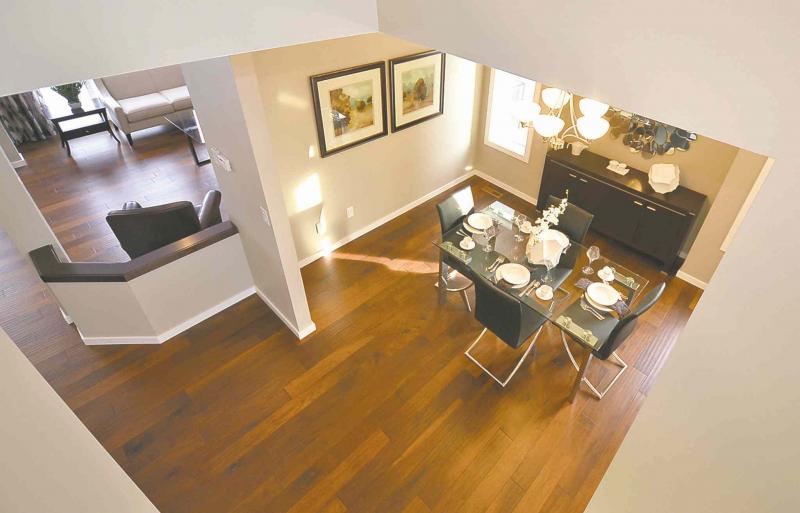 So you have a young family, and have been living in a 1,200-square-foot, 11/2-storey home a number of years.
As serviceable as it's been, now the kids are getting older -- and want their privacy -- it's time to move on to a bigger home that offers more flexibility in terms of its overall design. Turns out, Kensington Homes may have the home you're looking for in the form of the Cypress II, a 2,633-sq.-ft., two-storey design found at 15 Stan Bailie Dr. in South Pointe.
"This is a very practical, livable home that features a very flexible design," said Kensington Homes sales representative Heather Daniels. "Because of its flexibility, it's a home that's sold well for us. All kinds of people are buying this home -- families, young couples, and multi-generational families."
The Cypress II's flexible floor plan starts right at the home's front entrance, which features an eight-foot-wide foyer placed beneath an 18-foot ceiling. To the left of the foyer is the upper-level stairwell; to the right is a double coat closet and a few steps further up, a main-floor den.
Not only are the foyer's width and depth practical, user-friendly features, but so, too, is the flooring that defines the area.
"I think people will also appreciate the faux tile (vinyl) flooring," she said. "It not only defines the foyer, but is also a good choice for a space where people will be taking off wet, dirty shoes. You don't want to have hardwoods in the home's front entrance -- they just won't stand up to all the wear and tear. The vinyl is not only more durable, but looks good, too."
That said, engineered, hand-scraped maple hardwoods -- which offer warmth, texture and durability -- encourage you to investigate the home's great room, which is preceded by a formal dining room to the right.
An angled entrance then points you toward the kitchen, which features a (perfectly proportioned) four-foot-by-three-foot island with eating nook for two and a dinette area placed conveniently next to a patio door that leads to a future backyard deck.
Wide aisles, gorgeous finishing materials and a logical, user-friendly layout characterize the kitchen/dinette quadrant.
"The island is just the right size -- it doesn't hamper flow, has an eating nook, and has pot drawers on the sink side for extra storage," Daniels said. "There's a huge double pantry next to the fridge (with two doors that open out, allowing you to walk in to retrieve food supplies, or put them in with the greatest of ease), tons of cappuccino maple cabinets and a double sink beneath a large window on the rear wall. The granite countertops are an upgrade, but the cabinets are a standard feature, with the exception of the trim on their top and bottom portions."
Another standard feature is the mudroom at the rear of the kitchen -- a space that contains a big closet, powder room, niche for storage bench and a door that provides easy access to the attached double garage.
"It's a great feature," she said. "It's placed perfectly -- you can bring groceries directly into the kitchen, and it keeps everything out of the way, yet close by."
Meanwhile, the great room -- which features all kinds of volume due to a nine-foot ceiling and tons of space -- is as livable as they come. The dinette area, which easily holds a table for four, big enough to accommodate a table for 10 for family gatherings. The family room -- which is defined by pillars with angled one-third walls on either side -- is spacious, bright and well-appointed."
"A huge picture window lets in all kinds of light, while the (two-tone) maple hardwoods, along with the space's focal point, a gas fireplace with cultured stone surround and (optional) maple entertainment unit, provide texture and warmth," said Daniels. "The great room is ideal for both family life and entertaining."
The home's upper level also features a family-friendly design, starting with a loft area that's surrounded by a collection of large windows -- and measures nearly 14 feet by 16 feet.
"Most people use the loft as an upstairs family room -- it's another space that provides separation, something that big families need," she said. "It can also be turned into a fourth bedroom with a bathroom next to it. This home has a second-floor laundry room next to the loft off the stairs."
The layout ensures privacy and function, with the master suite set off by itself, and the two secondary bedrooms (both larger than normal with huge windows) set off in their own wing with a four-piece bath. As parents might hope, the master suite was designed to function as a secluded sanctuary of sanity.
"It's big (13.3 feet by 15 feet) and comes with a tray ceiling, huge picture window, big walk-in closet and a gorgeous ensuite," added Daniels. "The maple vanity is standard, as are the two corner windows above the jetted corner tub, which is set in mocha tile. The five-foot shower with vinyl surround (with two seats) and rain shower head also comes standard. It's a beautiful, functional space that encourages you to relax."
Add in another 700-plus sq. ft. of livable space downstairs and you have a home that offers over 3,300 sq. ft. of flexible, well-configured space -- ideal for families looking for a home that offers style, function and value.
lewys@mts.net