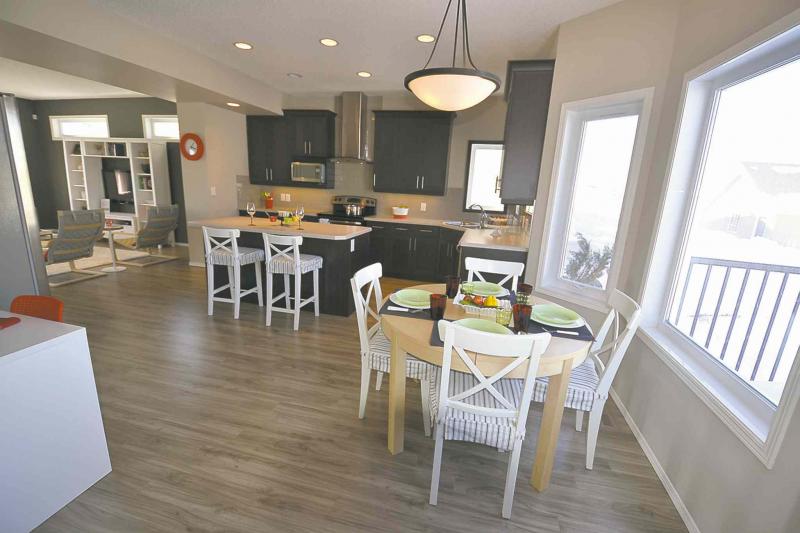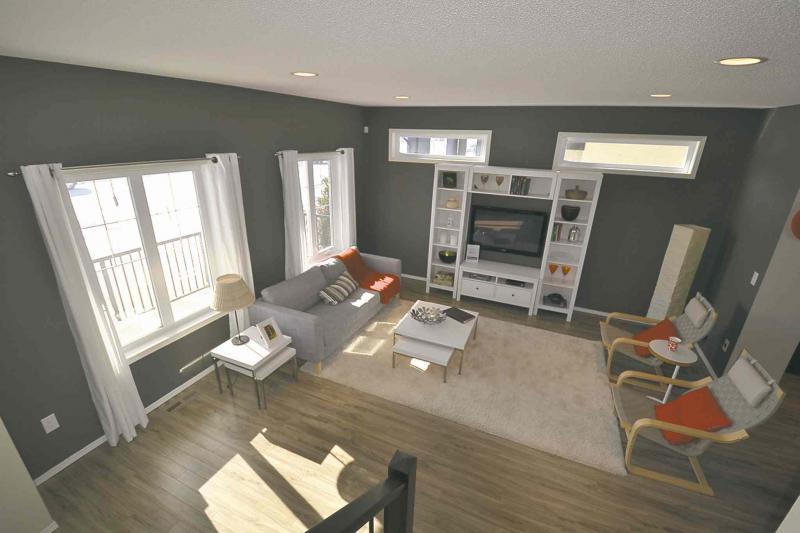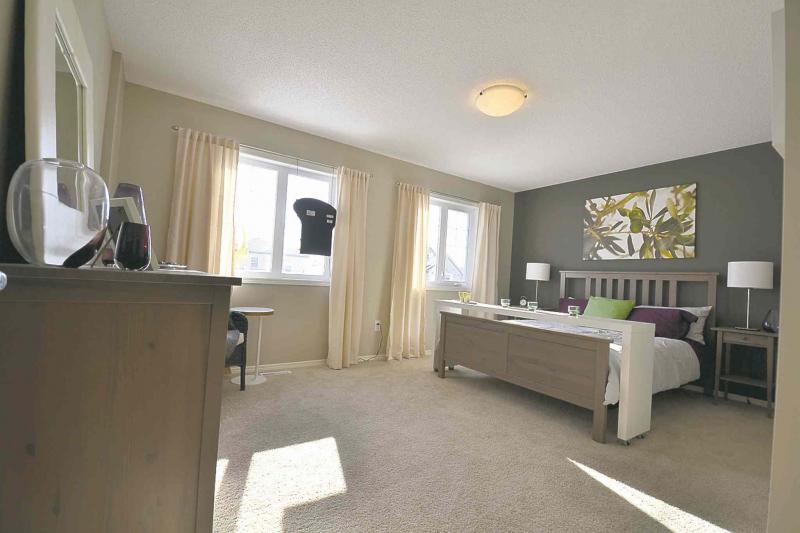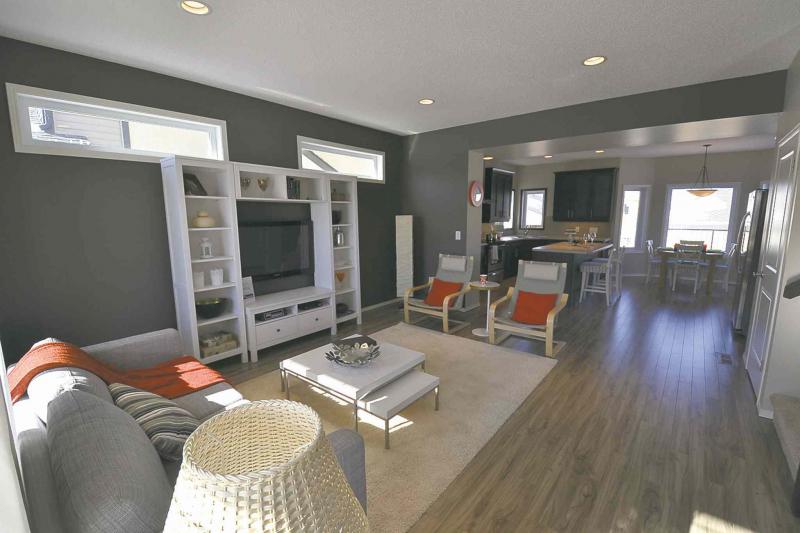 While so-called visitable homes are designed to be user-friendly for those with mobility challenges, their design goes much further than that.
In actuality, the design -- which features at-grade front and back entrances, wider doorways (on the main level) and a main-floor powder room with extra-wide (36-inch) doorway and five-foot turning radius -- is by extension very family-friendly.
Add a well-thought-out floor plan, high finishing quality and an affordable price tag to that, and you have the Bridgewood Visitable, one of Ventura Custom Homes' newest show homes in Bridgwater Lakes.
"It's an absolutely beautiful home with its modern curb appeal, large covered front porch, manufactured stone smart trim and low-maintenance vinyl siding," said Quest Real Estate's Paul Saltel, one of the sales representatives (along with Anders Frederiksen) for the 1,571-square-foot, two-storey design. "It's a home that has lots of appeal and function both outside and inside."
Head inside and you find a wide-open great room that's preceded by a wide (about seven or eight feet) foyer that ushers you effortlessly into the home next to a quad bifold coat closet. There's even room to display art on the wall in front, or place a storage unit to put items in drawers and items such as keys and gloves on top for quick access on the way out the door.
From there, the foyer opens onto a great room that features few, if any areas that impede freedom of motion.
"It's a truly visitable design that not only works really well for guests with mobility issues, but for day-to-day family life and entertaining," said Saltel. "The family room is nice and big, and then transitions beautifully into a kitchen/dinette area that also flows extremely well. There's lots of room to move no matter where you go on the main level."
"A pair of design features combine to make an already spacious great room that much more livable," he added.
"The ceilings are actually nine feet high, which makes both the family room and kitchen/dinette area feel even bigger. There's also a lot of glass around the great room -- two large windows on the family room's front wall, a pair of oversized transom windows over the entertainment unit (more on that later) and a three-part bay window that allows light to flow freely into the home's rear portion.
"I think the bay window was a great idea," he said. "It not only brightens up the kitchen, but it also opens up extra space, so you can easily fit in a table for four or six, and still have all kinds of room to move."
The kitchen -- which features a four-foot-by-six-foot island (with breakfast nook for two) in its midst -- is particularly impressive. Aisle widths are generous, while there's tons of counter, drawer and cabinet space -- and a sink placed in the corner next to a pair of windows so you can wash dishes looking out onto the backyard rather than a blank wall.
"It's not only a functional space but also very attractive with dark cabinets that come standard with (taupe) laminate countertops. The high-end laminate floors are an upgrade and are a great choice for their durability and rich look. A (tan) tile backsplash -- which really makes the dark cabinets stand out -- is also optional," Saltel explained.
"This home is $401,000 with all the upgrades, which includes a 20-foot-by-22-foot detached garage, nine-foot basement walls, upgraded flooring and upgraded bath tubs. With basic finishes and accessories, we can get folks into the home for under $350,000 including lot and GST."
He added that the family room is one area free of upgrades, for a simple reason.
"We usually leave the entertainment unit out because it allows people to put in their own unit to accommodate their big-screen TV -- they're getting so big these days, that it makes sense to leave the area open for people to configure the way they want it."
Meanwhile, there's nothing lacking in the configuration of the Bridgewood Visitable's upper level, which features a compact hallway around which three bedrooms, a four-piece bath (with soaker tub) and handy linen closet (at the end of the hallway) revolve. The area is (again) bright, by dint of a large windows in each bedroom, plus a huge window placed up high over the foyer on the home's front wall.
All three bedrooms are generous in size -- bedroom two is 10.9 feet by 10.3 feet, bedroom three is 11.8 feet by 9.5 feet and the master suite is plenty spacious at 16.4 feet by 11.6 feet.
"The master suite is off by itself and features two big south-facing windows, a large walk-in closet with bifold doors and a three-piece ensuite with five-foot shower (with two seats), faux tile vinyl floor and dark vanity with white oval sink and light taupe laminate countertop," said Saltel. "It's a private, functional space."
With approximately 600 sq. ft. of space to develop downstairs, The Bridgewood Visitable offers nearly 2,200 sq. ft. of living space spread out over three levels -- space that's laden in style and function and that offers excellent bang for your buying buck.
"It's a home that's extremely comfortable and that offers unparalleled value," he concluded. "It's a great family home in every way."
lewys@mts.net