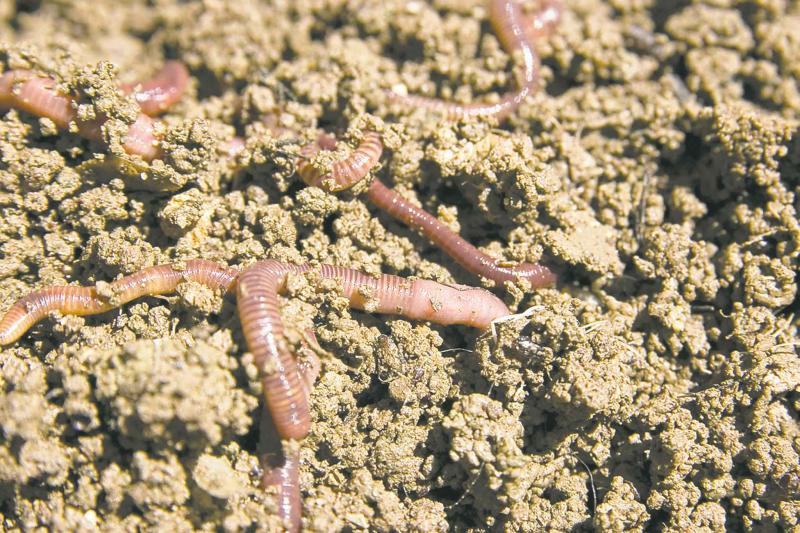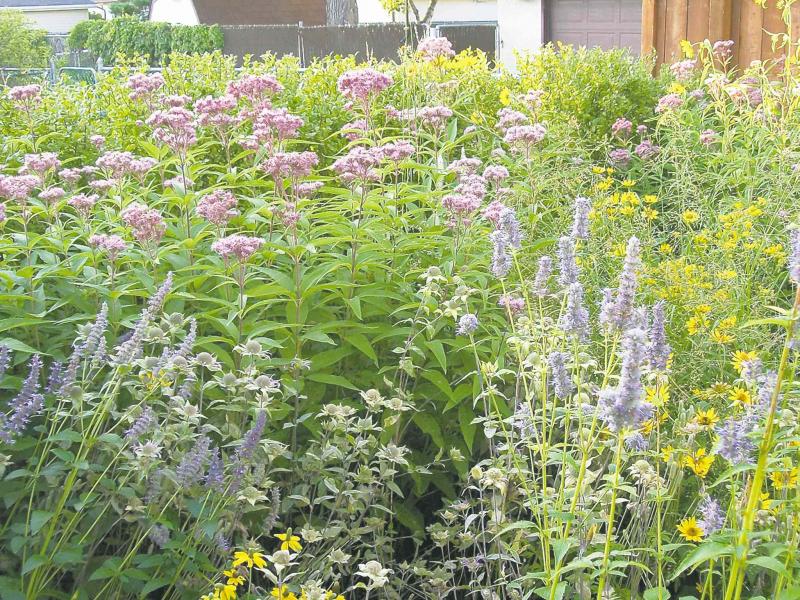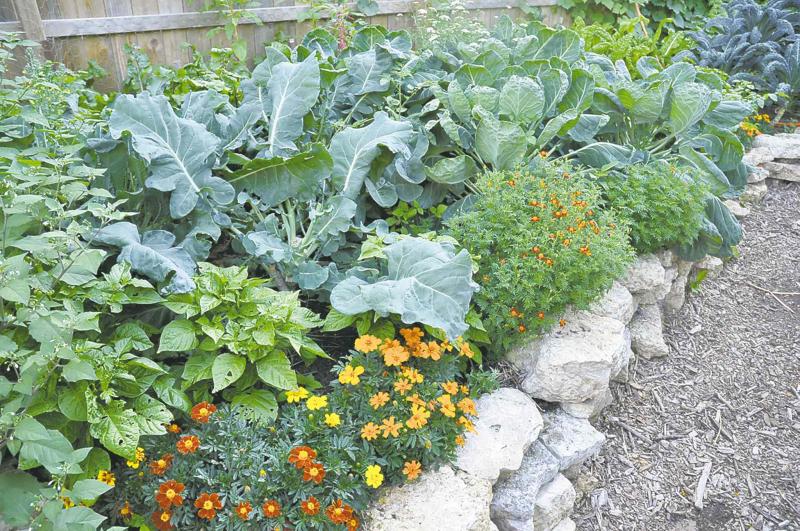 Even to yoga devotees, the discipline of mindfulness doesn't come easy. How do we focus on the moment when so many things are clamouring for our attention? Like anything else, it takes a little practise.
Dave Hanson applies the philosophy of mindfulness to sustainable gardening.
"It's an area that has evolved over the years", said Hanson, owner of Sage Garden Herbs, who urges gardeners to be attentive to even the smallest facet of how the garden is developed and to the origins of the products that go into the gardening experience.
"We are used to getting whatever we want from anywhere in the world with no connection to the back stories of any of those purchases or the consequences to the environment."
Hanson believes garden sustainability begins with changes in how the horticulture industry operates. "There has been a lot of talk about the gardening industry being a green business," he said. "From my perspective as an insider, the industry could do a better job of delivering on the green mission."
Hanson laments the recent loss of a recycling program that allowed both gardeners and garden centres to recycle the millions of plastic pots that are disposed of every year.
"HJS Wholesale has been a leader in the container-recycling program", explained Hanson. "Working with a partnering company, ITML, in Brampton, Ont., HJS Wholesale collected plastic pots returned to garden centres by customers, and sent them to ITML at their own expense for a process called closed-loop recycling that turned them back into pots."
Hanson said he was frustrated when ITML moved its operation to Texas and the program ended.
Today, HJS Wholesale continues to work with the provincial government to create a proper container-recycling program that will divert greenhouse plastic from the landfill.
Don't despair, the hort industry is exploring revolutionary options. While plastic remains the cheapest material, eco-friendly plant pots have been slowly making their way onto greenhouse shelving. From peat pots to CowPots made from recycled cow manure, to TerraShell, a fully biodegradable plant-based thermo-plastic pot made from wheat straw, the goal is to explore alternatives that will eventually become mainstream.
Both Hanson and Karen Sabados, co-owner of Sabados Greenhouse in Lundar, are planning to try the new TerraShell pots.
"I like the idea of not using plastic and instead using something that is renewable," said Sabados. "The pots will biodegrade faster if they are broken up but if you are not worried about the speed, just throw them in and cover them with compost."
Aimee McDonald, co-owner of Prairie Flora, north of Teulon, is trying new pots for the first time this year.
"Ellepots by A.M.A. Plastics can be planted right into the ground," said McDonald who specializes in native prairie plants. "Instead of a regular pot, soil is packed densely inside biodegradable paper so the gardener deals with less waste."
McDonald says another benefit is a more fibrous root system because roots do not have to contend with the confines of a plastic pot.
Customers love the concept and the move towards eco-friendly products, Sabados said.
In addition to trying biodegradable plant trays made from corn starch, Sabados substitutes the use of chemicals on plants with biological controls that she purchases from a local company, Even Spray.
Sabados reports great success in controlling aphids and fungus gnats with biological insects.
"They do a fantastic job," said Sabados, who adds the tiny black flying insects and rose beetles go home with the plant where they can help in the garden. Todd Thompson, president of Even Spray, says the trend is toward far greater use of biological controls and bio-friendly products that are safer for use with natural predators.
What about a more eco-friendly greenhouse operation? Sabados has installed hot-water-heating panels that come on and off automatically and on sunny days in the early spring she throws on the switch to activate pipes buried beneath the greenhouse to preheat it without using a huge output of energy.
"Greenhouse infrastructure costs can be prohibitive," said Sabados who enjoys the challenge of finding ways to conserve energy.
In addition to installing solar photovoltaic panels for electricity, Sabados groups cold-loving plants together in a separate section of the greenhouse according to an eco-index devised by Ball Seed, which compiled the list after researching which plants can withstand the coolest temperatures.
More and more greenhouse growers are on the bandwagon to choose environmentally friendly options while sustaining the high quality of plants and keeping costs competitive.
Options for plant food or fertilizer are also improving. Nature's Source, a more sustainable plant food, is soybean-based and has 10 times less salt than other fertilizers. Formerly known as Daniels Plant Food, Nature's Source will make its debut this spring.
"The majority of all fertilizers," said Daniel McMahon, a representative of Ball Seed, "are salt-based derivatives of some by-product or chemical processing."
Expect to pay a bit more but take comfort in knowing Nature's Source will cover more than twice the area of similar products with less risk of fertilizer burn and is safe for use around children and pets.
Improvements to the green scene include landscape services with specially designed products. Fred Taylor, owner of two companies, Sustainable Organic Solutions and Lawn Stylists, uses a locally developed product called Eco-Tea that gets right down to the root of things. Eco-Tea can be applied either as a foliar spray or a soil drench using a specially formulated brew mix made from worm castings, high-grade compost, kelp and other compounds.
Engineered by Dale Overton, Overton Environmental Enterprises, Eco-Tea is a rich food source for soil that forms a symbiotic relationship between small beneficial microbes and plants through an aeration process. Benefits include improved overall functioning of root zones resulting in decreased water usage and healthier plants.
"Anybody can make compost," said Overton who has a double major in ecology and zoology and a master's degree in land reclamation.
"There is, though, a difference in quality. When you bring a scientific approach to the procedure, you can create a highly consistent product."
While Eco-Tea, which must be kept oxygenated in order for beneficial microbes to multiply rapidly, is not yet available at garden centres, Essential Organics Worm Castings is another product created by Overton and can be found at Sage Garden Herbs.
Of course, the use of quality products in the garden is only one step toward sustainability. Hanson is a firm believer in an integrated management approach by the gardener that includes prevention and diversification.
"Just as monoculture is an unsustainable agricultural practice," said Hanson, "monoculture in your garden space increases the risk of pests and disease."
Fragrant herbs can discourage pests and including a mix of native prairie plants can dramatically reduce the need for watering and fertilizing.
"The existence of pests," said McDonald, "tells you that something is off-balance."
McDonald uses Eco-Tea to nourish the soil but also releases ladybugs into her garden and has a number of home remedies such as milk, baking soda and hydrogen peroxide to reduce soil fungus.
"Before trying any solution, always test leaves first to avoid burning," said McDonald.
Hydrogen peroxide, or H202, is water plus an extra oxygen molecule which, once released, acts as an anti-fungal to aerate the soil.
"I have tried it with good results," said McDonald, who recommends mixing a solution of one part H202 to nine parts water in a spray bottle and then spraying the soil. Test before spraying on leaves to avoid foliar spray burn.
"The more interesting things one does in one's garden," said Hanson, "the greater the impact on a neighbourhood."
Hanson equates it to a social network.
"People notice and start talking and soon they come to visit and get inspired. A sustainable garden is community-oriented. The more that neighbours see the results in your garden, the more they will make sustainability important in their own mindful gardening activities and make much better choices for their plants and for the world."