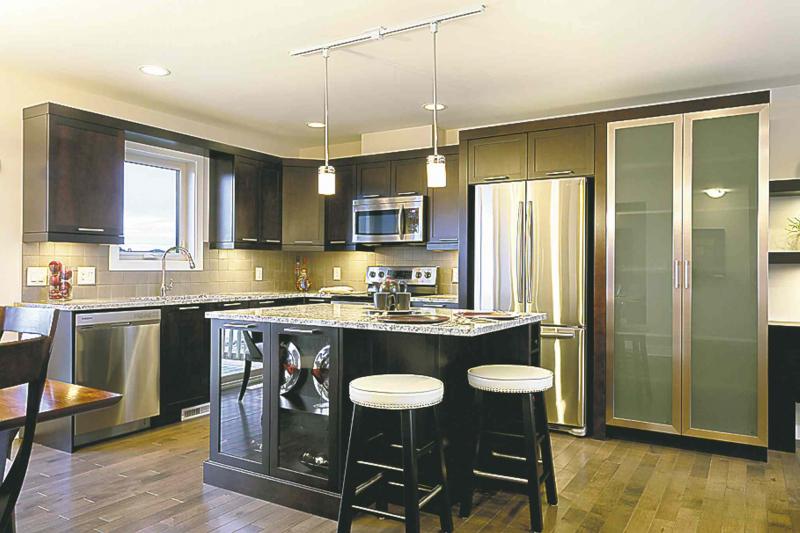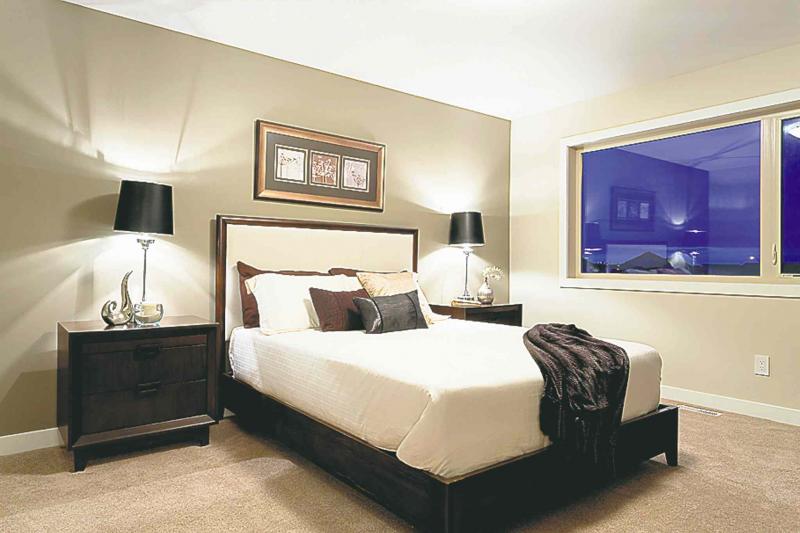 If you're looking for a condominium and privacy is as much a priority as value, then Royalwood Estates Condominiums should be on your buying radar.
Tucked away in a secluded south section of Royalwood at 20-1290 Warde Ave., the townhome condominium community -- conceived and built by A & S Homes -- is situated in a pocket of land where little, if any, through traffic will flow.
Add in a country-like setting that features mature trees, expansive farmers fields -- and close proximity to the Seine River -- and you're guaranteed to come home to a tranquil environment that encourages you to relax.
Then, there are the townhomes themselves, forward-thinking designs that deliver space, style and value in spades.
"Prices start at $299,900 for two-bedroom (plus den), 1,437-square-foot townhomes (the Cambridge)," said A&S sales representative for Royalwood Estates, Coldwell Banker's Garry Loewen. "That price includes base finishes, which are still absolutely beautiful -- dark (smoke) oak or country white kitchen cabinets, vinyl flooring, 50-ounce carpeting and laminate countertops. A ribbon-style fireplace (with drywall surround) is standard in the living room, and eight-foot (sliding) patio doors that lead out to a huge (eight-foot by 17-foot) balcony or deck."
If buyers choose -- the base finishes look great, by any stretch of the imagination -- they can upgrade to hardwood floors, maple cabinets, tile backsplashes and tile fireplace surrounds. Regardless of finishes, one thing remains constant about the townhomes: the efficient, spacious floor plan, which spans three levels.
Take the Cambridge, for example. The main level consists of an attached double garage plus 12-foot by 11-foot den/media area -- plus a mechanical area that contains a high-efficient furnace and 60-gallon hot water tank. Stairs then take you up to the main level, which is comprised of a generous foyer, 18-foot-by-12-foot living room, 8.8-foot-by-11.6-foot kitchen and 11-foot-by-10.5-foot dining room -- plus a handy powder room next to the stairs that lead to the upper level.
"Great rooms in the suites, whether you're in the Cambridge or larger (1,775-sq.-ft.) Oxford, not only feature excellent length and width, but they're incredibly bright due to having the wide patio doors at one end (next to the dining room) and a big picture window at the other," said Loewen. "Kitchens feature an island with breakfast bar, and there's even a big window over the double sink. The dining room in either townhome can hold a table for six or more quite comfortably, as well."
The upper levels of both the Cambridge and the Oxford (which also comes in a three-bedroom plan), meanwhile, are exceedingly spacious at 605 sq. ft and 738 sq. ft., respectively. The Cambridge's upper level contains two generously proportioned bedrooms (a 12.5-foot-by-12-foot master suite and 11-foot-by-10.7-foot second bedroom), a second-floor laundry tucked away neatly in a closet off the stairs, and one-and-a-half bathrooms.
As nice as the Cambridge's upper level is, the Oxford's is even better, said Loewen.
"It's absolutely spectacular in that you get two monstrous bedrooms (14.1 feet by 13.2 feet and 13.9 feet by 12.2 feet), each with its own ensuite; the larger bedroom comes with a walk-in closet (not small in itself at 10.9 feet by 5.1 feet)," he said. "Like the Cambridge, the Oxford also comes with a second-floor laundry, and, thanks to the large windows in the bedrooms, is a bright, highly livable area."
A bevy of other features make Royalwood Estates' two- and three-bedroom townhomes feel like a home: a piled foundation (eight-inch reinforced grade beam on 16-inch piles), wood structural floor (with radon-gas protection beneath the floor), engineered floor system with three-quarter-inch tongue-and-groove subfloor -- and forced-air heating and central air conditioning.
"There is also a state-of-the-art wall system with excellent soundproofing that will keep sound transference to a minimum," said Loewen. "Windows will be energy-efficient dual pane, low-e, argon-filled PVC models with a 20-year warranty on the PVC and seals, and there will be a 100-amp panel, 220-volt stove and dryer plugs, and there will be pre-wired telephone jacks pre-wired into bedrooms, dens and living rooms."
Most importantly, the townhomes offer living space on all three levels, providing the separation both families and couples require to live harmoniously. Interior finishes -- whether basic or upgraded -- are rich and warm, and floor plans are spacious, bright and efficient, making for townhomes that deliver style, function and value in a peaceful setting.
For more information on Royalwood Estates, visit www.royalwoodestates.com or call Garry Loewen at 204-227-5744.