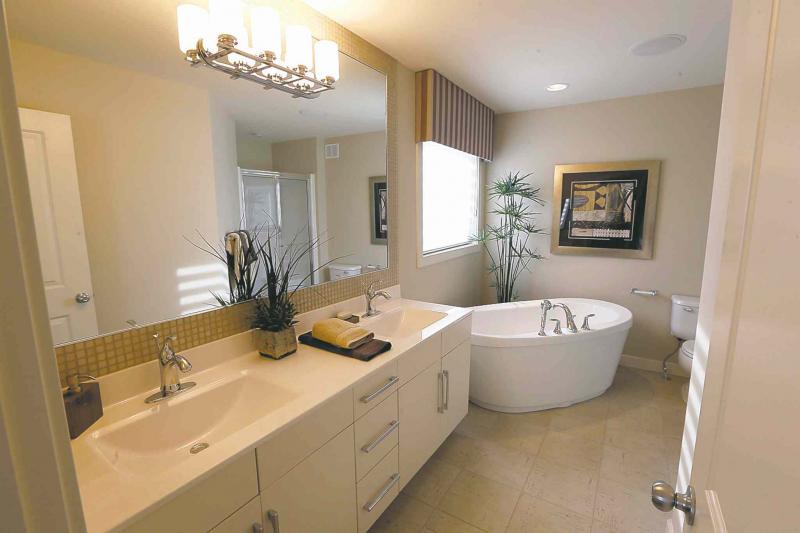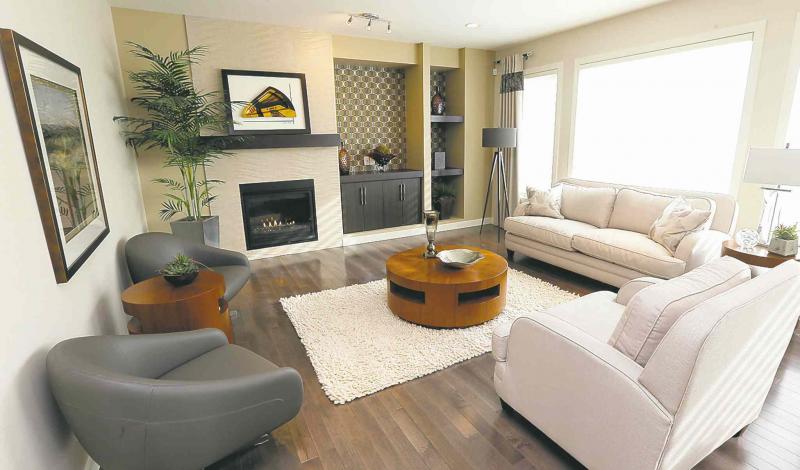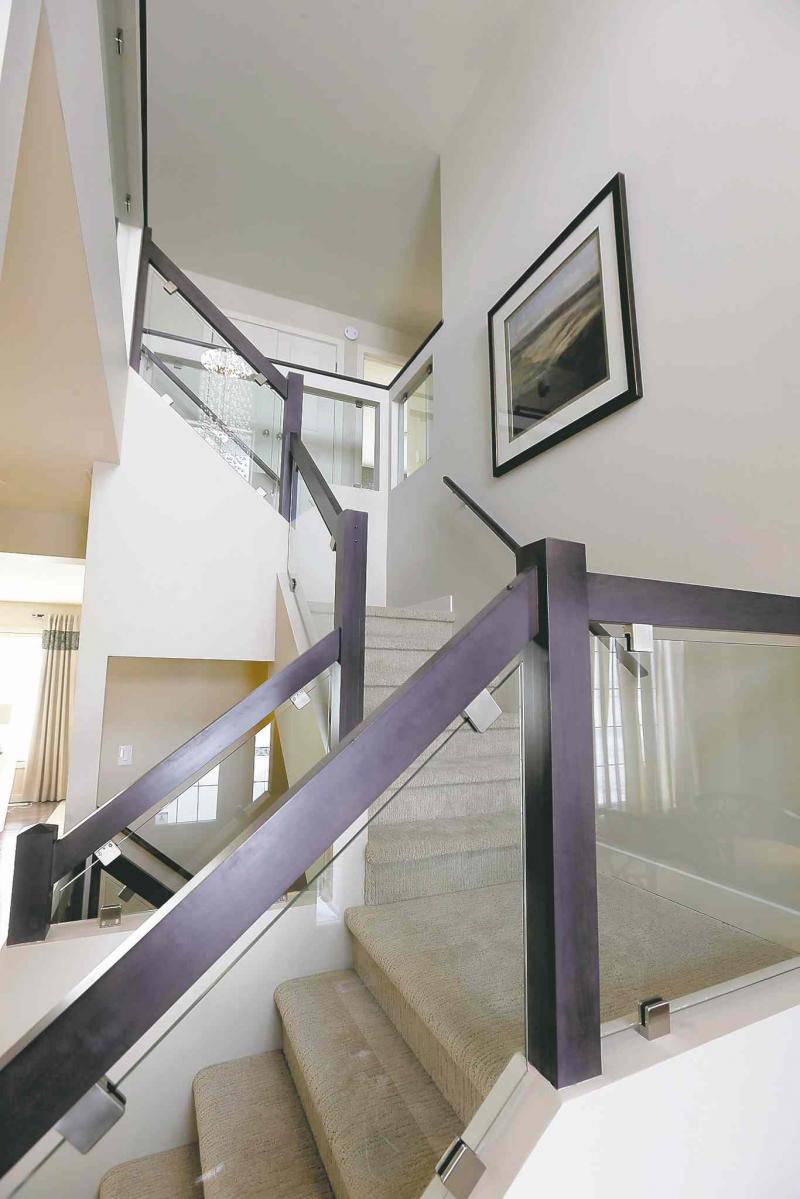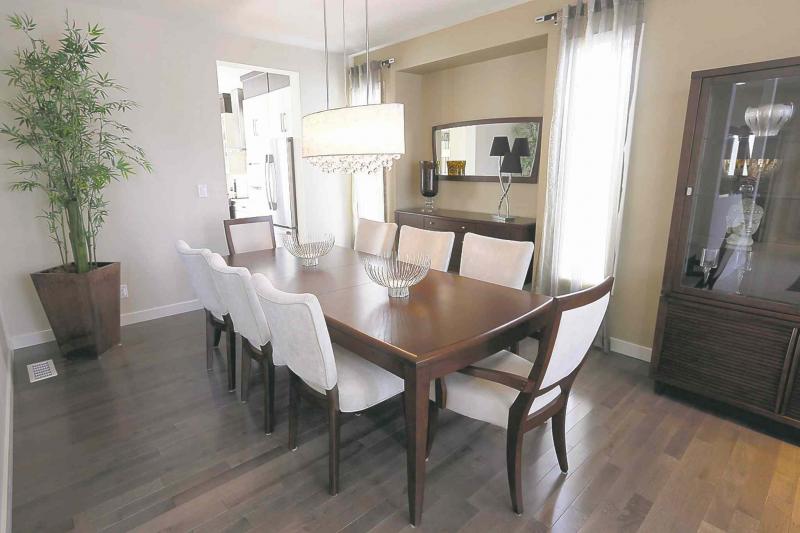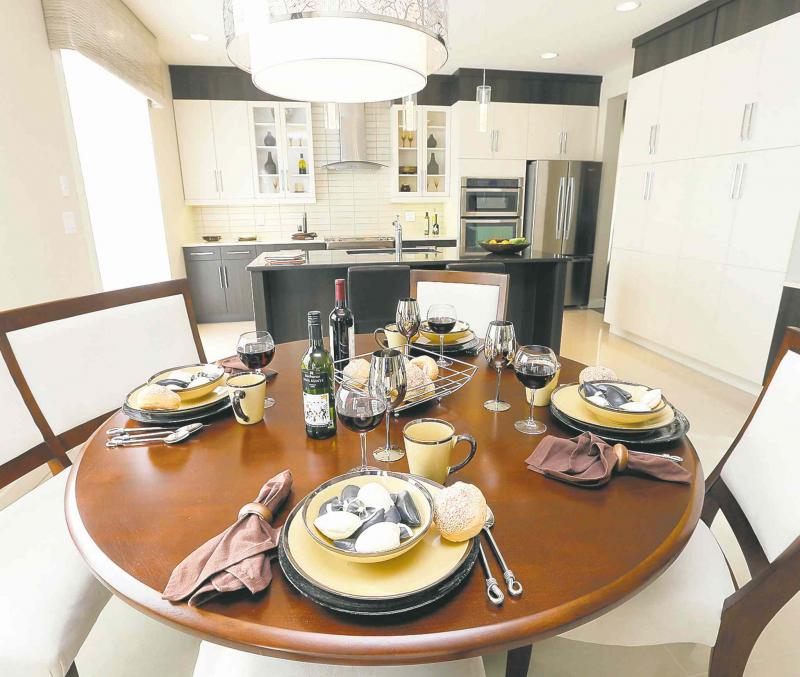 It isn't often that a room on the same floor as a master suite steals the show, but that's the case on the upper level of 39 Stan Bailie Drive, a.k.a. The Kingswood.
Look to the left of a striking, wrap-around staircase (spectacular in and of itself with its tempered glass panels and dark maple trim), and there's a huge, light-filled loft with three windows on its rear wall and all kinds of space to recreate in decadent comfort.
"This room is one of the most popular features in the home," said Hilton Homes' Spencer Curtis of The Kingswood, a two-storey design that measures in at 2,780 sq. ft.
"It's a great spot for parents to send kids to be in their own area to play X-Box, or for dads to watch hockey with a bunch of their friends. There's a lot of space to work with (about 20 feet of width and 10 feet of depth). Right now, the room has big pieces of furniture and a TV in it, and there's still space to burn."
And while The Kingswood is a king-sized home, Hilton's design team made a point of making sure all that space was as functional as possible, he added.
"Even though it's a big home, we worked hard to maximize space to give people the most function and value possible," he said. "A home doesn't automatically use space properly just because it's big."
However, as the saying goes, size does matter -- especially if you're a large, active family. Space and separation are essential ingredients to maintaining a relatively sane home atmosphere, and The Kingswood not only offers space, but that space is well-configured.
While the home features a modern, open theme, it's not cold, nor is it just a cavernous box with spaces strewn around in helter-skelter fashion. There's enough open space to ensure flow and function, and sufficient separation to ensure you don't feel like you're living in one big box.
"There's tons of room in the great room with an island kitchen, big dinette area (placed between the kitchen and family room) and a large family room," said Curtis. "Each space is subtly separated, with maple hardwoods defining the family room from the dinette and kitchen area, which features tan (24-inch) porcelain tile. A seven-foot by three-foot island with eating nook for three separates the kitchen from the dinette area."
Then, instead of putting in a walk-in pantry, Hilton's design team opted to put in a wall pantry.
"Doing that opened up the kitchen and allowed us to put a doorway that gives you access to an absolutely huge dining/room living room. It's big enough to seat up to 20 with a small sitting area at the front, or, you can turn your table sideways and open up space to make the sitting area bigger," he said. "It's also defined by the same maple hardwoods that are in the family room."
Meanwhile, the great room combines a bright interior with an ideal fusion of modern and traditional design features.
"A big picture window on the family room's rear wall along with a window next to the dinette and patio doors lets in all kinds of natural light, while finishes such as tan quartz countertops, dark brown (Sambuca) and off-white (eggshell) thermofoil cabinets and a (shimmering) glass tile backsplash add warmth and contrast along with a handy serving area (Sambuca cabinetry with tan quartz) that adds function," Curtis said. "And the gas fireplace in the family room, with its textured, corrugated (tan) tile surround goes beautifully with the dark hardwoods."
The home's upper level is much the same as its main level -- bright, spacious and logically laid out. A rectangular, oversized second floor laundry room was placed next to the loft off an L-shaped hallway that contains not only two huge secondary bedrooms, but a luxurious four-piece bath with soaker tub and tan tile floor with spectacular striations.
Much like the secondary bedrooms, the master suite is voluminous, featuring an angled coffered ceiling for extra ceiling height and volume. Storage space is ample both within the bedroom itself -- and in a big walk-in closet -- while the ensuite is a space designed to deliver relaxation and rejuvenation.
"It's a well-appointed space with a tile floor, vanity with oversize mirror with tile border that enhances the luxurious feel -- and an angled, stand-alone soaker tub. It's not only a design focal point, but it's also gigantic and deep, so you can soak with music playing above after a long day."
The Kingswood's functionality is enhanced by two other features: a main floor den/bedroom placed next to a full bathroom, and a cavernous lower level that offers approximately 1,200 sq. ft. of livable space.
"If you have relatives that need to come live with you, the den can be converted into a bedroom that has a door for direct, private access to the bathroom," said Curtis. "And the lower level has more enough space to give you two more bedrooms, a rec room, bathroom, theatre room and storage. This show home is selling for just over $623,000, but you can get the same great floor plan with basic finishes for around $500,000. Either way, The Kingswood delivers great function, style and value."
lewys@mts.net