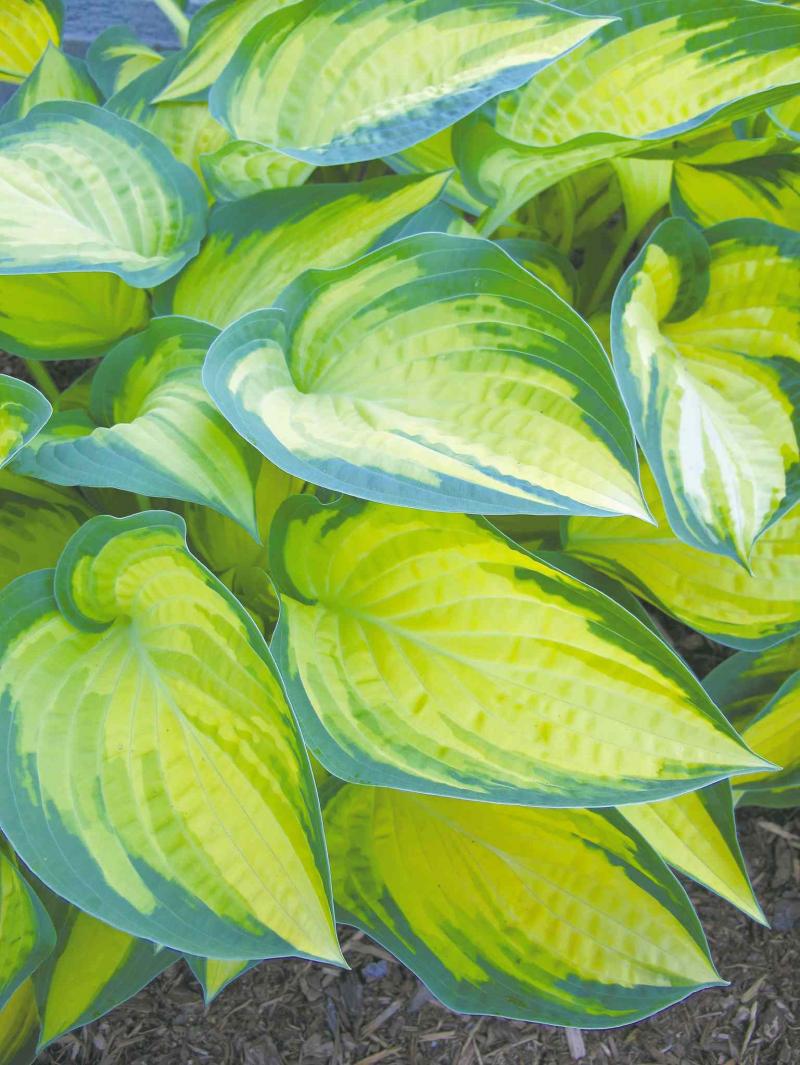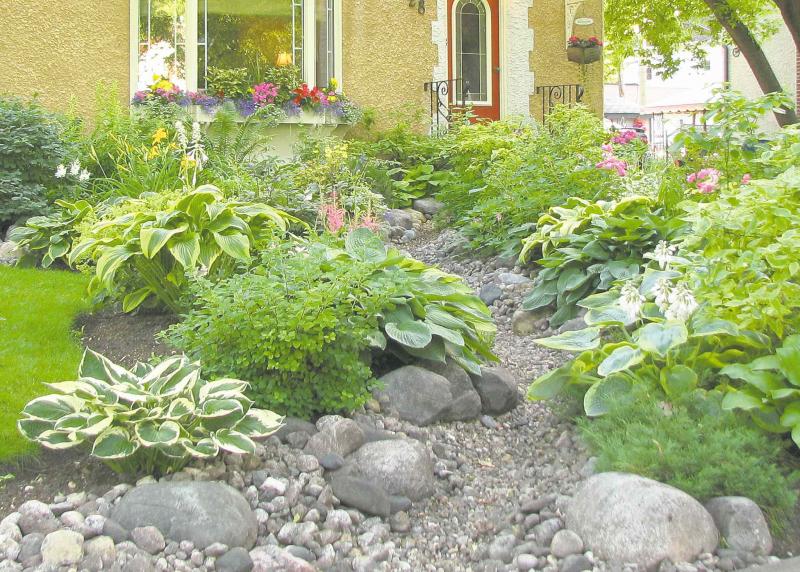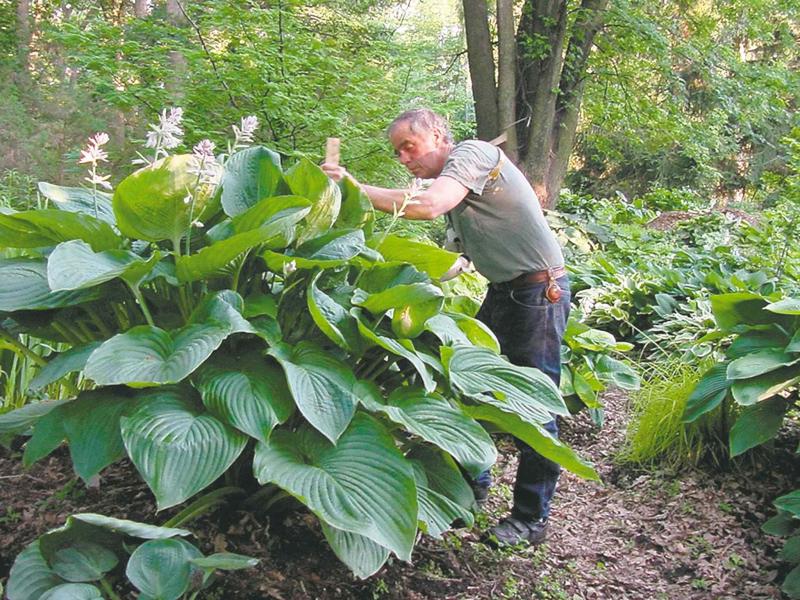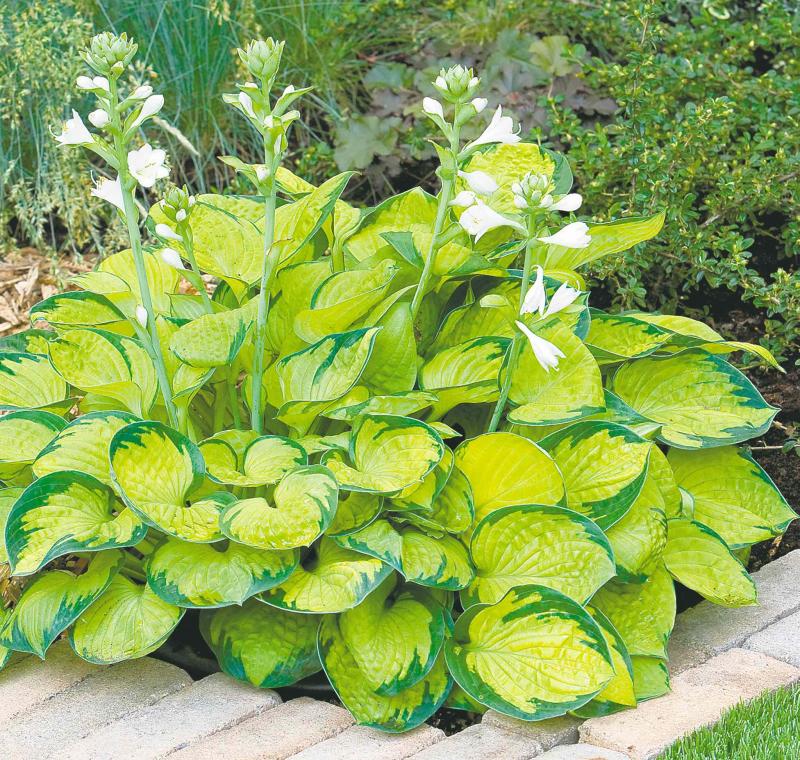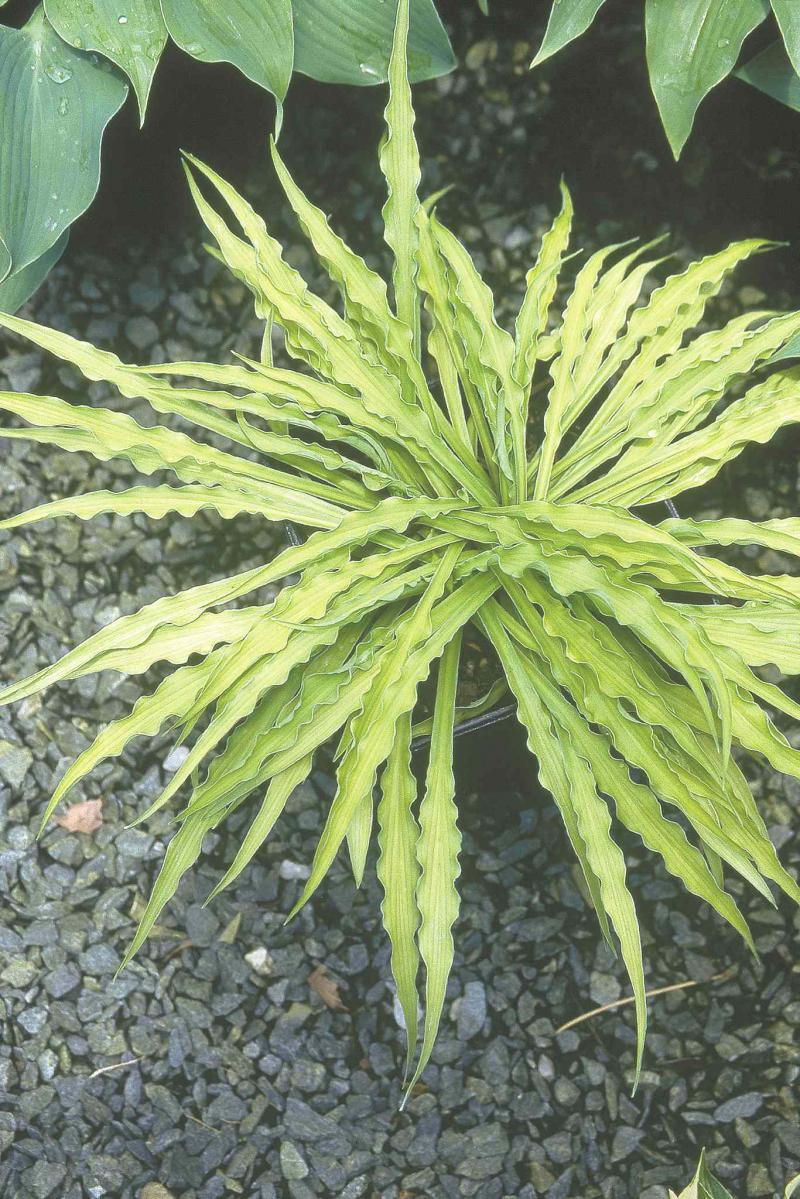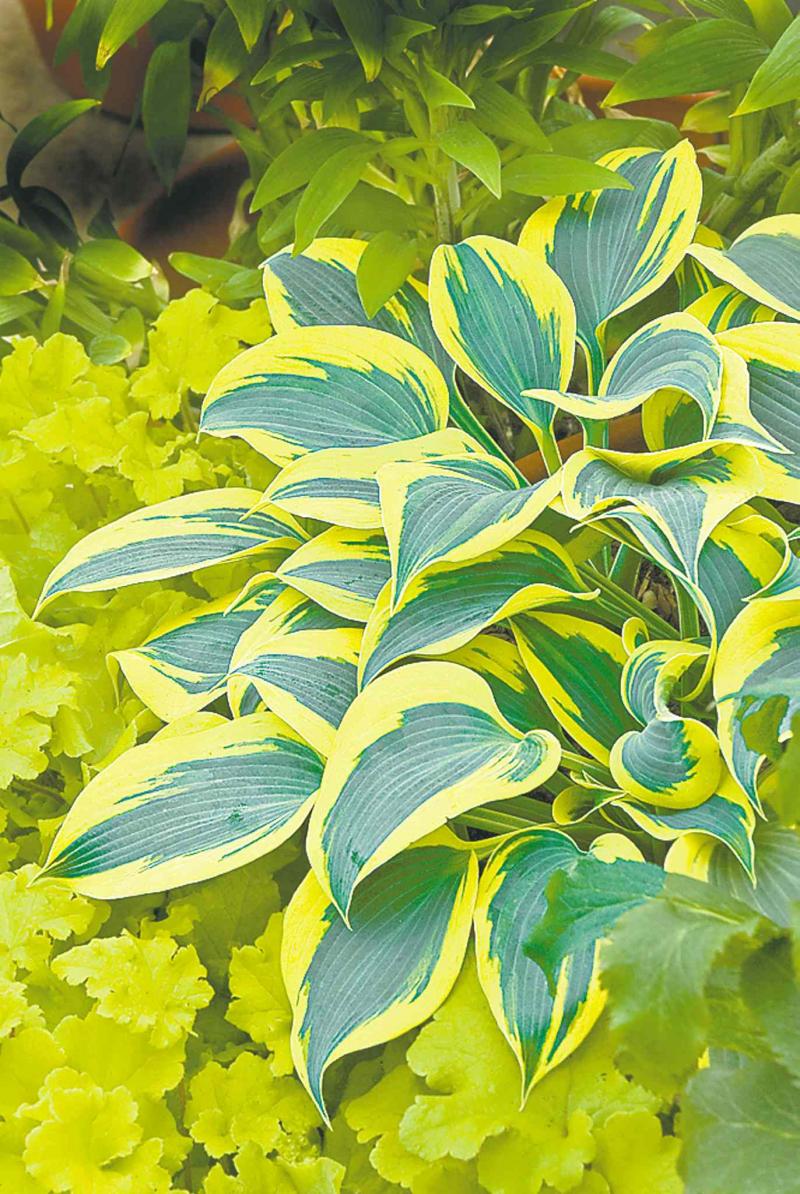 One of the main reasons for selecting perennials for the garden is that they play a large role in underpinning landscape design.
Hostas are long-lived, which means they save money. There is pleasure each spring in discovering the first signs of new growth poking out of the wet soil after a long winter. After all, if perennials can survive the winter, surely we can, too.
Dismissive of hostas because they are mostly green or take up too much space? Hostas are some of the most reliable foliage performers in the shade garden. The world of hostas has been livened up for some time now by scintillating shades of silver, blue, gold, yellow and chartreuse.
Varieties such as Cherry Berry Hosta sport red stems and bright red seed pods while others are variegated, speckled or striped. Now enter miniature hostas and sun-loving hostas for even more applications in your garden beds and patio containers.
Demand is always huge each spring for the newest varieties of perennials and annuals. This holds true for new hosta introductions as well, however, many older varieties, Frances Williams for example, continue to be in strong demand.
Hostas that are awarded the distinction of Perennial Hosta of the Year are varieties that have earned their stripes by demonstrating proven qualities such as being low maintenance and relatively pest- and disease-resistant.
Abiqua Drinking Gourd is the 2014 Hosta of the Year by the American Hosta Growers Association.Cupped and rippled blue-green leaves twist into the shape of a drinking gourd and are said to have good slug resistance. Overall size is about 56 centimetres.
Bob Solberg, who operates a wholesale and retail operation called Green Hill Farm in North Carolina, used to be the executive secretary of the American Hosta Growers Association. Solberg came up with the idea to name a hosta of the year and he continues to serve on the board of the AHGA.
He told me Victory will be the 2015 Hosta of the Year and Curly Fries will be the 2016 Hosta of the Year.
"We work a couple of years in advance so that nurseries can fill up their stock and have enough plants available" said Solberg, who has about 30,000 hostas in his nursery.
Green Hill Farm caters to hosta collectors and ships around the world.
"We have about 13 garden-centre customers in Canada, but none in Manitoba," said Solberg.
I inquired about this because I have yet to find a local source but would like to grow Curly Fries, a miniature arching hosta that is 40 cm wide and features grass-like leaves that start out as chartreuse before brightening to yellow.
Solberg directed me to Goldenbrook Hostas in Ontario (www.goldenbrookhostas.com) owned by Cindy Deutekom, a very serious hosta collector who once invested $600 at an auction for a one-of-a-kind hosta. I was relieved to learn Curly Fries can be mine for only $20, plus shipping and handling.
Hostas are shipped as bare root, which means the plant's roots are not encased in soil. The fleshy roots of hosta make this possible, however, plants must be refrigerated or kept moist until planting.
Paridon Horticultural Ltd., a wholesale nursery in B.C., supplies many local nurseries across the Prairies. "We have sold hostas for many years," said president Hans de Jongh, "and in the last few years, a lot of miniature varieties have been introduced."
Perhaps one of the better known miniature varieties is Blue Mouse Ears, 2008 Hosta of the Year. Blue Mouse Ears, a tiny slug-resistant hosta with blue-grey leaves, grows to only 15 cm high.
Today it has more than 20 offspring including Mini Skirt, Mighty Mouse, Holy Mouse Ears, Pure Heart, Church Mouse and Ruffled Mouse Ears.
Deutekom, de Jongh and Solberg all point to the growing popularity of container gardening as the reason for the surge of interest in miniature hostas. Their compact size makes them perfect for containers on patios or balconies or small spaces in your garden.
Solberg said there are two main trends. "People like the really huge hostas such as Empress Wu (1.2 metres) across or the really small hosta varieties that are no more than 15 cm across."
Michel Touchette, production manager at Jeffries Nurseries in Portage, grows more than 300 hosta plants in his home garden, many of them larger varieties. One of the functions of hosta is to serve as a ground cover and this is the application that Touchette subscribes to as a tried and true way to reduce weed growth.
Komodo Dragon and Neptune are two new hostas for Jeffries this year. "Komodo Dragon has heavily rippled leaves and a cascading, mounded form," Touchette said.
Only 75 cm high but close to two metres across, Komodo Dragon will need plenty of space in which to grow. Neptune Hosta, with standout blue-green colour and spiky, wavy-edged leaves, is smaller, but still substantial at 1.1 metre wide.
"Today there are many more blue-coloured hostas," said Touchette.
"The new development in the last five to eight years is variegated blue with white (El Nino Hosta) or blue and yellow (Liberty Hosta). The yellow foliage of hosta varieties such as Stained Glass, Great Expectations and August Moon are a very nice contrast with blue-coloured tones."
My favourites are Orange Marmalade, a showy hosta with bright gold centres, and Praying Hands, the 2011 Hosta of the Year that features narrow, dark green leaves and a striking upright form. While Orange Marmalade is well-suited to mass plantings in groups of three or five, Praying Hands works well as a single specimen for contrast and unique texture.
Bothered by slugs? Slug-resistant hosta varieties are generally the ones with thicker leaves, such as Paradigm, Liberty and Abiqua Drinking Gourd. Does anything deter an army of slugs? Scott's Eco-Sense contains iron phosphate, an ingredient that has demonstrated some success against slugs without harming pets, birds, or wildlife.
Touchette recommends a layer of mulch such as wood chips, leaves or compost, about 8 cm deep both to deter slugs and to conserve moisture.
"We tend to forget that hosta needs a lot of moisture, as much as 2.5 cm of rain weekly," said Touchette. "Since we aren't likely to receive that much rain on a consistent basis, a good mulch at least slows down the evaporation of the soil. Mulch is also a perfect environment for mycorrhizae, naturally occurring fungi that form a beneficial, symbiotic relationship with the roots of plants for a healthier root system."
Hostas are primarily a shade plant. While some varieties such as Sun Power are more sun-tolerant, hostas thrive in a shady location. Touchette recommends morning sun and protection from the hot afternoon sun.
Spring is a prime time for dividing mature hostas, either to increase your collection or for sharing with another gardener. The process is easy enough. Using a sharp spade, slice through the crown, taking care to not damage the fleshy roots.
Anything else you should be concerned about when dividing hostas? A hosta virus was first detected in the mid-1980s until it was eventually identified and called Hosta Virus X (HVX). Diseased hostas exhibit irregular splotching and streaking. Hans de Jongh said the problem is no longer as severe as it used to be since many of the hostas today are grown by tissue culture.
"Every hosta that you buy in a garden centre has been tested to ensure it is virus-free," de Jongh said.
Touchette doesn't want to discourage gardeners from propagating their hostas by division, but stresses the importance of good garden sanitation.
"The virus needs sap in order to spread," explained Touchette. "When dividing hosta or pruning the spent flowers, dip your pruning shears in a 10 per cent bleach solution to ensure your pruners are not an agent for transmitting any disease."