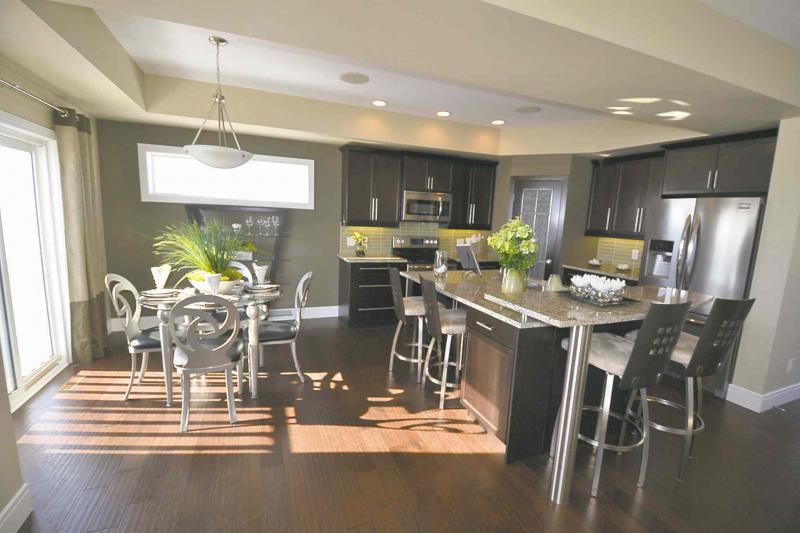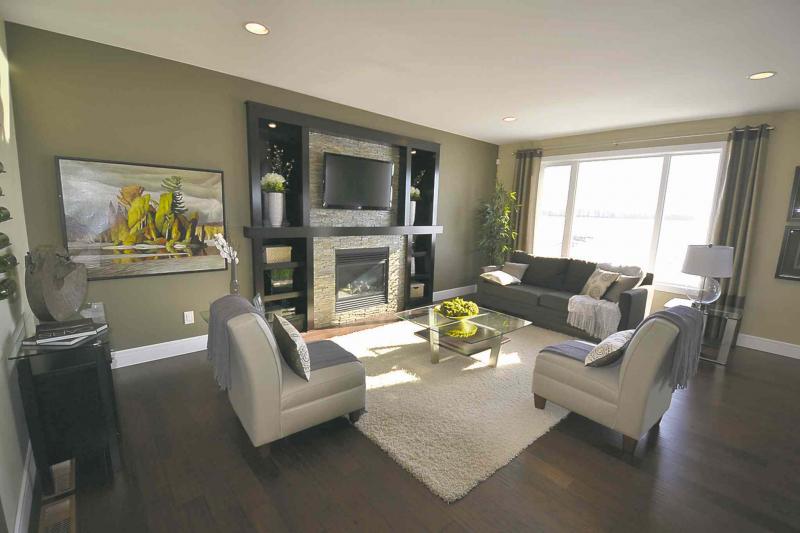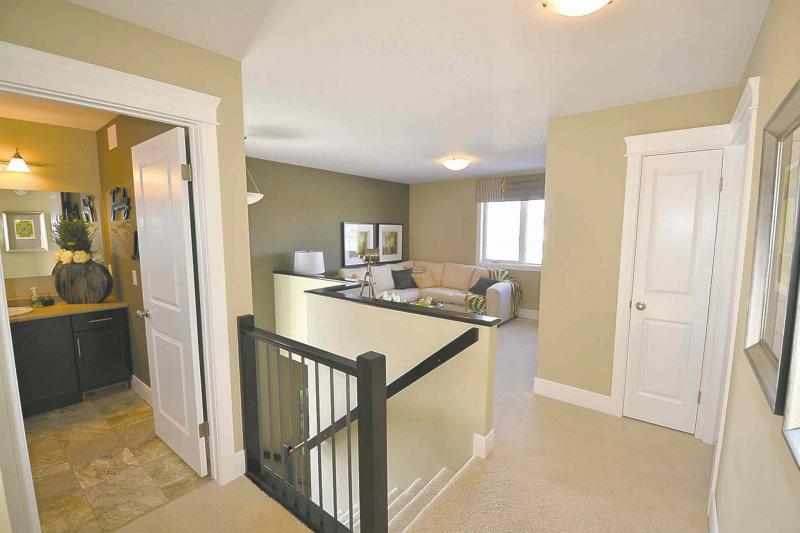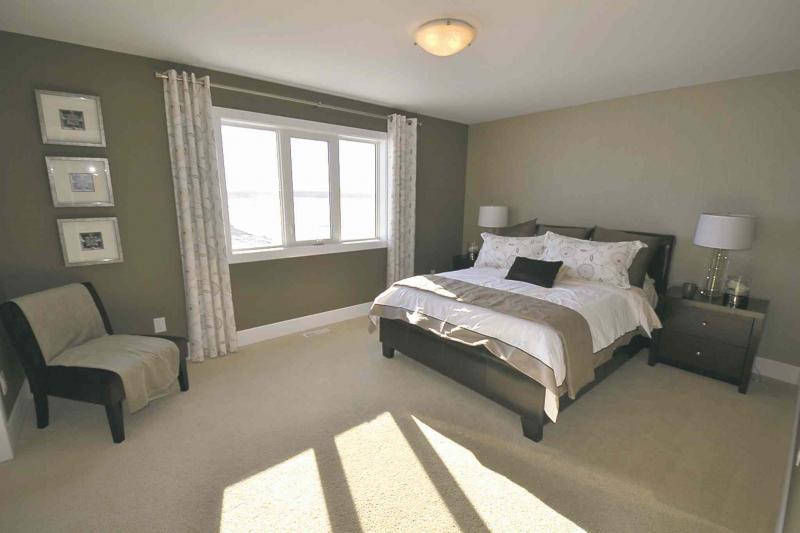 When families are looking for a new home, their main priority is a home that functions well from top to bottom.
Consequently, when Kensington Homes' design team conceived The Brisbane, they came up with a highly flexible floor plan that could be modified to build in the function active families require to live as seamlessly as possible on a day-to-day basis.
"The Brisbane is a very functional design, and that function starts right next to the foyer," said Kensington Homes' sales representative for 47 Wainwright Cres., Rene Giroux. "The formal dining room (to the left of the angled foyer) is a big space (10.4 feet by 14 feet) that can easily be turned into a study, office or formal living room."
Or, it can be modified to meet more specialized needs, he added.
"I've had other occasions where I've turned it into a bedroom for an elderly member of a multi-generational family, and then turned the mudroom and powder room across the hall into a three-piece bathroom," he said. "On another occasion, I turned it into a bedroom for a child with special needs. This home's floor plan is exceptionally flexible. All I need to do is listen to the needs of a family, then I can tailor it to fit their exact needs without any problem at all."
At 2,100 square feet -- with another 700 sq. ft. of livable space available downstairs -- The Brisbane is a home that offers plenty of space that's distributed well over its three levels (it's a two-storey home). Most importantly, each space can be adapted to a family's individual needs.
The kitchen would be a prime example of a highly adaptable space, said Giroux.
"In this design, there's a dinette area for four next to patio doors on the kitchen's rear wall that lead to a backyard deck," he said. "However, if a family chose to use the dining room as a main-level office, we could push out the dinette area six feet so that it could be used as an informal dining room that would be great for entertaining. The bonus is that extra square footage (144 sq. ft in all) will extend down to the basement, creating extra usable space there, as well."
At the same time, the adjacent family room could also be modified to meet a family's tastes and, if required, budget.
"This version of The Brisbane features a family room with optional (espresso) maple entertainment unit and gas fireplace with granite/quartz surround. If a family were on a budget and wanted to cut costs, they could leave the wall blank and put in their own entertainment unit -- or we could take the cantilevered wall niche from the dining room and put it in the middle of the wall (to better accommodate an entertainment unit) at no charge."
While the show-home version of The Brisbane is loaded with about $80,000 worth of upgrades and comes with a price tag of $499,900, Giroux said the home could be built for around $410,000 with basic finishes -- finishes that really aren't all that basic.
Not only that, but show-home features such as a tray ceiling in the kitchen and corner pantry are standard features even in a "dressed-down" version of the home.
"You would also get maple cabinets, as they're also a Kensington Homes' standard feature," Giroux said, noting they come in espresso, cappuccino and natural finishes. "In the show home, the island has an optional granite countertop and raised eating bar. The base island would still be the same size (about five feet by six feet), and would still have seating for two to three, just without the eating bar -- and it would still have the maple base."
Meanwhile, The Brisbane's uppermost level possesses the same high degree of flexibility and functionality exhibited in the main level's bright, spacious and well-configured design. For starters, there's a 15.6-foot by 12.6-foot family room/loft to the left of the stairs.
"About 80 per cent of buyers choose to keep it, while the other 20 per cent use it as a fourth bedroom," he explained. "The entertainment centre (tile TV surround with wood back drop and wall-wide storage centre) is optional -- most families leave it open and put in their own entertainment unit. It's a versatile space that can be used as a media area, study or play area."
The rest of the second floor is comprised of two large secondary bedrooms, a spacious four-piece bath with soaker tub -- and a big, bright (south-facing) master suite positioned well away from the kids' bedrooms next to a second floor laundry that's hidden away in a double closet.
"It's a true retreat with all its space, a big, angled walk-in closet and a luxurious ensuite that features a heated (grey) tile floor, espresso vanity with dual sinks and a corner jetted tub set in grey tile with taupe/tan tile trim beneath two large corner windows," said Giroux. "There's also a six-foot shower with dual seats, too. The jetted tub and heated tile floor are options that could be easily replaced by a soaker tub and high-grade vinyl floor to keep costs down."
No matter which form The Brisbane comes in, it has much to offer an active family, he concluded.
"It's one of our most flexible designs and offers families the flexibility, functionality and style they need to enjoy everyday life."
lewys@mts.net