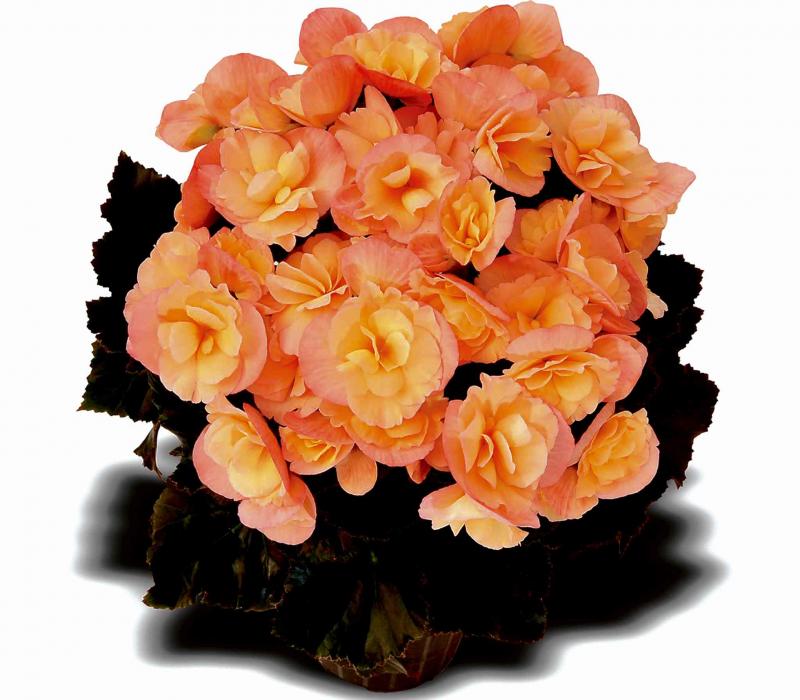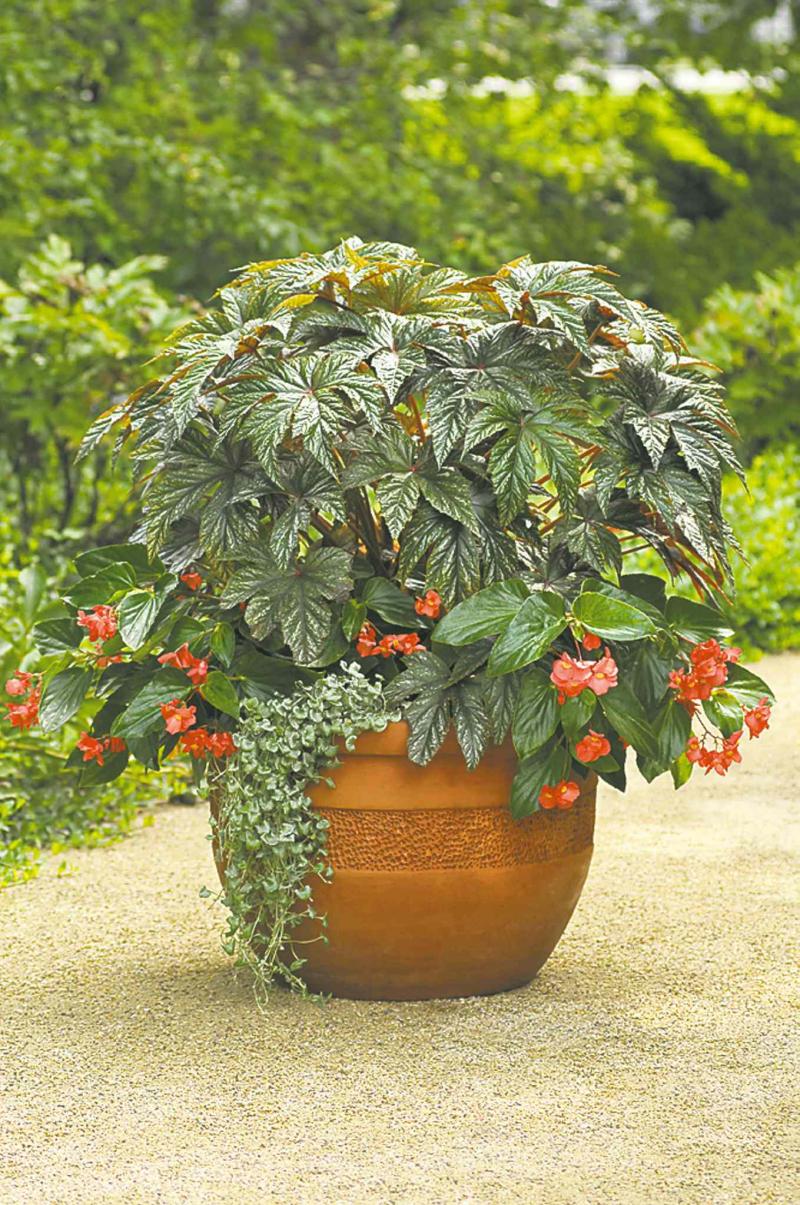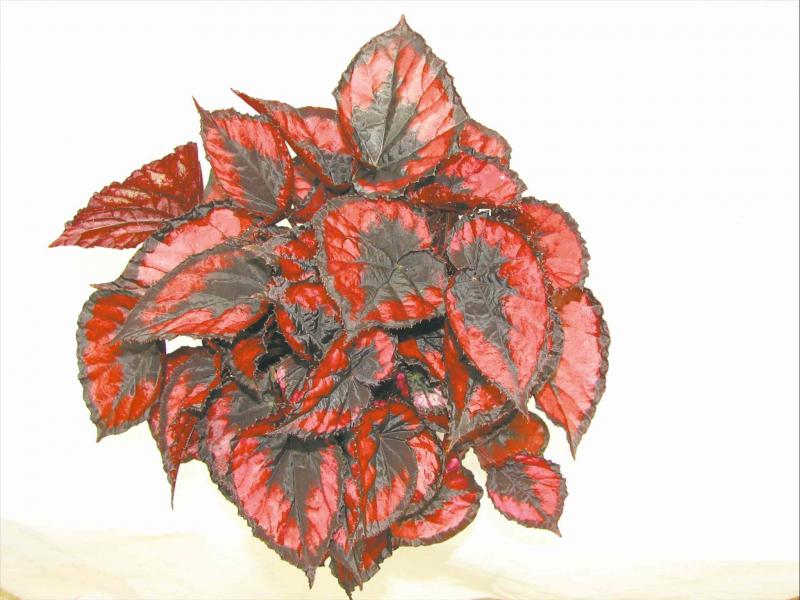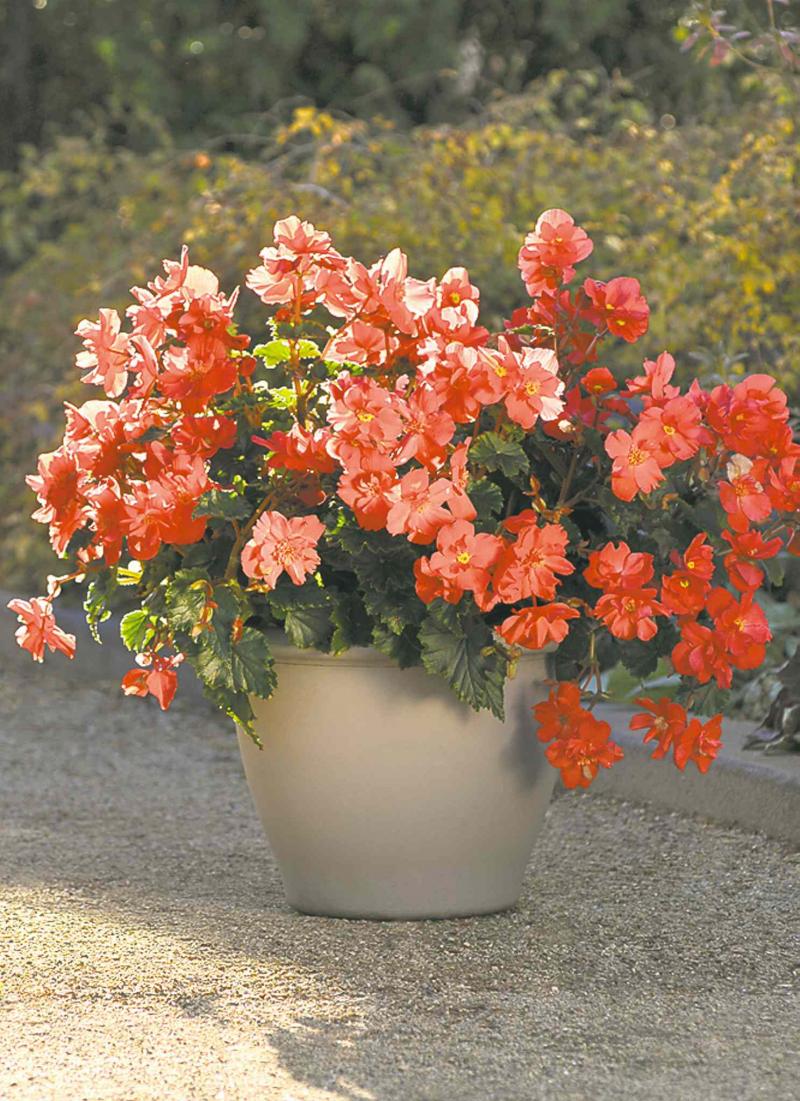 Choosing the right combination of plants for an enticing outdoor display is not always easy. Sure, the folks at the garden centres are eager to assist but imagine selecting just one species of plant that does the job all summer long with no need for the usual accompanying thriller, filler or spiller.
Compare its effect to that of the little black dress or tailored suit that looks smashing at virtually any occasion.
Does such a plant exist?
The answer could very well be the begonia, which is rapidly taking centre stage as a plant that delivers performance and beauty in many different applications in the garden. It's gorgeous on its own or in combination with a mix of annuals or perennials for a high-voltage container or landscape display.
There is one caveat, however. Begonias don't tolerate too much water or fertilizer. Meet their basic requirements, however, and the reward is a show-stopping display.
There are more than 1,500 named begonia species. Begonias are native to tropical climates and are found growing in parts of South America, India, China and Africa. For generations of gardeners, the classic choices have been the tuberous or fibrous-rooted begonia, although the rhizomatous group contains the largest number of species and cultivars.
Begonia's charm is not limited to large-flowered varieties. In the case of Begonia rex, a rhizomatous species of begonia that was found in 1856 growing in a shady, damp but well-drained area of northeast India by plant hunter Charles Simons, it is the unusual, almost strange characteristics of the puckered foliage that gardeners prize.
Iron Cross and spiral-centred Escargot, perhaps two of the better known older varieties of Rex Begonia, provide highly decorative shape, texture and colour to any shady location.
This year, D.S. Cole Growers in New Hampshire has supplied local greenhouses such as Shelmerdine, Glenlea Garden Centre and Oakridge Garden Centre with startling new Rex Begonia hybrids such as Red Kiss, Dark Mambo, Red Tango, Salsa, Fedor and Hugh McLaughlin. All are exclusive to D.S. Cole, which propagates a few hundred thousand begonias each year. Douglas Cole, president of D.S. Cole Growers, said as a child he was always a begonia collector. When he started his business in 1987, he tested the waters by offering Rex Begonias and couldn't give them away.
"Some of the older varieties have absolutely huge, unwieldy, almost floppy leaves," said Cole who now works with a European breeder who selects varieties with interesting colour and is also hybridizing varieties that are uniform in size and easier to grow.
Cole recommends planting them in singles or in groups.
"What I wouldn't do is mix them with bigger plants that could overshadow their interesting leaves," he said. "Since they are not a moisture-loving plant, they could pair nicely with succulents.
Similar to the growing requirements for most begonias, provide good air circulation to prevent fungal infections such as powdery mildew and botrytis. Fertilize sparingly with a weak solution of high-nitrogen fertilizer, preferably diluted half- or quarter-strength. A location with bright, filtered light will ensure the deepest shades of colour.
Cole is introducing salmon-coloured Elatior Dragone Sunset, a Hiemalis begonia, also known as Rieger begonia, which is a cross between a tuberous and a wax begonia. Dragone Sunset will brighten up any part-shade location with its profuse clusters of double flowers that bloom continually throughout the season. Not to be confused with the better-known Dragon Wing begonia, which has an arching habit, Dragone Sunset is more upright. It thrives in full morning sun but needs respite from the hot afternoon sun.
My first experience with this type of begonia was in 2011 when I picked up a Red Fox Dragone Sunset begonia. It performed so well that I included many more in my container displays the following summer.
Another Rieger hiemalis variety for part-shade is the new Fire Balls in cherry red with a yellow centre. With huge blooms (up to 7 cm) that appear almost ruffled together with a looser, more open habit, I see little resemblance to the Eliator Dragone Sunset begonia, also a Rieger hiemalis, and this seems typical of the diversity of begonias.
Begonia boliviensis, also a tuberous variety, displays perhaps some of the most unexpected features of the begonia family with its pendulous, trailing habit and long, narrow leaves.
"It's a different animal altogether," Cole said. "Grown in the wild at high altitudes among craggy rocks in the Andean Mountains, the key thing was realizing how well it did in a sun or part-sun environment."
Sun-tolerant begonias are in huge demand. The Bonfire series debuted with masses of brilliant orange or scarlet tubular flowers on arching stems.
"Now breeders are performing crosses and coming up with new varieties such as Waterfall Encanto Falls Begonia, which is like a Bonfire on steroids," Cole said.
Another Begonia boliviensis variety, Bon Bon, is a mounding, trailing variety. Double blooms, up to 7 cm, in red or yellow are suspended from its blush-coloured fleshy stems with narrow, deep green serrated leaves.
The Solenia begonia, however, also from the Begonia hiemalis group, offers high sun and rain resistance. Developed in 2008 by Benary, a fourth-generation family-run company in Germany, by crossing a new variety of begonia discovered in 2008, Solenia exhibits double-flowering blooms in Salmon Coral and Dusty Rose that are long-lasting.
The large glossy dark green leaves are heart-shaped.
"If I grow any begonia, that's the one," said John Noll, who operated Noll's Greenhouses on Roblin Boulevard until it closed in 2012 after 34 years. "It's stunning. Even though we were closed I bought some Solenia plants last summer and put them on the chain-link fence. It performed even better than geraniums in the hot dry sun."
It's no surprise that begonias, with their fleshy delicate stems, are not particularly wind-resistant. Solenia, however, has greater wind resistance than most types of begonia.
Overall, the Hiemalis begonias have good pest and disease tolerance, including resistance to powdery mildew. Nevertheless, avoid splashing water on the leaves or water early in the morning so wet leaves dry during the day.
"Like most flowering plants, if you keep begonias a little on the dry side, you get more flowers," Noll said.
Noll also cautions gardeners about putting begonias outdoors too early in the spring.
"They are tender and fleshy and if the ground is cold, the leaves will discolour and they can rot at the soil surface. I would plant begonias in June, around the same time as peppers."
In addition to recent introductions such as Whopper, Dragon Wing, BabyWing, Gryphon and Illumination, look for Breezy, a new introduction for 2014, which boasts a stronger stem. A trailing begonia, it will be available in five colours. As breeders develop new hybrids with differences in colour, form, habit and foliage characteristics, gardeners can be assured of many new begonia introductions coming to market.
As beautiful as all of these newer varieties are, there are many gardeners who grow the older tuberous varieties, carefully lifting the tubers each fall and storing them over winter in a cool, dry, dark environment. The result is ever larger, more spectacular blooms. Gardeners, though, are experimenting with overwintering some of the newer varieties and although challenging, they are finding some success.
Sue McLeod, owner of Glenlea Greenhouses, said because some of the tubers of the newer varieties are so small, compared with the older varieties, they would need to stay in the ground longer. Our short growing season makes that difficult, however, McLeod said the tubers of Breezy and Illumination (both Begonia x tuberhybrida species) can be lifted and they will get bigger and better.
While most gardeners enjoy their outdoor plants for a single season, McLeod has a few customers who bring Begonia boliviensis Bonfire and Dragon Wing begonia indoors for the winter and treat them as houseplants.
"It depends on whether or not you have available space as well as a bright enough exposure," said McLeod, who recommends pinching them back and watering moderately.