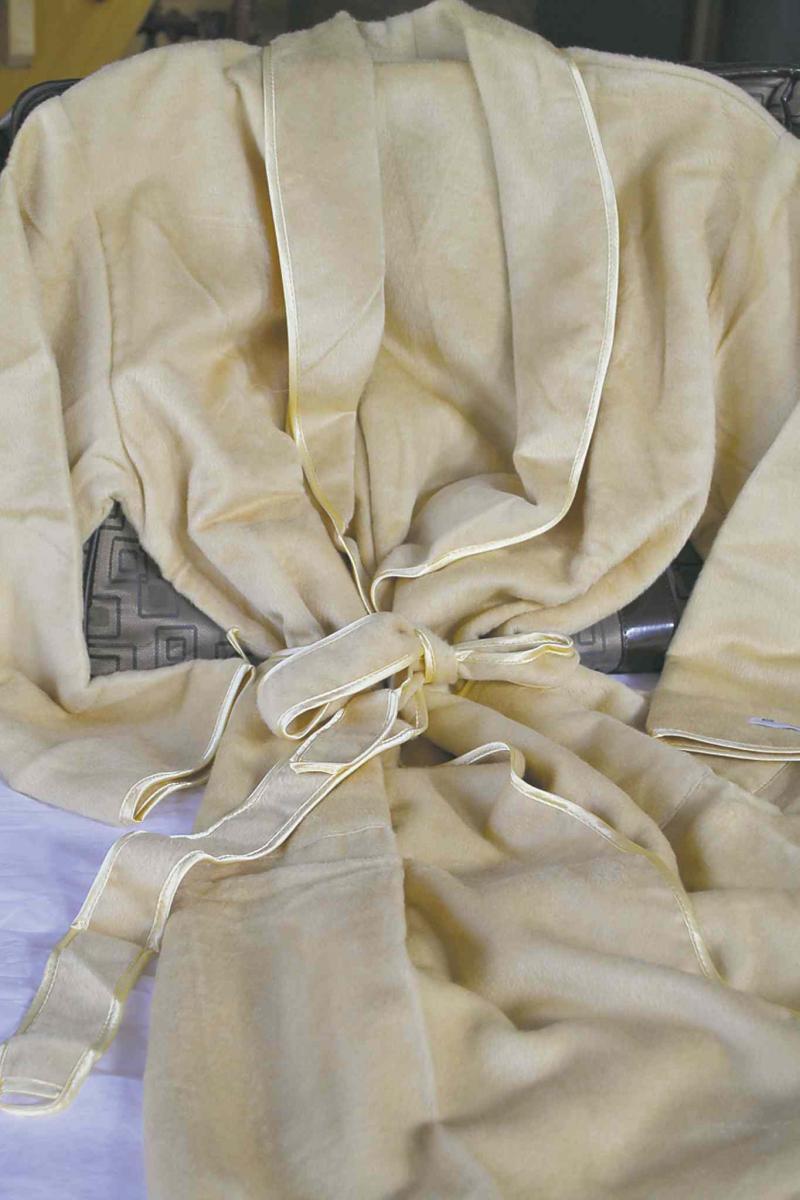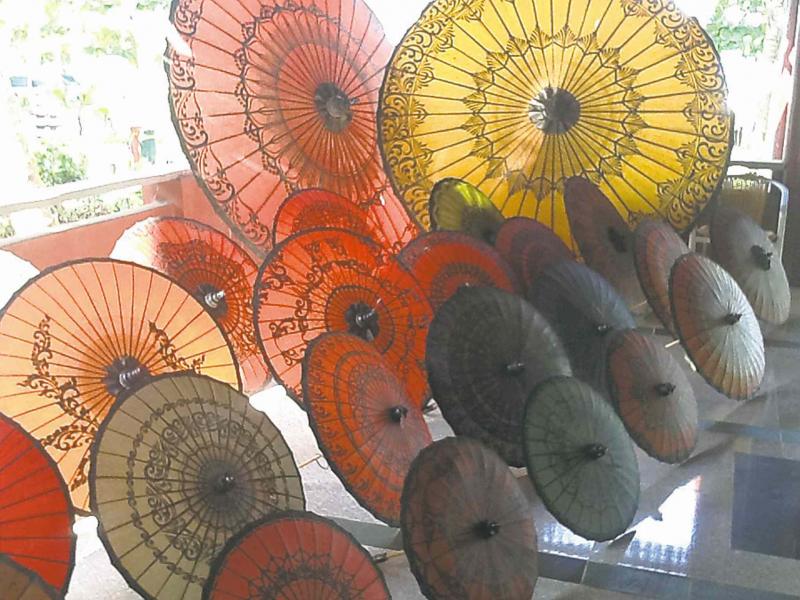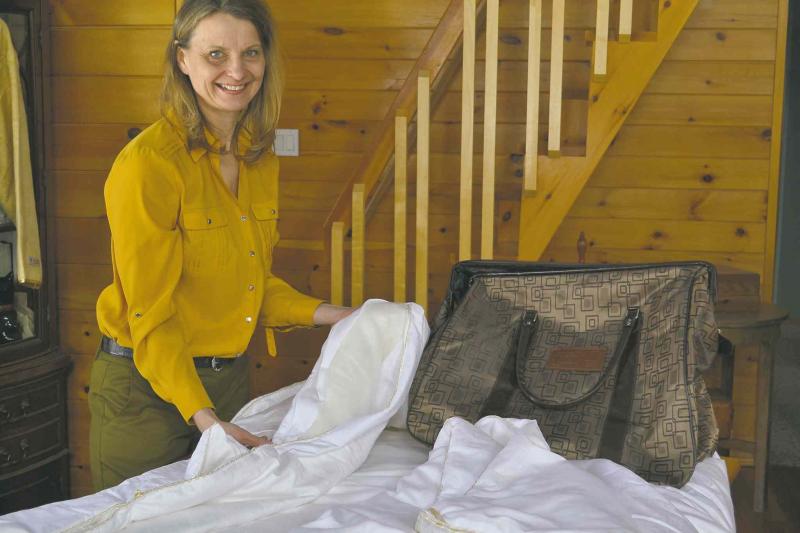 A trip to the Far East by a mother to visit her daughter blossomed into a family business that will unveil unique handmade products from Myanmar and other Southeast Asian countries to Manitoba beginning in May.
Designers and members of the general public in search of unusual items with which to decorate homes, patios and other areas will be delighted by the collection of silk duvets, umbrellas, silk robes, furniture and other objects d'art imported exclusively by Leona Johnson Enterprises of Gimli.
Johnson said the silk duvets are already being sold by Lifa, a Gimli-based boutique that specializes in fine home furnishings and products that are not available in big-box stores.
Lifa co-owner Leslie Ferguson said the duvets are a perfect fit for the up-scale business, because the store sells Pine Cone Hill duvet covers that are popular with cottage owners and those who appreciate natural scenes.
"People refer to them as the Muskoka or eastern look as they often feature rustic scenes or seaside vistas," said Ferguson.
Johnson's duvets contain premium-grade mulberry silk floss that has been hand-teased (fluffed) so it will fill the interior of the high-quality cotton casing.
She said they are sold in three weights: a light duvet suitable for a warm summer night, a medium appropriate for year-round use in a centrally heated environment and a combo, comprised of a light and medium duvet that can be snapped together for those extra cold Manitoba winters.
Johnson said some of silk's natural properties are: hypoallergenic; lightweight with similar insulating qualities to down; suitable for children as it maintains an even sleep temperature; and it contains 18 amino acids found in our bodies that medical studies show can aid blood circulation and digestion during sleep. As well, silk reduces itchy skin and helps to prevent vascular sclerosis (blood-vessel degeneration).
Tips to keep a silk duvet comforter in tip-top shape include using a removable cover to protect the inner case from dirt and stains; otherwise, a simple outdoor airing every three months for a couple of hours will keep it fresh and clean.
To remove a stain to the inner case, wash the soiled area only with cold water and a delicate cleaning agent, preferably one designed for silk. Bleach, strong detergents or dry cleaning chemicals can damage the silk, as can tumble drying, ironing, shaking or wringing the duvet.
The washed area should have all the excess water removed by pressing the two sides of the duvet together; it should be left to dry in a flat position.
Marg Kentner, former owner of a Touch of Class on Academy Road and other successful businesses, was entranced by the duvets and a line of silk pillows Johnson will be importing as well.
Kentner is currently in the final stages of renovating the Old Nunnery in St. François Xavier, scheduled to open in May as Auberge Juliette Inn on the Oxbow, a stylish B&B with a small gift shop.
"Marg is going to use my duvets and pillows for the beds in the nine suites and rooms, as well as sell them and some of my other products in the shop," said Johnson.
Kentner said she will retail a line of stunning handmade umbrellas that Johnson sourced during a trip to Myanmar (formerly Burma).
"The colours are spectacular and the umbrellas are completely functional. We plan to have some on loan to guests who want to take a stroll on days when the sun is very bright or the sky is pouring rain," said Kentner.
Johnson said the Bagan umbrellas are constructed in a small, 10-person shop in Pathein, Myanmar.
The handles, axis and arms are made of renewable Tharaku bamboo and the surface is pure cotton cloth treated with tae fruit seed glue, an ancient formula that includes pine oil and wax, producing a very strong and durable waterproof surface.
"The intricate webbing of hand woven cotton-wool thread attests to the superior craftsmanship required to create each umbrella," said Johnson, adding the myriad colours are mostly derived from natural dyes and the designs are beautiful and mostly traditional.
The umbrellas are available in 36-inch, 40-inch and 96-inch diameter table or beach sun shades dazzling to behold.
Johnson is also importing a line of gorgeous pure silk robes she plans to sell to hotels, spas and members of the public who want to luxuriate in an after-shower wrap suitable for a Chinese emperor.
They will be available in a variety of colours and sizes to fit males and females.
Said Johnson, "You can't believe the lightness, warmth and softness of silk on your skin until you've worn this apparel. By comparison, cotton is heavy and rough."
With spring and summer on the horizon, Johnson said she will be unveiling a collection of outdoor furniture that looks much like wicker, but is woven with a resin-based material that is waterproof and will not break down when exposed to ultraviolet light, like mass-produced polymer products.
Also on her list of imports is a line of bamboo and rattan indoor furniture that adds a touch of oriental splendour to sun porches, screened verandas or rooms designed with Far Eastern decor in mind.
Johnson said she specializes in natural and environmentally friendly quality products while supporting sustainable economic development in Southeast Asia.
For more information or to place an order, email Johnson at leonajohnsonenterprises@gmail.com.