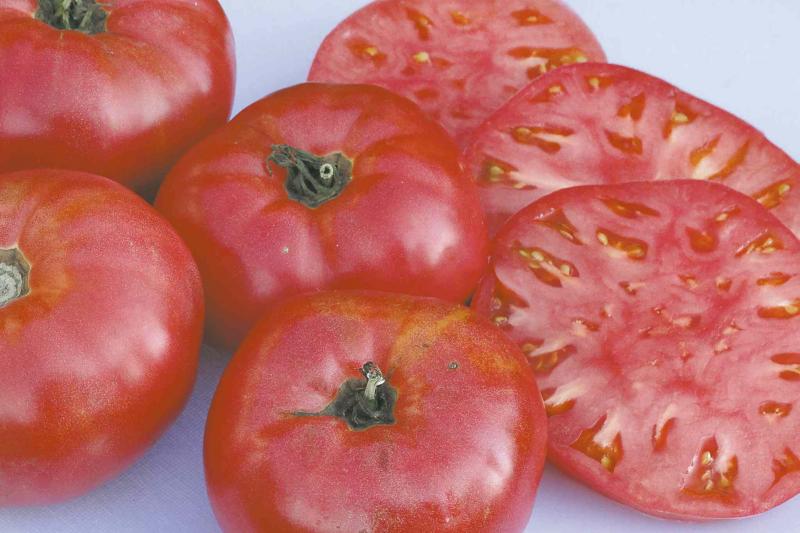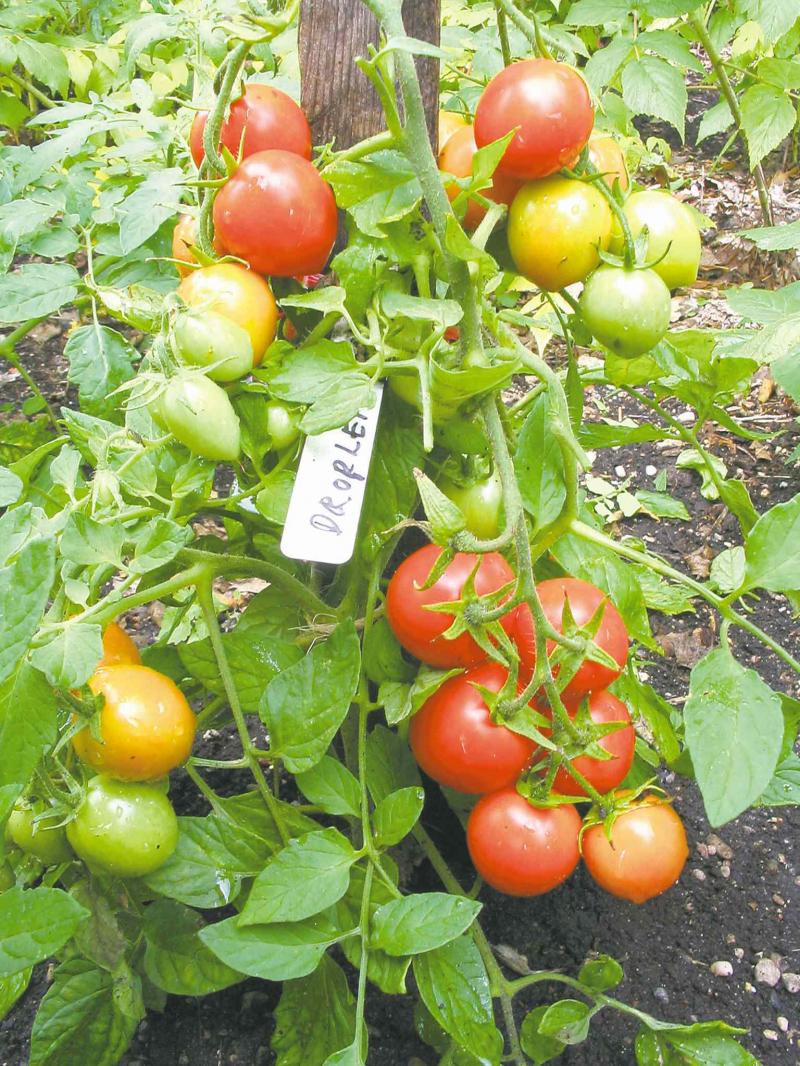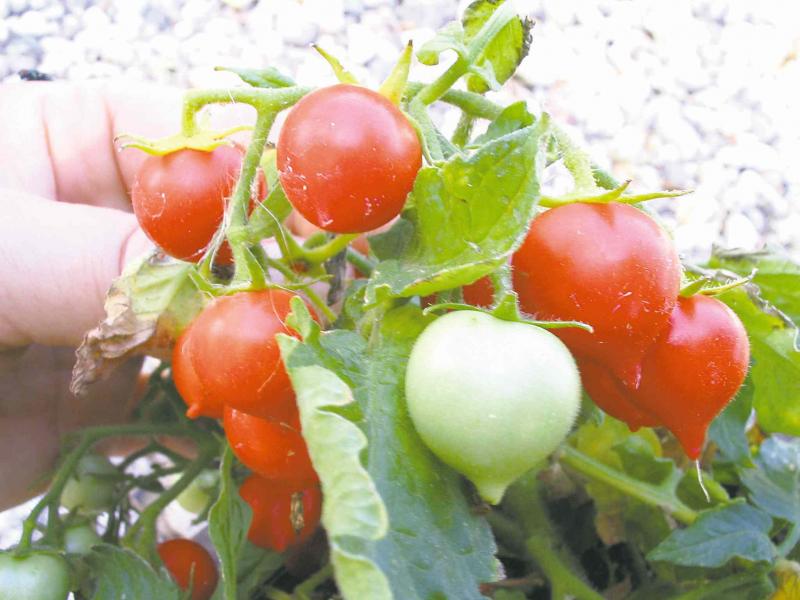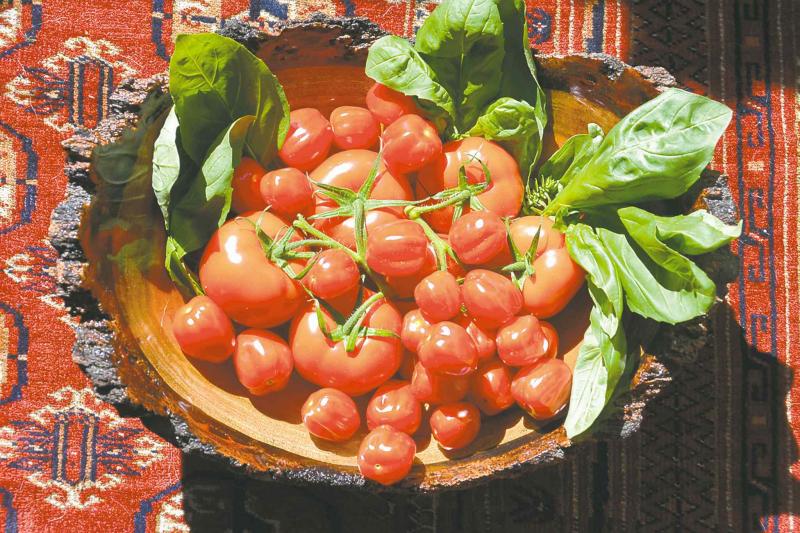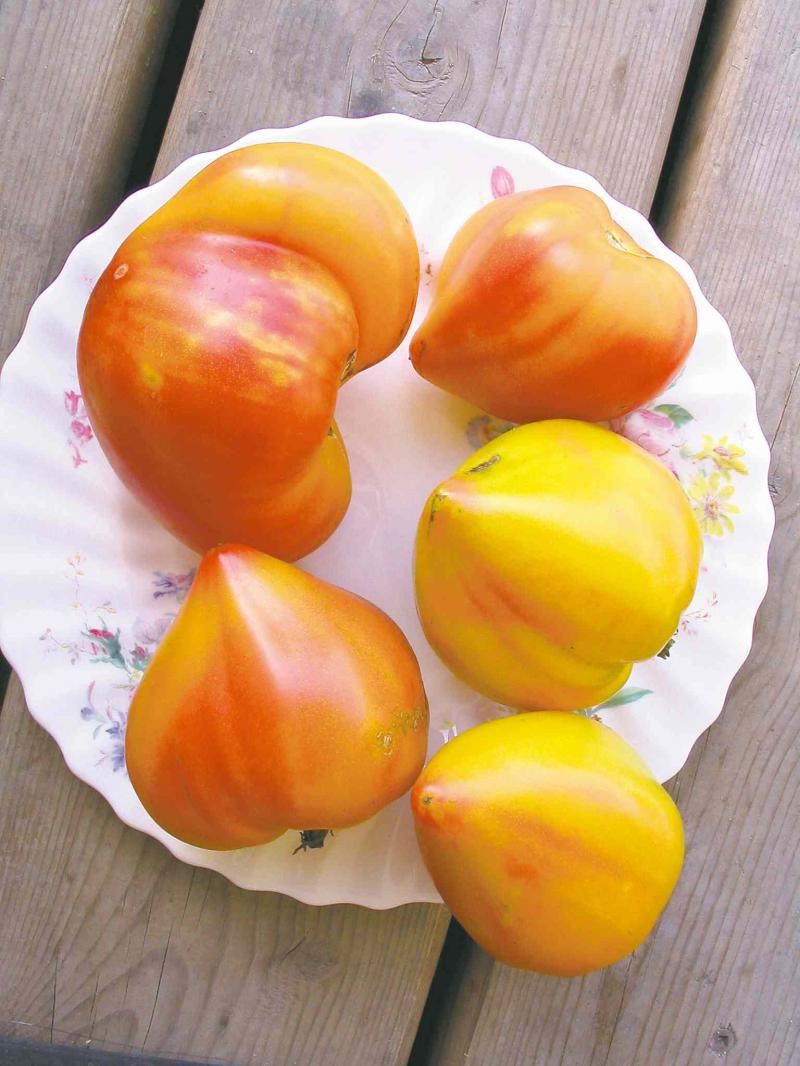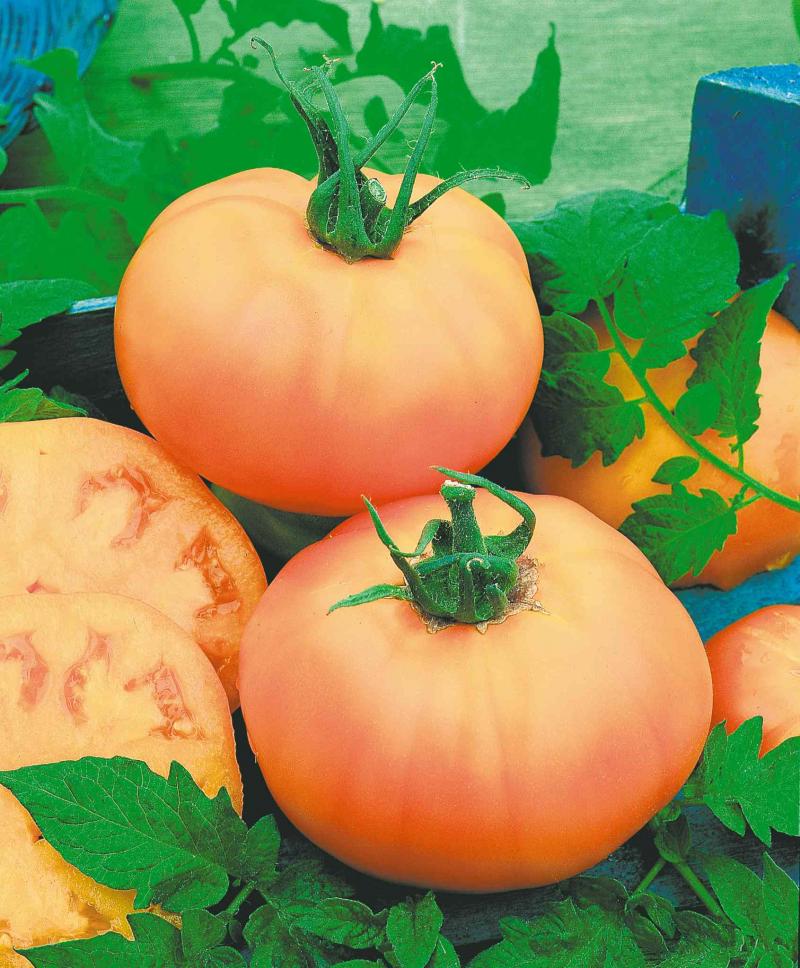 When it comes to tomatoes, there are two distinct camps of tomato lovers. Those who have been raised on commercial hybrid tomatoes purchased at the grocery store and those who insist on nothing less than locally grown tomatoes.
A growing number of tomato enthusiasts are seeking out the delicious, juicy flavours of heirloom tomato varieties. Grown for generations, with seeds faithfully saved, the zeal for discovery, even rescue, is a large part of being an heirloom tomato treasure-hunter.
With 25,000 different tomato varieties worldwide, the intriguing stories behind some of the more legendary heirloom tomatoes, such as Moldovan Green, an extremely rare bright lime green tomato, or Calabacito Rojo, a sweet red tomato dating to 1795, only add to the tomato's mystique.
Tanya Stefanec, owner of Heritage Harvest Seeds, a heritage and heirloom mail-order seed company in Carman, says the No.1 reason for growing a heritage tomato is the exceptional taste.
"Many times seeds are found in an old envelope that was stored by someone's great grandmother," Stefanec said. "If tomato seeds are kept in a cool, dry, dark place, they will last for years and still germinate."
Stefanec said there are two categories of heirloom tomatoes: commercial varieties that were once grown by seed companies starting in the late 1800's to 1950's and family heirlooms handed down from generation to generation.
What about the argument that newer hybrids have greater disease and pest resistance?
"Many of the heirloom varieties have greater genetic diversity, that's why they are still around," counters Stefanec, who says experience has taught her that not only do heirloom varieties stand up to tough conditions, but they are also just as productive as hybrid varieties. Stefanec, who attends local seed-saving events such as the recent Seedy Saturday held in Brandon, says seed can be easily saved from old-fashioned open-pollinated vegetable varieties. "So many people are embracing the idea of saving their own seed," said Stefanec. "You can isolate tomatoes by as little as 30 feet to save the seed and it will be identical to the parent plant the following year when you plant them out. It's possible to save seeds from hybrid tomatoes; however, they won't grow true to type."
Growing up on a farm near Fisher Branch, Stefanec grew heirloom tomatoes with her mother and grandmother. One of the first varieties she fell in love with is Black Krim, a smoky-flavoured red-purple tomato with raspberry coloured flesh. "One of my all time favourites is Ferris Wheel," Stefanec said. "It is an old variety from the 1800's that is extremely productive and tasty. One slice almost covers a slice of bread."
Other favourites include Carol Chyko's Big Paste, an all purpose tomato, and Reisetomate, an extremely rare German heirloom that looks like a giant bunch of cherry tomatoes fused together.
Mandy Botincan, owner of Mandy's Greenhouse near Tyndal, recently retired the tomato side of her business to concentrate on alpine plants. "It seems strange to not be starting tomatoes this year," said Botincan, who is gradually selling out her inventory of more than 1400 seed varieties collected over the years.
Favouring green and black heritage tomatoes over red varieties, Botincan encourages tomato lovers to indulge in the fruity taste and aroma of Green Pineapple, an heirloom from Springfield, Ohio or richly-flavoured Black Prince, an heirloom from Irkutsk, Siberia.
"Russian varieties have some of the greatest genetic diversity," Botincan said. "Some will develop a thicker skin and fare better in cooler weather. Others develop a thinner skin that ripens to deep, rich tones in the summer heat. "
And then there are the large and meaty Oxheart tomatoes. With their distinctive strawberry or heart shape, some of the larger varieties will need staking.
Blue Lagoon Organics, a certified organic farm in St. Francis Xavier, is not in the seed selling business. Owned by Lori Ann Regnier, Blue Lagoon Organics sells their tomatoes at the River Heights Farmers Market and St. Norbert Farmers Market. Blue Lagoon is also a CSA farm which means it delivers a weekly vegetable box to customers who sign up at the start of the growing season.
With tomatoes already growing in the warmth and humidity of her greenhouse, Regnier plans to have a number of new varieties this year for her customers. Hawaiian Pineapple, a sweetly flavoured golden beefsteak heirloom with orange streaks; Yellow Taxi for folks who prefer a low acid tomato; and Valencia, an Indiana heirloom that looks like a ripe peach, are just a few.
"There is a lot of interest in cherry tomato varieties", said Regnier, who likes Chocolate Cherry even better than Black Cherry, two dusky-skinned tomatoes with sweet, juicy flavour.
Regnier gets annoyed with tomatoes that crack so has abandoned some varieties. Sun Gold cherry tomato doesn't crack and neither does Cobra, a vigorous self-pollinating greenhouse grown hybrid with glossy red skin.
Almost Urban Vegetables, owned by Marilyn Firth and Bruce Berry, is a small market garden situated on 10 acres. They will also be at the St. Norbert Farmers Market when it opens on May 24, earlier than most years. Berry operates the CSA portion of Almost Urban, and will deliver more than 14 varieties of tomatoes this year to his customers.
"We like Mystery Keeper," said Firth, "because it stays green for a long time." Firth harvests it in the fall before the first frost and stores it on trays in her basement. Some years, she and Berry have enjoyed them fresh almost until Easter.
While some of their tomatoes have been started in a heated greenhouse, others will be planted in the ground in an unheated greenhouse which will serve essentially as a row cover, protecting tomatoes from unexpectedly cold nights and pests such as the Brown marmorated stink bug. The nightmare of tomato growers, this pest pierces the skin of tomatoes with its proboscis and sucks out the flesh.
Satisfying your taste for fresh locally grown flavours may mean weekly trips to your local farmer's market this summer or take advantage of a CSA drop off. Growing your own tomatoes, though, opens the door to all sorts of delicious possibilities. Varieties that are meaty, voluptuous, juicy, richly coloured, round, oblong, micro or downright weird can be yours for the picking.
If you haven't started your tomato seeds yet, it's not too late.
Plan to grow some of your tomatoes in containers. Choose only determinate varieties (bush) for containers. Indeterminate varieties can grow up to 5 feet tall and may need staking. For container grown tomatoes, Stefanec recommends New Big Dwarf, a compact determinate variety introduced in the early 1900's. With strong, erect vines, New Big Dwarf produces deep pink tomatoes that grow between 8 to 12 ounces, sometimes as much as 1 lb.
Select a pot that is not too large or heavy, for example, 17 to 20 inches in diameter. Add good quality potting medium to a depth of six to eight inches and plant your tomato at the bottom of the pot, trimming the leaves from the stem as you fill the pot with the remaining soil.
Tomatoes are heavy feeders. Fertilize with compost, fish emulsion, kelp or alfalfa pellets. Mix thoroughly into soil before adding to your container.
Can't wait for a fresh delicious tomato fix? Stop by Vic's Fruit Market, 1039 Pembina Hwy, where locally grown greenhouse tomatoes fresh from Schriemers Market are now available. Owner Scott Schriemer began picking cherry tomatoes in March followed by vine-grown tomatoes. Beefsteak tomatoes will be available later in the season.
Another option is to purchase tomato seedlings and situate them indoors on a window sill in a bright location. Start with healthy seedlings grown to organic standards, fertilize as needed, and take care to gradually harden off your tomato plants before transplanting outdoors once all danger of frost has passed. Avoid keeping them indoors for too long, though, or the plants will become leggy. Do not underwater or overwater since uneven watering can result in a calcium deficiency or blossom end rot.
David Neufeld and Magdalene Andres, owners of Room to Grow, Boissevain, specialize in transplant-hardy, open-pollinated varieties so that gardeners can save the seeds of their favourites. Consider growing Manitoba, a non-staking heirloom plant with medium sized, firm red tomatoes, perfect for slicing and enjoying however and wherever you like it. Perhaps outdoors on a sunny patio?