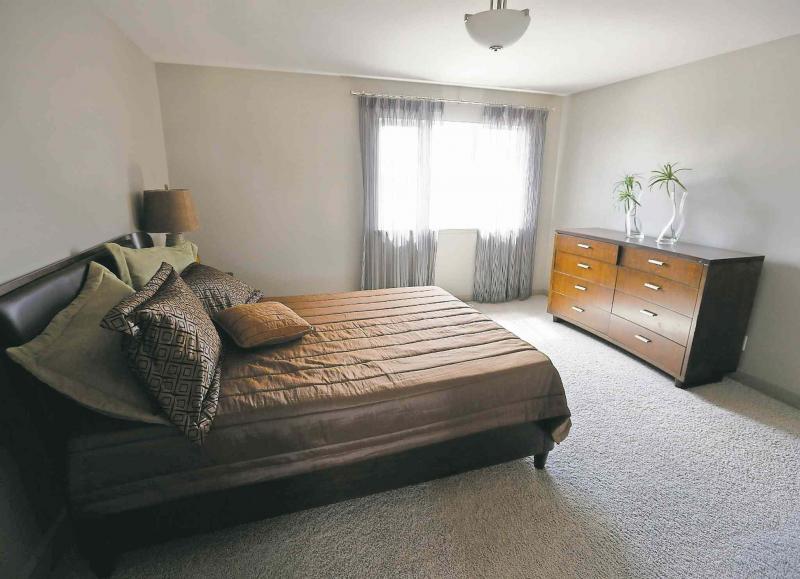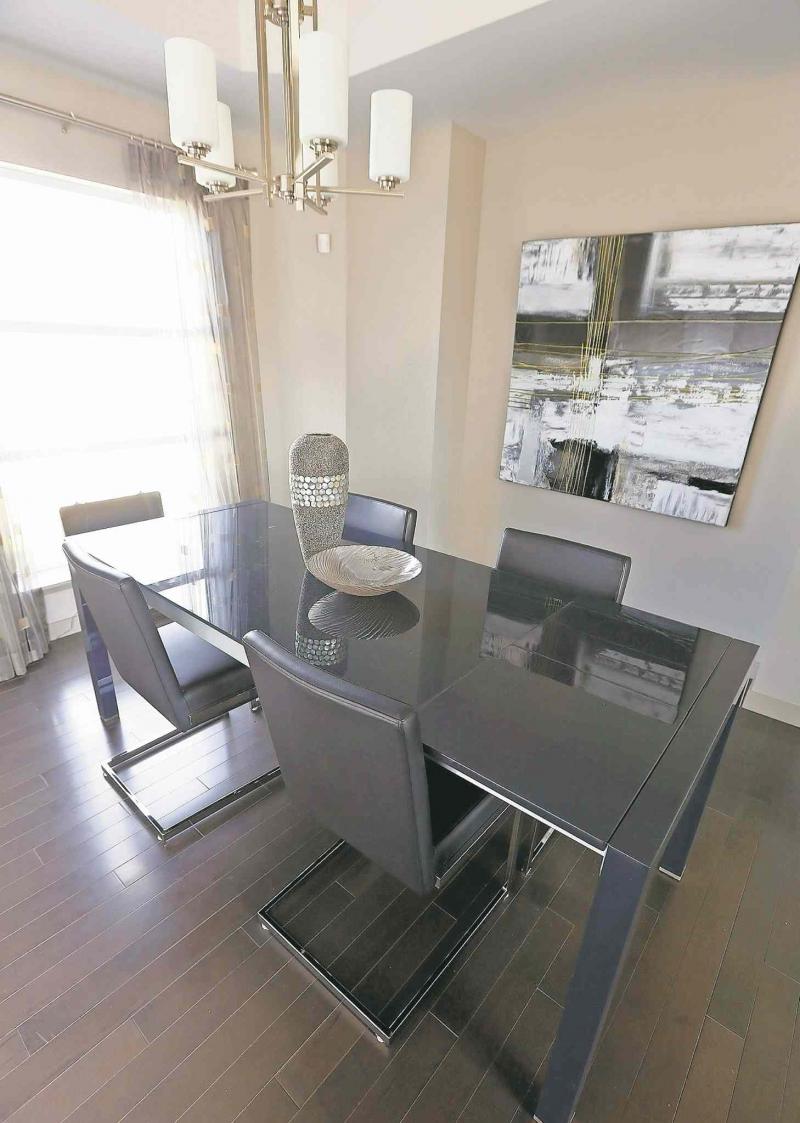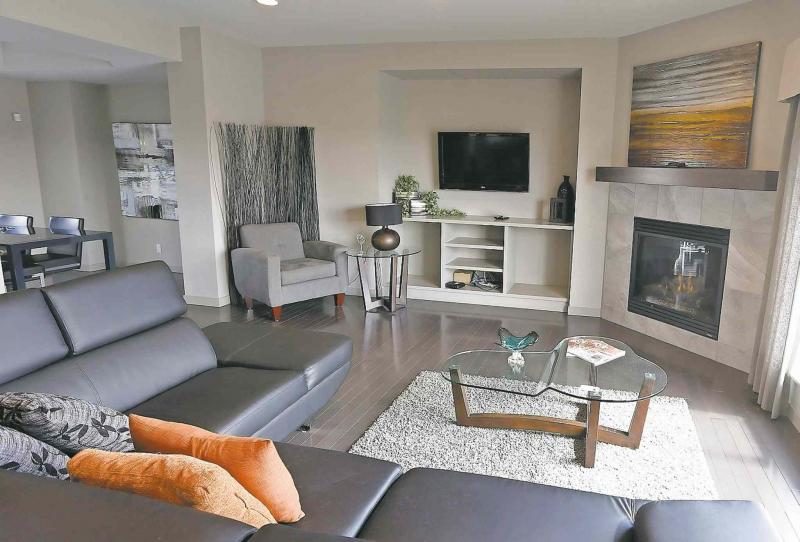 When it comes to designing a new home, imagination plays a key role in how much appeal and function a home possesses.
Take one of Gino's Homes' most recent designs, a 1,913-square-foot, two-storey home at 34 Amber Trail in Amber Trails. While it isn't all that big by today's oversized home standards, it features a functional flair that makes it feel larger than its listed square footage -- and that includes a heaping helping of style integrated seamlessly into the dynamic floor plan.
"I love the layout of this home -- it's so functional," said Gino's sales representative for 34 Amber Trail, Re/Max Associates' Amanda Ragoonanan. "A good example of the layout is the great room. Each space has its own separate personality, yet is still open enough so that flow between spaces is excellent. The floor plan allows you to stay connected no matter where you are."
Perhaps the most important thing about 34 Amber Trail's layout is it's bursting with imagination, starting with an angled foyer that's neatly defined by grey (18-inch) tile. To the left is a formal dining room with tray ceiling, which opens up the foyer even further. Then comes a design feature that's as ingenious as it is novel.
"Gino's design team put in a series of angled pillars that creates an entrance from the dining room into the family room, another entrance into the family room and then a third entrance that leads you into the dinette/kitchen area," Ragoonanan said. "While it's a different design, it works. Light flows strongly throughout the great room and down into the foyer, creating a bright, accessible interior."
While stairways aren't always a huge design feature, 34 Amber Trail's upper- and lower-level stairs are. The upper-level stairwell features an angled, one-third maple capped wall with cut-out that neatly defines the foyer. Then the lower-level staircase was tucked away to its left, making for unobtrusive, yet stylish access to the home's upper and lower levels. The design is also very space-efficient.
A clean, linear design characterizes the great-room area. The front-oriented formal dining room, which has been outfitted with a huge picture window and tray ceiling with chandelier, is a separate space that connects seamlessly to the family room via a six-foot-wide doorway.
The adjacent family room is notable for an angled rear wall that features a gas fireplace set in grey tile with a dark maple mantel above, and for a clean, cantilevered entertainment unit with generous TV niche and display shelving below.
Another cool design feature serves as a divider between the family room and dinette/kitchen area.
"There's a one-third wall with glass cut-out that divides the two spaces, yet allows you to see either space from either side," Ragoonanan said. "It not only looks great but also allows light to filter through into the dinette area from a big picture window on the rear wall."
Plenty big for a table for four, the dinette area backs onto patio doors and is divided discreetly from the kitchen by a compact island with raised front and extra cabinet space.
All the finishes work together perfectly, from the river-rock granite countertops to the portobello maple cabinets to the off-white porcelain tile backsplash. Opaque, steel-rimmed cabinets on either side above the slide-in, flat-top stove are a nice touch, too.
"Everyone who's been through the home has loved the countertops because they're so different," she said. "The kitchen reflects the overall design of the home -- it not only looks great, but it's very functional. There's no wasted space in it at all, or anywhere else in the home."
That efficient design extends to the home's upper level, where three bedrooms and a four-piece bath fan out around a compact landing that reduces hallway space and increases space in the bedrooms. Fronted by a generous double-door entrance, the master suite was placed directly in front of the stairs.
"It's a beautiful, well-designed space," Ragoonanan said. "The bedroom itself offers tons of room and light (via a generously proportioned picture window on its rear wall), and the ensuite actually has its own private wing. There's a big, angled, walk-in closet, and the ensuite is absolutely gorgeous with a grey porcelain tile floor, six-foot soaker tub set in the same grey tile beneath a big window, four-foot shower and portobello maple vanity."
While the ensuite is fittingly luxurious, the area in which the secondary bedrooms are placed is highly functional. To start, the large, well-appointed four-piece bath was placed between the bedrooms and the master suite to provide separation.
Next, because of the limited amount of hallway space, both bedrooms are larger than normal, with big windows and plenty of storage space in the form of extra-wide double closets. A handy linen closet was placed directly across from the bathroom.
"It's a very efficient layout that will definitely make life easier for families. Parents have a private, luxurious space to enjoy, while the kids have large bedrooms with plenty of storage space," Ragoonanan said. "This home proves that you don't need 2,500 square feet for a home to be functional -- it's all in how a home is laid out. Add in a big basement with room for a fourth bedroom, big rec room and four-piece bath, and you've got a highly functional family home."
lewys@mts.net