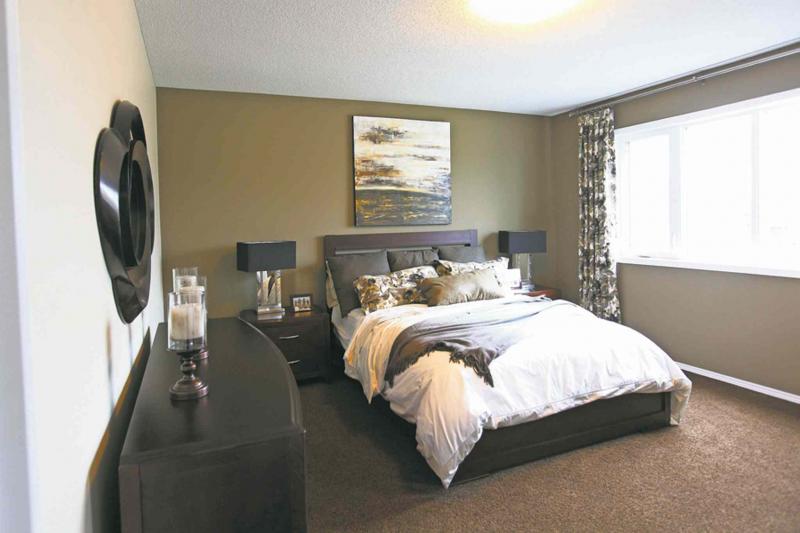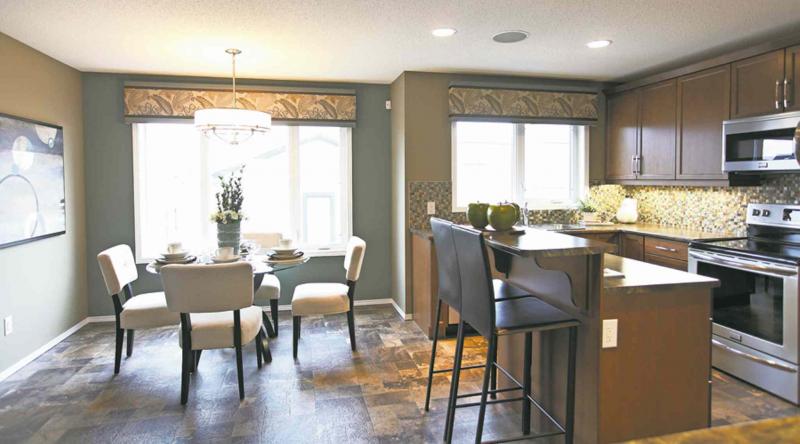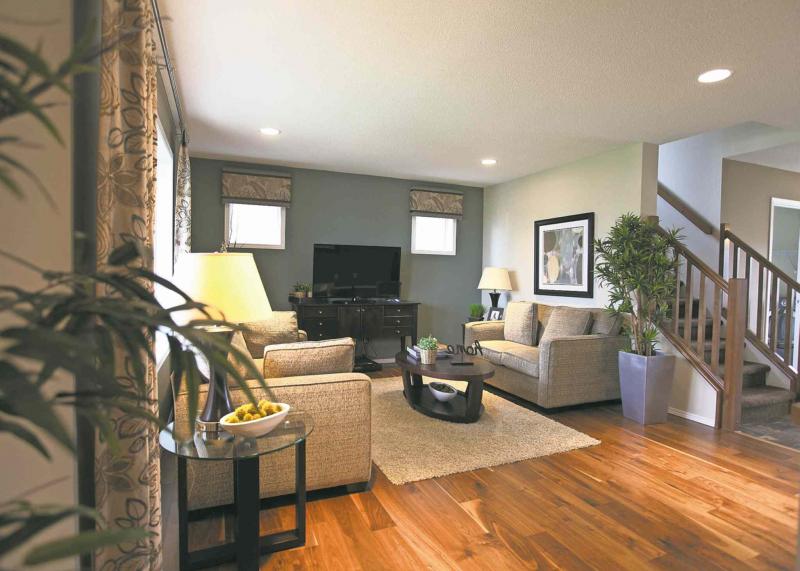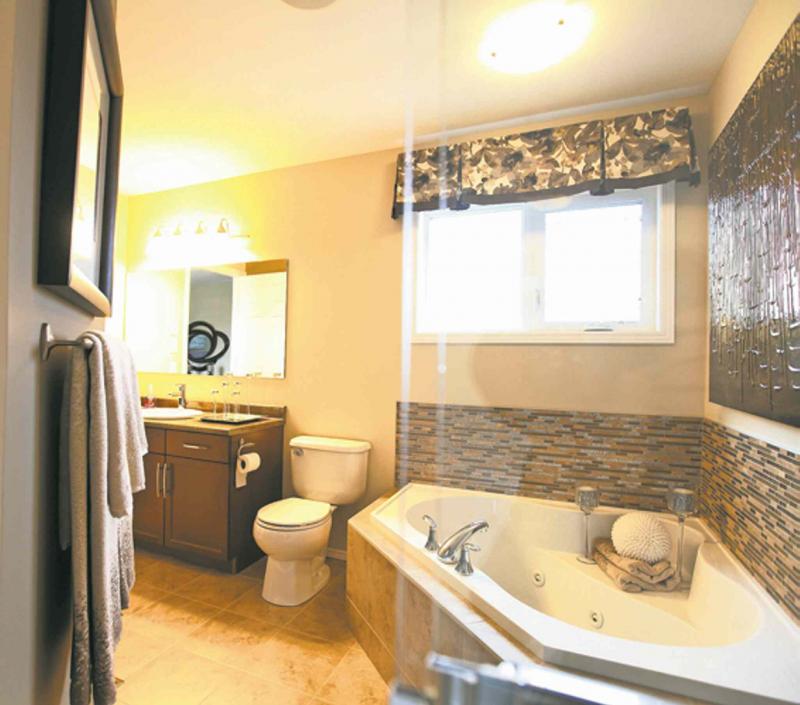 As popular as open-concept floor plans are in new homes these days, it doesn't mean they're the end-all and be-all in home design.
In other words, a home doesn't necessarily have to feature an open-concept floor plan to offer maximum livability, said Sabie Brar, Kensington Homes' sales representative for 326 Eagleview Road, a.k.a. the Alexandria IV.
"This is one of our top-selling plans, and it isn't open-concept in its design," he said of the 1,669-square-foot, two-storey home. "While the spaces on the main floor (kitchen/dinette area and family room) are open to each other, they are also defined spaces. It's a plan that people really like because it's segmented, yet still flows well and is bright due to the large, well-placed windows."
The Alexandria IV starts off with a generous nine-foot-wide by five-foot-deep foyer that's a separate entity. Instead of ending on a rear wall, a cool space was placed to the right of the mirrored double closet that offers storage for coats, shoes and accessories.
"It's a neat area that was designed to accommodate an office or main-floor study area for kids," Brar said. "It's a decent-sized space (at about seven feet by six feet) and was placed next to a visitable two-piece bath with extra-wide doorway and generous turn radius for people who might have to use a cane, walker or wheelchair."
The foyer then merges seamlessly with a mid-sized family room that's defined by medium-brown wide-plank, engineered hardwoods that are as durable as they are warm. With a large picture window on its front wall and two oversized transom windows on its far left-hand wall, it's a bright space that is intimate, yet offers sufficient space to house plenty of furniture, plus an entertainment unit with 50-inch flat-panel TV.
An extra-wide entrance allows for seamless entry into the kitchen/dinette area, which is an ergonomic masterpiece. A three-part design, the area is composed of the kitchen, a generous dinette area and a main-floor laundry room next to the dinette area.
All three spaces fit perfectly in the allotted space due to the fact Kensington's design team got the proportions of each space just right. A prime example of this is the kitchen, where the centrepiece is a compact island with a raised eating bar for two.
At roughly three feet by three feet in width and depth, it offers plenty of function, yet still allows for ample aisle space on either side to provide ease of movement.
Meanwhile, a corner pantry adds to the space's inherent functionality, while finishes -- cinnamon-tinted maple cabinets, a grey/taupe/tan tile backsplash, brown laminate countertops and a brown/taupe/grey faux-tile vinyl floor simultaneously warm up the space and add style.
Then, there's the adjacent dinette area, Brar said.
"Right now, there's a table for four in it (next to a large three-piece window), but it's large enough to put in a table for eight or more for entertaining. Flow between it and the kitchen is excellent, while a big window over the double sink on the rear wall allows even more natural light to come in."
Next to the dinette area is the aforementioned laundry room, an option most customers opt to keep, he said.
"We can move it upstairs, but most people usually keep it where it is. It's a great space that not only offers a laundry area, but a back entrance, plus an entrance to the lower level. It's a great feature if you want to rent out your basement -- you just close the door, and your renter has a separate, private entrance to the basement."
Brar added the main level's design can also be modified to make it more open-concept.
"It can be opened up by putting the washroom further to the right by eliminating the study," he said. "By doing that and moving the laundry room upstairs, you can open the area up to a much greater degree, if that's what work best for you."
Head upstairs via an extra-wide staircase, and you find an upper level that's as functional, stylish and livable as the main level.
An L-shaped design, the Alexandria IV's second storey features three bedrooms and a four-piece bath, with the master suite -- which was placed to the right of the stairs -- separated neatly from the two secondary bedrooms (which were placed at the end of the hallway) by the main bath -- an ideal design for young, active families.
Just as kids will appreciate the oversized bedrooms that come with double closets and huge windows, the parents will appreciate the master suite, Brar said.
"It's not only a private space, but it offers all kinds of room and natural light (via a huge picture window on its rear wall), plus a big walk-in closet with lots of storage space and a luxurious ensuite," he said. "It has a corner jetted-tub with tile front and surround, a (tan) tile floor, five-foot shower and cinnamon maple vanity. It's a great space to relax in at the end of the day."
With another 600 to 700 square feet of space to develop downstairs into a bedroom (or two), media area, bathroom and storage, the Alexandria IV hits all the right notes for young families with its affordable price tag, functional, stylish design and central location.
lewys@mts.net