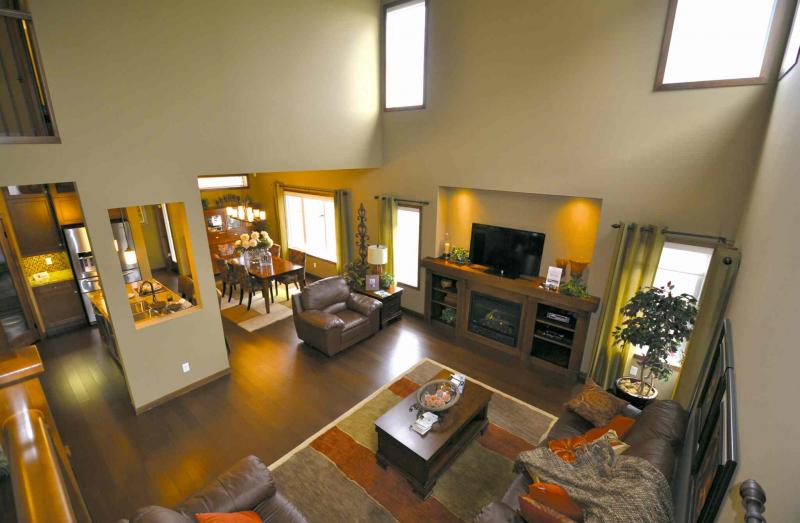 The fact of the matter is no two new home designs are alike.
There is, however, another fact: have prospective buyers look at two homes, and -- for some reason -- one home will be a clearcut winner over the other in terms of which home they preferred. In most instances, one home got the small details right, while the other missed on areas that related to functionality, style and overall livability.
Those three areas were of critical importance in the design of 31 Stan Bailie Dr., a.k.a. the Barcelona, said Derek MacDonald, Qualico's marketing manager, single family homes.
"This is a Foxridge home, which is our premium home," he said of the 2,218-sq.-ft., two-storey design. "The details make all the difference in this home. When you get them all right, it takes a home from good to extraordinary in the way it looks and functions."
The moment you walk into the Barcelona through its generous foyer -- which is bordered on the right by 10-foot by 11.5-foot den -- the interior feel is one of space and balance. A den to its right makes the foyer feel that much larger.
A brief (and wide) hallway then ushers you into the great-room area, which is essentially divided in half, with the kitchen/dinette area to the left, and the voluminous family room to the right. The family room -- with its 18-foot ceiling and multiplicity of windows -- is the space that immediately captures your attention.
"It's an amazing space," said MacDonald. "The soaring ceiling makes it feel big and grand (which it is at 16.5 feet by 16.5 feet), while all the windows surrounding it make it a naturally bright space; there's natural light everywhere."
That abundance of light isn't surprising due to the fact the family room features eight windows -- four placed high up and four at ground level to make for an even dispersion of daylight. Light also flows into the great room from a front door with glass centre and sidelights, a big window in the den -- and from a picture window behind the dining area.
The great room's volume and brightness is complemented by a floor plan that in a word (OK, three), is exceedingly user friendly. That user friendliness is derived from the fact each space is well-proportioned. In addition to the huge family room, the dining area is a generous 15 feet by 10.5 feet, while the galley-style island kitchen is plenty spacious at 13 feet by nine-plus feet.
"As it is now, the dining room seats six comfortably, but the table can be expanded to seat eight or 10 without a problem, there's that much room," he said. "There's also seating for two to three at the island's eating nook, and there's a cantilevered buffet niche with oversized transom window overhead that lets in even more light."
Across the way is a kitchen that's not only highly functional, but that's also very well-appointed, he added.
"Features like wide aisles, a corner pantry and the island make it a functional space. At the same time, finishes such as dark (engineered) maple hardwoods, tan/copper/brown granite countertops, Lexington (cinnamon-tinted) maple cabinets and a (copper/brown) glass-tile backsplash combine with a taupe colour palette to make for a rich, warm feel where the finishes and decor play beautifully off the maple hardwoods, baseboards and trim."
Meanwhile, the clever floor plan comes into play to the kitchen's left-rear portion, where a compact wing provides all kinds of utility.
"It contains a laundry/mudroom, door to the oversized double garage, a powder room -- and a door that leads to a covered patio," said MacDonald. "The patio is close to the kitchen and ideal for grilling, while the laundry room is handy, yet out of the way."
Turns out, the Barcelona's upper level is nearly as big as its main level (1,000 sq. ft. vs. 1,118). All that space translates into tons of Lebensraum that comes in the form of a huge landing, three larger-than-normal bedrooms and a spacious four-piece bath.
With its grand double-door entrance, the master suite -- which measures in at nearly 15 feet by 15 feet -- is its signature space.
"It's a true retreat," he said. "Not only is it big, but it's nice and bright with three windows (a transom above the bed plus large vertical windows on either side of it), a walk-in closet off the bedroom, and its own private, covered balcony."
The amenities don't end there, said MacDonald.
"Luxurious is the only word that describes the ensuite, which comes with a (taupe) ceramic tile floor, (six-foot) rectangular stand-alone soaker tub, a five-foot tempered glass-tile shower and another walk-in closet with built-in wire storage fixtures. It's a big, bright and beautifully finished space that encourages you to relax. The second bedroom (11 feet by 12 feet) also comes with a walk-in closet."
Awaiting downstairs is a 770-sq.-ft. lower level -- which, when developed, would house a fourth bedroom, rec room, bathroom and storage -- that brings total livable space to just under 3,000 sq. ft.
"This home's detailed design makes it a great family home that offers incredible style, function and livability," he concluded. "It's a fabulous home in every aspect."
lewys@mts.net