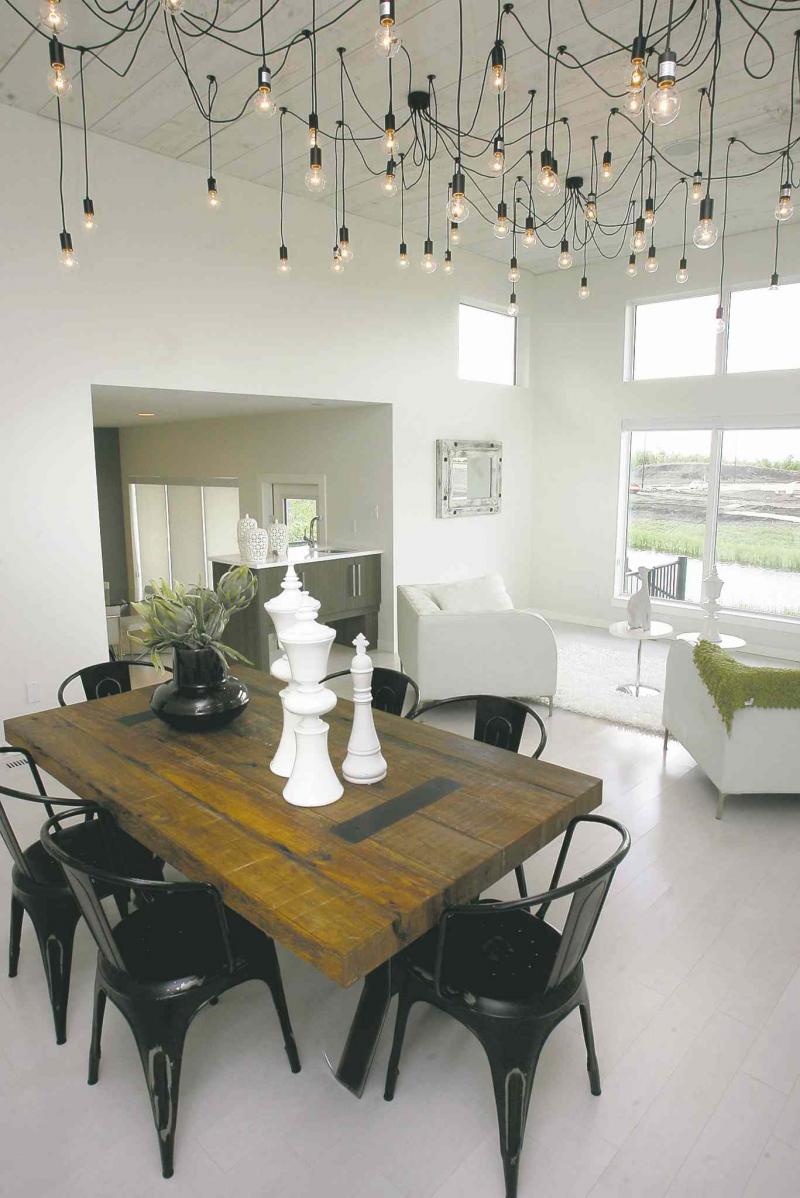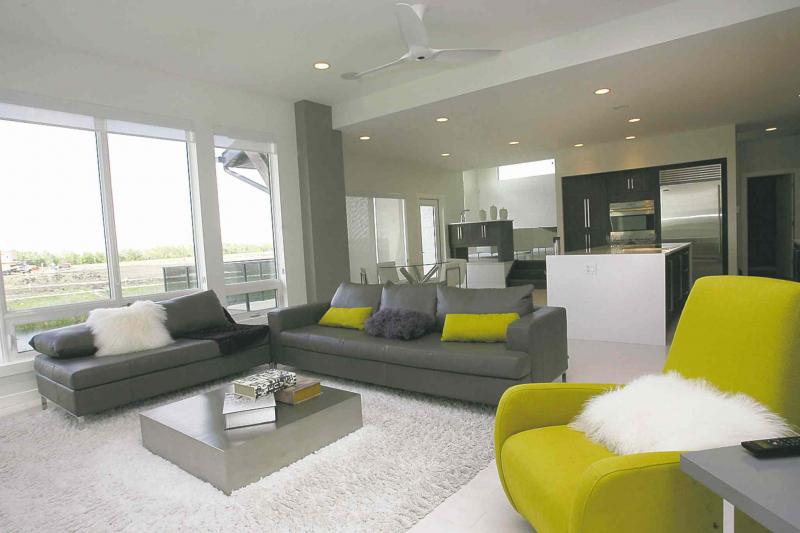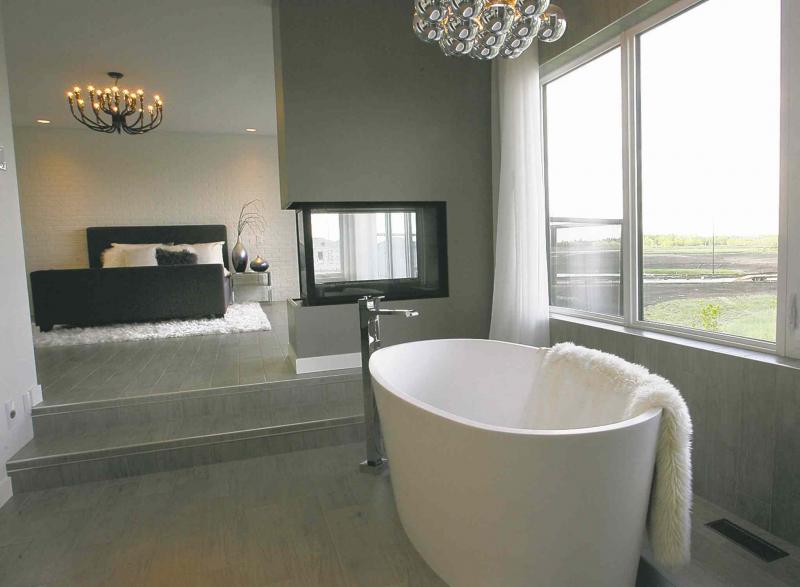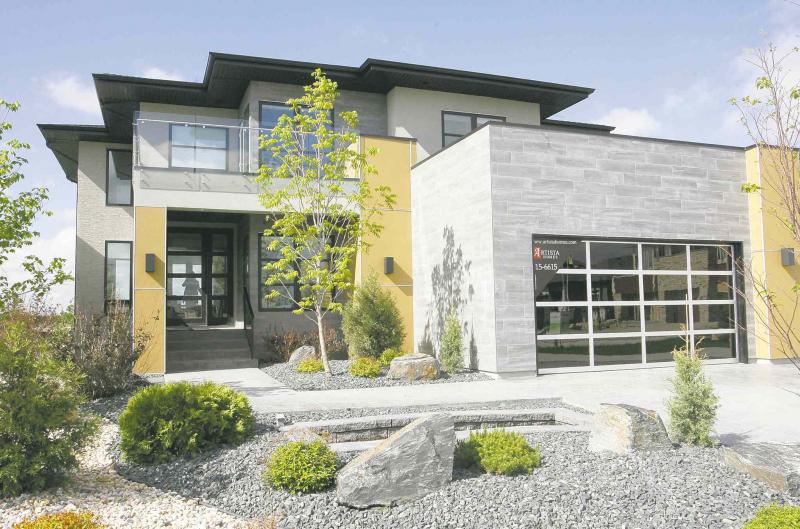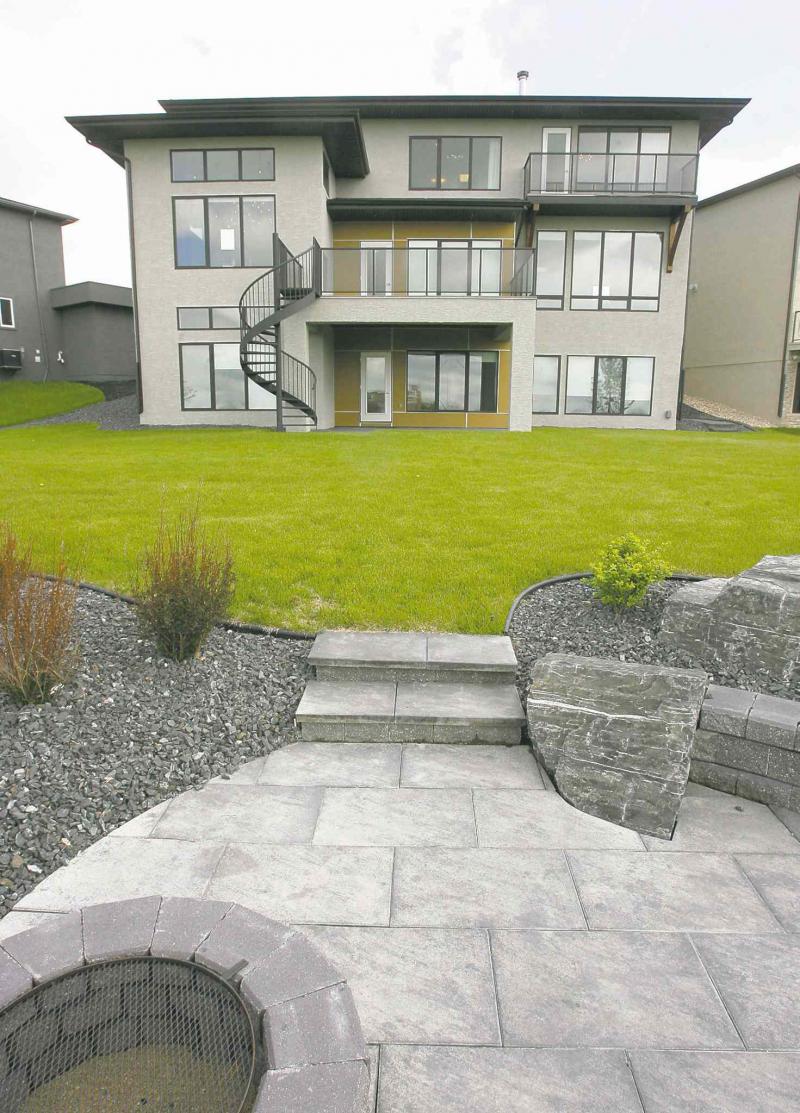 When you're designing a new home, it's always a good idea to try new things.
For example, many builders have successfully combined modern and contemporary themes in their home designs. Then, there's 47 Borealis Bay in Sage Creek. An Artista Homes creation, the 3,001-square-foot, two-storey home has combined modern and rustic design themes.
Turns out, the two themes can in fact come together to create an interior that's cool, yet warm.
"The home's interior incorporates a lot of glass, wood, brick and lighter colours interspersed with darker tones for contrast," said Royal LePage Alliance's Jennifer Gulay, Artista's sales representative for 47 Borealis. "There's a nice balance. The design is cutting-edge but livable."
Modern design themes are omnipresent in the form of whitewashed maple hardwoods, whitewashed fir accent walls and white brick walls. At the same time, Artista's design team used splashes of darker paint and darker cabinetry to lend a warmth to each space.
Take the kitchen, for example. Medium brown, textured thermofoil cabinets -- the four-foot by nine-foot island (with seating area for three) also features a brown thermofoil base to contrast with its cream-coloured quartz countertop (with built-in induction cooktop), along with a thermofoil pantry next to a pair of built-in ovens and industrial-sized refrigerator -- serve as a warm counterpoint to the white floor and walls.
"Other elements like vertical-lift cabinets (stainless steel trim with opaque centres) and a greyish/green glass tile backsplash add more colour and interest," she added. "The floor plan is also excellent -- there's plenty of room to move around in the kitchen, and across the way (next to a big three-piece picture window and door that leads to an elevated deck) is a big dinette area that easily holds a table for four."
Adjacent to the kitchen is a very cool feature: a space that can be accessed by taking three steps up dark maple stairs that really pop with the whitewashed maple floor.
"It's a dining room/living room area that's aimed squarely at entertaining," Gulay said. "It has a wet bar, a huge three-piece picture window (with smaller three-piece window above) that provides a beautiful view of the wetlands behind the home, a high ceiling, and plenty of space for a table for six to 10 and furniture. It's an awesome room to entertain in with all the space, light and the view."
The great room area is then finished off by a family room that is spectacular in its simplicity. First, there's the water view, which is showcased by a massive four-piece picture window. Then, there's the modern/rustic entertainment unit: a black ribbon-style fireplace set in white brick surround (with stainless vent column) and whitewashed fir TV niche.
"All three areas -- family room, kitchen and living room/dining room flow beautifully into one another, which makes the area great for entertaining or family life. There's also a dedicated mudroom down two steps off the back of the kitchen that gives you direct access to the kitchen from the garage; the laundry room is upstairs."
Another innovative yet practical design feature is located off the wide (grey tile) foyer, which was placed beneath an 18-foot ceiling: a recessed den.
"It's an open yet defined space because Artista's designers pushed it back and out of the way. It really rounds out the home's main level."
Meanwhile, the home's upper level -- which contains three bedrooms, a luxurious four-piece bath and sitting area (with three windows and door to a balcony, no less) -- features a design that's as practical as it is stylish.
"The layout is just excellent," said Gulay. "The kids have their own wing, with two big bedrooms with walk-in closets and a huge four-piece bath with soaker tub and two sinks, while the parents have their own private space, which is separated from the kids' bedrooms by a the maple staircase, which is defined by tempered glass inserts and stainless steel railing."
An open concept design, the master suite encapsulates the home's modern/rustic design theme. The floors are a rich taupe tile that, with its colour and texture, perfectly mimic hardwood floors; a white brick feature wall behind the bed with windows on either side is modern, yet rustic; an oversized, three-piece picture window provides a spectacular wetland view, while a patio door enables owners to access a balcony that overlooks the water.
Then, there's the ensuite, which is separated neatly from the bedroom by a three-sided gas fireplace framed beautifully by taupe-coloured drywall -- and a pair of tile steps that lead you down into the space.
"All the materials work together so well -- the plank tile floor, thermofoil vanity with its (cream) quartz countertop and dual (square) sinks and six-foot (oval) stand-alone soaker tub that was placed next to a huge window that overlooks the water," she said. "There's also a six-foot shower with dual body sprays and a walk-in closet the size of a small bedroom with loads of storage space."
Head downstairs and you find a walk-out lower level with media area (with ribbon-style fireplace), games area (both with amazing water views), huge fourth bedroom, three-piece bath -- and exercise room with a view.
"It's a bright, beautifully-finished area that's ideal for entertaining or hanging out with family," Gulay said. "It finishes the home off in practical style and is consistent with the design themes found throughout the home. It's an innovative, yet livable design that families can enjoy for its style and practicality."
lewys@mts.net