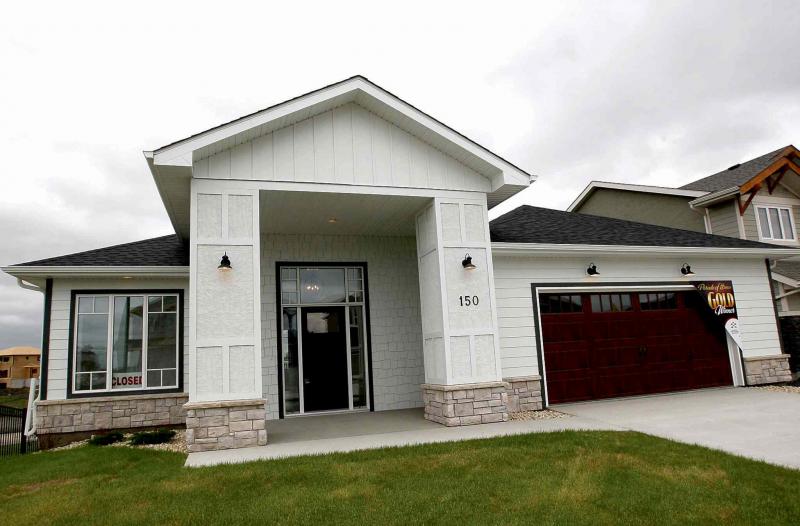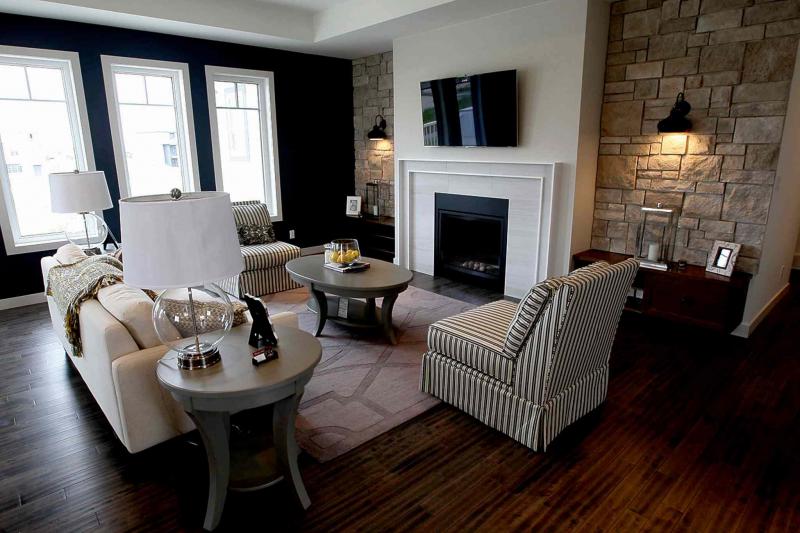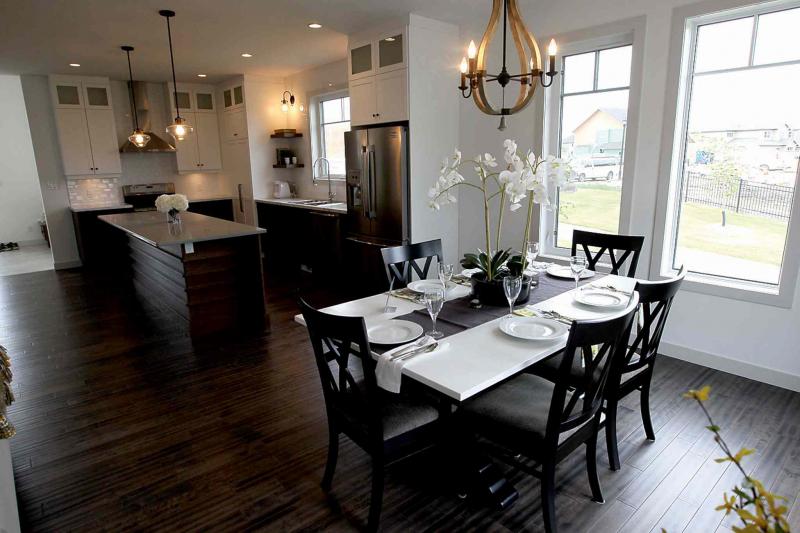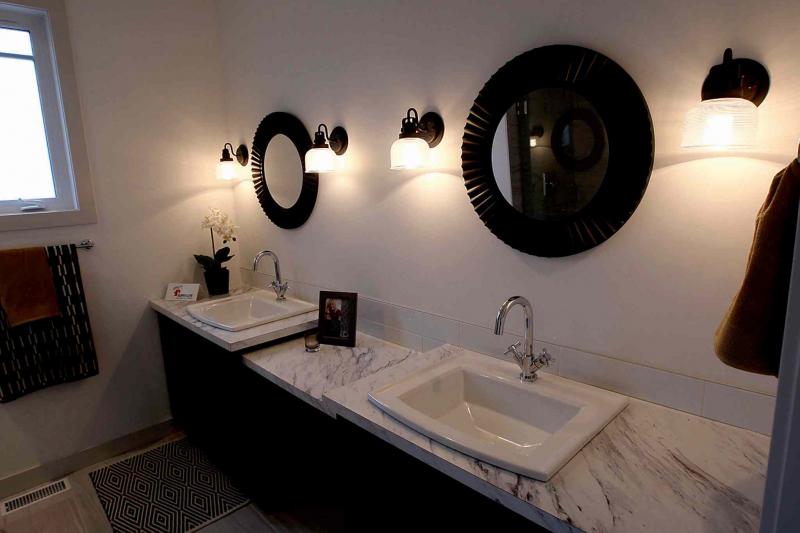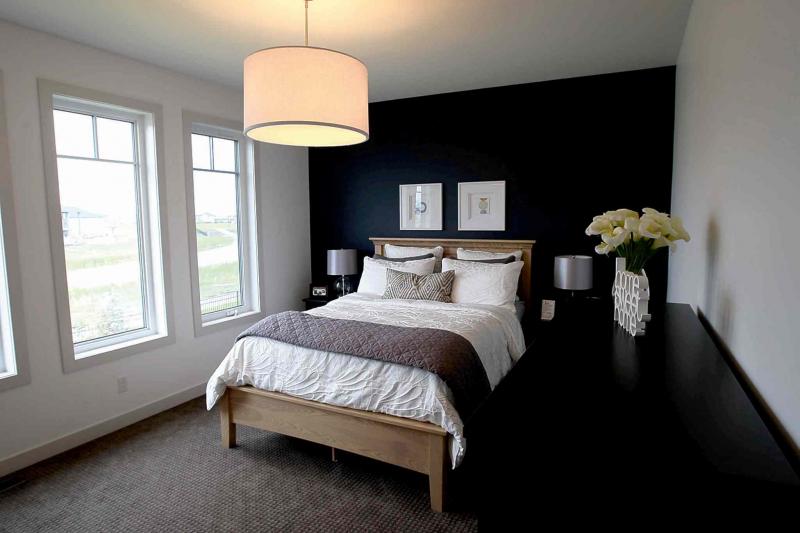 For better than 15 years, Dowalt Custom Homes has been building homes all over Manitoba.
That said, the Steinbach-based builder is known more for the homes it has built in and around that area than for the homes it's built in Winnipeg.
Until now, that is.
"We're really excited about this home," said Dowalt's sales representative for 150 Lake Bend Road, RE/MAX Performance Realty's (Steinbach office) Wilf Fehr. "It actually won a gold Parade of Homes award this spring. That award has made people in Winnipeg more aware of what we can do as a builder."
A 1,795 sq. ft. bungalow with walk-out basement, 150 Lake Bend, located in Waverley West, features a simple, linear design that starts outside with a distinct peaked and pillared front entry that cleverly combines materials such as limestone (trim) and stucco (with interlaced details).
As different and appealing as the home's exterior is, everything starts with its foundation, said Fehr.
"All our foundations feature ICF construction (insulated concrete forms)," he said. "I believe we're the only builder in the Winnipeg market to go that route. We've always done our basements with ICF's because the construction is so solid, offers the highest R-value possible, and, for its noise dampening properties. It's the most efficient way to put in a basement in our view."
Because the bungalow offers 1,795 sq. ft. of living space on its main floor, the walk-out lower level measures in at approximately 1,600 sq. ft. feet of livable space -- room enough to add two bedrooms, a four-piece bath, rec room and storage to a home that already contains three bedrooms and two bathrooms.
"This basement isn't finished, but for about $45,000, we could put in a huge rec room, two big bedrooms and a nice four-piece bath for the owners. Like the main level, there's all kinds of glass on the (staggered) rear wall, which features six large windows that let all kinds of natural light in and provide a great view of the wetlands behind the home. Patio doors let more light in, and give you access to the covered patio."
The home's main level is, in a word, impressive. An open-concept design from the foyer on, you're surrounded by an interior envelope that's simultaneously bright, spacious and richly finished. For starters, the foyer -- approximately 10 feet wide by 10 (or more) feet deep is finished in a rich off-white ceramic tile with taupe striations.
Meanwhile, a 12-foot ceiling and semi-open lower level stairwell to the left (flanked by two huge windows) makes the home's entrance feel even more voluminous. A six-foot-wide entrance then ushers you into a great room that exudes exceptional warmth due to a different type of hardwood floor.
"It's not maple -- it's actually a hand-scraped, distressed ash with a medium brown stain and streaks of black grain that move through the planks," said Fehr. "The great room in this home is a big space, so it was important to make it feel warm. Those hardwoods do that with their beautiful finish and texture."
The ash hardwoods -- along with cappuccino-stained oak cabinets, which contrast beautifully with off-white maple cabinetry above -- serve as a welcome counterpoint to all the natural light that enters the great room, which is surrounded by a host of large windows.
"Having plenty of natural light in our homes is a priority, so in this case, we put big windows behind and to the side of the dining area, and three windows on the family room's rear wall," he said. "Not only that, but there's also a huge, low-silled window over the double sink; you can do dishes, and you're not looking across at your neighbours."
With its extra-wide aisles (150 Lake Bend is a visitable home), 10-foot by four-foot (taupe) quartz island, a wealth of cabinetry and white subway tile backsplash, the kitchen is at once an ergonomic delight and a feast for the eyes with the contrasting colours. There's also no shortage of space in the dining area, which holds a table for eight -- and still has room to move, or even extend the table.
"Everyone who's been through the home has really liked how well the great room flows from space to space," added Fehr. "It's an area that really lends itself well to entertaining. People also love the family room, which is separated subtly from the kitchen and dining area by a tray ceiling. With its (wetland) view through its three windows, gas fireplace set in tile and the oak/tyndalstone entertainment unit either side -- and ash hardwoods -- it's ideal for visiting after dinner."
Two other features provide the utility required to match the home's subtle style: A main-floor laundry/mudroom with garage access next to the foyer, and a private bedroom wing off the family room.
"It's totally separate from the family room and is a very private area," he said. "Both secondary bedrooms are larger than normal, there's a four-piece bath with tile floor and soaker tub, and the master suite is private and nicely appointed."
With a wetland view, mid-sized walk-in closet and ensuite with six-foot shower and tile floor, the master suite is a fitting space in which to end a long day.
And with nearly 3,400 sq. ft. of livable space to enjoy, 150 Lake Bend is a sensibly-designed, family-oriented home that deftly combines luxury and livability.
lewys@mts.net