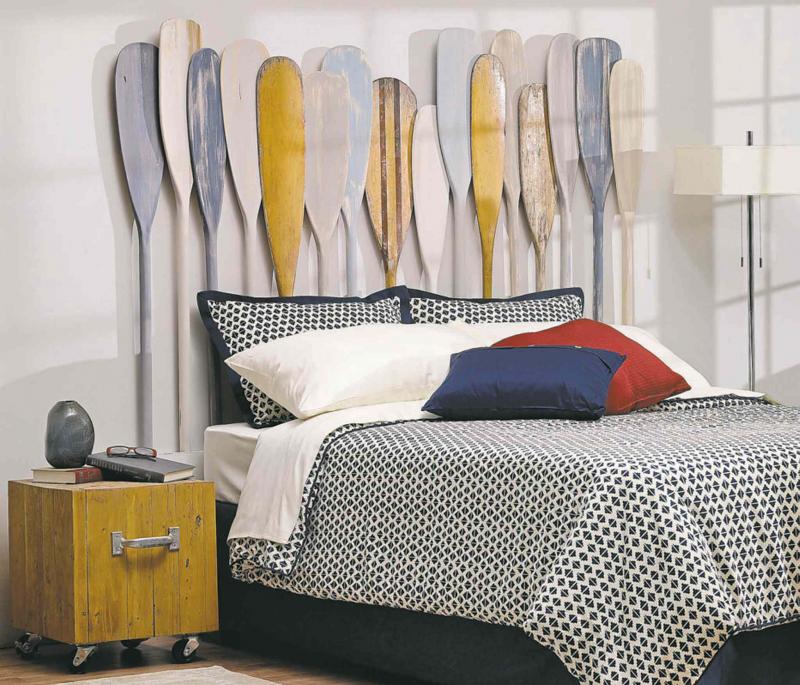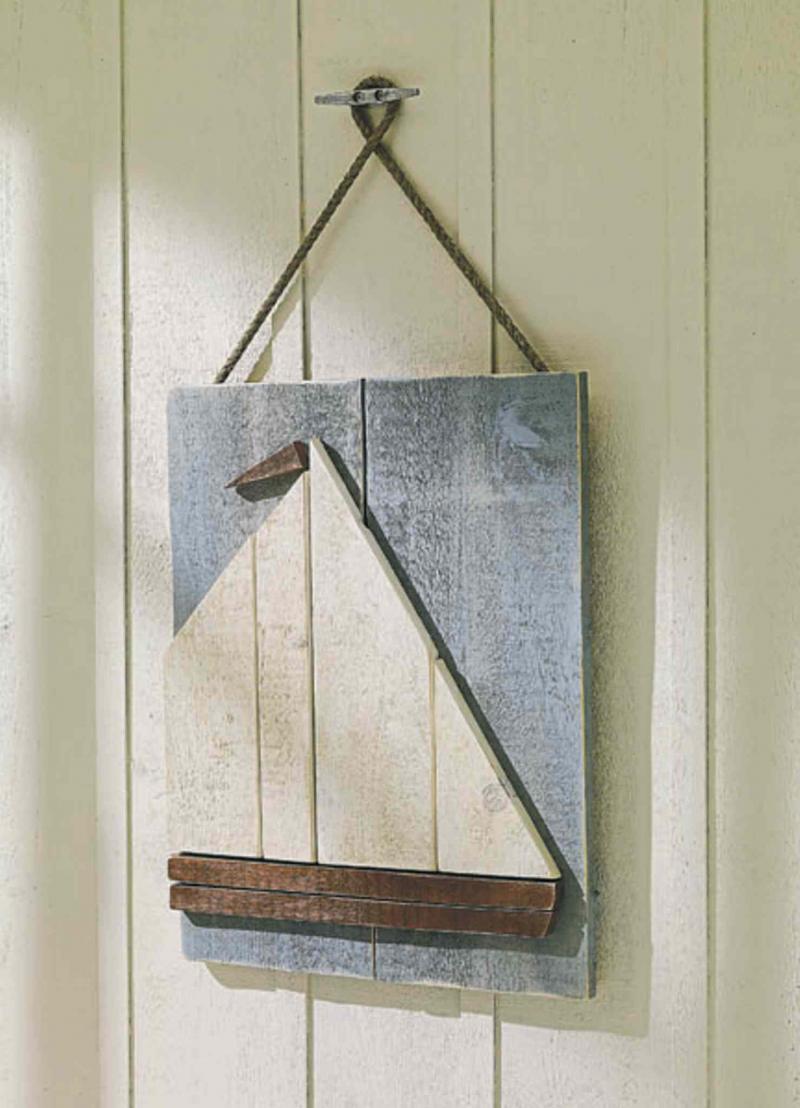 Ah Summer. Sandy beaches, pristine lakes, warm winds and long days. Want to create the carefree and relaxing charm of a summer getaway year-round in your home (without the mosquitoes)? Beauti-Tone has created a collection of projects, many using colours from the Colour Comes Home collection, to help put your own spin on your home or cottage haven.
"There's nothing like the natural beauty of a Canadian summer to bring out your inner artist," says Bev Bell, creative director Beauti-Tone Paint and Home Products Division at Home Hardware Stores Limited. "These projects combine the old, the new and even some blue and might have you saying, bring on the rainy days, I've got work to do!"
In a Row Headboard
A random collection of colourful rowboat and canoe paddles will create all the right kind of waves. You may have to be patient in order to collect enough paddles for your project, so start checking out flea markets and yards sales this summer.
What you'll need:
A collection of paddles (queen-sized bed took 16 paddles). You can easily use old or new paddles and especially garage sale finds.
Beauti-Tone Colour Comes Home colours shown: Wild Blue Yonder, Buoy Oh Buoy, Nautical & Nice and Pier Pressure, and some were left au naturel.
A 2"x4" cut to the width of the bed.
#8 wood screws
Here's how:
Remove any finish on paddles you will be painting. Paint oars one at a time, and with a damp rag lightly wipe off some of the paint for a soft worn look. Lay paddles out in a desired pattern; fasten to 2"x4" board with screws approx. 8" from the handles. Pre-drill holes in paddle first to prevent them from splitting. Attach to the wall for added security.
Bobbing for Compliments
With a few simple cuts, some sanding and easy paint application, 4" x 4" spruce posts become attractive buoys that won't sink your decorating budget.
What you'll need:
4" x 4" spruce posts cut at desired heights. Shown 10", 12" and 15"
Beauti-Tone Designer Series Exterior Suede - Colour Comes Home colours shown: Beachy Keen, Message in a Bottle, Red-y. Set. Go!, Wild Blue Yonder and Nautical & Nice
1" drill bit
Painters tape
Sisal rope
Stencil
Stencil brushes
Here's how:
Cut 4" x 4" lumber to desired heights. With a saw, taper the 4 x 4 either on 2 sides or 4 sides, ensuring you leave a 1 - 1 1/2" at top. Drill a one-inch hole at top approx. 1" down from the top. Paint desired base coat. Paint contrasting stripes by masking off with painter's tape. Stencil numbers on. Thread rope through hole at top and tie.
Hello Sailor!
Combine the simplicity of textured, natural materials to create art with rustic cottage charm. No wind required.
What you'll need:
1" x 12" boards of rough-cut spruce
Beauti-Tone Wood Shield solid stain. (From Beauti-Tone's Colour Comes Home colour collection: Colours used on this project were; background -- The Sky's the Limit, boat and flag -- Redwood, sail -- Fuzzy Mitten
Course/medium sanding sponge
No More Nails
Rope
Dock cleat
Eye screws
Sanding block
Here's how:
Cut sailboat pattern (you can obtain pattern by emailing me directly) from wood available. Stain each piece the appropriate colour and let dry. Sand backboard edges with coarse sandpaper to achieve a soft, time-worn effect. Attach the two backboards together with 3 strips of wood bridging them together. Assemble and glue sailboat pieces to backboard. Attach eye screws to back. Insert rope, and knot to hold in place. Hang from cleat that has been securely attached to the wall.
Whether you choose to enjoy these projects at home or at the cottage they're sure to enhance your décor in great summer style.
connieoliver@shaw.ca