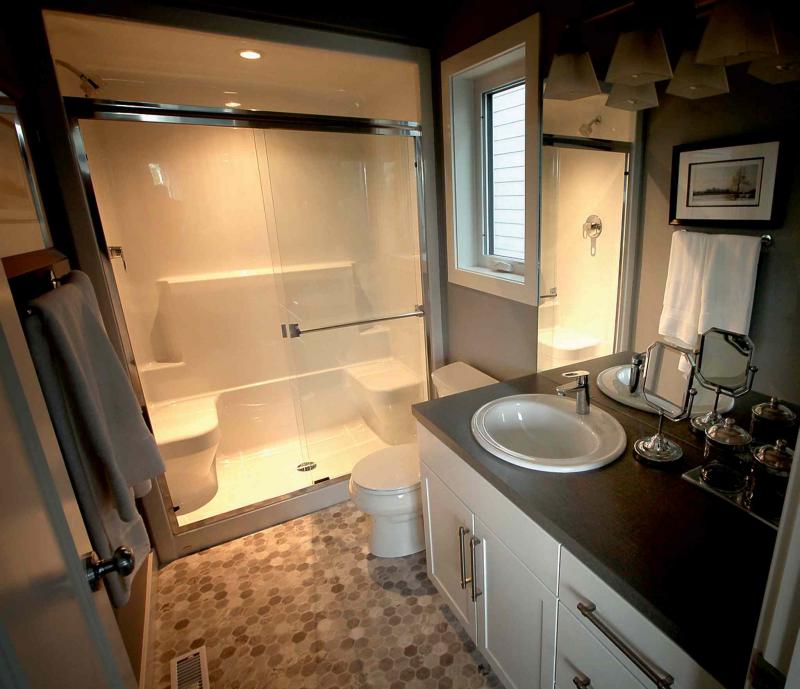 One of the biggest issues empty nesters face when they downsize from a single family home is space.
Suffice it to say, it's not a simple task to make the transition from a 2,500-square-foot home (including perhaps another 1,500 square feet downstairs) to, say, a 1,400-sq.-ft. apartment-style condominium. Issues almost always arise with storage space (i.e., a lack thereof with no basement) and living space (not enough).
Then, there's the fact there's no double garage to park the cars in -- and little or no green space to enjoy while entertaining.
Thankfully, Longboat Development Corp. has teamed with Irwin Homes to create Country Estates Condominiums, a development that will feature 36 bungalow and two-storey condominiums on a pristine parcel of land in The Oaks.
"Country Estates offers bungalow, two-storey and semi-detached units ranging from 1,391 sq. ft. up to 1,819 sq. ft.," said Longboat Development Corp.'s Ryder Needham. "It's a great location nestled away in a preserved urban forest just outside the Perimeter Highway, yet it's still within city limits. It offers a breathtaking, natural environment that's only minutes from city conveniences."
Turns out, the condominiums are as impressive as the countrified setting that surrounds them. One of the most notable aspects of their interior design is the fact the layout makes units feel larger than their listed square footage.
Needham said while the display suite is 1,395 sq. ft. in size, it feels significantly larger.
"The builders, Irwin Homes, did an exceptional job with the interior layout," he said. "It features an open-concept floor plan, as do all the units. "There's a den/bedroom to the right of the (approximately seven-foot by eight-foot) foyer, and then there's a four-piece bath on the same side as the den/bedroom that's only steps away; there's also a main-floor laundry/mudroom (just before the great room to the left), too. Everything makes sense -- you feel like everything has been placed exactly where it should be."
From there, the foyer, which is defined by rich, textured taupe tile, merges into a great room that's defined by space and light. Even though the main floor is only 1,395 sq. ft., every inch of the space is well-used and well-lit.
"Even though the great room is an open-concept design, which makes for excellent flow from space to space, each space is defined," said Needham. "The kitchen features an eight-foot by four-foot island with (beige/taupe) quartz countertop, undermounted double sink and breakfast bar for three. There's plenty of room to move around the island and in the kitchen, making it an area that's ideal for cooking and entertaining."
Finishes in the kitchen are impressive: countertops with more of the quartz that tops the island; espresso maple cabinets (loads of them); an off-white subway tile backsplash; and dark wide plank laminate hardwoods that run through the kitchen and dinette areas. A six-door pantry adds a practical touch, with plenty of storage space for key culinary items.
Meanwhile, the rear portion of the kitchen is inhabited by an oversized dinette area that comfortably seats six -- plus a patio door and huge window.
"The patio door leads to a backyard deck that's great to grill on and sit outside with guests when you entertain, while the window lets in all kinds of natural light. One of the best features of the great room, aside from all the space it offers, is that it's filled with so much natural light. The unit's rear wall is filled with glass, including a huge three-section picture window in the living room."
Just as the kitchen is defined by its island and the dinette is defined by a jog in the wall between it and the living room, the living room is stylishly defined by a tray ceiling and beige berber carpet. The result is a great room that feels well-balanced, with plenty of light, space and subtle separation.
"It's another example of just how much time Irwin Homes' design team put into the floor plan," he said. "They got every detail just right, making for a very livable, versatile area."
Another space that's eminently livable is the home's master suite, which, like the great room, is bright, spacious and well-appointed.
"It was placed away from everything to make it a space that offered as much privacy as possible. With its high ceiling and generous size, there's plenty of room to work with, while a huge picture window lets in all kinds of light. It also comes with a huge walk-in closet (with built-in storage), as well as a three-piece ensuite with five-foot shower and white maple vanity with grey countertop and oval sink."
Two more design features make the unit -- which feels more like a single family home -- an ideal residence for active empty nesters to downsize into.
"Storage is often a concern for empty nesters, but it isn't here," said Needham. "You get a double attached garage, plus a basement that offers about 1,200 sq. ft. of livable space. You can put a workshop in the garage and use the basement in whatever way that best suits your needs: for storage, or you can put in a rec room, two bedrooms, a four-piece bath and storage room. The bungalow and two-storey units in Country Estates Condominiums have the space, style and convenient location that perfectly suits the needs of empty nesters."
lewys@mts.net