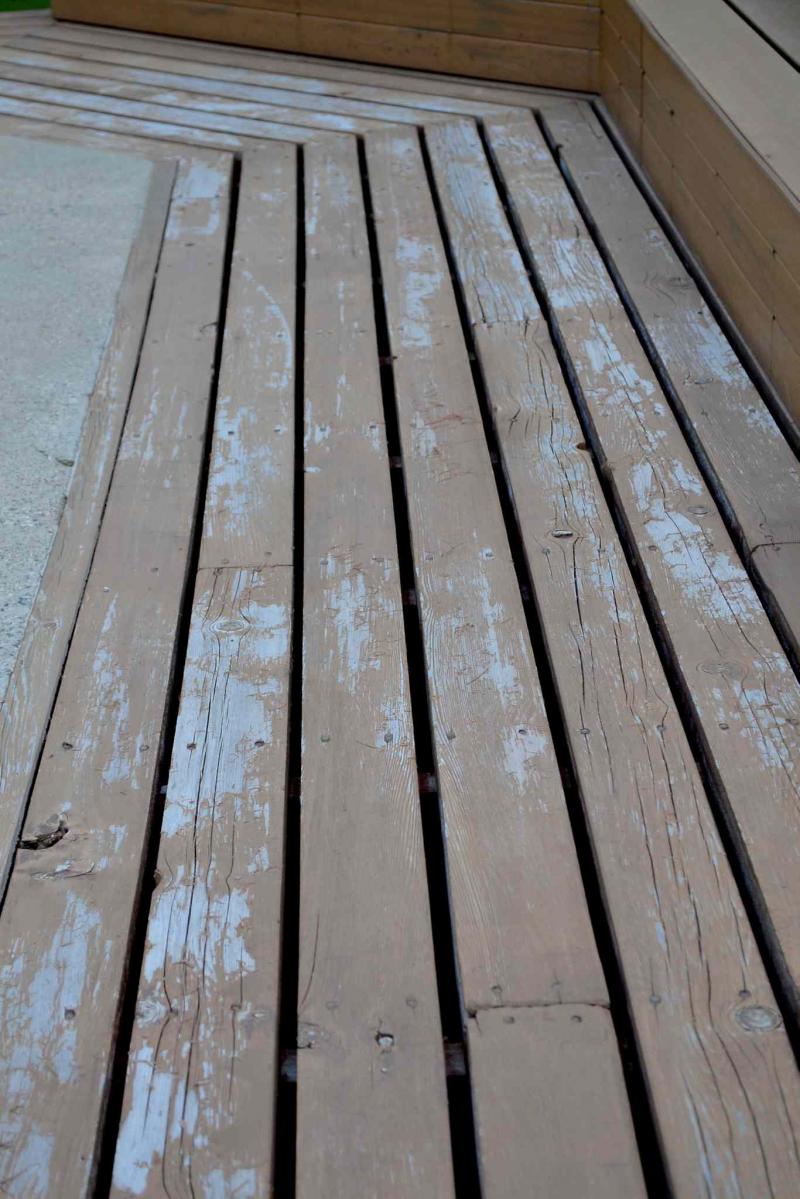 I've received a number of questions and comments from readers concerning a July 5 column on how to prep a deck for re-staining. As a result, I've decided to return to the theme to answer the queries and respond to the opinions in order to share the information with other readers.
One reader asked why I didn't include power washing as a method to remove old stain and bird excrement from a deck, a method that worked for him.
In my own case, I've had limited success cleaning a deck with a power machine. The spray was either too weak or too harsh to remove all of the old stain and other natural detritus that had adhered to the deck. Adjusted to a fan spray, it lifted off flaking stain; however, I could only remove stain that was firmly stuck to the deck by fine-tuning the nozzle to project a needle-like spray that left some deep incisions in the wood at the same time. It took a lot of work with a belt sander to remove these surprisingly deep scars. Perhaps, I thought at the time, the power washer I used was underpowered because in the fan-spray mode it lacked the muscle required to fully clean the deck. In the end, I resorted to an angle grinder with 60-grit paper to eradicate the most obstinate stain. Then I had to remove the swirl marks made by the grinder with a belt sander and 120-grit paper. My experience with a power washer suggests the machine has limited value as a stain remover, but it is good for cleaning out gaps between deck planks and washing cobwebs, fish flies and other gunk from the fascia, soffits and walls of a house or cottage.
A paint saleswoman who did not want her name published said power washers are not generally recommended for removing solid or semi-solid stains because the spray will fur or raise the wood's grain if applied with too much power. She added washers force water deep into wood pores, saturating them to the point where it can take two to three days of hot, sunny weather to dry the wood sufficiently to properly absorb a solid or semi-solid stain.
"My recommendation is that people remove old stain with a quality cleaning product that can be brushed on with a scrub brush or sprayed on with a garden sprayer," she said, adding a brightener, applied in a similar manner to the cleaner, will enhance the natural colour of the wood.
She said some cleaners require the application of a second product called a neutralizer (usually a brightener) to prevent cleaners from damaging the wood.
"Before you use a product, read the instructions and test it on a small area of your deck that will not be seen such as under a barbecue," she said.
To get the longest life out of a finish, she suggested applying a clear-coat, oil-based product that enhances the colour and figure of a wood deck, but contains no pigments that tend to sit on the surface of a deck instead of penetrating the wood cells.
"In this harsh climate, the maximum life expectancy of a semi- or solid stain is about two years," she said, adding a clear coat may have to be renewed each year, but the ease of application (no old stain to remove) makes it a worthwhile alternative to pigmented products.
Melissa Johner of Windsor Plywood said pressure washers can be useful for removing stain as long as the pressure does not exceed 500 pounds per square inch and the water is applied in a sweeping motion so it is not concentrated in one area.
"A light furring or raising of the surface grain is not such a bad thing as it will allow the boards to absorb more stain, similar to the way rough-faced fence boards will soak up more paint or stain than smooth ones," she said.
She said the ideal way to stain is to coat all six sides of each board to create a protective moisture barrier around it.
Pigmented stain failure is due to a number of factors, including moisture penetration from below a deck that is less than 1.2 metres above ground.
"In such situations, insufficient air circulation will allow moisture to gather on the underside of decking planks, eventually causing the stain-to-wood bond to break down -- the result is unsightly, flaking pigment," she said.
One reader asked whether the placement of a deck would affect the length of time a solid or semi-transparent stain would adhere to its surface.
The answer I got from Darryl Harris of Dulux Paints on Portage Avenue was that stain on a north-facing deck would be less prone to fading caused by the sun's UV and infrared rays.
"Whether the stain would remain on the wood for a longer time is difficult to say because there are so many variables at play including preparation, type of product, exposure to large amounts of moisture and so forth," he said, adding more mould and mildew would likely be evident on a north-facing deck.
I noted this phenomenon on a small cedar-tone porch I built on the north side of my workshop. The porch has weathered many torrential downpours in the five years since it was built, but the stain has barely faded, though there is mould on a couple of cupped planks where moisture sits.
By contrast, I have a west-facing deck made of the same pressure-treated product as the porch. In this case, the combination of exposure to sunlight and moisture turned the boards grey within two years.
I spoke at some length to Ed Novakowski, owner of Tyndall Power Products, who read the July 5 column on prepping and staining a deck.
Novakowski has a gorgeous backyard with a swimming pool surrounded by a multi-layered deck, a combination of solid cedar and composite Eon boards.
"More than once, I've spent hours on my hands and knees with a belt sander removing the old stain from the cedar planks. I've used all the appropriate prepping products available from paint dealers. But the results are always the same -- I get two years out of a finish and then it starts to fade and peel," said Novakowski.
"I've tried water- and oil-based clear penetrating stains that were supposed to last at least five years," he added. "At the end of the day, there's only one decking material that doesn't require undue maintenance. It's called Eon."
Indeed, his main deck with its different levels, mitred stairs and railing was built of Eon about 15 years ago at a cost of $6,000, including a strong undercarriage of pressure-treated two-inch by 10-inch joists on 12-inch centres.
Novakowski said even though the Eon decking was three times the price of treated wood, it has withstood the harsh Manitoba climate and looks as good today as it did when first built.
"When I get the time, I plan to replace the cedar planks with Eon. Even though I love the look and colour of freshly finished cedar, it's simply too labour-intensive to maintain a wood deck," he said.
A salesman at Home Depot in Winnipeg said Eon is available by special order.
"It comes in 12-, 16- and 24-foot lengths for about $3.20 a lineal foot," he said, adding a two-inch by six-inch by 16-foot length of pressure-treated cedar-tone costs about $16, or $1 per lineal foot.
davidsquare81@yahoo.com