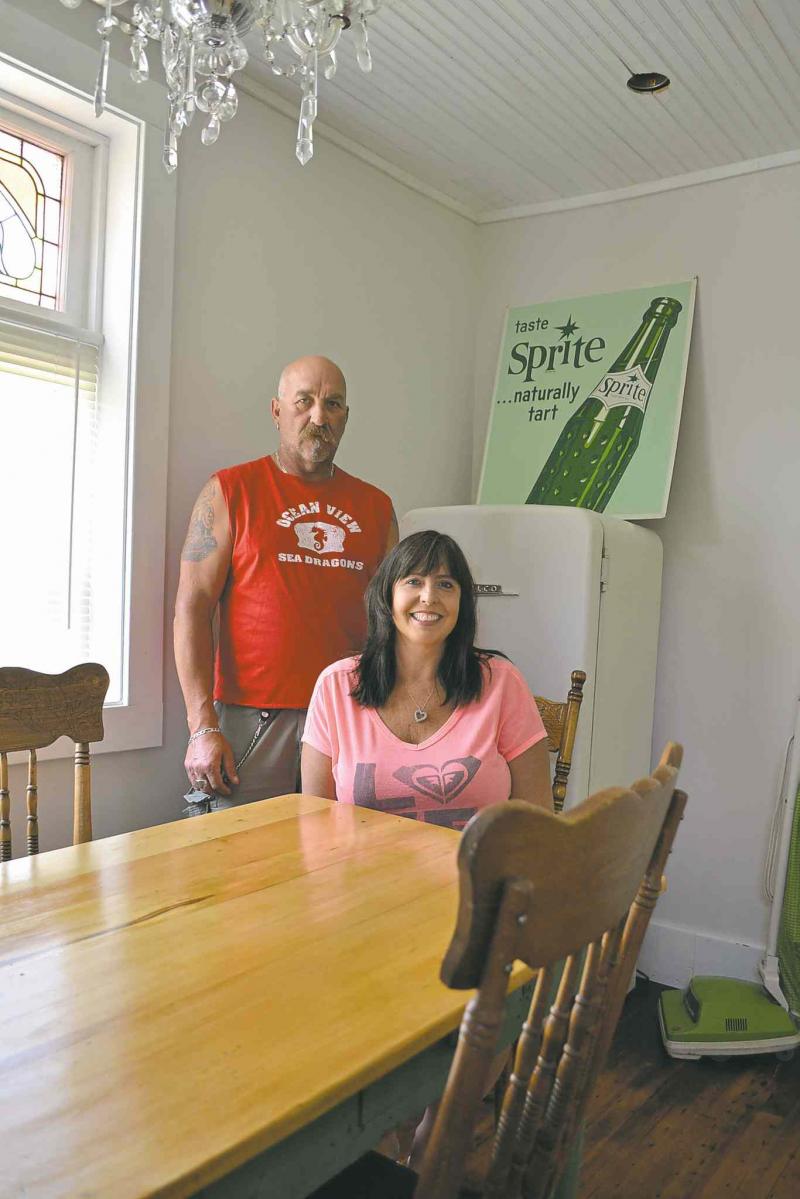 A Winnipeg Beach couple believes the greatest challenge to a DIY reno is "not to kill each other during the process."
"If you can survive the initial couple of months, then you've got a solid relationship that will likely last forever," laughed Nicole Zadorozny, smiling at partner Ron Prokopetz.
"We've had some arguments," agreed Ron. "But at the end of the day, we always managed to resolve them peacefully."
The couple recently purchased a former corner store located in the midst of Winnipeg Beach with the intention of turning it into the Candies & Curiosities shop.
Constructed in the 1930s, the building may also have been a lumber store during its long history, though very few people in the area recall it being anything but a derelict eyesore referred to as the "crack house."
When Nicole and Ron bought the infamous building in the summer of 2012 from non-resident owners, it had been boarded up and uninhabited for several decades.
"Apparently an older man considered a hermit by locals lived in the shuttered store for some years with only a small wood heater to keep him warm in winter," said Nicole.
"It would have been a cold, drafty place to live in. When we began the interior renovation and opened the walls, there was no insulation, not even sawdust, though we did find an 1898 penny," added Ron.
To the delight of permanent and summer residents of the beach, the dismal looking store received a facelift when its new owners purchased 4000 cedar shingles for the outside walls.
"Before we put them up, I spread them throughout the backyard so I could seal all six sides with a preservative stain made by Behr," said Nicole.
Though many passersby thought she had lost her mind, the "determined woman" completed the two-part job that required flipping each shingle after it had dried in order to apply finish to the backside.
When the tedious job was completed, she handed the shingles to Ron who stood on a ladder and hammered each one into position with hot galvanized nails to prevent premature rusting and black runs caused by rain carrying rust down the face of the cedar.
"It was a tricky job because the shingles varied in width," recalled Ron. "To ensure the spaces between courses alternated required a lot of mixing and matching."
Because the couple wanted the building to have a traditional look, Nicole did some research on the Internet and found a man in Newfoundland who had hand-carved a set of corbels to match an 1800s home in Pennsylvania. He had 18 leftover and sold them to her "at a very reasonable price."
The handsome brackets were painted white and are spaced along the white fascia of the building's flat roof, as well as above window frames to carry the weight of wood awning boards.
The original windows were mostly replaced with modern double-glazed units though Nicole included stained glass windows she had purchased at auction or, in one case, from one of the oldest cottages in Matlock.
"I had the stained glass windows mounted above the new ones. When people see the colourful glass, they think it is original to the building which is exactly what I had hoped," she said, adding she gained her design experience during a short architecture stint at the University of Manitoba.
"I moved to the Faculty of Commerce at the U of M where I earned a commerce degree that has helped me to arrange financing and to understand many other business details concerning this venture," she said.
For example, Nicole is not concerned about sourcing sufficient merchandise to stock the shelves and showroom of the store because she and Ron have a cottage and a home stuffed with antiques and curios they have collected over the years.
With the exterior of the Candies & Curiosities shop nearly completed, all that's required is a porch, stairs and railings that must meet government building codes for public access.
"Interlake Planning has been very good to us," she said. "However, we've spent about $500 on building-code permits for electrical, plumbing and furnace upgrades for which we hired professionals." (Permits are required whether you do the work yourself or contract it out.)
The interior of the building was completely gutted before renovation work could begin inside.
Ron said he began by tearing solid T&G fir planks off of the walls.
"The boards couldn't be salvaged because some gung-ho carpenter has used hundreds of nails to fasten them in place. As a result, they came off in small pieces that weren't useful for anything," he said.
The exposed wall studs were two-by-fours placed at irregular intervals, a common building method before 16-inch and 24-inch on-centre construction became mandatory.
Because modern code requires a minimum of R-20 insulation in wall cavities, Ron purchased economy grade studs, ripping them in half to yield lengths of spruce that were nailed to the faces of the existing studs.
"This gave us enough depth in the walls to meet code," he said.
In the attic, the couple discovered a T&G fir floor suggested the building was designed to accept a second floor.
"Nicole insulated most of the attic with Roxul; however, as she got closer to the roof edge, the distance between the floor and roof became so small that she had to throw wadded pieces of insulation into the crevices," said Ron, adding that an insulation blower was rented from Rona in Gimli to complete the job.
A divider wall that enclosed a bedroom was removed on the main level to increase the area of the sales floor and, though it was painted navy blue, a structural wall covered with fir boards was saved.
"I can't count the number of coats of white paint it required to hide that sombre colour," remarked Nicole. "And that was only the beginning."
More dark blue walls, a black concrete floor in the main room, and dirt-encrusted T&G fir floors in the back rooms created an oppressive dreariness in the building suitable for a Gothic horror novel.
Nicole drywalled and taped the exterior walls and most of the interior ones that divide the building into three areas: a showroom at the front, a cooking area behind and office space in the rear.
She stripped old paint from the concrete floor with a commercial TSP-based cleaner that she and Ron purchased for $1 a bottle at a garage sale.
"I removed the grimy varnish from the the fir floors with a hand sander that didn't have enough power to get down to bare wood in some places," she said, adding the mottled look of the boards complements her traditional design concept.
She painted most of the Gyproc Painter's White, a product with a slight grey undertone that softens the harsh glare produced by pure white.
"It's a neutral tone that allows furniture and other pieces in a room to really pop," she said.
The ceiling in the sales area is pressed tin tiles that look original but were purchased for $7 each from a salvage company; the shelving units were made out of recycled 3/8-inch and half-inch fir plywood.
In the kitchen, Ron used thin strips of pine to reproduce the look of a 1930s ceiling.
"We're both bargain hunters and attend garage sales on weekends and search through antique stores whenever we get the chance. The back door for our shop was purchased at an antique sale in Moorhead, Minnesota," said Nicole.
She said she has been carting around an old sink she bought 15 years ago at a sale. She purchased a set of original faucets including a soap dish from an antique dealer for $25. Now the sink has found a permanent home in the shop's kitchen, along with a wall-hung cabinet with wood-framed stained glass doors, a working Philco fridge purchased for $10 and a table Nicole found in a landfill and refinished herself.
The antique sink, a reproduction of which sells for about $650 at Menard's in the U.S., was mounted on a cabinet built with the legs from the couple's dining room table.
"Between our sweat equity and our salvaging, we've saved tens of thousands of dollars," said Nicole, who would like to be open in time for Winnipeg Beach's annual summer festival, Boardwalk Days.
"At this point, however, trying to meet that deadline just might kill us," she opined.
davidsquare81@yahoo.com