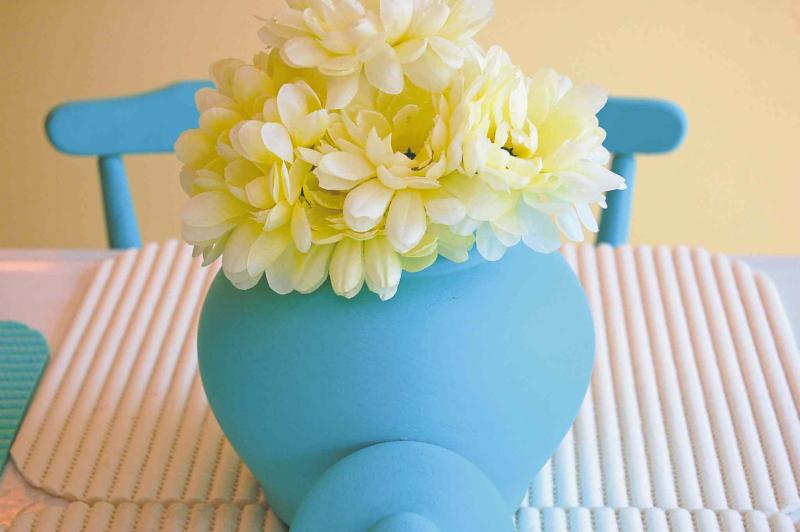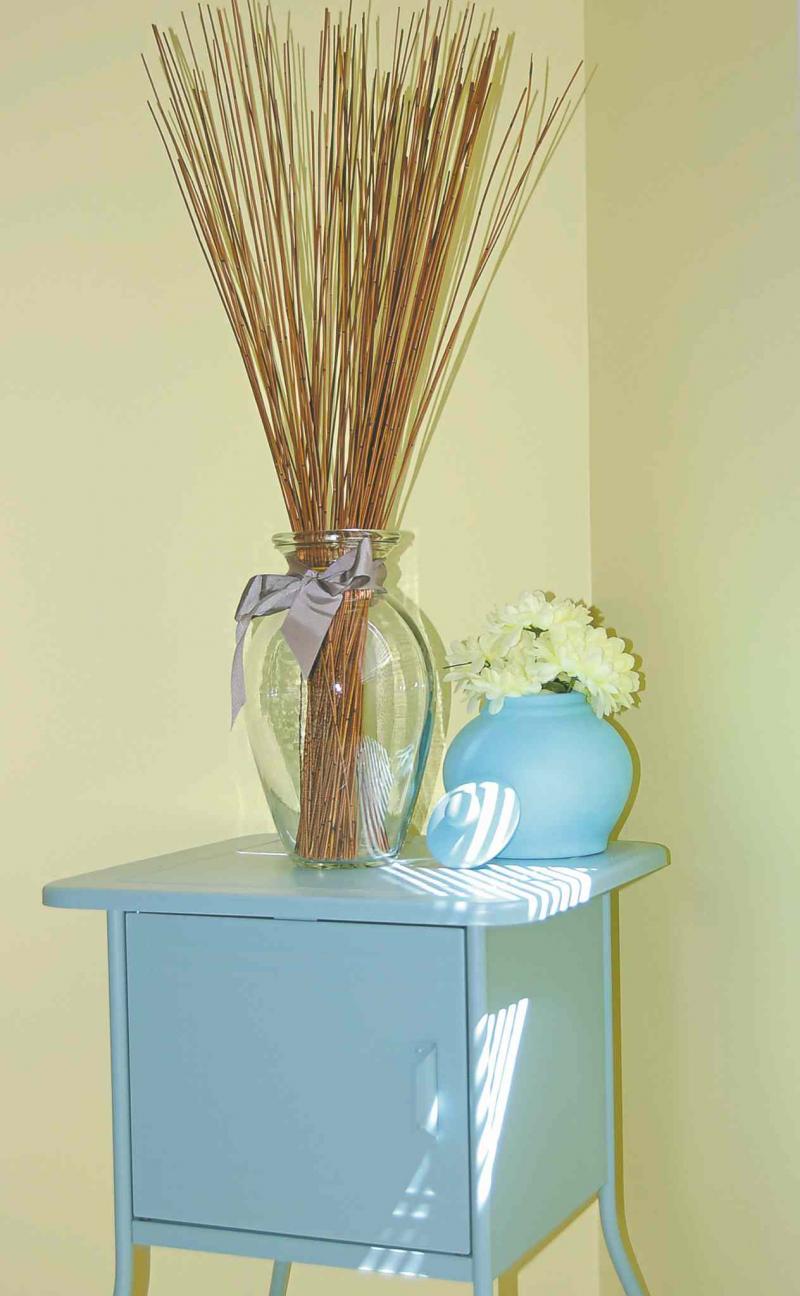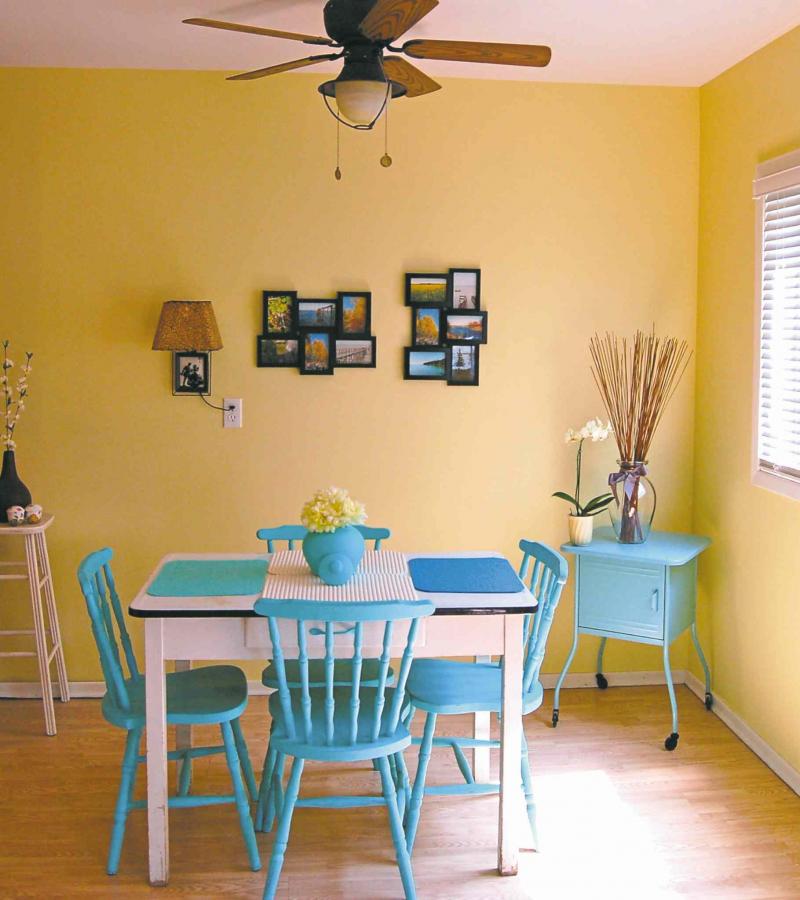 Call me crazy, but I just love my newly painted wooden dining chairs and vintage tin and enamel-topped dining table. It took a while to get to this point so I thought I'd share the story with you.
As you know, if you've been reading my column regularly, my husband and I are currently renovating a condo we recently purchased and plan to move into. The L-shaped living/dining room offered a small dining space that is also adjacent to the galley kitchen. So, while it is a designated dining space, it's not a formal dining room by any means.
I was on the hunt for a truly unique dining suite that would speak to our taste but also fit the beachy feel of our new home. As well, the dining area is rectangular so I needed a suite that was on the small side but could seat four to six people.
I searched Kijiji faithfully for months to no avail. We also visited several big-box chain furniture stores but were left disappointed at the lack of suites that really spoke to our tastes. We were also disillusioned by the price of new dining table sets, especially since many of them were not even solid wood. No luck at the thrift stores or antique shops either. Like I've said many times, sometimes you have to be patient and wait for the item to find you. I decided to follow my own advice and leave the hunt for a few weeks.
We dropped into AAA Consignment in Osborne Village on a whim a few weeks later and found our awesome 1930s tin- and enamel-topped table, which had just the right amount of natural age to it that it felt like it had been in the family for years. I love things with history. When we decided it could work as a dining table and would perfectly fit the size of our dining space we searched the shop for chairs that were in proportion to the small-scale table. We found a set of four brown wooden chairs, which were perfect, except for the colour.
I had been interested in all of the hype in the decorating arena about chalk-based paints for furniture refinishing. I wanted a bright, cheery colour for the chairs so I took a class on using chalk-based fossil paints at Furniture Facelift by Kobi, which is so far the only Manitoba dealer of Vancouver-based van Gogh Fossil paints. I like to shop Canadian when possible so I was happy to find this Canadian product here in Winnipeg. Check out their great furniture-refinishing products and ideas at Furniturefaceliftbykobi.ca. You will be inspired to try your hand at revamping your old wooden furniture.
Once I finished the class, I painted the boring brown chairs in van Gogh's signature colour, appropriately named "van Gogh." I lightly scuffed the sheen off of the chairs and painted two coats right over top of the brown varnish. I wanted to have a distressed, aged look so I sanded down wear spots on the chairs. Once I was satisfied with the finish, I used the van Gogh soft wax to seal the paint. I absolutely love my crazy blue chairs and the entire dining set looks wonderful against the Dulux "May Yellow" wall colour.
The table legs are naturally distressed white wood, which will be left as is. I like the aged feel to the piece. The table has a small cutlery drawer that was raw wood inside so I purchased some Toile patterned self-adhesive paper from a dollar store and lined the drawer. It looks likefabric and finishes the drawer off nicely. The enamel top is trimmed in cobalt blue enamel that is quite lovely and in good condition. We will be repainting the white enamel top of the table in the near future (leaving the cobalt blue band) but for now I decided to cover up the nicks and scratches with colourful placemats, which I also found at the thrift store.
I didn't care for the handle that was on the drawer so we found a different drawer handle at a thrift store, which I promptly painted in the van Gogh colour. This small touch helps the table relate to the turquoise chairs, making for a great matching set.
I found a sad-looking but hand-thrown clay pot with lid at the thrift store and knew it would look smashing in the van Gogh colour. It was transformed with a few coats of paint and is now one of my favourite accessories to date -- and it cost less than $5.
I was also on the hunt for window treatments that would work with both the large windows in the condo and the fact that there are electric baseboard heaters below each window. I decided on custom cut 1-1/2 inch faux wood blinds, which I ordered from Sears catalogue for the living room and dining room windows. They really add a British Colonial feel to the bright and cheery dining space and won't interfere with the baseboard heaters in the winter months as long draperies would.
Every time I look at the dining room I smile with pride that we were able to find and create a unique dining set and that we were able to do so for less than $100. We love the cheery look and feel to the dining area. It's a feel-good space, and that's what it's all about, isn't it?
connieoliver@shaw.ca