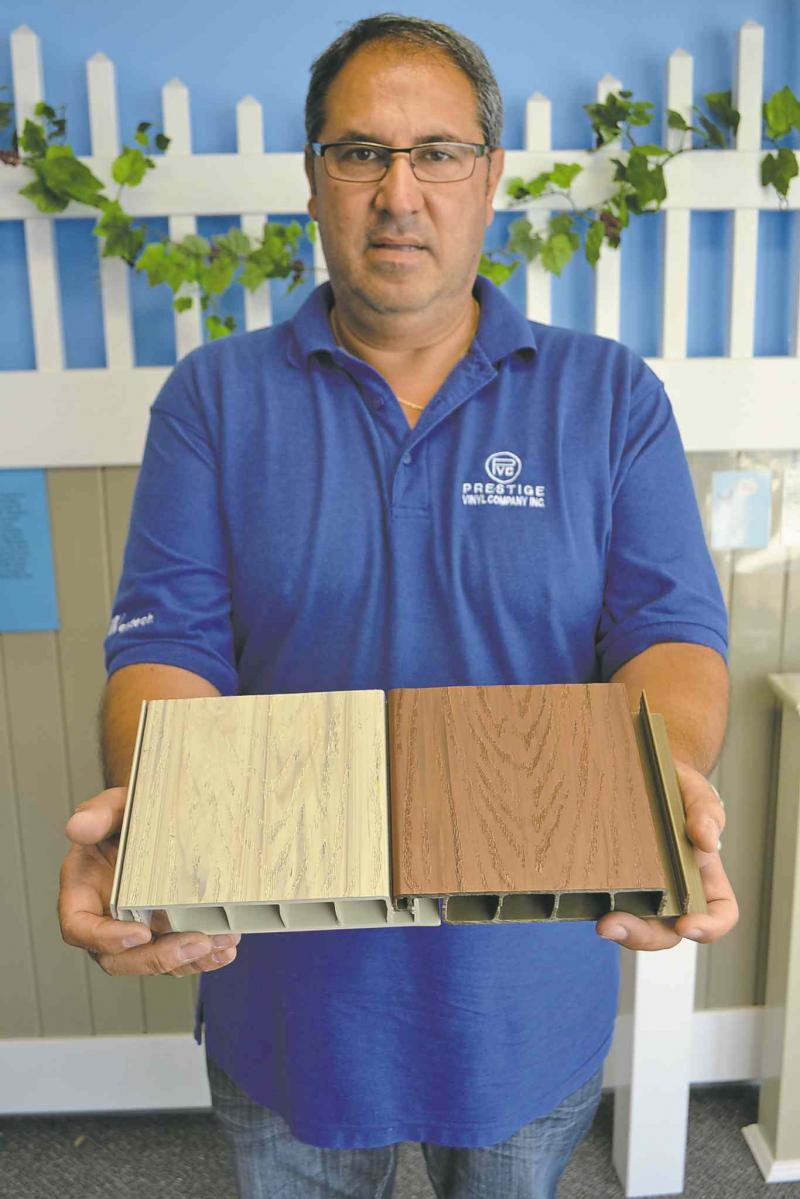 Is there such a thing as a maintenance-free deck? The answer is that it depends on your definition of maintenance-free. After I wrote two columns on cedar and treated-wood decks -- both of which need to be re-stained every two years -- a reader sent me a query asking whether some of the new composite capstock or vinyl deck materials live up to the no-work promises that come with them.
Capstock boards are a relatively new product marketed by Rhino and Trex, to name a couple of the best-known brands. They are an attempt by companies to improve the visual quality and expected lifespan of earlier composite materials which didn't resemble real wood and were prone to staining, fading and, in some cases, falling to pieces.
Though each manufacturer has its own secret formula, all of the products are composed of wood fibre and a resin binder such as polyethylene or poly-vinyl chloride. The difference between old-school composites and "capped" boards is that the new composites are wrapped in a polymer coating that prevents sunlight from bleaching darker boards and inhibits water from leaching into the inner core, where it can cause all sorts of mischief. The vinyl wrap also discourages the growth of moss, mold and mildew, often caused by spores infiltrating microscopic holes in uncapped composites.
Armadillo is a capped vinyl composite marketed by Rhino and sold in Winnipeg by Windsor Plywood.
"The product has been a good seller for us because it comes with a 20-year warranty and in a range of colours and figures that look very much like natural woods," said salesman Ed Johner, adding that the material is textured to prevent slipping and to make it feel like real lumber.
He said Armadillo comes in several unique colours including Painted Desert, which combines the peaked figure of a sawed-flat board with the variegated tones of natural cedar such as black, brown, orange and tan.
The product is available as 6-inch-wide grooved boards applied with hidden clips or as solid boards face-screwed to joists. Cut ends must be treated with Rhino End Sealer.
Jeff and Hannah Smith installed a grooved Armadillo porch on their home near Portage la Prairie more than a year ago.
"It withstood last year's terrible winter without fading or cracking. The only thing I noticed is the gaps between boards butted together tend to expand and contract with temperature variations," said Hannah.
Her spring maintenance consisted of cleaning the porch with a solution of mild soap and water.
She said her husband and father-in-law, Art, both experienced carpenters, installed the 16-foot-long boards without much trouble; the only difficulty was moving the heavy material into position without dragging it across an existing board, which would have created a small scratch.
"There has been no problem with deck furniture gouging the material, something that concerned us at first," Hannah said.
The Smiths' next project is to build a large, multi-tiered deck in their backyard. At this point, they are debating whether to use natural wood or to go with Armadillo, which costs three times as much but requires minimal maintenance.
"The initial cost of Armadillo is substantial," said Hannah, "but when you consider the price of stain and the amount of labour required for the upkeep of natural wood, it's tempting to use the composite."
The largest player in the composite decking game is Trex because it has been so widely advertised, said Cliff Johnson of Star Building Materials.
The wrapped product sold by Star is Trex Select -- stocked in two colours only, Saddle and Pebble Grey, selling for about $6.50 per square foot in grooved boards and about $6 in solid material, Johnson said, adding that the cost of fasteners and end cut preservative is not included in the price.
Trex Select is wrapped on three sides only to allow the underside of the 6-inch-wide boards to breathe, according to the manufacturer.
The knock on the three-sided wrap (most capped composites are four-sided) is that the vinyl covering does not adhere tightly to the substrate. The result is that the protective layer has been known to slide off boards as they are being unloaded. That being said, Trex is so confident in its capped product that it is offering a 25-year limited warranty on the material. (Buyer beware: It took class-action suits in the U.S. against Trex to force the company to live up to the warranty on some of its earlier non-capped composites that failed to meet stated guarantees.)
For what it is worth, my choice of maintenance-free decking is solid vinyl (PVC). Though it is one of the priciest products, it has come a long way since it was first introduced to the market in the late 1980s.
Early forms of the material were slippery, limited to light colours and easily scratched. By comparison, today's PVCs are textured to prevent slipping, come in a variety of darker, variegated colours and are more resilient to scratching than hardwood or composite products.
Dino Chouzouris of Prestige Vinyl Company Inc. in Winnipeg is a proponent of Gorilla decking, an extruded PVC with thick walls and interior webbing for added strength (a car can be driven on a completed deck.)
"The material is completely waterproof and can be installed as a combination deck/roof over a room or used to build docks because it channels water to the sides of the platform, not through it."
He also likes Gorilla's snap-together T&G design that requires only one hidden screw per joist to hold each board in place, as well as its cool surface that's easy on the feet and easy to clean.
Gorilla is sold in 20-foot-long pieces that are about 1-inch to 1�-inches thick, available in Mocha Walnut and Gray, both of which are textured to resemble wood and to increase safety.
"The Mocha Walnut is very beautiful and looks like a cedar-stained board," said Chouzouris, adding Gorilla has a 25-year warranty.
The downside to this product is the cost: $10 to $11.50 per square foot, compared to high-end capped Trex at $7 to $8 per square foot.
But as Chouzouris points out, the snap-together design cuts down on installation costs and the material has a proven track record in all climates.
Final word: Use a plastic shovel when removing snow from any type of decking to prevent marring the surface. I suppose this means that no deck is absolutely maintenance-free.
davidsquare81@yahoo.com