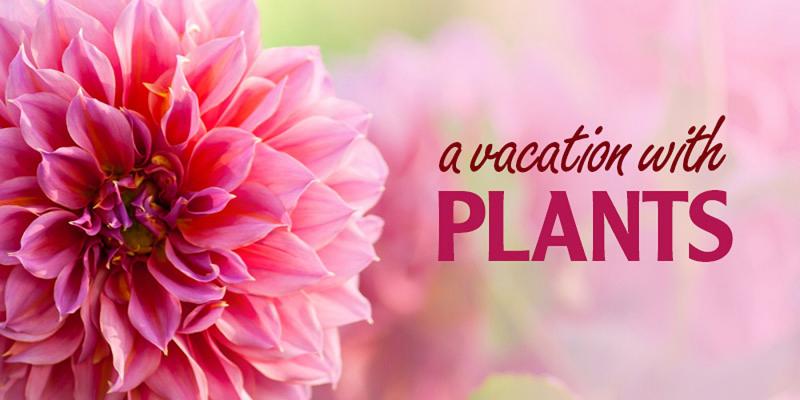 February and early March found many folks away on adventures to warmer lands - tropical havens rich in flora and fauna. Many new to enjoying the greenery and many with a "gardener's interest" in plants were quick to listening, or relay tell-telling stories of vacation spots boasting of gorgeous plants they were witness to. Where they've been, temperatures they experienced, what they did and what they saw are amongst the details of the adventure. Being the gardeners we are, it is enjoyable listening to folks about their adventures and plant finds. Their passion for talking about plants delights as much as ours. It is fresh to see and hear of these indigenous plants in their natural surroundings, which we know more commonly as "tropical plants" for use in homes, offices and seasonally as patio or container gardening during our warm summer months.
Much emphasis is placed on the tropical varieties which bloom profusely in the tropics. Palm trees, and flowering varieties like hibiscus, jasmine and bougainvillea are ones most searched for. There is beauty in seeing a plant in bloom during a time when our homes are nestled in cool white blankets of snow; whether we grow them in our homes or are able to witness them in their natural habitat.
Trips to the garden; trips to the world through plants.
This year the garden centre takes you on a trip; a trip to different destinations. Plants named for cities around the world. Like a destination, each plant has its own characteristics, features and exciting qualities.
Come along with us for a visit to our gardens.
Begonia boliviensis California Sunlight is a true favorite. The pendulous tilt of the bright orange flowers possess a contrast to the dark foliage held in a mounded form are excellent for containers, either singly or with mixed plantings. It is a perfect selection to use in baskets in a shady or to part sun location. This plant gives a tropical look to any shady corner of the garden. The abundance of flowers and its dense foliage habit makes it a perfect plant.
Dahlia dahlinova series - Majestic with intense double blooms. Most dahlia come in a multitude of colors. They perform best by increasing their branching by completing a "pinch" of the branching. Multiple new branching encourages a thicker base of foliage and a reward of more blooms continuous from summer through to fall. Dahlias do best in a wide range of locations; container pots, garden beds, landscapes or possibly for cut flower choices. Attributes of the dahlinova consist of attracting butterflies and hummingbirds as well as exhibiting qualities unfavorable to deer and rabbits.
Three varieties have us visiting three states - Florida, New York and Texas; an adventure across the United States.
Dahlinova Florida - bright, purple with whitish tinges to the petals. This plant matures to 12" height and width favoring full sun exposures.
Dahlinova New York - Pink with white shades; reaching a height of almost 12" with deep green foliage.
Dahlinova Texas - beautiful salmon pink with a soft glow of yellow with consistency in height to 12" tall.
Creating a garden experience with an adventure for travel. This year we also find perennial selections which have been graced with worldly names taking us overseas on a tour of the eastern world. The Heuchera are commonly known as coral bells. These named world varieties are considered almost evergreen in nature as the occasionally show true even as the snow melts off them from winter to the new spring. The low lobe-leaf foliage plants range in colors from greens, silver to ambers and deep rich burgundy graced with tubular blooms emitted along the length of its stem. Sometimes white to pink to deep pink/ red they are favorable to attracting hummingbirds.
Some of the plant varieties possess colored veins adding detail to the leaves. Planted singly, or in clusters; some varieties favor full shade while others will tolerate sunnier locations. They are gaining popularity in containers as well by creating an accent much like a bow would on a present.
Varieties favored for the worldly tour are such as Heuchera 'Paris', Heuchera 'Milan', Heuchera 'Shanghai', Heuchera 'Havanna' and Heuchera 'Tokyo'.
Heuchera 'Paris' - a fabulous re-blooming silvery, green leaf perennial with intense pink blooms which responds well to deadheading (remove the spent blooms to stimulate additional blooming ).
Heuchera 'Milan' - silvery purple foliage with pink blooms. Planted on mass in the landscape will create a beauty of color.
Heuchera 'Shanghai' - white delicate blooms held above rich burgundy purple foliage of deep lobed leaves.
Heuchera 'Havana' - definitely a shade lover, this bright lime foliage leaf variety is blessed with bright rose pink blooms. The chartreuse green color will accent or create a bold contrast to the landscape.
Heuchera 'Tokyo' - green with slight whitish tinge with continuous red blooms.
St. Mary's Nursery and Garden Centre features a wide diversity of perennials each growing season. Perennials and annuals, with those mentioned above play roles in the landscape or in the design element for container gardening. Let St. Mary's Nursery take you on an adventure to new cities. Plants with names from far or near will create a garden in which you can plan your "stay-cation"; in your own yard.