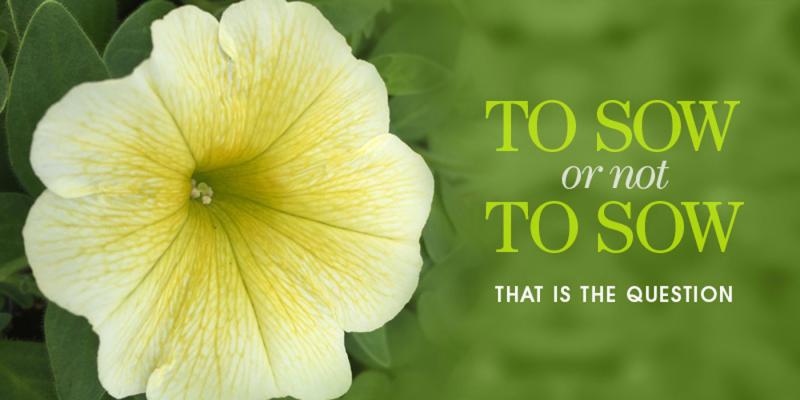 Spring is here! Oh what to do?
Just about a month ago the beginnings of seed selections began arriving at the garden centres. Seed selections: West Coast Seeds, Lindenberg, OSC, Fothergill, Livingston and Burpee are just a few to look for. Inquiries for seed selections have been on the rise at the centres since the first racks were received.
On the minds of gardeners over the past few months, the hunt for seeds is well underway. The end of April and early May is the time when garden centres have most of their selection of merchandise in stock. The seed racks are lined up in rows displaying the season's choices. Glossy seeds packets stand at attention row upon row revealing colorful photos of annuals, perennials, herbs and vegetables offering gardeners glimpses of the final product the seeds produce.
Seasoned gardeners gravitate to selections proven tried and true; though often inquiring about their selections recently recommended by friends or by the latest garden news or magazines. Loyal though, they stay strong with varieties and brands of seeds they have grown and have proven success with. A while back it was the experienced gardener who was more often likely to seek out heritage vegetable seeds (old fashion varieties which have not been altered) but now the novice gardener too is gaining knowledge of these varieties. It is also the younger generation gardener who is helping to drive vegetable gardening back into popularity. Venturing into gardening, the new gardener is quick to source herbs, and the latest trend.... spouts such as pea, arugula, dill, bean and cress, just to name a few which when grown will dress the best of sandwiches and salads.
To throw something into the mix of spring gardening are the bulbs, corms and tubers.
"What are these?" Fleshy roots in round, elongated and bulbous forms which when planted produce either flowers or edibles (something you can eat). Varieties of blooming forms are dahlias, gladiolas, and lilies while edible forms are shallots, onions, potatoes, and green or purple asparagus. On the tropical form, large bulbs similar to the size of a closed fist would be Elephant ear bulbs which produce dramatic massive leaves; perfect impact plants especially favorable for pond and poolside plantings.
Now, to offer yet another option there is still another choice way of beginning your gardening. Choose plants which have been started for you. Visit any garden centre now and you will reward your sight with the masses of annual flowers, bedding plants, and perennial varieties with colors, shapes and textures that have been seeded, transplanted and potted for you. Equally, garden centres have started numerous selections of starter edible plants and herbs.
From the garden centres view - it is impossible for anyone garden centre to offer all the entire collections of plants from one category. Take petunias for example. There are mounding, bedding, cascading, single blooming, double blooming; not to mention the multitude of colors let alone the multicolored ones, speckled ones, or like the old fashion two tone hula-hoop varieties. There are hundreds of varieties of which plant breeders have developed over the years from which garden centres carefully choose for their own garden centre offering for the planting season. We wish we can have them all but the amount of table space a garden centre has is limited. Ok ... maybe we can offer 40 to 50 varieties... Ok, maybe a few more if we put a few varieties in our hanging baskets and floor pots that are premade and ready to sell. Garden centres will always try to give you a wonderful blend or colors in all categories - annuals - perennials - edibles - herbs - tropical plants and yes... Right down to seed packets.
Beginning of May is the perfect time to visit the garden centres for a glimpse into seed and plant selections. You will see the beginnings of something grand.... plants coming alive with color - gardening ideas and displays at each turn you take. Take notes; keep your camera mode handy to capture imaginative ideas, dramatic color combinations and the beauty of blooms amongst the plants.
Question for you-----Do you prefer to seed some of your gardening needs and wants; or do you prefer to have some of these pre- grown for you? The choice is yours as your garden centre is set to assist you.
St. Mary's Nursery & Garden Centre is a 65,000 sq. ft. garden centre with creative displays and gardening accents. Walk amongst the perennial, annual and tropical departments for ideas. Sit by the koi ponds, or wander through the exterior courtyard of trees and shrubs. The staff of St. Mary's Nursery & Garden Centre will take the time to assist you and make your visit a growing garden tradition.