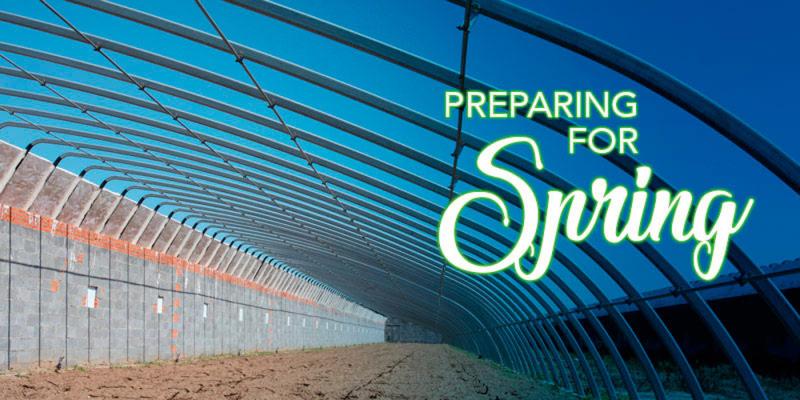 March can be a test to a garden centre. Centres are preparing for the upcoming season; multiple departments within their greenhouse business needing attention and detail. "Busy", yes! March is the start of the gardening season where preparation is vital. Schedules for planting are precise just as many of stores have experienced a shift or redesign of their setup; merchandising their upcoming trends. Most garden centres begin to feel the season inch upon them as each day passes by. Boxes and pallet high crates of plant plugs, merchandise, soils, pots, gardening and home merchandise arriving. Delivery drivers are familiar faces to the greenhouse operators at this time of year.
Re-opening greenhouses which only a couple months previous were nestled to bed with heaters turned off, silently standing during the coldest of months.
The pattern of production is inclusive. Scheduling and programming are fundamentals that have stayed the path but with some implementing technology changes over the years, start dates may have altered. January and early February now give a reprieve of production from long dark days and battling extreme cold temperatures.
Production feels good when it arrives. Now awakened by nonstop production, the pattern of a greenhouse operation begins again. Plants fill up one house at a time often spilling into adjoining greenhouses by each weeks' end as planting staff look at stacks of incoming freight of newly shipped boxed roots and plant plugs. Often, the next week's schedule plants arriving before the past week's plants have had time to extend their roots in the fresh packed soil in their pots. It is the testament of quick hands; people with a passion for plants and planting that have stamina to keep the pace required to take empty greenhouses and fill them to capacity. It is muscle building work as weather demands all matters to be compacted in space. Tables are loaded, baskets hung to capacity and every bit of floor space is utilized to the very inch until limits are exceeded; soon demanding the opening of another greenhouse. The awakening of another cold form is about to receive and nurture new plants.
From week one of scheduling to midway production, once empty greenhouses newly filled with soil filled pots quickly transform revealing crested green foliage baring budding blossoms of unfurling color.
With the sound of soil busters grinding as weighted plant carts are wheeled by there is the rhythmic hum of the roof fans which can be heard. To the greenhouse operator, the whistle of blowing air is an assuring sound of air being pushed into the two layers of thin poly roof which act as the sole barrier against March and early April's unsure elements. How cold can March be? It can be cold! The greenhouse operation praising sunny days which help with raising the mercury of the thermostats within their greenhouses.
Frequently during this time of year it is asked "what is that sound?". A pause; a listen and an 'ah-ha' moment brings the response: "that is the sound of the gas in our pipes feeding our large Modine heaters for the greenhouses". Yes, the gas is indeed flowing at this time of year in the Manitoba garden centres.
With plant production well under way there are a lot of other qualities to greenhouses these days. Gone are the days of greenhouses with sales consisting solely of plants, fertilizers, tools and chemicals. Progressing over the years, garden centres have evolved into settings which emanate a shopping experience. Local garden centres take on an identity; a characteristic of who they are and what they do. Following trends with some European centres, local garden businesses radiate a home and garden atmosphere; others have created a shopping experience for home, to garden, to lifestyle living including fashion, gourmet and even merchandise for pets. Some centres even offering sweet and savory offerings from their café's and dining areas.
Garden centres have changed. Yes, they have, but have they changed a merchandising practice of expanding out of their category? Are they no longer garden centres?
Listen to a story told: Long ago, a child visited her grandparent's farm in southeast Saskatchewan. On trips to town, often visits were made to the local Co-op store. A farm implement store. The store not only had tools, tires, and oil but also had pots, pans, housewares; and if memory served correctly had parcel pick up of various items. It was a store of many things; a unique store. To someone so inquisitive; one who could not fathom all the items to be had or the welcoming feeling from the proprietors – "in a farm implement store"?
Someone asked once of garden centres: "why all of the different categories?" Why not? Gardens are extensions of our homes. Homes are where we eat, sleep, live and entertain and enjoy family and friends. Gardens, large or small, are created to reflect who we are and how we want to enjoy it. From categories garden centres now offer, folks can enjoy the experience of shopping in their uniqueness.
On a visit to the greenhouse on any day; breathe in the scent of soil amongst the plants. Take time to stroll through the displays of garden, home décor, fashion and gourmets. Possibly there will be a child so curious to venture through all the areas and will one day remember a business so unique, so diverse that leaves a lasting memory.
St. Mary's Nursery & Garden Centre is a garden centre with a difference. Set in a welcoming atmosphere, the greenhouses take you on an adventure through gardening to home décor to fashion. Established with roots deep in landscaping – design and installation as well as a greenhouse growing
business; it has evolved to a shopping setting from home to garden you are sure to experience. It is a garden centre – true to its core but with a difference.