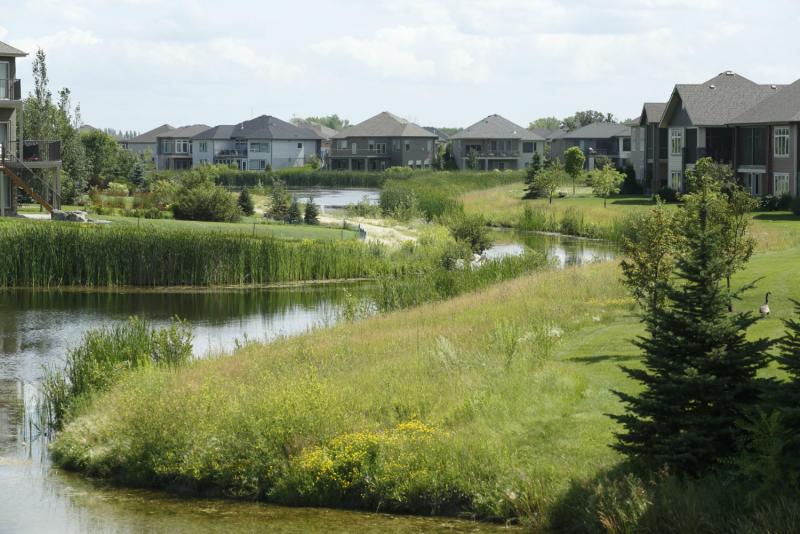 Simplifying your life doesn't have to mean sacrificing everything that's essential to making your house a home. In fact - it can actually mean you're getting more. Here in the tranquil and picturesque setting of Southlands Village you can bring together everything you desire in a truly custom home, yet enjoy the streamlined lifestyle that condo living provides.
Situated just outside of Winnipeg's North perimeter, this charming community of custom-designed, detached bungalows is set amidst flawless prairie landscape and natural beauty. It has become known for creating a breathtaking first impression for visitors and potential homebuyers alike.
"We can't talk enough about what it feels like to drive in and see the cul-de-sacs and bays wrapped around the private creek beds and wetlands," explains Dan Rolfe, Vice President of Maric Homes.
Maric has been building in Southlands Village for 7 years, so Rolfe has seen firsthand that as the community matures it just keeps getting better. This creates a return on investment that is a key draw for people looking to buy in the area, he says. "It's well-maintained, there is consistency and a sense of ownership and pride,"
"Those who understand and commit to the 'bare land' condo concept of Southlands Village really like it," says Rolfe. "It's offering the unique turnkey aspects of a safe, gateless community, providing some exclusivity, all while being fully maintained."
When you choose your lot in Southlands Village, included in the price is your choice of several high-end landscaping packages. On top of this, a very reasonable condo fee includes professional maintenance year-round. So, every flowing lawn connects to the surrounding lush landscape of native grasses, wetlands and dry creek beds all of which are meticulously groomed in the warmer months. During the winter, snow service keeps the pavements cleared from the streets and driveways, right up to your front door.
"That appeals to a lot of people. People would rather be spending time doing other things than taking care of their yard. It also makes it easy for professionals, travelers, cottage-owners and snowbirds because everything is still being taken care of whether you're there or not," says Kurt Streu of K. Streu Homes.
"One nice part about this neighbourhood is being able to build pretty much anything you want so long as it fits on the lot," says Streu. "You don't have to follow the typical cookie cutter style you see in other condo communities - you're able to do your own individual thing."
From the high-end finishes and fixtures, dream kitchens and advanced technology you'd expect in a custom build, to the number of bedrooms on the upper and lower levels, residents work directly with their builders to realize their specific vision. They're optimizing their home's design and square footage to suit the way they really want to live.
"We can develop something that flows well for entertainment purposes… virtually anything can be incorporated into the home," says Streu. And the flexibility is proving popular. "Really, this is almost the last chance to build in Southlands Village because this development will be sold out in the very near future."
Eric Vogan of Qualico Communities confirms that this unique development has gained a lot of momentum recently. "People are seeing that Southlands Village creates a way of living that has so much to offer," says Vogan.
"When you build in Southlands Village, you get incredible value," says Vogan. "This gives you the freedom to invest more into your home because it ensures that every house on the street will be finished to the same high standards."
For more info, visit us online.