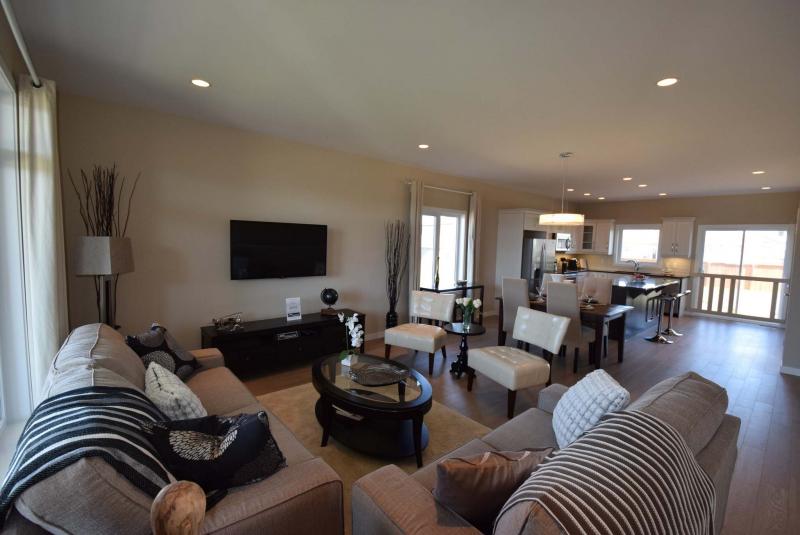 There are two elements that most people see as being mutually exclusive in a new home: space and affordability.
After all, the bigger the home, the more it's bound to cost — right?
Not necessarily, says Ron Tardiff, Ventura Custom Homes' sales representative for 29 Country Vista Dr. in La Salle.
"This home gives you a lot of house for your hard-earned dollar," he says. "For $434,900, including lot and GST, you get a 1,619-square-foot bungalow on a huge 70-foot by 156-foot lot. The cost of this lot is $98,900; cost of a similar city lot would be far greater. Not only do you get a bigger lot, but because side yards are 10 feet, there's 20 feet between homes, which gives you more separation." He adds that building outside the city also yields several other dividends.
"First, there are no growth fees. Second, your taxes will be a significantly lower than they would be if you bought a comparable home within city limits. And third, from La Salle, you're under five miles from the Perimeter, and it's just 20 minutes to shopping and services in the Kenaston Common area, thanks to the nearby Kenaston extension. Best of all, you've got the lifestyle that comes with living on the outskirts of town."
Ah yes, the country lifestyle: wide-open surroundings, minimal noise and a more laid-back way of life. Turns out, both The Sedona's exterior and interior were designed to provide its inhabitants with a relaxing, livable place to come home to at the end of the day.
"Most of the people that come out here come out for a change in lifestyle," Tardiff says. "Features like the (24 x 8 ft.) covered front porch are perfect for sitting outside to read a book, or sit and visit with guests before or after dinner. You can also put in a big deck off the (sliding) patio doors off the kitchen, at the rear of the kitchen, and use that area to entertain in a huge backyard, too."
Then, there's the home's great room, which, with its open-concept layout, was designed to mirror the wide-open surroundings outdoors.
A wide, deep foyer with nook for a bench to the right leads into the great room, which flows beautifully from a front-oriented living room into a centrally located dining area and, finally, into a spacious island kitchen at the rear of the home.
Space is never lacking thanks to a well-proportioned floor plan; the living room is 16.4 x 12.3 ft., dining area 14.4 x 10.3 ft. and kitchen 14.4 x 12.7 ft. Ceiling height is nine feet.
"I also love all the huge windows that surround the great room," he says. "Natural light pours in through a front door with glass centre, transom window and side lights, a big window next to the dining room, a large window over the double sink in the kitchen, and the patio doors on the kitchen's rear wall. The area is great for family life, or entertaining."
And while it would be understandable to think that a 1,600-plus sq. ft. home selling for a shade under $435,000 might lack style, that would be a mistake. This particular (show home) version of The Sedona, is well-appointed, coming with a nice combination of standard and optional design features.
"The two-tone (portobello/cappuccino) cabinetry is standard, while options include granite countertops, glass tile backsplash and wide plank laminate flooring," Tardiff says. "The 24-foot by 24-foot double garage comes standard with the home, as does the basement with nine-foot walls. Base price of the home is just over $274,000, including GST. We can get buyers into a 1,200-sq.-ft., three-bedroom bungalow in the area for about $335,000."
The Sedona's functional floor plan carries through to a bedroom wing made all the more functional by a small but significant tweak to its design, he adds.
"Previously, the hallway was three feet wide — the hallway in this version of the home is four-feet wide. It really makes a difference in how well it flows. An active family will really appreciate that extra one-foot of width on school day/workday mornings."
Moms, dads and kids will also appreciate a spacious mud/laundry room with garage access, big main bath with soaker tub — and three huge bedrooms. The two kids' bedrooms are 12.2 by 10.6 ft. and 11.8 by 10.6 ft. respectively, while the master bedroom is a cavernous 13 x 17.3 ft. in its dimensions.
"It's a private space that features a three-piece ensuite with five-foot shower (with integrated bench), large walk-in closet and big window that lets in lots of natural light," Tardiff says. "There's plenty of natural light and storage space in all three bedrooms."
There's also plenty of space downstairs — in fact, over 1,200 sq. ft. of livable space.
"Due to four large windows and steel beam construction — there's only one telepost — it's a bright, wide-open area that can hold another bedroom/den or two, a big rec room, bathroom and plenty of storage. You get a home with over 2,700 sq. ft. of livable space on a huge country-sized lot in a quiet area with low taxes that's just a short drive from the city — at a price we can tailor to your budget. This home offers excellent value in every area."
lewys@mymts.net
Details
Builder: Ventura Custom Homes
Address: 29 Country Vista Dr., Prairie View Lakes (La Salle)
Style: Bungalow
Model: The Sedona - 16
Size: 1,619 sq. ft.
Bedrooms: 3
Bathrooms: 2
Price: $434,359 (Including lot, GST)
Contact: Ron Tardiff, Trinkl Real Estate, 204-878-9565