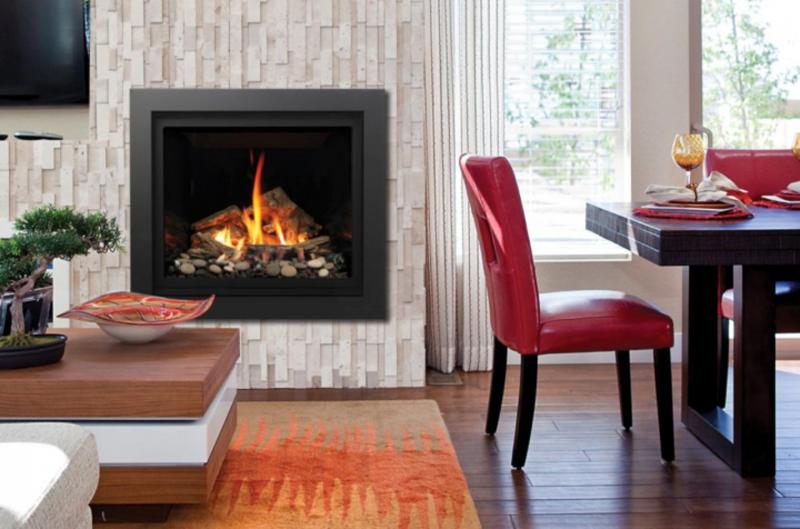 As temperatures begin to dip, what could be more warm and welcoming than curling up beside the flickering flames of a fireplace? With so many options available, here are a few tips to consider as you choose the right fireplace to heat up your space.
1. Study the styles
These days, the linear-style fireplace remains a hot-ticket item. These long, narrow units add character and class to any home.
Particularly popular is the Infinite series, which offers ample options in size, trim and overall look.
Helen Peters, co-owner of Classic Fireplaces, outlines style options that can feature glass, rocks, driftwood or a log or a combination of driftwood and rocks.
"There are a lot of people who prefer logs these days, depending how you're setting up your room and whether it's more traditional or more modern," she says. "The driftwood is a little more casual setting than just the standard log."
2. Consider your space
It's always important to fit the fireplace to the size of the room, Peters adds.
"You basically pick the size of room and then try to balance the fireplace with the BTUs so it's not too hot-burning for the space," Peters says. "Not every room will be able to accommodate a linear fireplace, so that's when you go with the smaller rectangular size."
For larger spaces, you might want to consider a big-view fireplace, such as the Bentley by Marquis.
"You can adapt the fireplace and customize it to your space," Peters says.
3. Divide your design
Another trendy approach is to incorporate a fireplace as a room divider. Many units, such as the Bentley and Infinite, are available in styles that are both single-sided and see-through.
Depending on your design, you can enjoy the relaxing effects of your fireplace in more than one room at the same time.
4. Think beyond the living room
Of course, fireplaces remain a focal-point feature in living rooms and family rooms, but you can also add a fireplace to any room in your home — including a master bedroom, an en suite bathroom or a front entry.
"You can put them anywhere and they don't necessarily have to be gas at that point — you can also use electric. In an electric, we have a lot of linear, square or rectangular styles. And with most of those, you can have glass or rock options for the media interior," Peters says.
"For gas, we have units that are in-wall mounted that don't take up a lot of space. We even have some units here that are as shallow as eight inches for depth. They're in a vertical style or square or linear so that they can adapt to any size of room."
5. Factor in functionality
Beyond building a cozy atmosphere, fireplaces come with the added benefit of providing heat for your home at a reasonable price.
"Gas fireplaces are economical. You can heat your home without spending a lot of money," Peters says.
"If you want, you can put it on a thermostat setting for even heat control. Then you basically just set it and forget it. You can use it for enjoyment as well as for heating the space." It is a great backup in the event of a power outage.
6. Just do it
When the weather is chilly, every day is a good day to curl up in front of toasty warm fireplace.
"After people get their new fireplace installed, most of them say they should have done it a long time ago," Peters says.
"We live in a place with a long winter, so we MUST have a fireplace in our climate. It just gives your home more comfort, more ambiance, more character and more warmth. Basically, the sky's the limit."
---
Classic Fireplaces is a locally owned and operated family business that specializes in complete package installations that can be customized to your style and design. You can visit their show room at 649 Archibald St. 204-237-4509 or visit them at www.classicfireplaces.ca