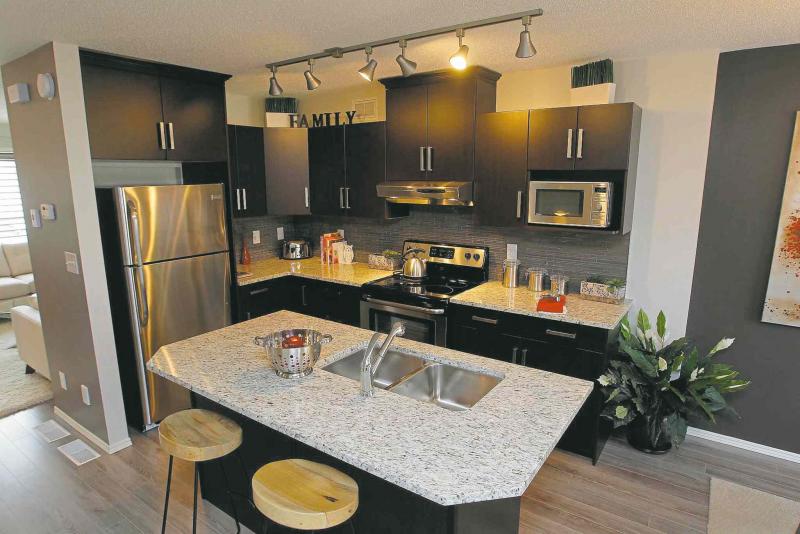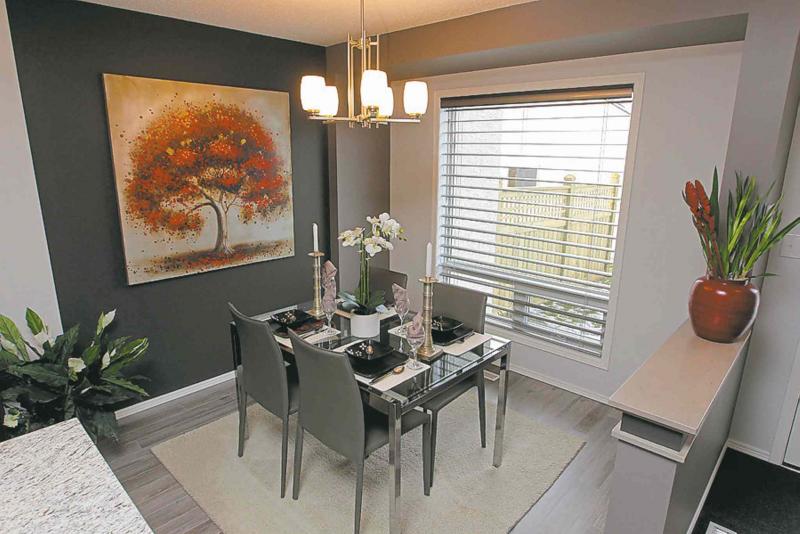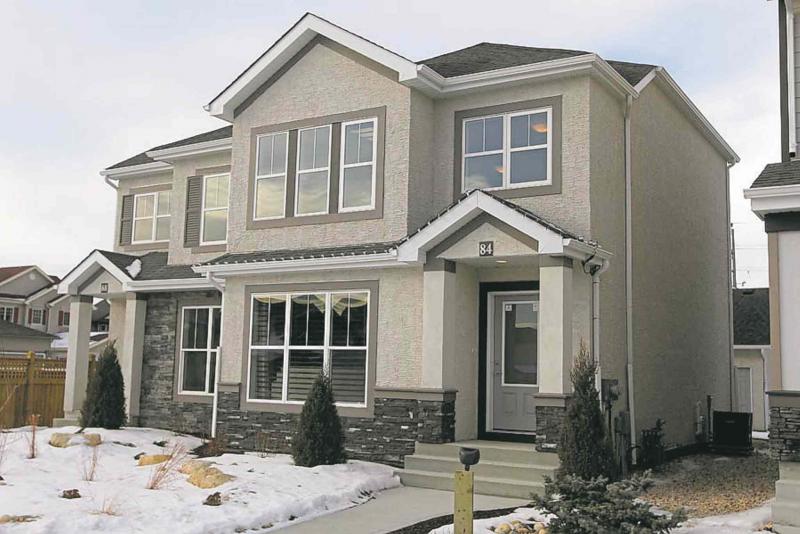 To buy, or not to buy. That is often the question that confronts young families and empty nesters when looking for either a move-up or move-down home. In most cases, the central question is whether they should buy a single detached home, or condominium.
Michael Dubienski of Re/Max Professionals said a third option should be added to that list.
"If you're looking for exceptional value in a home, you should take a serious look at the Atwood Lane Townhomes," he said. "These are true townhomes, not condominiums. You get your own yard, a detached double garage, and more. Most importantly, you don't pay and condo fees."
From the exterior on in, the 1,297-square-foot townhomes at the Atwood Lane are distinctive. Much like a new single detached home, the exteriors -- the homes come in four distinctive elevations -- are trimmed smartly with cultured stone and stucco, which makes for immediate curb appeal.
Then there's the foyer itself, ushering you into the home in space, light and style. "Everyone who's gone through the home has said there's absolutely no wasted space," said Dubienski's sales partner, Viktoria Fazekas. "That efficient layout starts in the foyer, which offers plenty of room to take off your coat and footwear. It feels even bigger because the wall in front of it (to the right) is angled to open up even more space. It contains a large walk-in coat closet behind its bi-fold doors."
The efficient, functional entrance then gives way to a living room that's not only spacious, but incredibly bright. That natural brightness can be attributed to a design feature that's standard in Randall Homes, added Fazekas.
"Every Randall home comes with oversized windows that let in all kinds of natural light. In this case, the picture window in the living room takes up most of its front wall, so daylight just floods in," she said. "At the same time, the (medium brown) laminate plank floors add warmth to a generous area with cantilevered TV niche (with chocolate brown background). It's perfect for visiting with company after dinner."
Thanks to a two-metre-wide entrance placed between the living room and kitchen/dining area, access to the home's hub is effortless. Although the home isn't overly huge, the well-conceived floor plan ensures that function isn't compromised.
A mid-sized island (approximately two metres long by one metre wide) with double sink and eating nook for two is functional, yet doesn't impede flow. Meanwhile, the adjacent dining area -- which comfortably holds a table for four to six -- is sufficiently big.
And bright, said Fazekas. "A large window behind it lets in all kinds of light, along with a back door with a glass centre," she said. "There's also a wing to the side of the door that holds another walk-in storage closet and a powder room. There's also a pantry on the wall opposite the kitchen, which features (taupe/brown) quartz countertops, (espresso) thermofoil cabinets and a glass tile backsplash."
Upstairs, the townhome's second level builds on the main floor's efficient floor plan. There's no wasted space, and the way each space -- a flex room/bedroom, two bedrooms and a four-piece bath -- has been oriented makes for a bright, open feel.
"Most people who've bought one of the townhomes have left the flex room as it is," said Dubienski. "It can be used as a media area, play area or be easily converted to a third bedroom. About one in five customers use it as a bedroom. And because all the rooms surround the landing, it's bathed by all the light that streams in from the oversized windows."
The layout -- the flex space is next to the second bedroom to the left of the stairs -- also creates natural separation that makes for a private master suite.
"It's on the other side of the landing with the four-piece bath between it and the other two rooms, so if you're parents with kids or empty nesters with guests across the way, you've got your own private space," he said. "It's a big, bright space that comes with a huge window, four-piece ensuite (with soaker tub) and big walk-in closet."
A trio of other design features also give townhomes at the Atwood Lane a home-like feel. First, there's an actual yard out the back door with a patio, a bit of green space (five minutes of grass-cutting involved at the most) and privacy fencing on either side.
Second, there's a double detached garage that's not only steps from the back door, but closes off the back yard for a nice, private feel. And third, there's the townhome's basement, which adds about another 400 sq. ft. or so of livable space.
"There's space for another bedroom, rec room, laundry room, bathroom and storage," added Dubienski. "You get nearly 1,700 square feet of living space spread out over three levels."
You're also getting a true home, said Fazekas adding that the townhome comes with forced air heating and cooling and roughed-in central vac. "You get a zero-maintenance front yard, private back yard, double garage, basement and an efficient floor plan that offers two or three bedrooms and that maximizes space," she said. "There's no driveway to shovel and virtually no grass to cut. These townhomes are affordable, stylish and very livable. They're a great choice for families or empty nesters looking for style, function and value."
lewys@mts.net