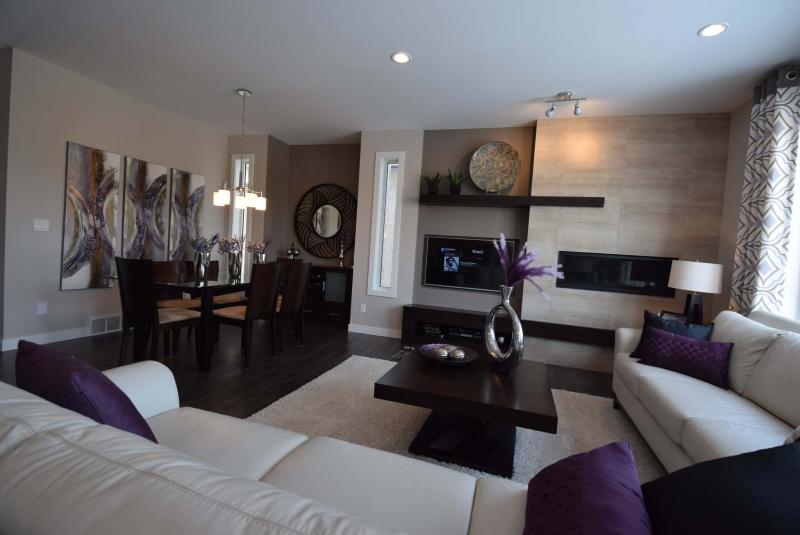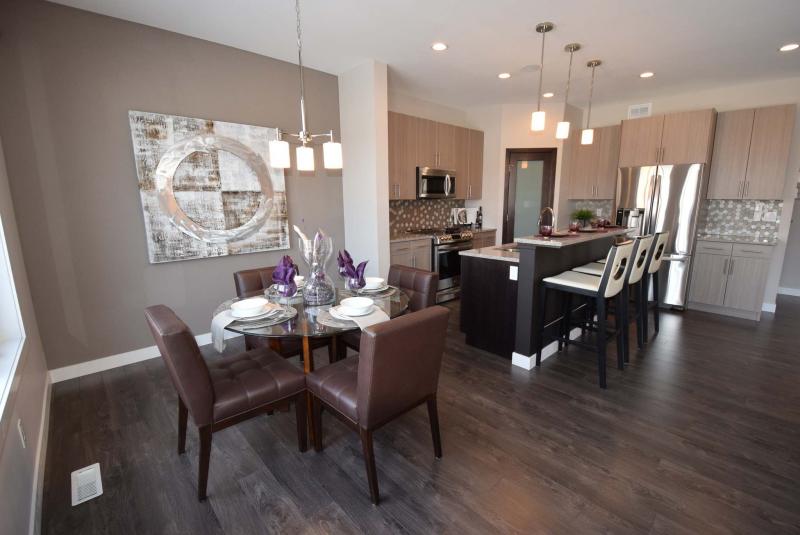 Ask Ken Smith to describe his show home and he'll say it can be summed up in one word: adaptable.
"It's so adaptable to the varying needs of families because we can do the home in so many different configurations."
As viewed, The Royal, a 1,703-square-foot show home found at 19 Larry Vickar Dr. in Devonshire Village, comes equipped with four bedrooms upstairs — an impressive feat considering the house's relatively compact square footage. That configuration can be changed depending on a family's needs, Smith says.
"The fourth bedroom can be turned into a loft to create an extra media area, or we can put in two big kids' bedrooms and a larger master bedroom with a more luxurious ensuite that includes both a jetted tub and shower. The floor plan can be adapted to a family's particular needs quite easily."
It also turns out that The Royal can be made more affordable by performing another subtle tweak, he adds.
"We have a smaller, 1,603-sq.-ft. version of the home that comes with three bedrooms and a very nice ensuite. That version of The Royal comes in at a price around $429,900. We actually have a one down the road that should be ready in four to five months that will include features such as laminate plank flooring and quartz countertops."
The most impressive feature of the 1,703-sq.-ft. show home is its well-balanced design.
Although the home isn't huge, space is never an issue in its main living area thanks to a logical, open-concept layout. At the same time — remember, this is a show home that comes with a price tag of approximately $455,000 with upgrades — it's also nicely finished throughout.
Smith says the great room's spacious feel can be attributed to an unseen, yet significant design feature.
"A & S (Homes) uses engineered floor joists, which allows for spaces with bigger spans. A great example of that is the great room — it's huge. It comes with a formal dining room, family room, kitchen and dinette area. Even though you have four distinct spaces in the area, there's plenty of room to move and the spaces are nicely separated, too. The great room is also a very bright area, as well."
Its exceptional level of brightness comes from two well-placed picture windows — one on the family room's rear wall, the other on the rear wall behind the spacious dinette area, which is was placed perfectly just steps from the island kitchen. Meanwhile, a patio door with glass centre allows even more daylight to pour into the area.
Turns out, the patio door also acts as divider between the family room and kitchen. Ever so subtly, it creates a wide aisle between the great room's two main areas — dining room and family room (left) and kitchen/dinette area (right). As a result, area possesses feels spacious, bright — and, above all, well-organized.
Finishes are also impressive, starting with the great room's oak laminate plank flooring, which tempers the space's inherent brightness with its warm cappuccino hue.
The kitchen's finishes — an island with espresso (rift oak-style) base, portobello thermofoil cabinets, taupe quartz countertops and hexagonal (taupe/grey) glass tile backsplash work perfectly with the flooring, and medium taupe colour palette on the walls.
A raised eating bar for three and corner pantry (featuring a espresso-stained door with glass centre) add an extra dash of functional style in the kitchen, while a black-trimmed ribbon fireplace set in a taupe tile surround next to a TV niche with cappuccino maple shelving/trim above and below. The contrast between colours is at once visually appealing and calming.
Head upstairs via an exceptionally wide staircase, and the first thing you see is a laundry room on off a landing set several steps down from the second floor.
"It's a nice feature," Smith says. "It's set off to the side, yet is close to the bedrooms. It features a high ceiling, two windows, a linen closet and niche for a stackable washer/dryer. There's also an oversized transom window (with art/display niche below) on the wall next to the stairs that lets in lots of natural light."
All three bedrooms — the one nearest the stairwell would be the one that could be converted into a loft if need be — are a good size with oversized windows and ample closet space. A spacious main bath with soaker tub serves the three kids' bedrooms, while the master suite was placed in its own private corner.
"It features a deluxe three piece ensuite with (five-foot) custom glass/tile shower, enlarged walk-in closet and a big (bright) bedroom with cantilevered dresser (or armoire) area between the door and walk-in closet," he adds.
Several other design features make The Royal a very versatile — and functional — family home.
First, a bright, open basement adds approximately 700 sq. ft. of livable space to the home in the form of a four-piece bath, bedroom and huge rec room. Second, a sunken back entry (with powder room) that eliminates stairs from the garage, thereby freeing up interior space; and nine-foot ceilings upstairs that increase volume — and enhance light flow.
Third, there's its compact, yet efficient footprint. "The Royal can also be built on a 36-foot-wide lot," Smith says. "It's an adaptable, affordable family home that offers incredible value."
lewys@mymts.net
Details
Builder: A & S Homes
Address: 19 Larry Vickar Drive East, Devonshire Village (Transcona)
Style: Two-storey
Size: 1,703 sq. ft.
Bedrooms: 4
Bathrooms: 2.5
Price: $455,000 (Including lot, upgrades & GST)
Contact: Ken Smith, Century 21 carrie.com, 204-987-2100 or 204-227-8137