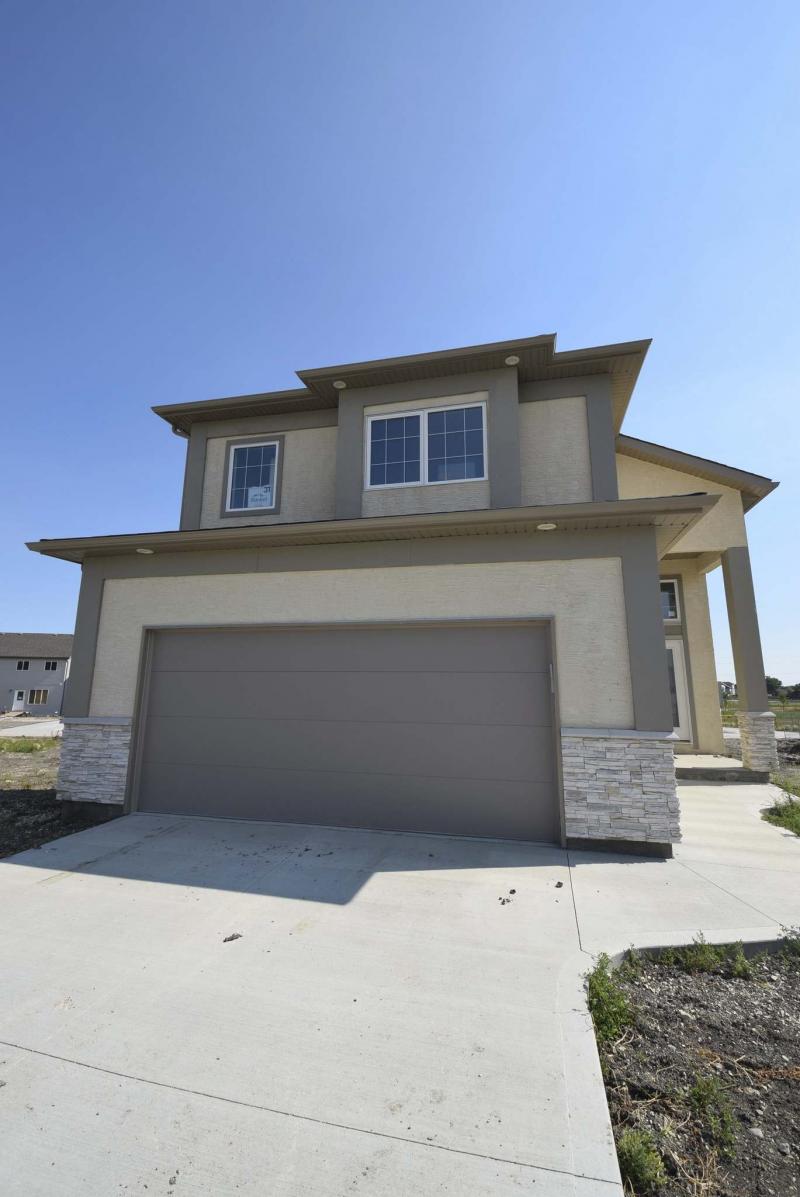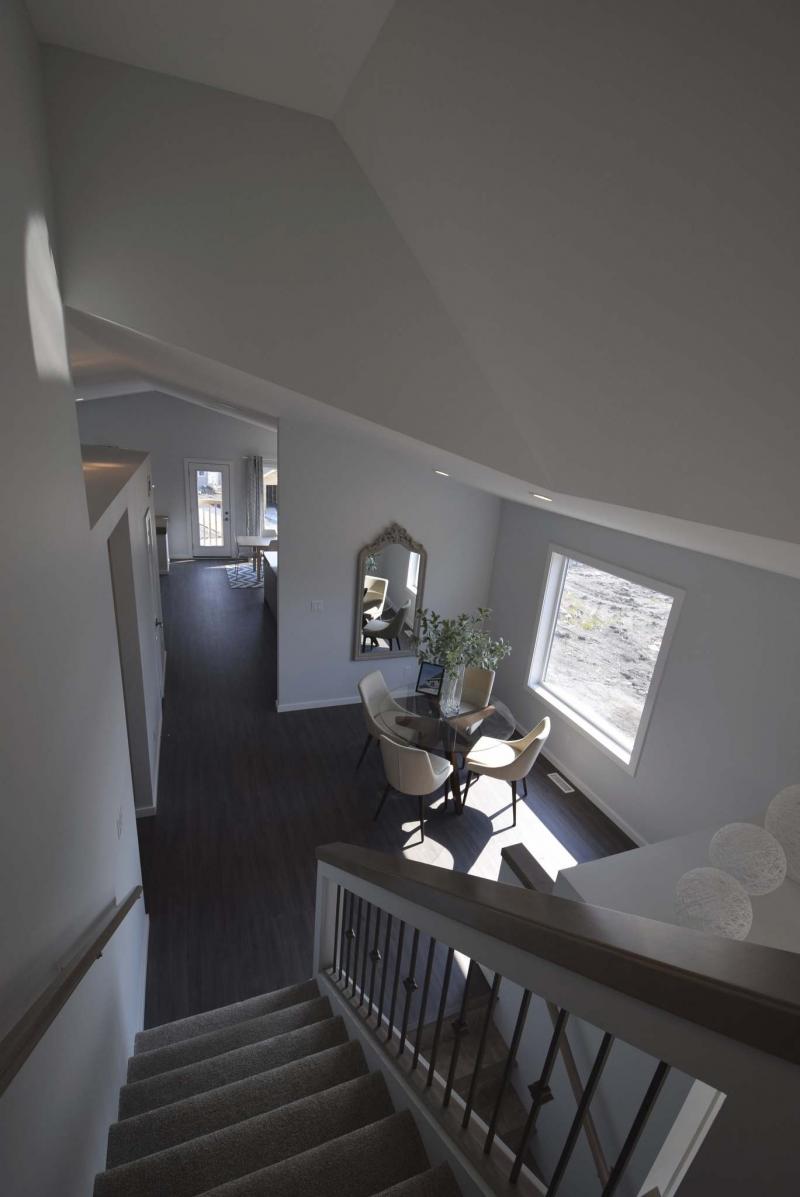 Over the past number of years, it's been a rare sight in the new homes market: a cab-over.
That's something of a mystery, as cab-over designs — where the master suite is placed over the garage several steps above the main floor — remains a highly functional design that's well-suited to young, active families.
Having noted that, Eagle Custom Homes has now added a cab-over plan to its well-populated roster of designs, says Eagle's sales representative for its new show home at 31 Larry Vickar Dr. East, RE/MAX Executives Realty's Fritzgerald Pacag.
"We felt it would be a good option to offer families due to its flexible design," he says. "We then took the cab-over design and added a few of our own unique touches to give an already functional design even more function."
Chief among those unique touches is a look-out basement, says Pacag.
"When you go down there, it's like walking into a living room, for two reasons. First, the ceiling is nine feet high. Second, the area is surrounded by five large windows, including two huge look-out windows on its rear wall. They allow so much light to flow in that you don't need to put on any lights. It's an option, but it's a very worthwhile one — it basically transforms the basement into an extension of the main floor."
The home's floor plan then begins to unfold in front of you from the sunken foyer on up. For starters, the foyer — which is exceptionally wide — is set down seven steps from the main level to define it, and provide visitors with a secluded spot to doff footwear and outerwear.
Upon arrival at the main level, you're greeted by a generous space featuring a large window on the side wall.
"It's a flex space that can be used either as a dining area or as a sitting or play area, depending on your needs," he says. "It's great to have that option. If you like to entertain, you can definitely use it as a dining room. However, the dinette area off the kitchen is quite large and can handle a large table (for six to 10 guests), so families often use the flex space as a play or music area, or sitting room."
Meanwhile, there's a compact, recessed wing situated directly across from the flex space.
"It holds two bedrooms and a four-piece bath. The bedrooms — which are both a good size, and come with oversized windows and double (bi-fold) closets — were placed on either side of the bathroom to create separation. The bathroom is well-appointed with a deep soaker tub and thermofoil vanity with taupe laminate countertop. All the space available in the wing is used very efficiently."
While the home is "only" 1,573 square feet, it feels a good deal larger. That feel comes from some subtle design features found overhead, adds Pacag.
"The ceiling over the flex area is vaulted, plus the ceiling over the stairs to the master suite is cut out to open it up even more. The entire great room also benefits from a vaulted ceiling overhead, as well."
Just like the basement, ceiling height is excellent — in this case, soaring — and glass seems to fill every wall. Combine that with an open-concept layout and you have an exceptionally habitable space in which space and light abound.
"The vaulted ceiling makes the home feel significantly bigger than its listed square footage — most people have guessed that it was at least 1,700 sq. ft.," he says. "And huge windows off the living room, behind and to the side of the dinette area — plus a patio door behind the dinette area — allow all kinds of natural light to shine into the great room. It's a bright, cheerful, livable space."
That livability is enhanced further by a tasteful array of finishes: medium-brown, wide-plank laminate floors (that run through the entire main floor), taupe quartz countertops, two-tone (striated rift oak/white) thermofoil cabinets, taupe (glass) tile backsplash and neutral paint.
"The kitchen is separated from the dinette area by a (seven- by four-foot) island with double sink and cabinets, while the (spacious) family room is defined by one-third maple-capped walls on either side. Its focal point is an optional maple entertainment unit with gas fireplace set in grey tile."
Fittingly, the master suite — placed nine steps up from the main level — is the home's crowning touch.
"It's a really spacious, bright space that features a huge, cantilevered picture window, large walk-in closet (with window) and three-piece ensuite. It's actually so big that we can increase the size of the walk-in closet and ensuite without sacrificing hardly any space in the bedroom," Pacag says.
"The (light grey) walls are also light enough to make the room feel inviting, yet dark enough to highlight the white trim."
He adds there's even more good news: the home is reasonably priced in either show home or basic form.
"With options (laminate flooring, entertainment unit, quartz countertops, two-tone cabinetry, maple capping), the home is $419,900. Opt for basic finishes and we can get a family into the home for about $398,000. It's a flexible design that offers young families plenty of space, style, function and separation."
lewys@mymts.net
Builder: Eagle Custom Homes
Address: 31 Larry Vickar Dr. East, Devonshire Village
Style: Cab-over
Size: 1,573 sq. ft.
Bedrooms: 3
Bathrooms: 2
Price: $419,900 (including lot, GST; no growth fee)
Contact: Fritzgerald Pacag, RE/MAX Executives Realty, 204-989-9808 or 204-294-8520