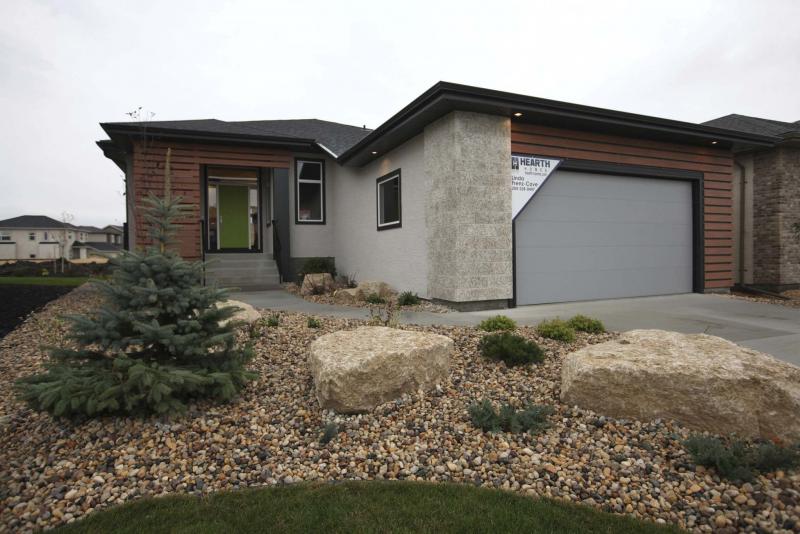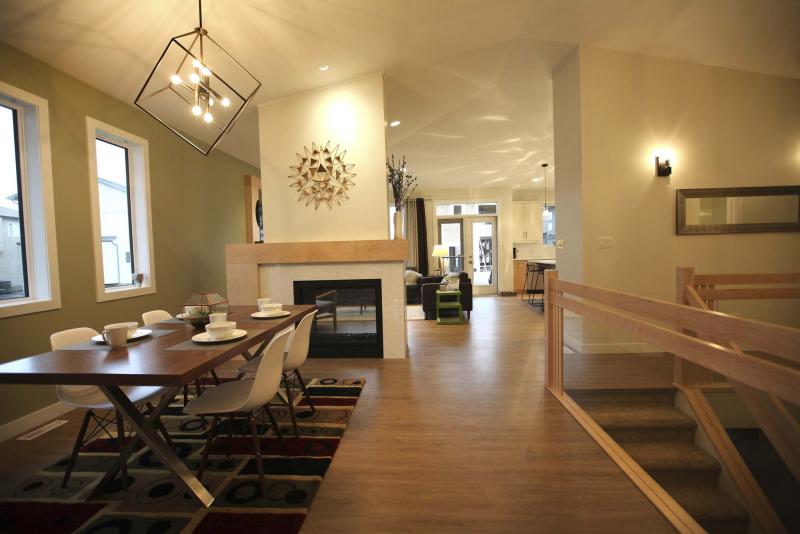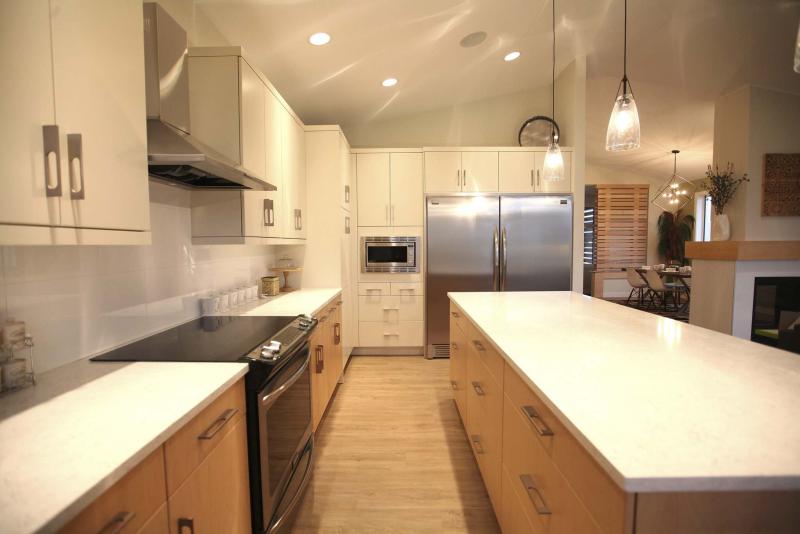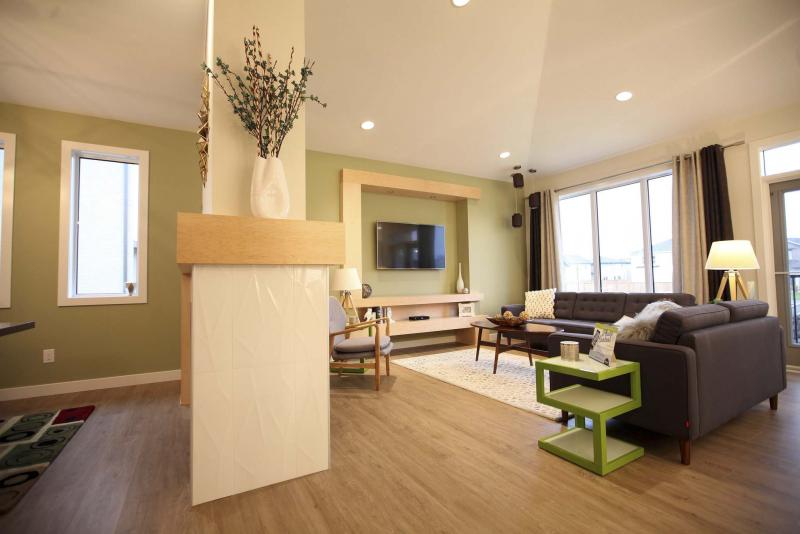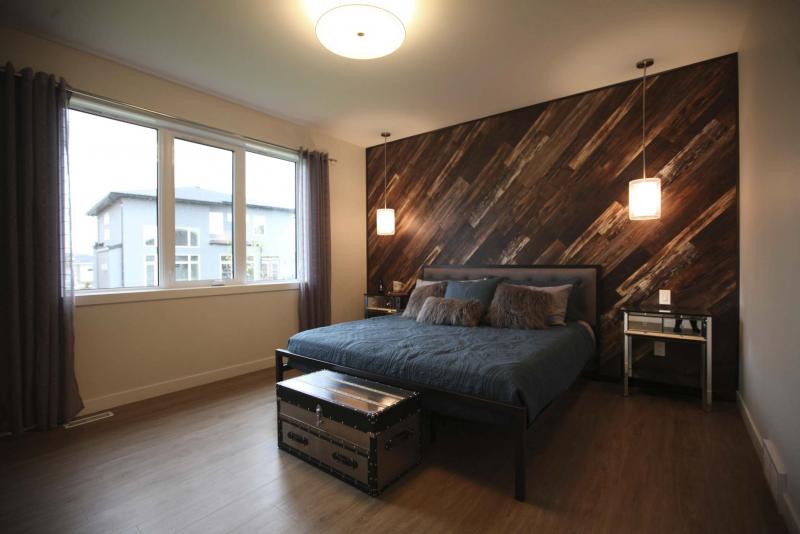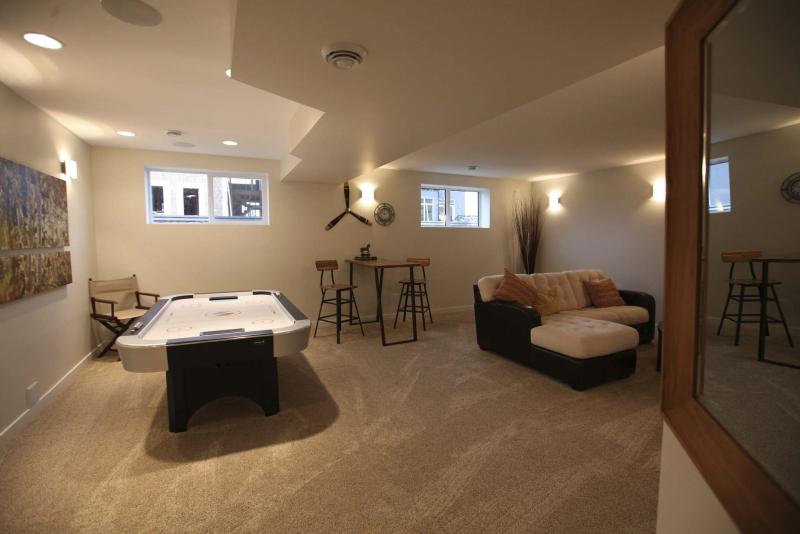 New home builders have long been obsessed with conceiving unique designs.
That's understandable. After all, when it comes to homes, you can't reinvent the wheel. There's always the potential for one home to look eerily similar to another, however unintended.
Hearth Homes' sales manager, Liam Milne, says that's why the design team at Hearth came up with the Silverstone.
"It's a unique, Scandinavian Modern design that incorporates clean lines, light woods and pleasing earth tones to create a home that has an airy, spacious feel," he says of the 1,815-square-foot bungalow. "It's a well-balanced design that offers excellent form, function and style."
The moment you set eyes on the Silverstone, its form is different from any other home on the street.
"We utilized low-maintenance composite decking on the garage and over the entrance, and combined it with classic tyndall stone to give its exterior a distinct, rustic look," Milne says. "The decking is great it will last much better than wood. The two materials make for the ultimate low-maintenance exterior."
That distinct look carries over into the Silverstone's subtly sunken foyer. A rich hexagonal (light taupe) porcelain tile floor carries the low-maintenance theme inside, while a unique dividing wall defines the home's entrance in smart Scandinavian style.
"The Scandinavian Modern theme starts right at the foyer with a slat-like maple wall that neatly divides the foyer from a formal dining room on the other side. It's simple, effective, and adds wonderful texture and warmth without being overbearing."
From there, the foyer transitions seamlessly into a formal dining room in which space and light abounds. There's room for a table for 12 or more, while tons of natural light pours in through a trio of picture windows on its side wall.
Most importantly, it's not too open. "A two-sided (see-through) gas fireplace was placed behind it to define it and separate it from the family room," Milne explains. "It also has maple trim that echoes the foyer's dividing wall. It's then carried through into the stair railing (to the right of dining room) and entertainment unit in the family room."
Meanwhile, flow from space to space is superb. A wide entrance to the rear of the dining room provides easy access into the family room/kitchen area; yet, neither the family room nor the kitchen are in full view.
"We wanted that area to be open and inviting but not totally open. The idea was to make it open enough to welcome guests and for the family to enjoy, but to hide both areas a bit to create an air of mystery that would draw people in."
Form and function in the kitchen/family room area are exceptional. A cool vaulted ceiling provides the form, while a glass-covered rear wall — and warm luxury vinyl plank flooring — provide the function.
"The ceiling in the kitchen/family room area is what's called a hip vaulted ceiling," Milne says. "It doesn't go up as high as a cathedral-style vaulted ceiling, but still gives you the grandeur of a huge open home, providing all the ceiling height you need without going overboard. It also has a triangled appearance that adds visual interest."
Then, there's the area's pleasing ambience, which is bright, yet warm. "First, we placed tons of glass on the rear wall (picture window in family room, patio doors to the backyard deck, large window over the sink) to let in tons of natural light to bring the outdoors indoors. We then ran gorgeous (oak-style) luxury vinyl plank flooring through the entire great room to give it a nice, warm feel."
Tasteful finishes then complete the area in sensible style.
"I love the finishes: the gorgeous two-sided fireplace between the dining room and family room, two-tone maple cabinets in the kitchen (natural down low, off-white painted sand maple up top), cream/grey taupe quartz countertops, not to mention drapes that mimic the texture in the fireplace's tile surround," he says. "There's also an eight-foot island that seats three and a built-in pantry."
The Silverstone's bedroom wing is also steeped in efficiency and style.
An elegant four-piece bath was placed at its outset for easy access (and to retain privacy); the two secondary bedrooms are huge; and there's a spacious mudroom that (somehow) contains three closets (linen, coat and broom), a laundry area and a door to the insulated double garage.
Its crowning glory is the master suite, Milne says. "It's tucked away in an ultra-private spot for the owners and them only. The faux wood (tile) feature wall behind the bed is gorgeous, while the ensuite features a (mocha) cork floor, soaker tub with ceramic tile façade that mimics wood, a six-foot glass/tile shower — and walk-in closet with built-in (open slat) solid pine storage with rich honey maple finish. It's a super space."
So too is the Silverstone's lower level, which yields another 690 sq. ft. of livable space that offers a fourth bedroom, four-piece bath and bright rec room with media and games areas. There's also a huge storage area that can house another bedroom and a flex room.
"We're really pleased with how the home turned out. Few luxury homes can come close to the value, style and livability that the Silverstone offers for the price," Milne says.
lewys@mymts.net
Details
Builder: Hearth Homes
Address: 14 East Plains Dr., Sage Creek
Style: Bungalow with finished basement
Model: The Silverstone
Size: 1,815 sq. ft.
Bedrooms: 4
Bathrooms: 3
Price: $670,000 (Includes lot, appliances, draperies, TV, landscaping, growth fee and GST)
Contact: Linda Frenz-Cove, Sales Consultant, 204-228-0447