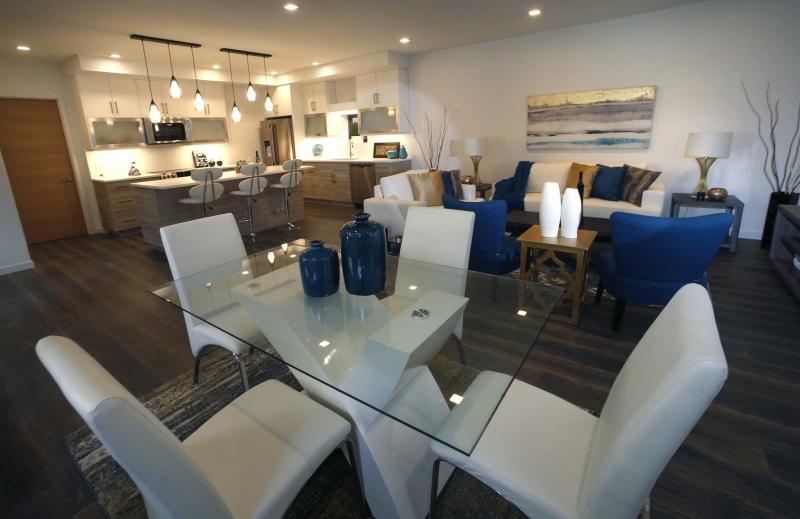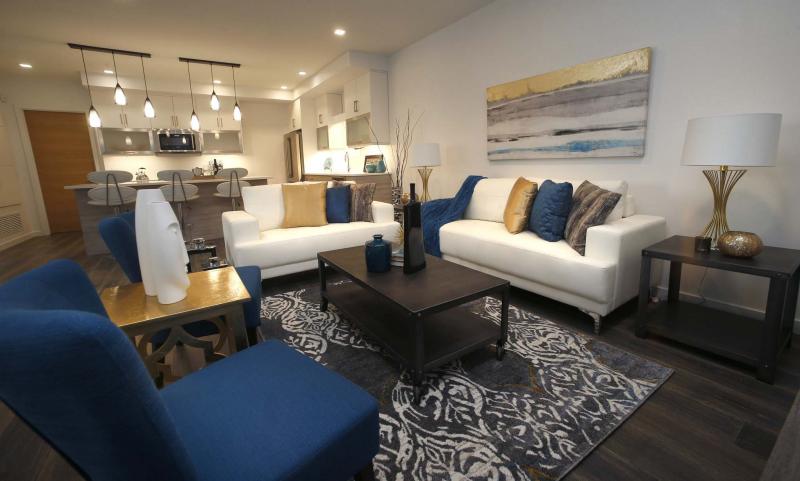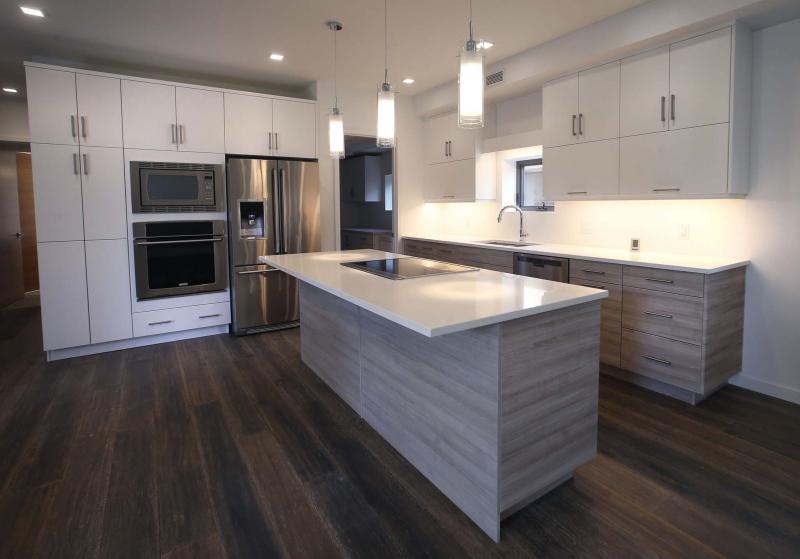 It's a sight that stands out amid the diverse collection of stately homes that line the south side of Enfield Crescent: a brand-new, three-storey condominium framed by mature trees on a beguiling hillside lot.
According to Monopoly Realty's Tom Blumberg, the brand-new infill project came about by chance.
"The developers (Linster Construction Ltd.) had actually bought an older brick home and initially thought they'd fix it up and live there," he says. "Eventually, it became clear that didn't make sense. But then, they had an idea — why not build a condominium? They loved the beautifully treed, hillside lot and wanted to make their home there."
With that thought in mind, the couple enlisted a draft person and architect to conceive the building design. The goal was to design a structure that would be stylish, livable and merge seamlessly with both the neighbourhood and hillside it would be built on.
"Because the building was built on a hillside, it has a number of different levels (three in total)," Blumberg says. "To ensure the building was as solid as possible, the developers went over and above on most, if not all, design features of the building and its surrounding components."
Some of those features include a piled foundation, piled structural front sidewalk and a spectacular 377-square-foot sunken courtyard with timber-infused concrete walls.
"It took just over a year to build the building itself; total time of the project was almost three years from start to finish with all the community meetings, dealings with the city and construction. The quality of the build has been uncompromising. Because the developers planned to live in the building, they really punched up the quality on every level."
That quality exists in the form of open-concept layouts in both the main and second-floor suites, a design feature that optimizes both traffic flow and light flow.
Lines in both suites are clean and linear. Kitchens feature white thermoil cabinetry up high — with stainless pull-up Euro cabinets — and rift oak themofoil cabinets down low, while hand-scraped, distressed engineered oak hardwoods, white/grey quartz countertops and solid core interior rift oak doors with high-grade ball-bearing hinges give suite interiors a modern, solid feel.
The oversized tri-pane, low-e fibreglass windows — there's an abundance of them — are energy-efficient, dampen sound and allow loads of light to enter suites.
"Doors are also eight feet high, another great feature," Blumberg says. "Windows (particularly in the main floor suite in the living room) also go up to eight feet or so in height, and there are also lots of pot lights to illuminate great rooms at night. Because both suites are huge (1,335 sq. ft. on the main floor, 1,448 sq. ft. on the second floor), all spaces — kitchens, dining areas, media areas and bedrooms, even bathrooms — are extremely spacious."
And while the main floor suite enjoys access to the huge, sunken courtyard, the second floor features a luxurious master suite with its own balcony. Meanwhile, both suites were outfitted with elegant ensuites, as well.
"You get design features like heated tile floors, showers with frameless tempered glass shower doors and walk-in closets with solid, sliding oak barn-style doors with high-end rollers," he says. "You also get dedicated laundry rooms, four-piece baths with soaker tubs, tile floors and thermofoil vanities. The fit and finish is absolutely superb."
Blumberg says 218 Enfield is perhaps the finest project he's been associated with.
"In my 30 years of marketing condominium projects, I've never seen anything like this in terms of quality and style. It's not ostentatious; the building just blends seamlessly into the area and there's no compromise in how the building and suites have been built," he says.
"As a consumer, you're getting to live in someone's custom-built dream — something the owners (who will live on the third floor) built for themselves to the highest possible standards."
For more information on 218 Enfield — prices for the two suites range from $457,275 to $481,320, with condo fees projected to be $228 per month — contact Monopoly Realty's Tom Blumberg or Lisa Lyle at 204-477-1133 or visit monopolyrealty.ca.
lewys@mymts.net
Details
Address: 218 Enfield Cres., St. Boniface
Builder: Linster Construction Ltd.
Style: Three-storey building with apartment-style units
Size: 1,335 to 1,478 sq. ft.
Bedrooms: 2
Bathrooms: 2
Prices: $457,275 (main floor), $481,320 (second floor)
Contact: Tom Blumberg or Lisa Lyle, Monopoly Realty, 204-477-1133