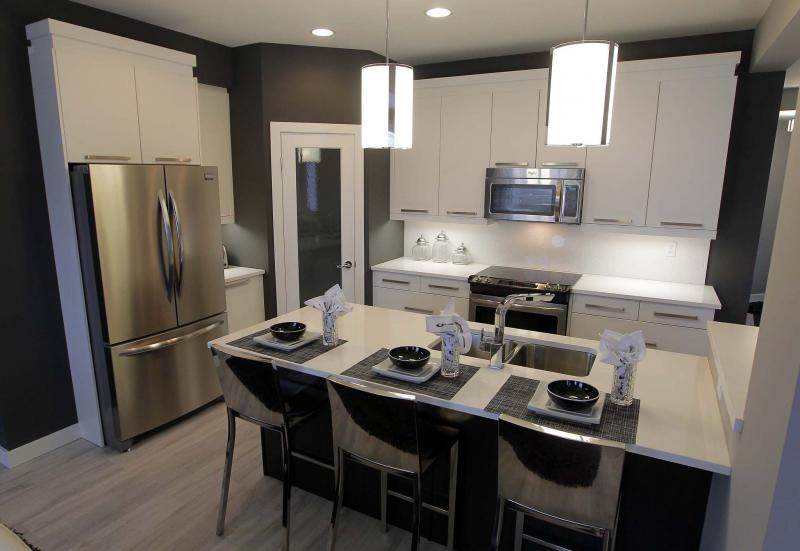 The first thing that draws your gaze to 7 Snowberry Circle is its angled roofline and rich grey vertical siding — a pair of very cool design features.
As fetching as those features are, on the home's upper level, there's another design feature that matches — or even trumps — those unique features, says Debra Mosher, Broadview Homes' sales representative for the 2,153 sq. ft., two-storey house.
"When I see people head upstairs to the second floor, I just stand there and wait for their reaction," she says. "There's a brief pause that's almost always followed by a gasp. They just can't believe what they're seeing."
That's because unlike most homes — whose designs either feature a regular-width hallway or moderately wide landing off the staircase — The Monterey's second floor opens up beautifully in front of you, courtesy of a mega-wide landing that transitions perfectly into a wide-open loft.
That bright, spacious area is in turn surrounded by three bedrooms and a deep, well-appointed four-piece bath. Talk about a very pleasant — and highly functional — surprise.
You might call it The Monterey on steroids, Mosher says.
"It's a fairly new design feature that we call the deluxe second-floor plan. Not only do you have all that room to move as well as the gorgeous loft, but you have three large bedrooms and a beautiful four-piece bath with soaker tub (and neat taupe vinyl floor with a hexagonal motif) to enjoy. There's also all kinds of natural light because there are big windows everywhere."
Not surprisingly, the largest window can be found in the master suite, which is notable for its well-proportioned design. First, the bedroom is just the right size at 13.7 feet by 12 feet; there's ample room for a corner reading chair, while the huge picture window on its rear wall lets in loads of natural light.
Had the bedroom been larger, it would have negatively impacted the ensuite.
Thankfully, that's not the case.
"It's a suitably large, luxurious space that features a rich grey/white hexagonal tile floor, big soaker tub set in white tile (a standard feature) with big window above, four-foot shower with tile surround and white thermfoil vanity with dual (rectangular, raised) sinks," Mosher says. "There's also a huge walk-in closet at the end of the ensuite – it has the same tile floor, and a transom window that injects more light into the space."
Were The Monterey's upper level not so spectacular, its main level would have been the show stealer due to its intuitive, beautifully-finished (open-concept) design. That said, it has rated very high with visitors to the home.
"Again, everyone who's gone through the home has come in, looked around the main floor and said, 'it has everything we need'," she says. "The foyer offers a wide-open entrance, with a flex room to the left and wing to the right that contains a powder room, main floor mud/laundry room and a double closet. An extra-wide hallway then leads you into the great room."
Turns out, there was a purpose to the extra-wide hallway.
"It not only allows for easy access into the great room, but also serves to tuck the kitchen (right) and family room (left) off to the side so you don't see them right away," Mosher says. "And while the area is open, the kitchen and dining area are neatly separated from the family room by a sort of pillared entrance and a one-third (white-capped) wall (next to the kitchen)."
Not only is flow throughout the great room exceptional, but so too are the finishes. The kitchen features extra-long white thermofoil cabinets (due to the nine-foot ceiling height), a hexagonal white tile backsplash, white/grey quartz countertops — and wide-plan, bleached (grey/taupe) wide plank laminate flooring that's rich without being too dark in colour.
"I also love the island (which seats three) — its base is a rich grey thermofoil that contrasts beautifully with the floor and white cabinets. The family room is also a neat space with its taupe vinyl wallpaper feature wall (behind the TV niche and ribbon fireplace). It has a huge picture window on its rear wall, while the dining room is surrounded by glass (patio door and picture window on its rear wall, transom window over cantilevered buffet niche) that lets in more light."
Mosher says few homes offer the value that The Monterey does in the trim offered at 7 Snowberry.
"Most people who've gone through the home have been very surprised at its price ($499,900)," she says. "It's a home that has everything — an efficient, spacious layout, loads of natural light, and beautiful finishes. Feedback on the home has been excellent across the board — there have been no objections to its design. I wish I had another six standing by to sell, it's been so well-received."
She adds that Sage Creek is a community that's within reach for double income families.
"It's a misconception that Sage Creek is out of reach," she says.
"If you're a family looking for a stylish, functional home in a great community, you can get into a home for between $425,000 and $500,000, depending on your needs. It's a great place to live, and we have all kinds of wonderful home designs to choose from."
lewys@mymts.net
Details
Builder: Broadview Homes
Address: 7 Snowberry Circle, Sage Creek
Style: Two-storey
Model: The Monterey
Size: 2,153 sq. ft.
Bedrooms: 3
Bathrooms: 2.5
Price: $499,900 (Including lot, GST)
Contact: Debra Mosher, New Homes Sales Consultant, 204-946-2740